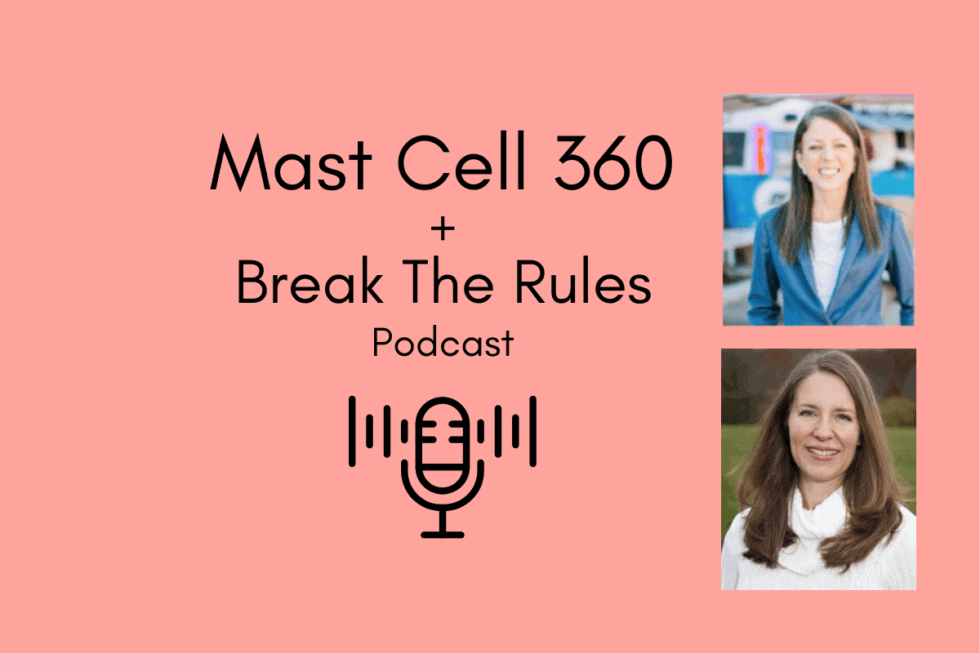 Break The Rules: What is Mast Cell Activation Syndrome? with Beth O'Hara and Lauryn Lax
Mast Cell Activation Syndrome (MCAS) is a "mystery" illness that impacts nearly 1 to 2 in 10 people. The crazy thing? Most doctors don't know how to address it.
Beth O'Hara FN does know all about this mystery illness. She's lived it and lived to tell about.
In the this podcast Break the Rules: What is Mast Cell Activation Syndrome? With Beth O'Hara and Lauren Lax
Beth discusses, how she helps others take their health back into their own hands and heal–not just manage–their "mystery" or complex conditions.
If you don't know about the Root Causes in Mast Cell Activation Syndrome, be sure to get your Free report on it here: 
Break The Rules: What is Mast Cell Activation Syndrome? with Beth O'Hara and Lauryn Lax

You can listen to the podcast here:
Or, if you like, read the transcript here:

Welcome to break the rules with Dr. Lauren Lax, a podcast dedicated to quieting the noise in the health, food and fitness world. Dr. Lauren is a leading nutritionist, therapist and functional medicine practitioner on a mission to help others thrive in their own lives, mind, body, and soul. And now your host, Dr. Lauren Lax
Lauryn Lax:
Hello. Hello. Hello. Welcome to another edition of the Break the Rules podcast, where we talk about quieting the noise in the health, food and fitness world. And today I'm super pumped to have Beth O'Hara FN in the house. Beth is a naturopath who has been specializing in a rare – I'd say rare, but she'll tell us how rare it is; it may actually  be more common than we think! But it's a condition called Mast Cell Activation Syndrome. Something that I personally actually went through myself when I discovered a mold exposure that I went through. And I'm just super pumped that you are on the show today and I would love if you could give us a little bit of background about who you are, what got you into this work you're doing in the world as well.
Beth O'Hara:
Sure. I'm so excited to be here too with you Lauren. You know, I'm passionate about getting the information out about Mast Cell Activation Syndrome, because it actually is fairly common. It's one of the most under-recognized and misunderstood conditions, and it affects between 10 and 15% of the general population and over 50% of people with chronic health issues. So it's huge. And I'm hearing over and over that finding out about this has been life changing for people, and it was really life changing for me. I had mystery health issues my whole childhood. I really didn't know at the time, and didn't know until it was an adult, that the house I grew up in was full of toxic mold. I had just horrific allergy problems. I was on several medications as a child, and I was driven to go to medical school and I wanted to be a neurologist. But by the time I got to college, my health crashed so badly that I could hardly get out of bed most days and I had to plan all of my classes to be in the afternoon.
Beth O'Hara:
So I knew by my senior year in college I wasn't going to make it to medical school, and I had to turn down the scholarships that I had. And it took me on this whole other journey. So instead of becoming a physician, I became a chronically ill patient and my health continued to deteriorate until I was bedridden. I had to use a cane and I could only hobble with the cane because of severe joint pain. I found that virtually every supplement that was tried on me, I could not tolerate. And I also couldn't tolerate medications. They usually made me extremely ill. At one point, I had seen a totaled of 50 different doctors and spent over $150,000, and no one had a clue what was going on with me. If I wasn't told I was crazy and it was on my head, I was told, "You're just more complicated and complex and I know how to deal with." And I was working with some really smart practitioners. I saw the most skilled and knowledgeable functional medicine doctor in my area, and he told me he didn't know what else to do with me. I was really ready to just give it all up because I had no quality of life. But, I was in a small group of women in which a lot of us were health practitioners. I was a health coach then. So I've been in this field for about 10 years. And someone said, "Run your genetics. Run your 23 and Me, I bet you're going to find some stuff." And I did. And I started finding some answers as to why curcumin, which should be anti-inflammatory, was making me more inflamed, while glutamine was giving me insomnia and making me anxious. And all these pieces started coming together and I realized, "I'm not crazy! There really is something going on!" And I was really fortunate to follow Yasmina Ykelenstam at the beginning, and she started reporting on Mast Cell Activation Syndrome.
Beth O'Hara:
It was still in theoretical phases. And as soon as it came out, boom! I knew that's what was happening with my body and it completely changed my health! I went from barely making it day-to-day, to where I am today–my health is recovered to the point that I can go hiking. I travel, I run this very busy practice. I've just taken all those experiences and funneled them into our website, http://www.mastcell360.com, and into our practice, to help other people who are dealing with this to be able to get through faster and with less cost and with less heartbreak. And to not have to go through that nightmare that I went through. Because it was really awful. And Lauren, I know you've had your own health struggles, so you know what I mean.
Lauryn Lax:
Yeah, a hundred percent. And I think that's actually how I came across you. Initially, I had stumbled upon finding out about Mast Cell Activation Syndrome, while I was in the thick of it. It was last March actually. I had been living in a moldy home. Tracing back, my health while living in that home health had been deteriorating very rapidly. I would get different presentation of some body system that was down. So for example, being diagnosed with diabetes because my insulin markers were all over the map and I was having a lot of reactive hypoglycemia. And at another time, it shifted to chronic migraines. Or going on a supplement to help me sleep and help my adrenals, and coming off of it and feeling like I was withdrawing from drugs. Because there were actually over the counter supplements meant to support adrenals that I would have reactions to. These were things that a lot of people in the health sphere or functional medicine world may have typically prescribed for patients. So supplements and even food reactions. There was just this cascade of things, and I had no idea what was going on in my body. And then learning how to start stabilizing that immune response, both from the gut microbiome perspective and then getting out of the mold situation, and now, trying to histamines et cetera. Kind of getting ahead of myself here…so let's back track and just understand what Mast Cell Activation Syndrome is. What are the typical signs and symptoms of it?
Beth O'Hara:
Sure. So to talk about Mast Cell Activation Syndrome, we have to talk about what the Mast Cells are. And so these are spelled M A S T as in Tom. And the Mast Cells are these really incredible and complex immune cells that are the frontline defenders of the immune system. Most people are familiar with them in terms of histamine, and they do release histamine. For example, if you get a cut on your finger and don't clean it out right away and it gets red and puffy, that's actually the Mast Cells creating inflammation to surround whatever's getting in there — bacteria, viruses, anything else — to protect the body. And when they're doing their jobs properly, they are absolutely essential. We can't survive without these Mast Cells. And I think they're getting a bad rap as people are learning about Mast Cell Activation Syndrome.
Beth O'Hara:
So the approaches have traditionally been about knocking out the Mast Cell response. And that's the wrong way to go because if Mast Cells are protecting us from invaders, they're like the guards of the castle. If our body is a castle, the Mast Cells are there to protect us against viruses, mold spores and mold infections, bacteria, even toxins. But what's happening is that we are living in and environment that is so toxic. I think that's part of why mold toxicity has become a much bigger issue, and it's one of the big root causes of Mast Cell Activation Syndrome. I've identified seven Root Causes of Mast Cell Activation Syndrome that we can talk about. Anything that's causing chronic toxicity, or chronic infections is going to dysregulate these Mast Cells because they're supposed to come online, do their job to fight off the invader or the toxin, and then calm back down again and get a break.
Beth O'Hara:
But when we're constantly bombarded with fragrances and electromagnetic radiation and air pollution and all of the toxins coming at us, the Mast Cells don't get a break anymore, and they start to develop what we could loosely call a PTSD kind of response. They become hypervigilant. And these Mast Cells have over 200 different mediators. They're one of the few cells in the body that we still don't know a lot about. We've known about Mast Cells since the late 1800's, and there's still a lot we don't know about them.. But what we do know is they have over 200 mediators that can release, and histamine is just one type. And then they have all of these receptors on the outside that are responding to what's happening in the body and in the outside environment. And they exist in almost every tissue in the body.
Beth O'Hara:
And this is why we can get so many different kinds of symptoms. So some of the classic ones are like allergies: runny nose, postnasal drip, itchy eyes, hives. But not everybody has those symptoms. We can get them in different systems. For example, people can have muscular and bone pain. Hypermobility of joints is common. Some people get heart symptoms and they have palpitations, dizziness and low blood pressure. Some people have digestive symptoms and will have diarrhea, abdominal pain and nausea, sometimes vomiting. Food sensitivities can also occur. And people can get brain symptoms, and they will have brain fog, sleep issues, mood changes. And there's something called Mast Cell rages, where the Mast Cells in the brain produce inflammation and it just causes somebody to have just sudden irritability or become very frustrated and hard to control. And then lung symptoms–people can get coughing, asthma symptoms, wheezing, and even reproductive symptoms are related. There's a lot of connection with autoimmunity because the Mast Cell s are the orchestrators of the immune system. So if you think about an orchestra and the conductor gets out of time, the whole orchestra is going to be out of time and that there's a big link between these Mast Cell issues and autoimmunity.
Lauryn Lax:
That is quite the gamut! It sounds kind of like an infomercial, like it just keeps going on and on and on.
Beth O'Hara:
I know, and this is why it's been such a mystery. So we just got a diagnosis code officially for Mast Cell Activation Syndrome in 2016, when it was officially recognized. But people have been working on this since the 1990's, trying to get this recognized, There is such a wide variety of possible symptoms, and people only have to have symptoms in two or more systems. So it might be digestive and brain or it might be digestive and reproductive symptoms. I've talked to so many people who have been told by an allergist or an immunologist, "Well because you don't have itching or flushing, you can't have Mast Cell Activation Syndrome. And that's just not true. And so people end up seeing three, four or five different specialists, but nobody's connecting this underlying thread that there's a chronic toxicity, chronic infections or something like that that is keeping those Mast Cells stirred up.
Lauryn Lax:
Yeah, I mean I think about it even in the sphere of chronic fatigue syndrome, in particular, where people who have that have been told or made to feel like they're the lost cause. They start to feel that that's true. And that's probably how the Mast Cell Activation patients have felt, too.
Beth O'Hara:
Absolutely. So chronic fatigue is very, very common. I tell you, I get so many people who have been to doctor after doctor after doctor, just like I had. I talk to so many people every week who have been told they're crazy or they have a conversion disorder or something like that. But those psychological or psychiatric issues are actually quite rare. But what's happening is that—and I'm going to go on a little bit of a rant– is that the way traditional medicine is set up, the whole paradigm is "if we can't measure it and we don't know what it is, it must not exist." And to me that's a very dangerous way to operate. And it's, in my opinion, abusive to tell people that because I don't understand what's going on with you, you're crazy. And I've experienced it myself and I see the damage that does to people. And so I really want to get this information out there and start shifting us away from that because there's so much we don't understand about the human body, and people need to be heard. And if a practitioner can't help them, then there needs to be the humility to say, "I'm sorry, I don't know, but let me help to get you to somebody who does."
Lauryn Lax:
100% and yeah, thinking about diagnostics, it's really a diagnosis of exclusion. Correct?
Beth O'Hara:
Right. And this is another challenge point. So because this official diagnostic criteria– and I don't diagnose because I work all remotely, so I'm only diagnosing for informational purposes. But people should understand that the diagnostic criteria is still in evolution and still being debated. But that part hasn't been communicated to a lot of practitioners who are diagnosing. And so many practitioners think that you have to have an elevation in one of the Mast Cell mediators like histamine or tryptase or prostaglandin D2. So these different things that can be measured. But the problem is Mast Cell mediators like this, they're only elevated in the bloodstream very quickly and then they're down again. So you have to get it right at the right moment. And I'm seeing that only about 10% of people with Mast Cell Activation Syndrome have positive blood markers. And then there's a urine test called in n-methyl histamine. But that sample has to be handled really, really carefully, and often the labs mishandle it and we get false negatives. And so you can't rule it out just because they're negative lab markers. You have to look at the symptoms, you have to rule out other things that could be going on. And again, it's so common. So when we're talking to something that's affecting 10 to 15% of the general population, that's a lot. And it affects over 50% of the chronically ill population.
Lauryn Lax:
Do you do or have you seen any TH1/TH2 kind of testing, or immunoglobulin testing as well?
Beth O'Hara:
Yes, so I've looked at the immunoglobulins, I've looked at TH1 and TH2, and I've done a lot of experimenting with different things, and I'm not seeing clear patterns. So right now, we just don't have any clear testing. We really don't.
Lauryn Lax:
Yeah, it seems that with all the different body systems that can be affected, people can have different presentations. For example, a client comes to mind whose mitochondrial markers were really off and some detox markers were really off, but her gut testing looked fine. Whereas another client may be experiencing more IBS type symptoms, or just dysbiotic gut as the presentation, whose testing shows these but whose mitochondrial markers are fine. So something has flared, but has probably been diagnosed or worked up as what we know in medicine to be colitis, for instance. They're having gut issues, which in traditional medicine might lead to maybe a colonoscopy, for example.
Beth O'Hara:
Right. And most of these conditions that are inflammatory, such as colitis or irritable bowel disorder, involve an autoimmune component. Or Autism, which is neuroinflammation. All of these have solid research that connect them back to Mast Cell dysregulation. And we need to be looking at it through that lens. So with things like colitis or gut inflammation, there's going to be Mast Cell dysregulation going on—Mast Cell over-activation– because they're the front-line activators of that inflammation. And then we don't want to just knock the Mast Cells out. In traditional medicine, the approach is to put people on this massive anti-inflammatory and Mast Cell stabilizing cascade of drugs. If someone is severe and they're in an emergency state, that's 100% appropriate. I'm not anti-medication at all.
Beth O'Hara:
But we need to know that that is not fixing the problem. It's dampening the symptoms, and that's what was done with me. I was put on eight medications by the time I was 16, and that's a lot of medications for a teenager to be on. I think that's why I got so ill over time because the Mast Cells were knocked out. I wasn't having the symptoms then as severely as I'd had before the medications, but with all the mold toxicity, I also had Lyme and Babesia and Bartonella, and Epstein-Barr, and all of that was allowed free reign in my body. And I just became more and more and more ill over time, even though I wasn't clawing at my eyes and scratching my skin till it bled. But the fatigue was getting worse. The joint inflammation was getting worse, along with the food sensitivities.
Beth O'Hara:
I got down to 30 foods, if you count salt, pepper, and every possible herb I could eat. So outside of that I had about 15 foods outside of herbs, and I don't think that that's the way we want to go long-term., Except for people that are really severe and they're going into anaphylaxis and that's going to kill them. Then of course the medications make sense, but the long-term approach is to clean up what is causing all these issues. And I see that make such a huge difference in people's lives. I had a client who, when we first met, was so reactive that she couldn't leave her home. And when she thought about leaving her home or she tried to leave her home, she would get extremely anxious. And she thought that she was developing a phobia to going out in public.
Beth O'Hara:
And I said, well, before you started getting ill, did you have this issue? And she said, no. It just came on when she was sick. And we started digging into it further. "Well, what happens when you go out?" Inevitably she couldn't drive herself anymore. She would get an Uber, there would be a fragrance, one of those car fragrance things and she would go into anaphylaxis. And I said, well of course you're terrified to leave your house. Nobody wants to go into anaphylaxis! So we looked at the root triggers, and she had Lyme and Bartonella, but bigger than that, she had mold toxicity, which I'm seeing over and over, about 70% of my practice. She had a lot of sensitivity, electromagnetic fields and some metals issues. And as we worked on all of those, it took about a year and a half, and a year and a half later she went to New York with her daughter and traveled and ate out and was in New York for a week and had a great time. And that was it. That was her big goal was to get to go someplace with their daughter again and travel and eat. And so I see people getting their lives back. They don't go back to eating Wendy's or pizza or, you know, but, but we get things and we get our lives back. The quality of life.
Lauryn Lax:
Yeah. You mentioned a lot of those there, but again, those roots or common causes that we as practitioners are seeing–talk a little bit about some of those common themes you see like as Bartonella, ABB, mold we've kind of mentioned.
Beth O'Hara:
Yeah. So I put mold, Bartonella, I put all of that in a category I just call infections and toxicity. So that can also include chemical toxins. And when I say chemical toxins, I mean fragrances and conventional skincare products. In addition to things like air pollution or heavier chemical exposures, and food triggers. People are eating more processed foods, even if they're trying to eat healthily, they're eating more processed foods. And there's been a big trend towards higher histamine foods. There's this big kick on things like kombucha and bone broth and spinach. And I'm not saying any of those are necessarily bad, other than that spinach should be a condiment and not a main course, as people are eating it now. But we are eating these in much higher quantities than even ancestral populations traditionally ate them. And so, especially here in the United States, we like to go big or go home, right?
Beth O'Hara:
So if we're going to do kombucha, we're going to do a lot of kombucha, not two ounces. So people are eating really high histamine diets. But on top of that, they're eating really high oxalate diets. And that's what was putting me on a cane. And oxalates are tiny little crystals, crystal structures in plants. Our bodies make oxalates and molds and make oxalates when they colonize. And our bodies and these oxalates are very damaging so they can lodge in the points and the muscles, a big contributor to fibromyalgia. And I was eating what I thought was really healthy when I was getting sick. I was eating spinach and lots of sweet potatoes and lots of almonds and I was working on gluten free, but I went to these super high oxalate foods, not knowing what it was doing to my joints. And those oxalates trigger the Mast Cells.
Beth O'Hara:
And then there's a category of foods called lectins and those are like in our night shades and a lot of grains, and those can trigger Mast Cells as well. So what I'm finding is that the way people who have Mast Cell Activation Syndrome have to eat is actually a little different from our what our general public thinks a healthy diet is. So we have those food triggers, and of course pesticides and these other pieces. Then we have genetic factors, and that's a big field of study that I've specialized in, and looking at not just a very "X equals Y" kind of thing, or "If you have this gene or that gene, if you have MTHFR, you should take methylfolate." Those are the types of things we're hearing out there, and they are a bit simplistic. We have the knowledge now to be much more complex about it and look at it as a whole, and to look at these genes holistically.
Beth O'Hara:
So anything that's triggering inflammatory issues in the body from a genetic standpoint , or predisposing people, that's a piece. Nutrient deficiencies are another big piece, especially in my practice where people come in and they have been down to 10 or 15 foods or less for a long period of time. We start to be low in vitamin C, low in sulfates, low in copper, and these different things that are needed for the enzymes that are required to reduce histamine and support the Mast Cells. So I'll pause there, cause I know there's a lot to talk about with those and then I've got three others that we can touch on.
Lauryn Lax:
Yeah, that is quite the list right there. And I guess it can feel super overwhelming if an individual is hearing all these triggers and factors and just wanting to know where to even start looking for them. Like where does the layperson start to figure out those root causes if they are thinking they have the symptoms of Mast Cell Activation Syndrome. What's the next step?
Beth O'Hara:
Yes. So one of the things I'm really dedicated to is helping people learn about this and then the education around it. And it's something that I love doing. So I put together a free report for people and it goes through all of these root causes and really details them so that people can step through and look for themselves to see what they may have and what might be involved. And I talk about three other factors in the report. One is airway obstructions, in which the dental arch has become more narrow down through the generations because of poor nutrition, and people don't have enough room in their mouth for their tongue. That's actually triggered a lot of people. And then we talk about hormone imbalances, which are really involved because cortisol and progesterone both are a big part of Mast Cell stabilizing.
Beth O'Hara:
Several hormones are out of whack and we also need proper thyroid hormones. And the third factor I talk about is stress and trauma are big ones. People always underestimate how much stress is affecting them, affecting their nervous system balance. That parasympathetic side of nervous system balance is huge. I tell people in my practice that a third of the work is cleaning up your environment and your exposure to toxins. A third of it is going to be foods and supplements and a full third is going to be nervous system supports, and learning how to breathe and having a period of time daily where you're doing breathing practices or meditating or whatever that calms the system down. And that those three have to come together. But we could talk about this for days, so if people want to read more about all of this, they, they can go to my website at http://mastcell360.com/freereport. You can get that free report right there, and it's about 17 or 18 pages long, and it'll step you through all of these. And then I have a book that's going to come out this year, so I hope people will sign up for that free report. Then when the book comes out they'll get information about it. And I'm going to really go into walking people through how to figure out which of these triggers you have and how to start working on it.
Lauryn Lax:
Ah, that's exciting. I love a good book. So definitely I'll be interested in that. So this is loaded question, but do you have a tier or totem pole of what you support and address first, and how you stage and step someone out of MCAS?
Beth O'Hara:
Yes, that's a great question. So it depends of course on what people come in with, but I can tell you that in general, what happens for probably 80% of people is to first work on digestive support. If people are constipated, I start there because if you're constipated, those toxins are reabsorbing through the intestinal wall and recirculating through your body. And so we work on that. A lot of people come into my practice that have SIBO, and we start working on that piece, not the antimicrobials, but we start working on supporting digestion with right digestive enzymes, pro-kinetics to work on the movement of the foods through the intestine system that have been sitting there too long. And then if there's constipation, whatever it's going to take to fix that. At the same time, if there's any possibility that there may be mold toxicity, I test for that and then that starts to get addressed first as well.
Beth O'Hara:
Even if there's Lyme, Bartonella cause what I've seen over and over is when people have these other infectious layers, if they have mold toxicity, at least the population I'm seeing, those protocols for Lyme and Epstein-Barr and all of these things that they're doing, retroviruses, they're just not knocking it out because the mold dampens immune response and dysregulates the immune response so much. So then we start on that mold piece, which for me is starting with the right binders, targeted binders, working on bile support and then very slowly working on phase two detox. It can take me six months to build somebody through just that section before we ever get to any antimicrobials or antifungals. So we have to go slow and my motto is slow is fast, but if we try to go fast, it's going to be slower. Because time and time again, people have been told to push through or it's just a Herx reaction, you'll get over it.
Beth O'Hara:
And then what happens is they set off what I call Mast Cell cascade, where the Mast Cells are creating inflammation, and that is producing more inflammation. It's exponentially triggering the surrounding Mast Cells, and that can last for months. So we don't want to do that. Those are the biggest places where I start. And then I layer other things in. Unless the person has really severe metal exposure, I usually save that piece for last in my own approach. And that doesn't mean any other approach isn't right. It's all dependent on the person. But I've found that pulling metals has been very harsh for people who are really reactive with Mast Cell Activation Syndrome. And sometimes it worsens the infections. So I usually save that one for the end, and then everything in the middle gets built case by case.
Lauryn Lax:
Aside from using supplements or medications to address the underpinnings, what are some of your favorite lifestyle hacks to help people as well? Be it breathing and meditation and breath, infrared sauna, fresh air walks, time spent with people connecting them to their hobbies, or like anything in your wheelhouse that you've found to be universally effective and helpful.
Beth O'Hara:
Yeah, all of those. I spend some time getting to know people and to tap into what they love or what's working for them or what fits in their lives, and that can help set them up for success. But in general, there are some very specific breathing practices that I have everyone do and I've written about them on my blog, so if anybody wants to go onto my website they can find it there. And I did my master's research on what's called psychoneuroendocroimmunology in Mast Cell Activation Syndrome. And that was looking at how the mind states and the stress states have instantaneous effects on the immune system, the hormone system, the nervous system. And it's not saying everything's in our heads, it's saying that everything is interrelated. And so we have an entry point into supporting the immune system and the nervous system through breathing practices.
Beth O'Hara:
And there are specific breathing practices where you sync the inhales and exhales. It's also called resonant breathing, and there are some other names for it. There's a technique called coherent breathing, but the gist is that you're matching the inhale and the exhale, and there are some very inexpensive apps that help with that. And then another one that I have everyone work on is electromagnetic radiation reduction. And this is because we have absolute clear, irrefutable evidence that these electromagnetic fields from our cell phones and our laptops and our wi-fi routers, and all of these different things, trigger Mast Cell inflammation. And I think this is why one of the big reasons why Mast Cell Activation Syndrome has really been on the rise. Because we didn't see this very commonly, even when I was growing up, and I'm in my 40's. And a generation ago, they certainly weren't seeing this. But now I'm getting kids 6 years old who are having anaphylactic reactions.
Lauryn Lax:
It's just the compounded effect of all the toxins, and our climate and everything too. And the more we can strengthen from the inside out, the more we can combat this.
Beth O'Hara:
Exactly. And again, it's huge. I work with a little girl who is about 12 years old now. And when we started working together, she was having throat closing and anaphylaxis on a weekly basis. And when she would wake up in the morning, stood up and got out of bed, she would faint because her blood pressure was so low. And she's not even through the protocol, but just working on these root issues, they've reduced the triggers. They figured out there was mold in their house. They're working on that. She hasn't had an anaphylactic event in several months and she hasn't passed out in several months. And there's just so much we can do, but people who have Mast Cell Activation Syndrome are the ones that probably fall through the cracks the most. And it doesn't have to be that way.
Beth O'Hara:
So I really want to make changes here so that people get the help that they need to get better. It does a lot of work though, Lauren, and I know you know about that. I get emails sometimes from physicians, who ask, "What is the quickest, easiest way to address Mast Cell Activation Syndrome?" And my response back is usually a very polite way of saying, "Well, do you have six months? Because that's how long it's going to take me to talk you through how to do what I do." But, um, so, so it does take a lot of work, it's a lot of work on the practitioner side and the client's side. And it usually takes one to three years of stepping people through this. But if people are willing to do the work, it's going to make a big difference.
Lauryn Lax:
Yeah. A motto of mine that I share at my practice is that when given the right tools, the body innately wants to heal itself. The body didn't get to where it is overnight, so it takes time. And they can feel better along the way too. I know there are those little wins,
Beth O'Hara:
Right. The big picture should be gradual improvement, and sometimes it's two steps forward, one step back. But I tell everyone, let's look at three months at a time.At the end of the three month period, if we're better than we were at the beginning of the three month period, then we're going in the right direction. And it does take some tenacity and perseverance for people, because there are going to be better days and worse days. But it makes a big difference. I just really hope that people who think they may have Mast Cell Activation Syndrome will go onto the website at http://mastcell360.com. I've got a free symptoms survey there, pinned at the top of the blog. and there's also a lot they're on eating for Mast Cell Activation Syndrome that goes beyond just the histamine issues.
Beth O'Hara:
And I've got a link that says, "What is MCAS?" that goes through all the different possible symptoms. And if people start to take a look and access those resources, they can really advocate for themselves to make changes in their health by taking that information to their practitioner. And that can help their practitioner get on board with them. And then I hope they'll sign up for the free report and then also the newsletter, because I'm going to have some really targeted supplements coming out this year that are unique on the market for Mast Cell Activation Syndrome. So I'm a researcher as well as a practitioner. I'm not like in the lab doing the work, but I'm reading the articles and compiling all of the research out there and looking at what's most effective and most helpful for people. So that's coming out this year in this book. And then I'm also starting a practitioner training program, so we can get more and more people able to do this kind of work.
Lauryn Lax:
Well, I so look forward to all of those things and we'll definitely put your link to your website in the show notes as well so people can easily access it. And thank you so much, Beth, for coming on and sharing your story with us, as well as what you've learned and the journey.
Beth O'Hara:
Oh, thank you Lauren. I'm so grateful that we can team up like this and help people out there who are suffering, to get them out of that suffering so that they can have the kinds of lives that they need. And then they can go out and be of service and we just can really make the world a better place.