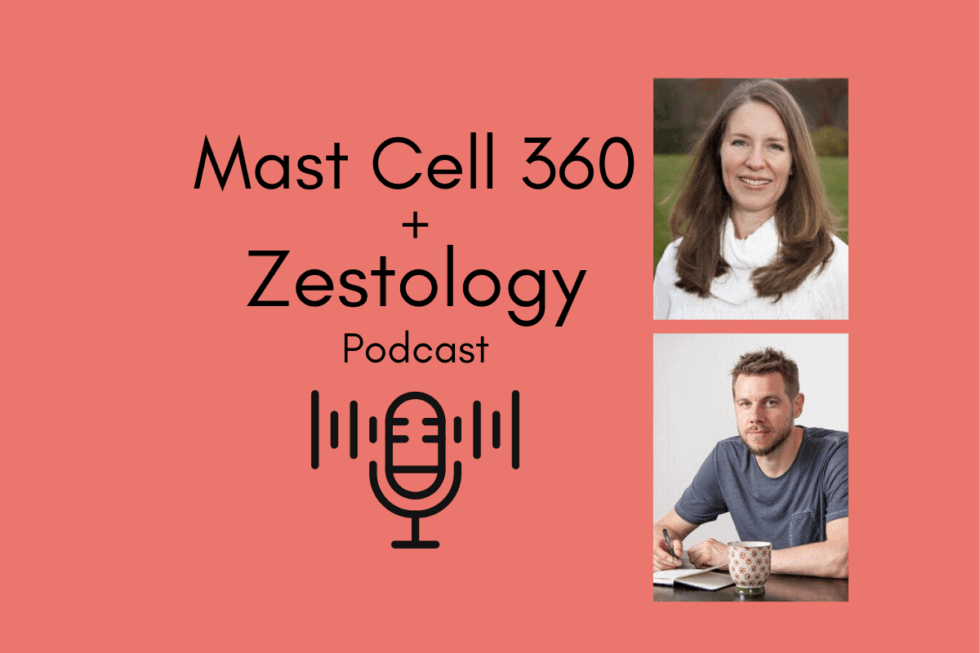 Lockdown Tactics for Mast Cell Activation Syndrome and Histamine Intolerance – Zestology Podcast Interview
Recently I spoke with my friend Tony Wrighton about the effects of Lockdown. I also shared some of the tips and tricks I use during lockdown.
You can listen to the Lockdown Tactics: Immunity, breathing podcast here:
And if you like to read instead of listen, here is the transcript…
Zestology Interview Transcript
Tony Wrighton:
Some breaking news. I'm out of isolation. I mean I'm still in isolation. I'm indoors. I normally record this podcast out and about, but after the serious isolation bit.
Hello and welcome to Zestology. It's the podcast all about energy, vitality and motivation. Last week I think I sounded a bit grim. I mean there is a lot to be depressed about at the moment, but as you know we were  self-isolating with Coronavirus symptoms run all across the family as well.
So we were in, no one feeling particularly great. I'm feeling a lot better now myself. But I have to say, the out -of- breath-ness is absolutely crazy! A lot of people listening to this who've experienced symptoms will know that. I've just run up the stairs to record this podcast, in isolation and not outside,  and I'm out of breath! I never get out of breath going up the stairs!
Tony Wrighton:
So it does take a while to get over. That's for certain and I'm either very unfit or probably coronavirus has visited this household. How are you getting on? I really hope you're doing well, staying healthy, staying safe, and likewise with all your family. It is absolutely dreadful, isn't it? But, I'm trying to remain chipper. I know last week I did sound quite glum, and normally when you listen to Zestology, you're probably used to me being fairly upbeat, aren't you?
I mean there are of course lighter moments in this whole isolation thing that most of us are going through listening to this podcast at the moment. I mean certainly spending more time with the family and cooking better food than ever before is absolutely fantastic. Self isolating from the fridge is proving completely impossible, and today's podcast will reveal what's in my fridge and what's in my freezer, and other more important things as well.
Tony Wrighton:
Lock down tactics. That's what we're talking about today. How to deal with coronavirus from a physical, mental and emotional perspective. And my guest is Beth O'Hara, who's been on Zestology before. She's a functional naturopath and a functional genetic analyst.
She specializes in working with clients with Histamine Intolerance and Mast Cell Activation Syndrome. And you probably know all about my interest in histamine issues. But we don't just talk about histamine, in fact don't talk about histamine that much. We talk in general terms about immunity, breathing techniques, supplements and tips. And then we go deep. We go into the kind of Histamine and the allergies and the Mast Cell Activation Syndrome as well.
Tony Wrighton:
So I hope you enjoy this, I hope you enjoy a bit of lockdown tactics on Zestology.
Tony Wrighton:
Beth, lovely to talk to you again. It's been a little while. How are you?
Beth O'Hara:
I'm doing okay. Tony. I'm really excited to be here with you. It's been an intense four to six weeks here.
Tony Wrighton:
Yeah, it's really intense, I know. I think people are so worried and the news is so negative, but there are moments of lightheartedness amongst the gloom, because sometimes, you just have to laugh! I mean, the number of funny memes I've been sent by friends and the things that we've been laughing about amongst our family…but it has been really difficult, hasn't it?
Beth O'Hara:
It can be. I do love the meme about introverts – I'm very much an introvert. It's a photo "me before quarantine" and then "me during quarantine," and it's exactly the same picture.
Tony Wrighton:
That's great! So you've got the memes and then, I'll tell you what, I'm really finding it hard to avoid the fridge, Beth! My goodness. I mean it's just being stuck in the house all day. Every time I walk past the fridge, I'm thinking "just a little snack…"
Beth O'Hara:
Oh, I bet. You know, I do intermittent fasting and so I don't eat until lunch and then I'll eat again at dinner. So I haven't been snacking, but I do go off the fasting on weekends and do a little more grazing. I think it's good for women to take a break.
Tony Wrighton:
Well, I think the intermittent fasting is really helpful for snacking. In the morning it's fine. It's easy not to snack at the moment. But the dam has burst at lunchtime, then all afternoon it's snack central until dinner. But I have to say actually with the histamine intolerance that I'm feeling really good in terms of the food I've been eating.
It seems that with Histamine Intolerance and Mast Cell Activation, it tends to be problematic when you're eating out and you don't know what the ingredients are. So I'm eating better than ever before and I've been making loads of low histamine stuff. I made a butternut squash gnocchi a couple of days ago, which is all low histamine. It was lovely, very easy to make as well.
Beth O'Hara:
That sounds amazing. Well, I work with a lot of people that can eat limited foods and have a lot of food sensitivities. I've been getting lots of messages from people around the world, in emails and Facebook messages and comments. And some people in the UK have been saying with histamine intolerance and muscle issues, they're having trouble sourcing the normal foods and trying to figure out what to do. Because a lot of people with these kinds of conditions will go to the grocery more frequently. So their produce is really fresh. And one of the things I've been recommending for people is to really think outside of the box. And if fresh produce isn't available, use frozen produce. Those are going to be close to fresh. But canned foods are gonna be much higher histamine. So people need to keep that in mind. And then what you can do, too, is when things are available, make up extra batches and then freeze the leftovers. And that's what I do. So I'll have frozen meals.
Tony Wrighton:
Yeah. My family thinks I'm mad. I made a batch of, I think it was about 28 Turkey burgers the other day. But it's great! Just warm up one for lunch. Perfect. 27 left, you know? Um, yeah, it's and it's, and it's so fresh isn't it? And I have to say there are a lot of things that are actually better when you thaw them out and eat them than they were when they were fresh! Especially soup.
Beth O'Hara:
Oh, soups always better, so those flavors can meld. And one great thing to do if you like meat is to get a meat grinder and grind the meat yourself. If you grind the meat yourself, that's going to have the lowest histamine levels. Since ground meat has more surface area, it builds in histamine quickly if it's not totally fresh. But if you grind it yourself at home and then make those Turkey burgers, you can really keep those histamine levels down.
Tony Wrighton:
Really. I did not know that. That's so interesting. I mean, the thing is, you are quite hardcore, Beth. I've just got an image of myself of you standing at your meat grinder, sticking a Turkey through that.
Beth O'Hara:
You know, 10 years ago, Tony, I was bedridden and debilitated, and had to use a cane just to hobble to the bathroom. I was horribly, horribly ill, much more severely than a lot of people have ever been. But most of the people that I see in my practice are at that level of health where they're just really, really struggling. And so we've got to get tighter around some of these things cause their "histamine buckets" are not just overflowing, they're but gushing! And so we've got to drop those levels down quickly.
Tony Wrighton:
Yeah, I mean, generally speaking, I know obviously I've been reading your blog over the last few days and I know that, there's a great deal of anxiety around that at the moment We've tried to deal with this on the podcast, and brought in experts like yourself who can talk about the physical and the mental and the emotional issues surrounding what was going on with Covid-19. But there is a lot of anxiety based around catching it.
I think that we've all had it now and it's not been particularly pleasant, but it's not been that bad. And I really hope we have had it because it's the about the anxiety of waiting to know whether you've got it or not, which is very worrying now. You were just talking about how, you know, 10 years ago you were bedridden and obviously that's led you to doing the work that you're doing. And I know from your blog that you and many of the people that consult with you are really worried about getting Corona virus simply because your immune systems for whatever reason might not be as strong as other people's.
Beth O'Hara:
Yeah. So there's a few facets to this. One is that people with Mast Cell Activation Syndrome….And this is so common, its estimated between nine and 17% of the general population. And way over 50% of the people with chronic health issues have Mast Cell Activation. And what happens is that is that we end up in a TH2 dominance state. So what that means is there are two branches of the immune system that are often talked about, TH1 immunity and TH2. TH1 is the one that does surveillance, recognizes pathogens and launches a response against viruses and bacteria and so on. And then the TH2 system will create longer term inflammation and that's what gets overactivated in Mast Cell Activation and autoimmunity. And then it sets up this inflammatory response that can go on.
Beth O'Hara:
Now this is important because the TH1 and TH2 systems work like a seesaw with each other. They have a feedback mechanism with each other. So when that TH2 inflammatory system gets elevated, it'll dampen the TH1 system and we have a harder time fighting off pathogens. So for those of us with Mast Cell Activation, especially, autoimmunity and these types of conditions, what I'm telling people is… One, we don't want to panic. Panic creates stress, and stress weakens the immune system, and that increases the TH2 inflammation. So we've got to stay really centered and calm. We have to remember that we've had lots of outbreaks before. We had H1N1 in 2009 that didn't get as much press as this is getting. And there have been other different types of outbreaks. We have flu every year.
Beth O'Hara:
Now. I'm not saying this is the same as those. This is different, but we got through those. For most people with Mast Cell Activation, if they have the flu, it isn't fun. It's usually awful. But we get through it and so we've got to stay centered. Remember that we're going to get through this. And then the other part is when we're panicked, it hijacks the part of our brain that makes decisions and we can't make good rational decisions. And then people start panic buying more toilet paper than they can use in six months or buying, you know, foods that we don't eat like twinkies and alcohol, we're all sold out, I thought that was really interesting. So we want to be able to think really clearly about what are the most important things to do. And the most important things for people are getting extra sleep, managing stress and doing lots stress reduction, whatever works for people. I love Thich Nhat Han's saying that the best meditation is the one that you do. And so whatever that is for people.
Tony Wrighton:
I find that meditation doesn't work quite as well when you are super stressed, that that is a sign that you need it all the more, isn't it?
Beth O'Hara:
There's another Buddhist saying that says, meditate 20 minutes every day unless you don't have time– then meditate for an hour.
Beth O'Hara:
That's a great point, Tony. When we're really stressed, sometimes our normal methods aren't going to work and we need to do something different. We need a different tool. So I've been teaching people some different breathing. If you want, I can share it with you here.
So one of the good ones I really love is called box breathing, or it's called tactical breathing because this is used by police officers and EMT's and military personnel in times of crisis.
And it's super simple. You just inhale for a count of four, pause for count of four, exhale for a count of four and pause for a count of four. So I'll just talk everybody through it here. So we'll just all do it together so everybody can take a normal breath and then exhale. And at the end of the exhale, you're going to start to inhale two, three, four, pause, two, three, four. Exhale, two, three, four, pause, two, three, four. And then normal breath, and then another round. So inhale, two, three, four, pause, two, three, four. Exhale, two, three, four. And pause. Two, three, four.
Now if you've been having trouble breathing, that might be a little hard to do right now. And so you might do it for a count of two or count of three, so you can adjust it however you want. But it slows down the heart rate. And then the other one that I've been teaching people on the Facebook Live talks that I've been doing on Mondays. It's the same technique, with a twist.
So we inhale, pause, and then we breathe out with puffy cheeks, like you're blowing up a balloon, and breathe it all the way out using your belly. And then relax the belly and let the breath rush in so we could try that. And that's a good way to increase lung capacity and strengthen the lungs. So maybe try that for a couple of rounds. So we just, well, I'll do a little shorter cause I can see that you're still having a little trouble breathing too.
Tony Wrighton:
No, I'm okay. Can you say? Yeah. Yeah. I mean I'm not too bad. I, I think it's a week ago. It was, it was a bit weird, but I feel okay now.
Beth O'Hara:
Okay. Okay, good. Yeah. So inhale, two, three, four, pause two, three, four. Blow it out. Use your belly. Blow it all out, and then relax your belly. Let the air rush in and then just normal exhale so you can, yeah, you can do multiple rounds of those and that's a really good way for people to calm themselves down and then eating really well, drinking enough water, those four things. Sleep, stress, eating well, water. These are the biggest things.
Tony Wrighton:
That's something that I've mentioned before just on those topics is you know, you get these kind of highly skilled, highly specialized experts like you are on my podcast and I say, it must almost annoy your clients when they come in expecting to hear the latest incredible supplement or gadget that is going to change their health forever. And you say, Hey, just do a little bit of breathing. Just breathe out and get a bit more sleep and you'll be fine.
Beth O'Hara:
Well, I would say this is what we need to focus on first so people don't have those things down, there's no point in going out spending $200 on special supplements. So get the breathing down first. Now, I have done over 60 hours of research into this and I do have some very targeted supplements, recommendations for people with Mast Cell Activation and autoimmunity that can make a big difference. And they've made a huge difference in my own health and how frequently I get sick and how well I weathe infection. It used to be that if I got a cold it would last for at least three weeks. And if I got the flu I was really sick for two months.
Tony Wrighton:
And are these supplements relevant to people who don't necessarily suffer from Histamine Intolerance or aren't quite as sure, or who don't have mast cell? Because I think there are quite a few supplements, it seems to me that are really, really effective just in general immunity.
Beth O'Hara:
Yes. And so that's a great question. One, the majority of people have too much inflammation, so that's pretty rare. Unless somebodies a biohacker. So, yes. So there are some great supports that can work for anyone, and I've gone through these in the blog, but just kind of generally if people are having trouble sleeping, melatonin is a great supplement for this time. You want to use a pharmaceutical grade brand, like some of those on the blog. I just wouldn't get a cheap brand, because it's a hormone. You want to make sure it's pharmaceutical grade so there's the exact same amount of milligrams per capsule. And with the cheap brands, you can get five milligrams in one capsule and one mg in the next, and then not understand why you're groggy one day and can't sleep on another.
Tony Wrighton:
Yeah, I don't know. I've just got some of this melatonin bionic here, and you know what? It knocks me out so much. I can't take it. And the recommended dose is six sprays. Well let me tell you Beth, if I have one spray, I'm sleeping for about three days.
Beth O'Hara:
Yeah. Oh, so that's pretty potent. So there may be like I have on the blog a 0.5 milligram melatonin. That's a good place for people to start. And then the extended release and immediate release formula. So if people are having trouble staying asleep, the extended release is a good option. I've got that out there on the blog. And then so again, melatonin is great and has also has antioxidant and immune support properties.
Tony Wrighton:
Isn't there a link between, or a scientific suggestion that melatonin helps with fighting off coronavirus? I have read that in more than one place.
Beth O'Hara:
Well we have to be a little careful here because in the US, the FDA is cracking down hard on anybody who says that a supplement is going to treat, cure or prevent anything, because there aren't any clinical trials on them. There are a lot of trials on other Corona viruses and things, SARS and MERS. And that's where the research is coming from. And then looking at how the immune system links. So this research is why I do think it's a really good supplement at this time. And then vitamin D3 is really critical for balancing the immune system, and fish oil, but not just any fish oil.
Tony Wrighton:
So fish oil and histamine is obviously potentially quite suspect.
Beth O'Hara:
Yes, exactly. So any fish oil is going to be really high histamine and most people with Histamine Intolerance and Mast Cell Activation are going to react to it. But there is one product that I've got listed in the blog under the Covid-19 posts called SPM Active.
And this SPM stands for special pro-resolving mediators, meaning it's resolving for inflammation. And our bodies take those Omega threes and then convert them to the SPM. So you're getting it really targeted. These SPM's balance that TH2 over-activation of inflammation that we were talking about. So it's really critical, this balancing, to being able to clear out an infection while not getting too much inflammation going. And so I really love that product. It works well for most people and I've got that linked and described on the blog as well.
Tony Wrighton:
Yeah, just interrupting this podcast to remind you that it is brought to you by BiOptimizers, my partners and a company that have made it their mission to heal your gut. And that's what I've been doing for the last month or so. Really enjoying their Mast Zymes, which I'm having with every meal at the moment. Their probiotics, really important as well. Last night I had a virtual steak night with my mates, which was lovely. And we at eight o'clock on the dot, we were all ready. We all had a steak and the number of sides and we sat down, um, and we judged each other on the quality of how each other's plates looked. And I have to say I didn't get one vote from my mates, which I'm quite quite annoyed about. I actually, I had steak and a bit of celeriac mash and some low histamine ketchup as well from the, um, Histamine Intolerance cookbook.
Tony Wrighton:
Um, and I didn't get one vote, so very disappointed about that. Um, but um, what I was quite pleased about is I had some Mast Zymes which, uh, during the middle, which I think really kind of helped me digest the steak.
And now back to the show. Yeah, I mean it's just a, it's so interesting how our scientific endeavors across the world seem to be entirely focused, scientific and functional medicine and everything else, towards this new virus in a way that the whole world has rarely worked together ever. I mean, I wonder what we will find out in one month, in three months time from now about how to fight this, how to treat it and eventually, um, how to prevent people from, from getting it because that's another one of the things, isn't it? The great uncertainty about when everything will go back to normal inverted commerce, we just don't really know.
Beth O'Hara:
Right? I think that's what's most concerning. And I think that's what's got panic and fear stirred up because there's a lot of unknowns right now and we have outbreaks all the time of different kinds of things, but it's, it's more known what, what are the actual complication rates, what are the complications, what are the risk factors and how do we address it and how do we prevent it? And so on. And there is a lot that's going on. I'm in a number of think tanks and one of the things I love is how much practitioners are coming together and openly sharing information. Just everything to help practitioners, everything to get this information out to people and what they can do to be supporting themselves and taking care of themselves. Because unless you have the inclination and the educational background to sift through hundreds of research articles, it's hard for people to put this information together for themselves. And so we have in these think tanks, people that are specializing in certain areas and digging into the research and then bringing it to the group and then we can all benefit and get all the information out. So that's a lot of stuff happening behind the scenes and that makes me very happy because we can reach so many people quickly that way.
Tony Wrighton:
Um, you haven't mentioned kind of other things that um, I wanted to ask you about. You haven't mentioned vitamin C, liposomal vitamin C, I mean obviously the link between vitamin C and Histamine Intolerance and Mast Cell is quite well known in a beneficial sense. Is that something that you think is important as well for people's general immunity? I mean, I know I bought some from my mum.
Beth O'Hara:
Uh huh. Yeah. So vitamin C is important for immune balance and it's really important for producing diamine oxidase. So diamine oxidase needs vitamin C and there are a number of roles of vitamin C. Now we don't know for sure if this is a preventative, but there have been some cases where vitamin C IVs were used and things like that that seem to be beneficial. There's more information that needs to be uncovered there. The trick with vitamin C for people with histamine intolerance and mass cell issues is that most of it's ascorbic acid, which comes from corn fermentation. So we want to make sure that we're getting a tapioca-based or that we're getting…. I really like Camu Camu, which is a berry and it's a low histamine, low oxalate whole food form of vitamin C, and that's got the entire complex. So that's good. And then there's a very certain sodium ascorbate I use for people in my practice that I've got on the blog. And that sodium ascorbate is great for people that have lower blood pressure. So that's what I'm using. So vitamin C uses the sodium transporters to get into the cells. So that's why I like to use that form. And it's a hypoallergenic one.
Tony Wrighton:
I know we spoke about it before, but you've got to bring out your own supplement, you know, because people would then, then it would save all the worry.
Beth O'Hara:
I'm actually working on that. So I've got two formulas that I'm working on custom formulas and I'm just another formulas that um, are going to come out this year. And the process, it's just a long process to get those out. But I'm going to have those this year. And then I'm also doing, um, because I can only work with so many people, one to one. Um, I'm starting some masterclasses that are low cost and people can join and learn this stuff in depth and kind of how I step people through and basically get them through about the first five, six stages that I do with all of my clients and really help get them on the road to healing. So I want to have that out here, um, in a few weeks and hopefully that'll help more people as well.
Tony Wrighton:
Yeah, that's, that's a great idea. Well, um, let me know when you bring all of those out. I'll definitely post it post on my histamine intolerance blog as well. Um, yeah. Oh, definitely. Yeah. Yeah. Um, and you know, just in general terms, I stay safe and well in these crazy times. I mean, one of the things that I would say is really helping more than anything is an element of normality and an element of escape. I'm enjoying fiction more than ever before. And I don't know if you've seen Tiger King on Netflix, but that is wonderful.
Beth O'Hara:
I saw it for the first time last night.
Tony Wrighton:
Isn't it brilliant?
Beth O'Hara:
Oh my gosh, I forgot everything going on in the world.
Tony Wrighton:
Yeah, exactly. I mean, honestly, if you want to forget everything, watch Tiger King, it's so good.
Beth O'Hara:
Right. I ran out of Outlander episodes, so I had to, I had to come up with something else.
Tony Wrighton:
It's very good, isn't it?
Beth O'Hara:
Yes. Yeah, it was, it was, I don't know. Very good is exactly how I would describe it, it was very entertaining.
Tony Wrighton:
Extraordinary. Yeah. Yeah. We've been rationing ourselves to one a night cause it's so good. We don't want to let run out, but um, well normally I'd, um, I would ask you for one tip on one book that you'd recommend, but in the spirit of kind of one bit of escapism is that you mentioned Outlander. What's that?
Beth O'Hara:
Oh my gosh. Tony, this is an amazing show about a woman from the late 1940s who finds a way to throw these stones that are kind of like Stonehenge stones. They're these very spiritual, um, I don't know, stone's very special place. Yeah. And, um, she doesn't know that she's gonna go through time, but she goes and she touches one of the stones and it sent her back to the 1700s. And, and she's a healer. So I find it, I really like her character, um, from that aspect also. And when she goes back in time, then she meets this man Jamie, and then they, you know, she gets stuck in time and then they have this relationship. It's just amazing. Beautiful. Um, intense. I don't know. It's just one of the best shows I've ever seen. You should check it out.
Tony Wrighton:
Okay. I will definitely, I mean we really do need to get away from the grim news as well as be well-informed enough to know what's going on. So that's, um, that's excellent.
Beth O'Hara:
Yes, we have to have balance. We definitely have to balance. Um, if I can, I just want to invite people that they can go to a MastCell360.com and go check out the blog. And there are lots of things on histamine intolerance and mass cell activation, but there's a COVID-19 section. It's got the things we've been talking about detail in there. And um, some people are having trouble finding supplements and sourcing supplements. So we've opened up our, European private dispensaries for people with mast cell and histamine issues to be able to access those and only not generally available to the public.
And there's some ways that if people need help, they can get help through there. And then, if people go to Facebook and MastCell360 Facebook page, I've got some Facebook lives on there. I've been doing, I'm doing those on Mondays and getting lots of free information and breathing and things like that out to people that way too.
Tony Wrighton:
Yeah. Well I, I've been reading your blogs and uh, thank you for that and that, that's, amazing that you're helping people get their supplements as well. You're not that much of an introvert. I don't think. Definitely a bit of an introvert, but not too much.
Beth O'Hara:
On a scale of… on the Myers Briggs. I'm in the, the last quartile for introversion.
Tony Wrighton:
Have you ever heard of the phrase ambivert?
Beth O'Hara:
I have. Yeah. Yup…. but I do really enjoy one-on-one connections a lot. Yeah.
Tony Wrighton:
Uh, Beth, great to talk to you. Thanks. Thanks for that. Really appreciate it. Um, Oh, one more thing. Um, when you buy a steak and it says dry aged steak, does that mean that it's just been gathering histamine for, for weeks at a time?
Beth O'Hara:
It does, it means it's been aged for at least two weeks. Some steaks are aged for a month, but there are some farms now that are doing low histamine beef. One of them that I really love is called White Oak Pastures and I just got their beef and today actually like an hour, so I'm going to try it. So they only chill it for 24 hours. Um, now that's based in the States, but I would also check, there's gotta be other places in the U.K. and, and um, the EU that are doing this, no aging. So there's a minimal chilling of 24 hours that has to happen for beef and then they freeze it right away. So that might be a beef option for people.
Tony Wrighton:
That's, that's, that's brilliant. I mean, I did suspect that when I saw dry aged or aged, um, Beth, great to talk to you. Thanks so much and we'll stay safe and healthy and we'll speak again soon.
Beth O'Hara:
So good to talk to you, Tony, and same to you. I'm sending my best to you and your family.
Tony Wrighton:
That's it for today's Zestology and lockdown tactics. And as I say, not all of these will be coronavirus focused. I think it's nice to focus on our health at the moment and the kind of global situation because we're all thinking about it so much. If you've been kind of worrying about how to boost your immunity, you might want to check out last week's podcast with Dr. Matt cook, fantastic bloke, functional medicine expert and he runs a clinical bio reset medical, one of the world's top experts in the area of natural health and immunity. And we talked about functional medicine treatments and commonly available supplements as well. So that's last week's podcast and uh, yeah, coming up soon. I've got some, I've got some brilliant interviews lined up – Andrew Hill, Chris Shade. So many kind of top drawer rockstars in this world who've been queuing up, waiting patiently to get on Zestology because of the kind of coronavirus specials that we've had.
Tony Wrighton:
But they're coming soon. No doubt. In the meantime, if you fancy a little bit of escapism and you fancy joining in a kind of a mass read, I'm not quite sure how it's going to work. It might be a Zoom hangout or we might, um, just read a book together and then record a podcast and you could send me your thoughts on, on the book and I could kind of edit it in, but some kind of Zestology book club where we actually read a book together. I'm very keen to put together and you can head to TonyWrighton.com and get the mailing list and then we'll, we'll let you know when that starts, but that'll be, it'll be soon. It might even have started already so you can head to TonyWrighton.com for the latest. I'll obviously put it up as a blog as well. Listen, have a great week, stay safe, please stay, uh, isolated. And um, these are very, very challenging times. So I hope you managed to switch off a little bit as well. And also please do check out BiOptimizers and in terms of boosting your immunity, getting the gut right is definitely part of it. It's, it's probably 70, 80% of the package for me and this company has made it their mission to heal our gut. So it's interesting isn't it, that, um, I've partnered with a company, uh, that, uh, heals with the gut when that's exactly what I want to do and I know how important it is. I'm enjoying doing that myself. Bioptimizers.com/zestology, use Zestology10 for 10% off. Have a great week, stay safe and healthy, and I'll speak to you soon.