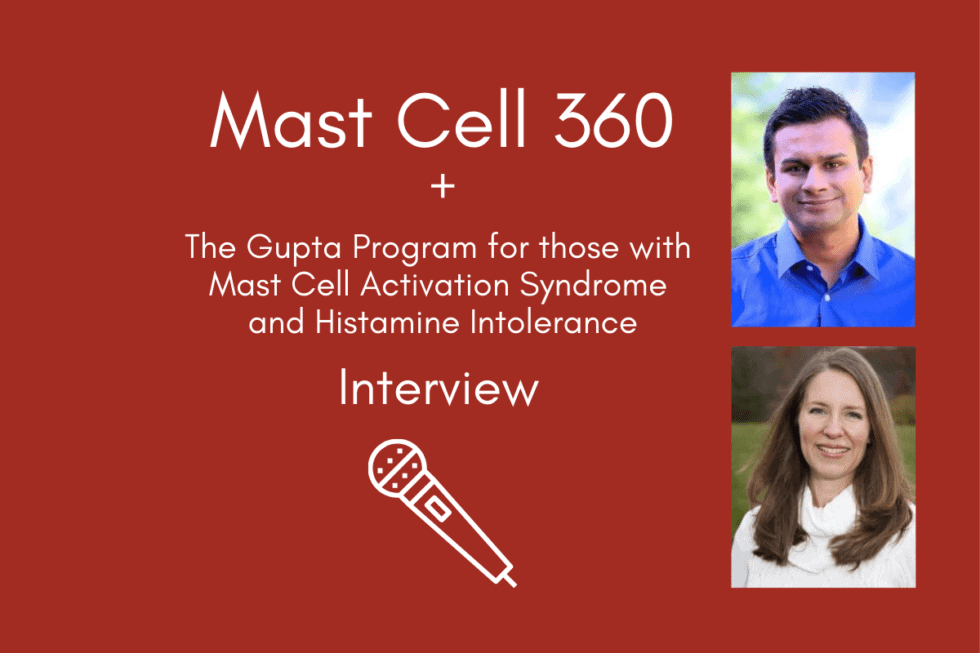 Interview with Ashok Gupta on the Gupta Program for those with Mast Cell Activation Syndrome and Histamine Intolerance
 
Ashok is a really warm and caring person. And he's also extremely knowledgeable about the nervous system and immune system connections.
We covered so much information about how the tools in the Gupta Program can be really helpful for Mast Cell Activation Syndrome and Histamine Intolerance.
In fact, the Gupta program is the first phase of my Mast Cell 360 process I step all my clients through. So, if you want to get a jump start on your healing, this is Step #1.
This interview is chock full of great information! I did my Master's research in this area and Mast Cell Activation. And I still learned a lot from Ashok.
Ashok was very kind to give our readers $50 off the Gupta Program to those watching this interview.
To get the discount, just use coupon code MastCell360 with the link below to save $50:
You have to use the link and code together for the discount to work.
We covered so many topics, including:
How the nervous system imbalances are a core factor of Mast Cell Activation
How Gupta program is different from meditation
What makes the Gupta program so helpful
Why you need to do brain retraining if you have sensitivities
How brain retraining can help chronic Lyme
How brain retraining can help POTS
And much more than I can put in this email
And, Ashok told us he knows many are dealing with a lot of health care costs. He doesn't want anyone to waste money on something that doesn't help them.
So, he created a money back guarantee on the Gupta program. If it doesn't help you, you can request a refund. (See the information through the link below for the money-back guarantee details.)
I've been stepping through it myself. And I loved it so much I wanted to share it with you.
I've done over 20 years of meditation, yoga, qigong, and spiritual growth work. But this program is so well organized. If I'd had the Gupta Program 20 years ago, I would have moved forward with my health so much faster.
I have a lot of background in this area. Yet, I'm learning many new tools and techniques in the Gupta program. It's much more effective than regular meditation and breathing. Because this program also retrains your brain and nervous system.
Ashok has put together an amazing resource for anyone with Mast Cell Activation Syndrome or Histamine Intolerance.
If you try it, let me know what you think!
To get the discount, just use coupon code MastCell360 with the link below and save $50:

*Some links in this website are affiliate links, which means Mast Cell 360 may make a very small commission if you purchase through the link. It never costs you any more to purchase through the links, and we try to find the best deals we can. We only recommend products that we love and use personally or use in the Mast Cell 360 practice. Any commissions help support the newsletter, website, and ongoing research so Mast Cell 360 can continue to offer you free tips, recipes, and info. Thank you for your support!