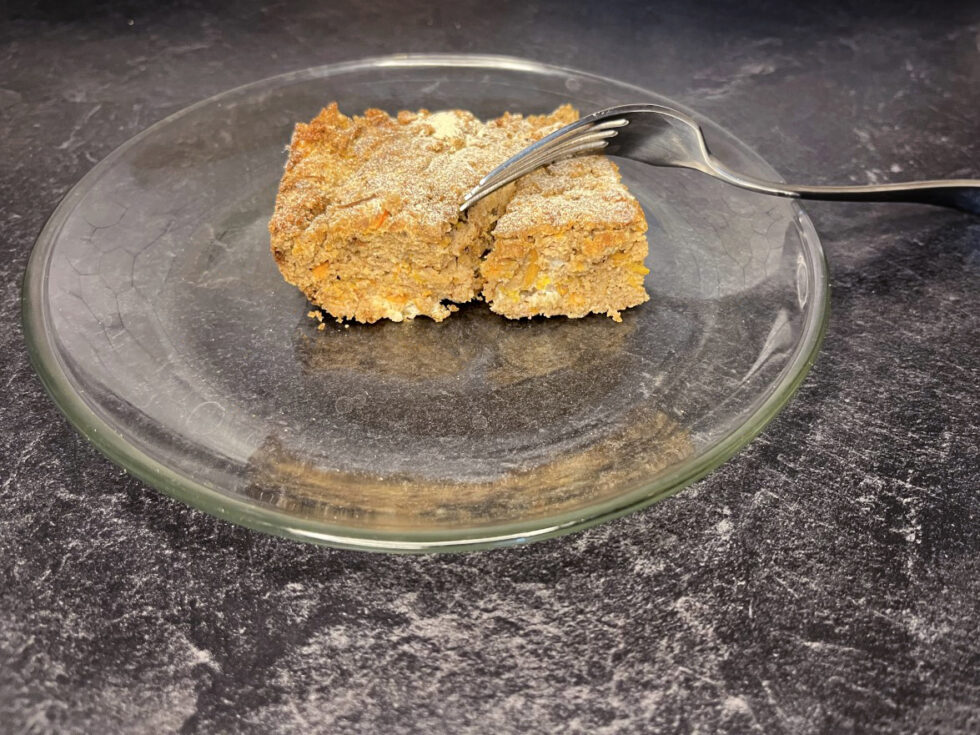 Low Histamine Healthy Carrot Cake Recipe (Also Low Lectin and Medium Oxalate)
One of the most popular requests I get from readers is for low histamine dessert recipes. That's why I'm so excited to share this healthy carrot cake recipe with you.
I'll show you how to adapt a typically high-sugar carrot cake into a healthy option that won't trigger a histamine response or your mast cells.
This carrot cake recipe is:
Medium Oxalate
Sugar free
Gluten free
It's moist and delicious, and will satisfy your sweet tooth!
It's so important that we enjoy our food. Finding dessert alternatives is a big part of that!
Swaps for Low Histamine Carrot Cake Recipe
Here are all the easy swaps to make this recipe healthy for our community. I hope you'll take these ideas and apply them to your own recipes!
Coconut Flour
Swapped for: Almond Flour
Why: Almond flour is high oxalate.
Many healthier cake recipes that are keto or paleo will use almond flour as a gluten free flour or grain free substitute.
However, almonds are one of the highest oxalate foods, so this isn't a good option.
Sometimes, using coconut flour as a base for dessert recipes results in dry, crumbly baked goods. But it works in this recipe because the grated carrots make the texture moist.
TIP: If you react to coconut flour, try a different brand. Some are dried and fermented which increases histamine levels.
Ginger & Cardamom
Swapped for: Cinnamon
Why: Ground cinnamon is high histamine and high oxalate.
Ginger and cardamom give this recipe the classic taste you're used to in a carrot cake recipe.
Consider buying the whole seeds or pods to grind yourself to keep it lower histamine.
TIP: When I shared this recipe with my friends, I set out the cinnamon for them to sprinkle on top. I didn't miss it though.
Whipped Coconut Cream
Swapped for: Cream Cheese Frosting
Why: Dairy can be a trigger.
Carrot cake recipes typically use cream cheese frosting. That type of frosting usually calls for plain cream cheese, butter, and powdered sugar.
Here's what you should know about dairy.
Some dairy products are technically low histamine. However, many people have issues with casein and lactose. That's why I tend to avoid it in Phase 1 of the Low Histamine Diet.
Learn more about the phases in this article.
I've substituted coconut cream for cream cheese in this healthy carrot cake recipe. It tastes great!
You just whip it up to create a tasty, creamy topping.
It isn't exactly like cream cheese frosting. But it does give you that decadent feeling of icing on your cake.
Just make sure that your coconut cream doesn't have any additives, preservatives, or sugars.
I like the one made by Let's Do Organic.
Vanilla Powder
Swapped for: Vanilla Extract
Why: The alcohol in the extract is high histamine.
Vanilla extract is usually fermented and highly processed.
I love using this vanilla powder that's lower histamine.
Be sure to get the raw ground beans. Look for a dark brown color. If it's white, it means it was highly processed.
It is a bit on the expensive side up front, but it lasts a long time in the fridge or freezer.
Monk Fruit Powder & Camu Camu
Swapped for: Powdered Sugar and Brown Sugar
Why: Sugar is a mast cell trigger and histamine trigger.
Anything that raises your blood sugar will increase histamine levels.
So, generally, you'll avoid sugar. Including refined sugar, coconut sugar, maple syrup, and honey.
The grated carrots in this recipe give this cake some sweeter flavor notes. But I found that to really give it the feeling of a sweet dessert, it needed a little something extra.
Monk fruit powder gives this cake a sweet taste without raising your blood sugar like other sweeteners.
If you want even more sweetness, you could try adding 1-3 drops of stevia. And just remember, a little stevia goes a long way.
Camu camu helps replace some of the texture of granulated sugar in this recipe. This sweet fruit has some health benefits. It's a wonderful food source of vitamin C.
Coconut Oil
Swapped for: Vegetable Oil
Why: It is inflammatory and highly processed.
A lot of recipes use vegetable oil because it doesn't have a strong flavor. However, it's not the best oil to use if you have MCAS or Histamine Intolerance.
My go-to substitutes for vegetable oil are olive oil and coconut oil.
In baked goods, I'll go with coconut oil. Olive oil has a stronger flavor which isn't right for most cakes. I think coconut oil is more subtle and goes better with sweets.
Other Typical Ingredients To Skip
Some healthy carrot cake recipes use these, but here's why to pass if you have MCAS or Histamine Intolerance.
Baking powder – It has corn. (Learn more about corn and MCAS here.)
Raisins – This add-in is high histamine and prone to mold.
Applesauce – Even though it helps sweeten with less sugar, it's high histamine if it's not freshly made.
Chocolate chips – Usually contain refined sugar and are high histamine.
Chopped walnuts – These are high histamine and high oxalate.
Greek yogurt – Yogurt is fermented which makes it high histamine.
Cooking spray – Typically has additives that inflame the gut. Instead, use parchment paper to prevent sticking.
Tips for Healthy Carrot Cake
Here's how to make sure your cake turns out the perfect combination of moist and delicious.
Use "Room Temperature" Eggs
If you pull your eggs out right from the fridge, the cold temperature will harden the melted coconut oil and you may end up with oil chunks in the batter.
If you let them sit on the counter for a length of time to reach room temperature, the histamine levels will be higher.
But here's what you can do. You can put the un-cracked eggs into a bowl of warm water for 5 minutes so the eggs aren't as cold.
TIP: In some recipes that call for chicken eggs, I've used a combo of homemade applesauce and flax eggs instead. But I haven't tried that with this recipe to see if it works here. If you try it, please let me know how it turns out!
Mix By Hand
When I tested this recipe, I tried using a food processor to combine the wet and dry ingredients, but it made the cake batter tough.
You're better off mixing by hand with a rubber or silicone spatula.
Use a Large Pan
Coconut flour can be a finicky ingredient. It will not cook evenly if it's too thick, especially if it's the main flour.
It's not as versatile as an all-purpose flour or even other gluten- free flours.
TIP: If you do try to use a cake pan, make sure that the batter is not taller than 1.5 inches so that it cooks all the way through. It's been my experience that coconut flour cooks best when it's thinner.
That's why I suggest using a 9 x 13 glass baking dish. I tried an 8 x 8, but the outside got hard and inside wasn't cooked all the way.
For Oxalate Intolerance
If you can tolerate medium oxalates, you might want to boil your shredded carrots and then discard the water to lower the oxalate levels. Then only eat once piece of cake to keep your serving of carrots low.
Freeze Your Leftovers
This healthy carrot cake recipe freezes really well. Just be sure to slice it and individually wrap it in a silicone bag with the air pushed out or wrap it in parchment paper inside a plastic bag.
It takes about an hour to defrost. I enjoyed my frozen leftovers for breakfast the next day.
Thank you to Carol W. for inspiring this recipe idea for my team and I to adapt!  
Are you ready to make the best carrot cake?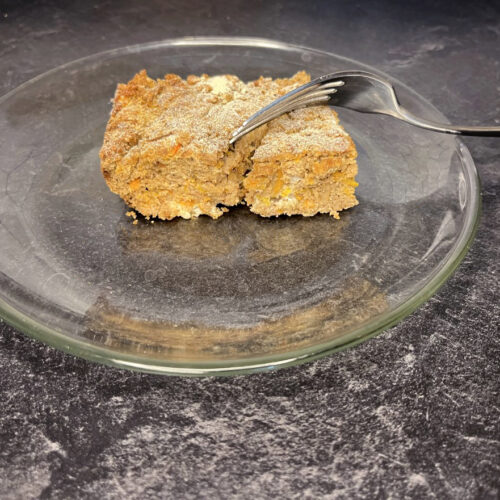 Healthy Carrot Cake Recipe
Enjoy this moist carrot cake recipe that's low histamine, low lectin, and low to medium oxalate.  
Equipment
Small Pan

to melt coconut oil

9 x 13 Glass Baking Dish
Instructions
Preheat the oven to 350 F. 

If needed, melt the coconut oil in a small pan so it is liquid.

Shred or grate the carrots with a food processor attachment or box grater.

Line a 9 x 13 glass baking dish with parchment paper.

In a large bowl, combine the dry ingredients of coconut flour, ginger, cardamom, salt, baking soda, camu camu, vanilla powder, and half the monk fruit. (Save the other half to sprinkle on top.)  

In a medium bowl, whisk the eggs until smooth. Add the wet ingredients of coconut oil, water, (and lemon juice and stevia if using).  

Dump the medium bowl of wet ingredients into the large bowl of dry ingredients. Combine well.  

Then fold in the shredded carrots. It will seem dryer than a typical cake, but the carrots will release water as they cook. 

Cook for 30 to 40 minutes until you can put a fork or toothpick in the middle and no crumbs come out. 

While the cake is cooling, put the coconut cream into a bowl with the monk fruit powder and raw vanilla powder. Use a whisk to combine until desired consistency.

When the cake is cool, spread coconut cream frosting on top.

If desired, sprinkle a very light dusting of monk fruit on top like powdered sugar.
Notes
Nutritional Information includes all optional ingredients except for coconut cream frosting.
Nutrition
Nutrition Facts
Healthy Carrot Cake Recipe
Amount per Serving
% Daily Value*
* Percent Daily Values are based on a 2000 calorie diet.
More Low Histamine Desserts
Will you try this healthy carrot cake recipe?
Some links in this website are affiliate links, which means Mast Cell 360 may make a very small commission if you purchase through the link. It never costs you any more to purchase through the links, and we try to find the best deals we can. We only recommend products that we love and use personally or use in the Mast Cell 360 practice. Any commissions help support the newsletter, website, and ongoing research so Mast Cell 360 can continue to offer you free tips, recipes, and info. Thank you for your support!
References
Baking Soda. (2018). FoodData Central. Retrieved 2022, from https://fdc.nal.usda.gov/fdc-app.html#/food-details/1940151/nutrients
Camu Camu. (2021). FoodData Central. Retrieved 2022, from https://fdc.nal.usda.gov/fdc-app.html#/food-details/2290691/nutrients
Carrots. (2022). FoodData Central. Retrieved 2022, from https://fdc.nal.usda.gov/fdc-app.html#/food-details/2258586/nutrients
Coconut Flour. (2020). FoodData Central. Retrieved 2022, from https://fdc.nal.usda.gov/fdc-app.html#/food-details/1930730/nutrients
Coconut Oil. (2019). FoodData Central. Retrieved 2022, from https://fdc.nal.usda.gov/fdc-app.html#/food-details/330458/nutrients
Ginger Powder. (2018). FoodData Central. Retrieved 2022, from https://fdc.nal.usda.gov/fdc-app.html#/food-details/557638/nutrients
Eggs. (2017). FoodData Central. Retrieved 2022, from https://fdc.nal.usda.gov/fdc-app.html#/food-details/1663084/nutrients
Maple Syrup. (2018). FoodData Central. Retrieved 2022, from https://fdc.nal.usda.gov/fdc-app.html#/food-details/1893852/nutrients