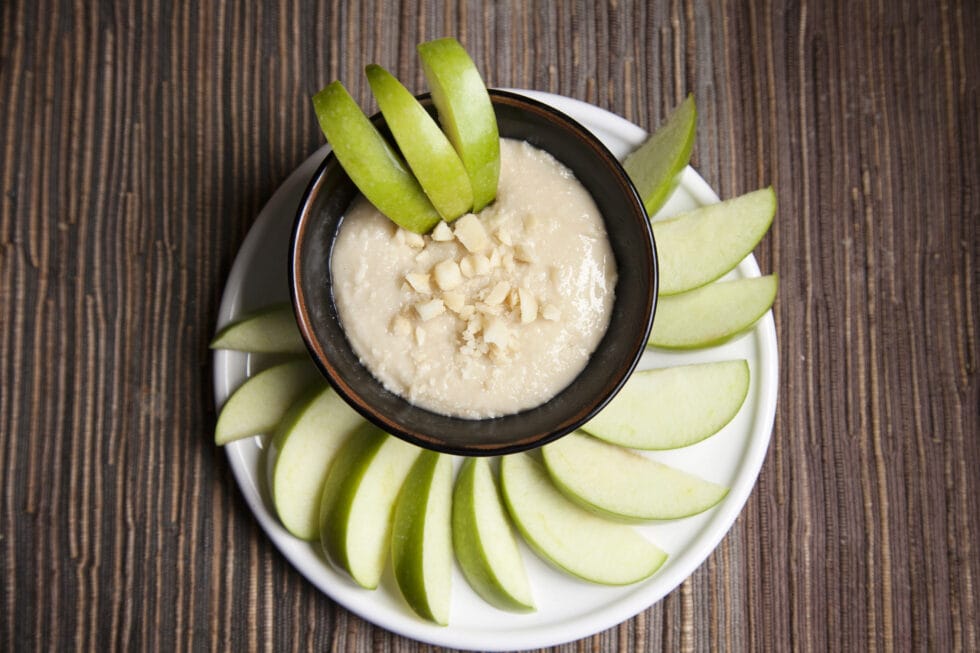 Macadamia Nut Butter – Low Lectin, Medium Oxalate, Low FODMAP, Low Histamine Nut Butter
Do you love desserts and snacks but need low histamine recipes? How does a low histamine nut butter sound? Macadamia nut butter is a decadent, luscious treat!
And I've got an easy to make recipe for it.
For me, this low histamine macadamia nut butter is more like a dessert than a snack. But you could have it either way.
This recipe will make your mouth water! And even better, macadamia nuts are full of mast cell-supporting nutrients.
Sometimes, when I see my husband enjoying a sweet store bought dessert, I'll crave something creamy and silky, too.
However, I know that so many desserts have high histamine components like sugar and gluten. And with Histamine Intolerance, those kinds of foods can make me feel really sick.
I've been able to add some high histamine foods back into my diet over the years. But I still eat a low histamine diet most of the time. And I still don't eat much sugar since it can worsen fungal issues like you get from mold exposure.
Instead of feeling deprived, I enjoy my own delicious, low histamine desserts.
This low histamine nut butter really hits the spot.
Keep reading to learn more about this tasty, easy to make, low histamine macadamia nut butter recipe.
This recipe is:
Dairy free
Gluten free
Sugar free
Low Histamine Nut Butter
When I was growing up, the most common nut butter around was peanut butter.
Today, you can walk into almost any grocery store and get almond butter or cashew butter.
And you can easily make any nut butter at home if you have a blender or food processor.
But when choosing a nut for your nut butter, here are some things to consider if you have food sensitivities or intolerances.
Peanuts, cashews, and walnuts all have high histamine levels.
Some nuts are low histamine. But in higher quantities, they can be medium to high oxalate.
Oxalates are compounds found in some plants. They are part of a plant's defense system.
They are in some veggies like:
Sweet potatoes
Spinach
Legumes
Beets
And more
Interestingly, under a microscope, oxalates look like shards of glass or razors.
And more interestingly, if you have oxalate issues, you might just feel like your joints and muscles are actually being jabbed with glass and razors!
Check out this article to learn more about oxalates and if they might be behind some of your most stubborn symptoms: What Are Oxalates? The MCAS and Oxalate Intolerance Connection
Oxalates aren't a problem for everyone.
But if they are a problem for you, you'll want to be mindful of how much you eat of the following low histamine nuts:
Very High Oxalate:
High Oxalate:
Chestnuts (fresh)
Hazelnuts
High Oxalate Over ¼ Cup:
Macadamias
Pecans
Pistachios
Related Article: Low Histamine Foods List
For this macadamia low histamine nut butter, keep your serving to 2 Tablespoons for a medium oxalate portion.
But macadamia nuts are low histamine, so they fit into the low histamine diet nicely.
I love macadamia nuts for their creaminess and richness.
They aren't bitter like some nuts.
And they are mild enough that they don't overpower other foods. That makes macadamia nuts a nice complement to low histamine foods like apple slices or even as a crust for a low histamine mahi mahi.
There are other benefits to macadamia nuts, too.
Keep reading for a quick overview of all the nutrients you'll find in macadamia nuts.
Then I'll share some tips with you for making this macadamia nut butter recipe successful. It's so easy!
Macadamia Nut Butter Health Benefits
Some people in our community need to gain weight, so macadamia nuts make a great regular addition to your meals.
That's because these nuts are high calorie.
But macadamia nuts aren't empty calories. You're getting a lot of nutrients with each serving.
So, on the other hand, if you are watching your weight, you may decide to watch your portions when it comes to mac nuts.
Here are some of the nutrients you'll find in macadamia nuts:
Manganese
Vitamin B6
Calcium
Copper
Iron
Magnesium
Potassium
Selenium
Zinc
Macadamia nuts are also high in monounsaturated fats, an excellent, healthy fat source.
When you have Mast Cell Activation Syndrome, it's important to eat foods that offer you a wide variety of nutrients.
Many of the vitamins and minerals you see listed above support mast cells.
And some are important if you have Histamine Intolerance.
Related Article: Mast Cell and Histamine Safe Forms of Magnesium
When it comes to mast cells, for example, magnesium has been shown in studies to reduce mast cell degranulation. (This is the process in which mast cells release histamine and other mast cell mediators.)
And Vitamin B, calcium, zinc, iron, and magnesium support diamine oxidase levels. Diamine oxidase (DAO) is a histamine-degrading enzyme.
Now, we are talking about dessert here. So, health benefits are a bonus. But how does it taste? Will it satisfy your sweet tooth?
Yes! I absolutely love it!
Keep reading to learn my tips for making this low histamine nut butter to your taste.
Since you've been reading about macadamia nuts, let's start with my tip for choosing the best ones if you have Histamine Intolerance.
Tips for Making Low Histamine Macadamia Nut Butter
This low histamine nut butter recipe is so easy to make. But you'll be the most successful when you start with the right ingredients and have the right tools.
First let's look at choosing the right, low histamine ingredients.
Macadamia Nuts
You want to start with high-quality macadamia nuts.
You can use either dry roasted or raw macadamia nuts in this recipe.
But note that macadamia nuts go rancid quickly. You can tell they are rancid because they take on a bitter flavor.
I spent a lot of money trying different brands of macadamia nuts. Some were rancid as soon as I opened the package.
This is one brand I've found to be reliable.
You can buy these dry roasted macadamia nuts here:
Macadamia nuts have a lot of their own oil, so you don't need to add anything like coconut oil to get this butter to come together.
Sweetener
I use monk fruit extract for the sweetener in this low histamine macadamia nut butter recipe.
Monk fruit extract is a calorie free, natural sweetener.
But, unlike granulated sugar, this won't spike your blood sugar.
Did you know anything that raises your blood sugar also increases histamine levels in your body?
So, monk fruit extract is the sweetener I use instead.
Monk fruit has a caramel-like flavor.
But not all monk fruit extracts are created equally.
Some have a terrible, chemical aftertaste.
And some monk fruit extract has added sugar alcohols or other ingredients that can be problematic for those of us with MCAS.
I only use 100% pure monk fruit extract, which can be hard to find.
Monk fruit should be a caramel brown color, not white (which means it has been highly processed).
Did You Know? Monk fruit has been shown to have antioxidant and anti-inflammatory properties!
This 100% monk fruit extract from Smart Monk is my favorite option:
I prefer to use monk fruit extract in this recipe, but you could also use a few drops of Better Organic Stevia.
If you're extra sensitive, you may want to use this alcohol free Stevia with glycerite.
Salt
Adding just a pinch of salt to sweets can enhance the flavors of your dessert recipes.
I only use Redmond Real Salt now.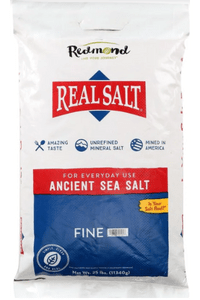 Some sea salt has been shown to have higher levels or microplastics. And that's not something I want to eat with my meals!
Now that you know the secrets to choosing the right ingredients, here's what you need for equipment.
High Speed Blender
I use my high speed blender for so many different recipes. It's been worth the investment.
Lesser quality blenders often have inferior motors.
Have you ever tried to blend something heartier than a smoothie in a regular blender?
If the motor isn't powerful, you'll smell it if it's overworked. It smells a lot like gears grinding and metal burning.
I've also known friends who burnt out their regular blender just trying to crush ice!
I've not had these kinds of issues with my high speed blender.
A food processor will work as well.
I have used both a Blendtec Blender and a Ninja Professional Blender to make this macadamia nut butter.
A Vitamix blender would also work well.
My blender produces a smooth nut butter with a creamy texture!
Tips for Blending Low Histamine Nut Butter
Even though the high speed blender is more powerful than a regular blender, you still don't want to push it to its limits.
I recommend only blending about 6 to 8 ounces at a time. That's all you need for this recipe as is.
However, if you are thinking about doubling the recipe, I'd still suggest only making one batch at a time.
And I've found the best way to get the butter started is to pulse the contents first.
Pulsing just means that you do short, quick bursts of on and off blending. Some blenders even have a pulse mode.
This helps prevent clumping.
How to Store Macadamia Low Histamine Nut Butter
This butter can be frozen in silicone cube trays. I like using Souper Cubes because I can just thaw a small portion if I want. And the contents remove easily.
This should keep for 2 to 3 months in the freezer with histamine levels staying low.
What to Eat with Low Histamine Macadamia Nut Butter
I like to eat this butter with apple slices. Pear slices would be a tasty option, too.
If you want something really special, this homemade macadamia nut butter would also be good as a topping for this Low Histamine Baruka Nut Vanilla Mousse.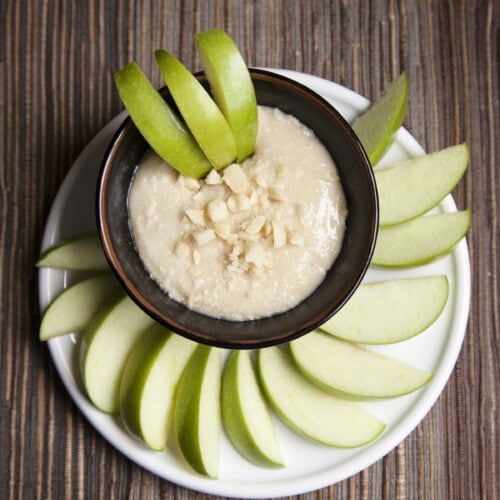 Low Histamine Nut Butter
Enjoy this low histamine, low lectin, low FODMAP, medium oxalate macadamia nut butter recipe!
Instructions
Add all ingredients to your high speed blender or food processor.

Pulse on and off several times until macadamia nuts are ground to a powder. 

Then turn blender or food processor on high. 

If the motor starts to run slow, or a ball-shaped clump forms, stop and scrape the sides. Because of the high fat content in macadamias, the butter will eventually become very smooth and blend effortlessly. 

Keep scraping and blending until you get a smooth butter. 

Place in freezer for a few hours for a thick, cream cheese like texture. Or use room temperature for a thinner texture. I love dipping apple slices into the macadamia nut butter or drizzling it over blueberries! 
Notes
Recipe Variations:
For a more sweet and salty flavor:
Increase salt to ⅙ teaspoon
For crunchy macadamia nut butter:
Save some of the finely chopped nuts from the first stage of blending. Then stir the macadamia chunks into the finished nut butter for a crunchy texture.
Nutrition
Nutrition Facts
Low Histamine Nut Butter
Serving Size
2 Tablespoons
Amount per Serving
% Daily Value*
* Percent Daily Values are based on a 2000 calorie diet.
What are your favorite dippers for low histamine macadamia nut butter? Leave a comment below!
More Low Histamine Dessert and Snack Recipes
Some links in this website are affiliate links, which means Mast Cell 360 may make a very small commission if you purchase through the link. It never costs you any more to purchase through the links, and we try to find the best deals we can. We only recommend products that we love and use personally or use in the Mast Cell 360 practice. Any commissions help support the newsletter, website, and ongoing research so Mast Cell 360 can continue to offer you free tips, recipes, and info. Thank you for your support!
References
FoodData Central. (n.d.). https://fdc.nal.usda.gov/fdc-app.html#/food-details/2515378/nutrients
HappyForks. (n.d.). Recipe analyzer. https://happyforks.com/analyzer/result#
Miyoshi, M., et al. (2017). Effect of dietary fatty acid and micronutrient intake/energy ratio on serum diamine oxidase activity in healthy women. Nutrition (Burbank, Los Angeles County, Calif.), 39-40, 67–70. https://doi.org/10.1016/j.nut.2017.03.004
Mph, Z. S. (2021, May 27). The health benefits of monk fruit and how to enjoy it. https://www.medicalnewstoday.com/articles/monk-fruit-benefits#benefits
Srebro, D., et al. (2023). The Interactions of Magnesium Sulfate and Cromoglycate in a Rat Model of Orofacial Pain; The Role of Magnesium on Mast Cell Degranulation in Neuroinflammation. International Journal of Molecular Sciences, 24(7), 6241. https://doi.org/10.3390/ijms24076241
Brown, D. (2018, October 18). Yuck! There's a 90 percent chance your tasty sea salt contains plastic, study says. USA TODAY. https://www.usatoday.com/story/money/food/2018/10/17/sea-salt-microplastics-contamination-study/1675905002/