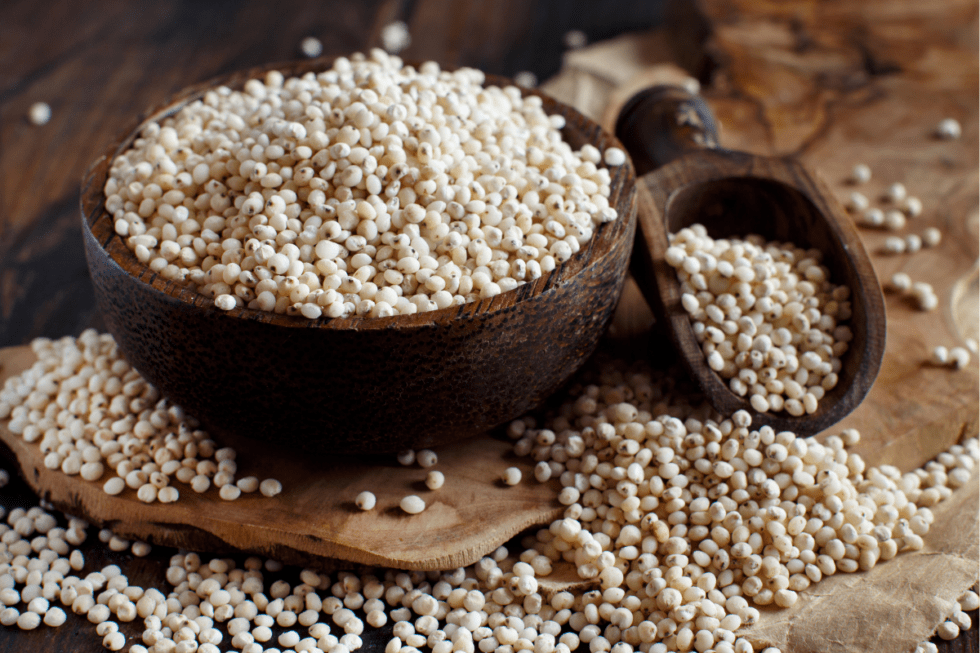 Low Histamine Sorghum Stuffing (also Low Lectin, Medium Oxalate, Low FODMAP)
By Jennifer Colletti
I love fall and the fall holidays. It is one of my favorite times of year. I love cozy clothes, sitting by the fire, and warming fall foods.
I think it's one of my favorite times of the year, because for me, it's so focused on family, cooking, and just being together. Which are some of my favorite things.
A few years ago, as fall rolled around, it seemed I was reacting to literally every food I was putting in my body. I know you can relate to how that feels.
At this stage of my life, I was familiar with food sensitivities. I had been diagnosed with an Autoimmune condition many years ago.
I found a holistic practitioner that suggested I remove gluten from my diet. She thought that this would help me feel better.
She was right. Giving up gluten was a life changer for me. I went from fatigued, brain fogged, and in pain every day, to clear thinking, bright, and pain free. I felt dramatically different.
However, over time, my health began to worsen again. I had been under an incredible amount of stress. And it became more and more clear to me that I was having more and more food reactions.
I had been studying nutrition, and wellness for years. I was doing "all the right stuff" when it came to eating.
I had removed gluten and dairy, focused primarily on vegetables, clean proteins and good fats, and yet I was still reacting.
If felt so frustrating to be eating healthfully, and things were still going crazy in my body. Have you ever felt like this?
Not to mention, as a Holistic Health Coach, this is what I do! It felt maddening to not be able to figure out what was happening.
At that time, I had never heard of histamines, oxalates, lectins, or even FODMAPS.
As these food sensitivities progressed. One of the bummers for me was that it became harder to eat the usual fall comfort foods.
My anxiety about what I would be able to eat at family and friend outings also grew greater. I even stopped going to friends' homes for dinner because I wasn't sure what I could eat if I was at someone else's house.
A good friend of mine was going through something similar at the time. And taught me a few easy tips on how to eat with friends when dealing with food sensitivities.
Always bring something with you that you can eat.
Bring with you a yummy dish to share, that will not only open others' eating horizons, but something that really nourishes you, so you feel taken care of and satisfied.
Eat beforehand.
This will not only keep stable blood sugar, it will help you to not feel the need to eat something that isn't working for you, just because you are starving.
Schedule social time after meals.
If meals outside of your home are not working well at this time, schedule a game night with family or friends, and keep it focused on the social time vs. eating time.
Beth and I recently did some brainstorming on a Low Histamine side dish that would be great for fall entertaining, or any other holiday meal you have coming up.
We know that when you have Mast Cell Activation Syndrome or Histamine Intolerance, it can seem like there aren't good options for holiday meals.
But, Beth and I both love experimenting with new flavors. So, don't let your Mast Cell Activation Syndrome or Histamine Intolerance get you down.
Give this Gluten Free Sorghum Stuffing a try and indulge in fall flavors!
It looks like it has a lot of steps. But it's really pretty easy.
If you haven't cooked sorghum before, it cooks up kind of like brown rice.
This is a really great alternative to replace traditional stuffing. It has all kinds of fall flavors with roasted vegetables. And the centerpiece to the recipe is sorghum!
Sorghum is a gluten-free grain. It is low histamine, low lectin, medium oxalate, and low FODMAP at 1 serving.
If you find you are Oxalate Intolerant, you might want to skip the carrots in this recipe. Alternatively, you may be able to tolerate by separately boiling the carrots if you discard the water. A 1/2 cup of raw carrots is high oxalate, boiling and discarding the cooking water will reduce to medium oxalate.
Sorghum also has some great histamine lowering properties. And the vegetables used in the stuffing are also histamine lowering!
So, all in all, this is a great low histamine holiday recipe you can feel good about eating!
Here's where you can get organic Sorghum:
This is another sorghum option you can try, but it isn't organic:
We've got your back with this recipe and many other Low Histamine (and low lectin, low oxalate) recipes here:
Low Histamine Sorghum Stuffing (also low Lectin, Medium Oxalate, Low FODMAP) for people with Mast Cell Activation Syndrome and Histamine Intolerance
Sorghum
8 cups cooked Whole Grain Sorghum
2 Tablespoons Fresh Parsley, chopped
2 teaspoons Fresh Sage, chopped
2 sprigs Fresh Rosemary, stemmed
2 sprigs Fresh Thyme, stemmed
1 cup Pecans, toasted and chopped (optional)
Roasted Vegetables
2 cups Rutabaga, peeled and cubed
1 large Green Apple, cored and chopped
1 cup Carrots, peeled and chopped
1 cup chopped Celery
1 bunch Flat Leaf Kale, stemmed and torn into small pieces
1 large Red Onion, sliced into thin wedges (sub green onion tops for Low FODMAP)
1 Lemon, sliced
1/2 cup Ghee, melted
3-4 Tablespoons Olive Oil
Redmond Real Salt and Pepper to taste (if tolerated)
Dressing:
½ cup Olive Oil
3 Tablespoons Lemon Juice (optional)
2 Cloves Garlic, minced (sub garlic scapes or 2 teaspoons garlic infused olive oil for Low FODMAP)
Redmond Real Salt and Pepper to taste (if tolerated)
Directions 
Make sorghum. Bring a large pot of water to a boil. Season with salt. Add sorghum and reduce heat to low and simmer. Stir occasionally. Simmer covered for 50-60 minutes or until tender and chewy. Drain immediately.
Spread out cooked sorghum on a rimmed baking sheet to cool slightly.
Meanwhile, preheat oven to 400F and chop vegetables and apples.
On a rimmed baking sheet or glass baking dish lined with parchment, add rutabaga, green apple, carrots, celery, kale, onion, lemon, salt and pepper.
Whisk olive oil into ghee and pour over the top of the vegetables and spices.
Roast vegetables for 25 to 30 minutes or until tender, tossing halfway through cook time.
In a small bowl whisk together ½ cup olive oil, lemon juice, garlic, salt, and pepper. Set aside.
Combine pecans, chopped parsley, rosemary, thyme and sage and sprinkle over sorghum.
In a large bowl or baking dish, fold the roasted vegetables into the sorghum mixture
Drizzle olive oil herb dressing over the top of the sorghum and vegetables and serve.
Be sure to freeze your leftovers!
We'd love to hear in the comments below what you think of it!
*Some links in this website are affiliate links, which means Mast Cell 360 may make a very small commission if you purchase through the link. It never costs you any more to purchase through the links, and we try to find the best deals we can. We only recommend products that we love and use personally or use in the Mast Cell 360 practice. Any commissions help support the newsletter, website, and ongoing research so Mast Cell 360 can continue to offer you free tips, recipes, and info. Thank you for your support!