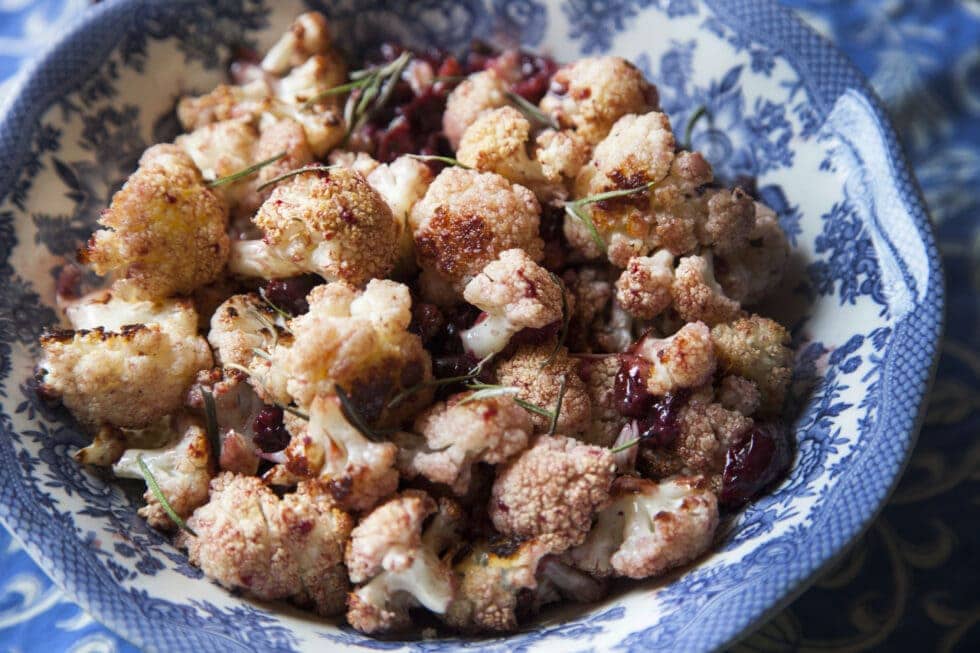 Low Histamine Roasted Cauliflower with Cherries and Pecans Recipe (also Low Lectin, Lower Oxalate, Low Salicylate Option)
Have you heard the saying, "Necessity is the mother of invention"?
If you have Mast Cell Activation Syndrome or Histamine Intolerance, you might know how much this applies to us around food!
We can still enjoy some of the comfort foods and dynamic recipes we see in gourmet cooking shows, though!
We just sometimes have to get innovative to do so.
My food intolerances made me a much more creative cook. And you can do this, too!
I modify recipes all the time to make them low histamine, low lectin, and low oxalate. And I've found that having a positive mindset about foods makes a big difference.
One way I do that is by thinking about replacing foods rather than removing them.
When we think about removing foods, we are thinking about what we can't have.
When we think about replacing foods, we are thinking about what we can have.
This way of thinking reinforces the positive. And we need all the extra little lifts we can get when we are facing these kinds of mast cell and histamine challenges.
So, how do I go about making swaps? First, it helps to think of foods with similar flavors and textures.
For example, the recipe I have for you today originally called for dates. But dates are high histamine. So, first I looked at what fruits are low histamine. Then I considered what might have a similar texture and hold up well in the oven. Cherries!
Cherries may seem like an unusual choice at first. But, cherries are often used in savory dishes because of the sweet and tart complexity they bring. And they balance the cauliflower and pecans nicely!
Be sure to pick organic cherries. Conventional cherries are heavily sprayed with pesticides. Frozen, organic cherries work great in this recipe.
This recipe also called for pine nuts. But pine nuts are fairly high oxalate. Easy enough: just pick a nut that is moderate oxalate instead – pecans!
These are some ways you can think about building your own recipes, too.
You can use your imagination and the low histamine foods list to get inventive!
I hope you enjoy this Low Histamine Roasted Cauliflower with Cherries and Pecans Recipe. This dish has warm, nutty flavors with background notes of natural sweetness.
This recipe is low histamine, low lectin, and lower oxalate. And I have a low salicylate option for you, too!
The ingredients used in this recipe have lots of health benefits…including being a good source of Vitamin C. Vitamin C is great if you have Histamine Intolerance.
Here's why.
Vitamin C and Histamine Intolerance – for those with Mast Cell Activation Syndrome or Histamine Intolerance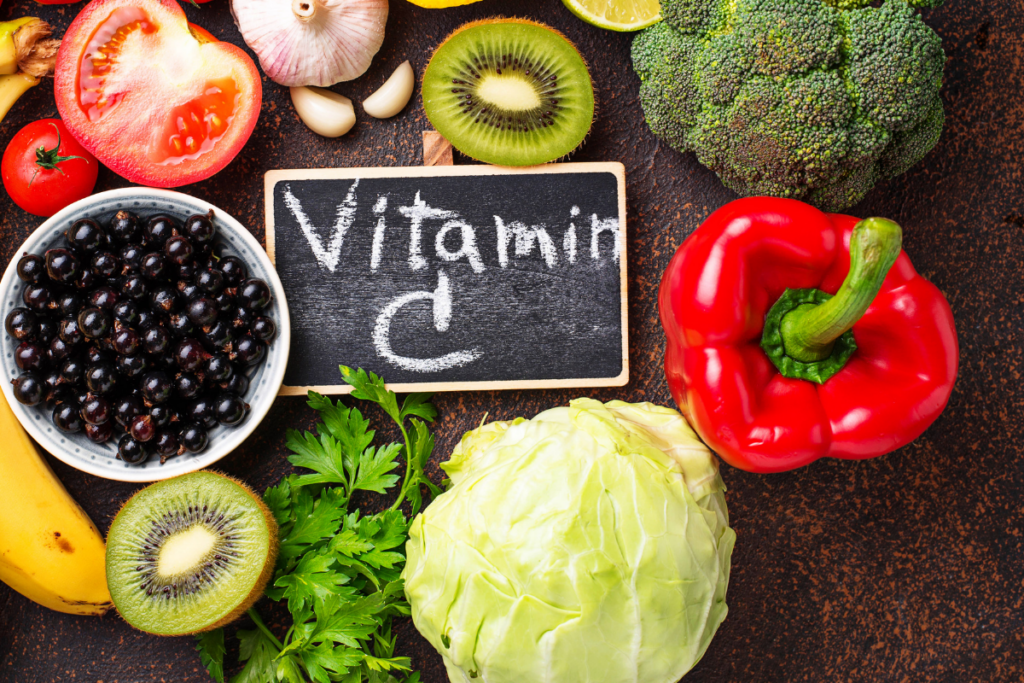 Cauliflower and cherries are both good sources of Vitamin C.
And that's great news if you have Histamine Intolerance. That's because Vitamin C naturally lowers histamine.
It does this by helping the body produce more diamine oxidase (DAO). DAO is an important histamine-degrading enzyme.
Vitamin C is also an antioxidant. Antioxidants have been shown to help protect cells from certain types of damage.
Vitamin C has also been shown in studies to reduce inflammation.
But Vitamin C isn't the only benefit you'll get with this recipe.
Cauliflower is also a good source of potassium. Studies are showing that a diet which incorporates potassium-rich foods may be beneficial in reducing blood pressure and risks for cardiovascular disease and stroke.
And the pecans in this recipe provide healthy Omega-3 fats. Omega-3 fats have been shown in studies to help reduce inflammation. Pecans also have the nutrients Vitamin A, Vitamin E, and zinc.
Vitamin A, vitamin E, and zinc have also been shown in research to support your immune system.
Related Article: Low Histamine Pecan Clusters Recipe (Low Lectin & Medium Oxalate)
So, this recipe is not only tasty, but it provides your body with some good nutrient boosts, too.
Now one last thing before we get to the recipe. Here are some tips for choosing the best head of cauliflower.
With any fruit or vegetable, the fresher the better. Fresh produce will have lower histamine levels. So, check out these tips!
Choosing Cauliflower – Tips for those with Mast Cell Activation Syndrome or Histamine Intolerance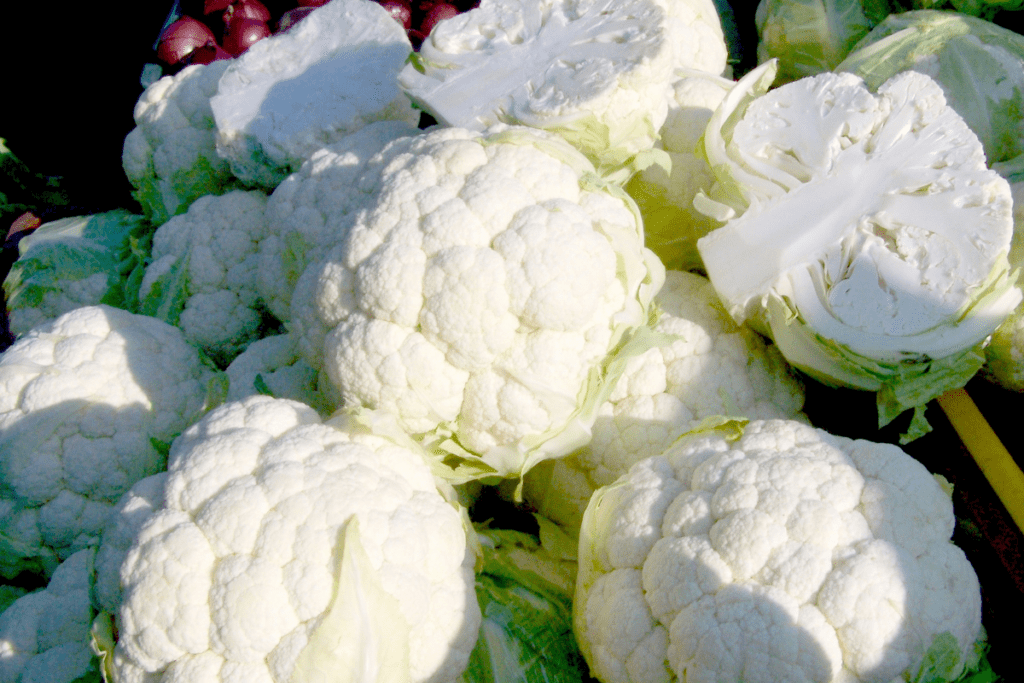 Trivia Fun Fact: Did you know that the white part of the cauliflower is called curds? I hope you win your next trivia night with that! 😊
When you are selecting cauliflower, you want to look for nice, creamy-white curds. Then check out the leaves. Are they bright green and firmly attached? Great!
Now, here are some things to avoid.
Stay away from cauliflower with brown spots or loose and wilting leaves. That can indicate it has been sitting in the store for some time. It won't be as fresh. And this means histamine levels will be elevated because it's going bad.
Once you get home, here's a tip on how to store cauliflower.
Did you know that cauliflower wrapped in a cellophane bag can promote rot by trapping moisture? And you probably already know that rotting foods are higher histamine. So, we definitely want to keep our food as fresh as possible.
An easy way to get around that is to use the cauliflower right away. But if you do need to store it for a short time, take it out of its plastic wrapping. Then, transfer it into a loosely sealed bag with a paper towel inside. That will help absorb moisture.
Cauliflower isn't heavily sprayed with pesticides. If you can get organic, that's best. But if you can't find organic, you can make do with conventional cauliflower.
One final tip:
For this recipe, you'll need to roast the cauliflower. I like to use silicone cooking mats for roasting.
Silicone cooking mats are non-toxic…and they make clean up a breeze. You don't have to use it, though. But if you want to cut down on clean up time, they really can be helpful.
Now, let's get cooking!
Roasted Cauliflower with Cherries and Pecans Recipe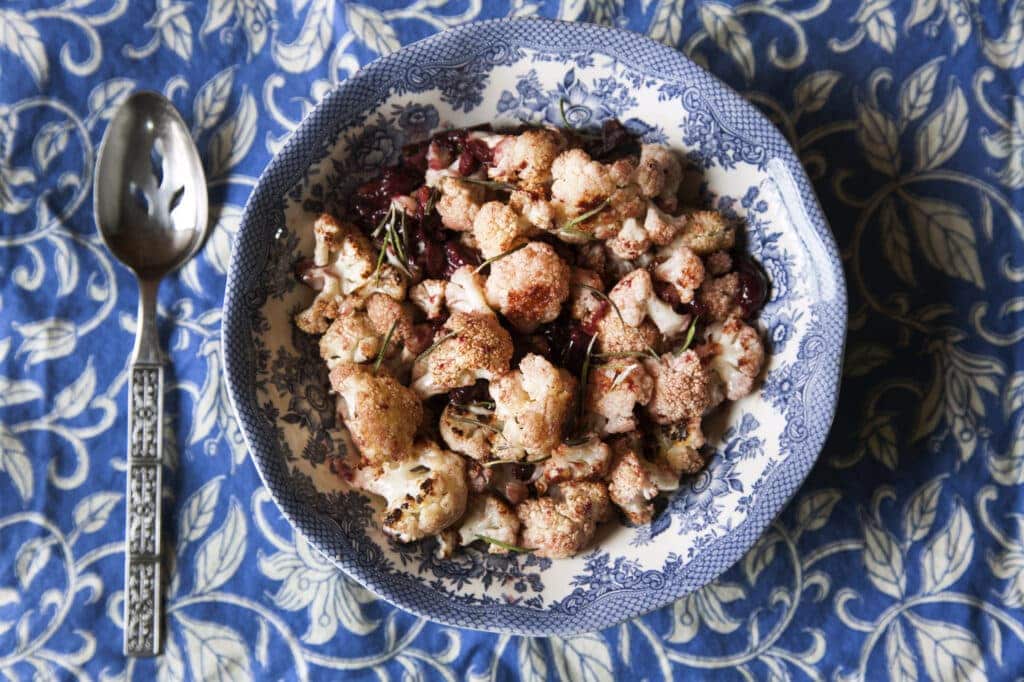 Serves 4-6
Ingredients:
1 large head cauliflower, cut into florets (about 8 cups)
Redmond Real Salt to taste
4 tablespoons grass-fed ghee
1/2 cup pecans, chopped – preferably pesticide-free
1 garlic clove, minced
½ cup pitted, organic cherries (frozen will be the easiest option)
½ teaspoon fresh, organic rosemary, chopped (optional)
Directions:
Preheat oven to 425°F.
Evenly spread the cauliflower on a baking sheet and season with salt. I like to use a silicone mat for easy clean up. Just lay it on your baking sheet and put the cauliflower on top.
Roast in the oven until golden brown at the edges (about 20 minutes). Toss once halfway through cooking time.
While the cauliflower is roasting, start the sauce.

Begin by thawing the cherries in a saucepan. Warm through until just thawed. Remove from heat. If you are using whole cherries, carefully remove from pan and cut them in half. Return to pan and stir in minced garlic. Set aside.

Melt the ghee in a separate skillet over medium-low heat. Once melted, add the chopped pecans and rosemary. Cook until pecans are light golden brown, about 5 minutes.

Add garlic and cherries to the butter and nut mix. Cook until garlic and cherries are softened and warmed through. 2-3 minutes. Salt to taste.
Remove cauliflower from the oven and transfer to a serving bowl. Drizzle the sauce over the top. Toss to combine.
Enjoy! Leftovers will also freeze reasonably well.
To Make This Recipe Low Salicylate:
Leave out rosemary
Replace cherries with 1 peeled golden or red delicious apple, chopped. Add apples with cauliflower to roast.
Quick Tip: Garlic smell on your hands? If you have a stainless-steel sink, you can rub your hands against the sink, then wash as normal. Smell should be gone! Or you can try a stainless-steel "soap" bar.
Learn more about supplements in our Top 8 Mast Cell Supporting Supplements Master Class.
More Low Histamine Cauliflower Recipes
*Some links in this website are affiliate links, which means Mast Cell 360 may make a very small commission if you purchase through the link. It never costs you any more to purchase through the links, and we try to find the best deals we can. We only recommend products that we love and use personally or use in the Mast Cell 360 practice. Any commissions help support the newsletter, website, and ongoing research so Mast Cell 360 can continue to offer you free tips, recipes, and info. Thank you for your support!
References for Roasted Cauliflower with Cherries and Pecans Recipe – info for those with Mast Cell Activation Syndrome or Histamine Intolerance
Anogeianaki, A., Castellani, M. L., Tripodi, D., Toniato, E., De Lutiis, M. A., Conti, F., Felaco, P., Fulcheri, M., Theoharides, T. C., Galzio, R., Caraffa, A., Antinolfi, P., Cuccurullo, C., Ciampoli, C., Felaco, M., Cerulli, G., Pandolfi, F., Sabatino, G., Neri, G., & Shaik-Dasthagirisaheb, Y. B. (2010). Vitamins and mast cells. International journal of immunopathology and pharmacology, 23(4), 991–996. https://doi.org/10.1177/039463201002300403
Carr, A. C., & Maggini, S. (2017). Vitamin C and Immune Function. Nutrients, 9(11), 1211. https://doi.org/10.3390/nu9111211
Center for Food Safety and Applied Nutrition. (2017, December 13). Nutrition Information for Raw Vegetables. U.S. Food and Drug Administration. Retrieved December 8, 2021, from https://www.fda.gov/food/food-labeling-nutrition/nutrition-information-raw-vegetables
Clegg, D. J., Headley, S. A., & Germain, M. J. (2020). Impact of Dietary Potassium Restrictions in CKD on Clinical Outcomes: Benefits of a Plant-Based Diet. Kidney medicine, 2(4), 476–487. https://doi.org/10.1016/j.xkme.2020.04.007
Haddad, et al. A Pecan Enriched Diet Increases YTocopherol/Cholesterol and Decreases Thiobarbituric Acid Reactive Substances in Plasma of Adults. Nutrition Research. August 2006. 26:397-402.
Haddad et al. Effect of a Pecan Rich Diet on Plasma Tocopherol Status. (Abstract published in the March 2001 FASEB Journal. Research presented at the April Experimental Biology 2001 meeting)
Jarisch, R., Weyer, D., Ehlert, E., Koch, C. H., Pinkowski, E., Jung, P., Kähler, W., Girgensohn, R., Kowalski, J., Weisser, B., & Koch, A. (2014). Impact of oral vitamin C on histamine levels and seasickness. Journal of vestibular research : equilibrium & orientation, 24(4), 281–288. https://doi.org/10.3233/VES-140509
Mayo Foundation. (2019, November 23). Slide show: Add antioxidants to your diet. Mayo Clinic. Retrieved December 9, 2021, from https://www.mayoclinic.org/healthy-lifestyle/nutrition-and-healthy-eating/multimedia/antioxidants/sls-20076428?s=1
Park, B. K., Park, S., Park, J. B., Park, M. C., Min, T. S., & Jin, M. (2013). Omega-3 fatty acids suppress Th2-associated cytokine gene expressions and GATA transcription factors in mast cells. The Journal of nutritional biochemistry, 24(5), 868–876. https://doi.org/10.1016/j.jnutbio.2012.05.007