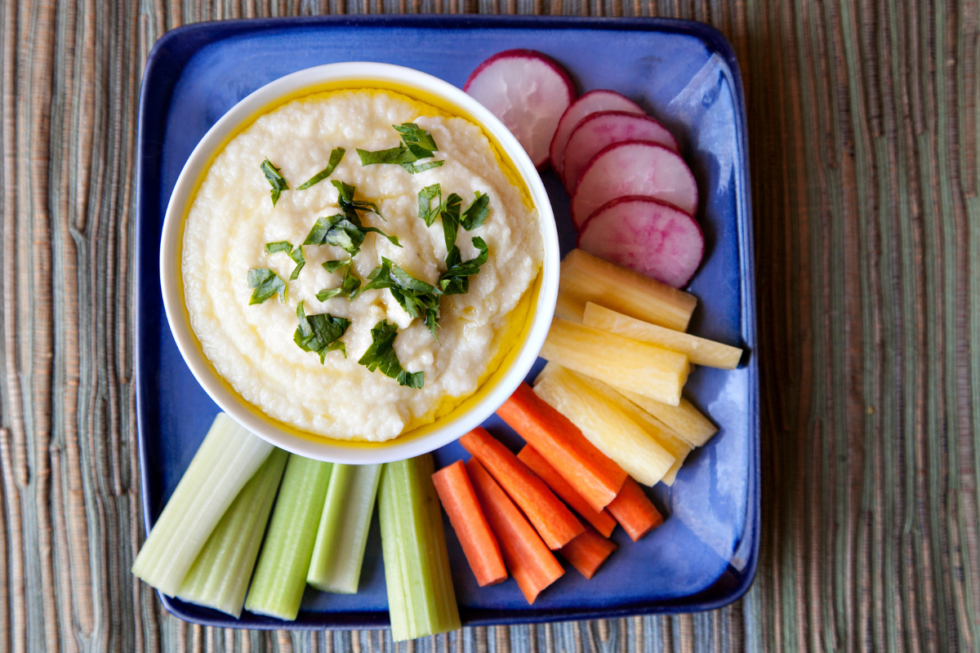 Low Histamine Roasted Garlic Cauliflower Hummus Recipe (also Low Lectin, Low Oxalate)
For a while now, I've been eating low lectin recipes. It's made such a difference in how I feel.
See, lectins can increase mast cell activation.
This means high lectin foods can make Mast Cell Activation Syndrome and Histamine Intolerance worse.
Curious about the most immediate difference I noticed when I started eating low lectin?
The burning in my joints stopped within just a couple weeks of reducing lectins.
These big improvements were worth giving up high lectin foods.
But I missed some of my old favorites.
I was eating a lot of hummus made from chickpeas before I started eating low lectin. It had become a staple food for me.
I liked it because homemade hummus is easy to prepare. And I could make it low histamine!
I'd take it to gatherings as an appetizer.
Related Article: 6 Tips for Thriving at Parties, Holidays, and Special Events for Mast Cell Activation Syndrome and Histamine Intolerance
And at home, I added it to my gluten free wraps. I also enjoyed it as a dairy free dip for my veggies.
I really liked the creamy texture, especially paired with a crunchy, gluten free cracker or crispy vegetables, like chopped carrots or broccoli florets.
But chickpeas are high lectin. That meant hummus was one of the foods I gave up.
So, I was intrigued when I came upon this low lectin, histamine-busting way to make hummus.
It turned out to be delicious! Now, I'm so excited to share this recipe with you!
This cauliflower hummus recipe is:
Keep reading to get the recipe and learn more about lectins.
Could eating low lectin help relieve some of your MCAS related symptoms?
Let's start by looking at what makes this recipe low histamine and low lectin.
Cauliflower Hummus Recipe
Hummus is a traditional middle eastern dish often served with pita bread. It's so delicious and versatile that it's become popular worldwide.
Here are some of the traditional hummus recipes ingredients and what to potentially watch out for if you have Mast Cell Activation Syndrome and the related intolerances:
Chickpeas – low histamine, high lectin
Paprika – high histamine, medium oxalate
Tahini – made from sesame seeds which are low histamine, low lectin, but high oxalate
Lemon juice – higher histamine, may be tolerated in small amounts
Olive oil – higher histamine, may be tolerated because it increases DAO, a histamine degrading enzyme
Garlic – low histamine, low lectin
Salt – low histamine, low lectin
Related Article: Oxalates and the Mast Cell Activation Syndrome & Histamine Intolerance Connection
You can see that some of those ingredients wouldn't work if you were doing a low lectin, low histamine diet.
And when one of the main ingredients, chickpeas, is out, what can you do?
Low Histamine, Low Lectin, Cauliflower and Garlic Hummus
When I was writing this post, I found out that hummus means chickpea in Arabic! So, I guess hummus isn't exactly the right name for this recipe if you leave out the chickpeas!
But we have to get creative with our language and our recipes with Mast Cell Activation Syndrome and Histamine Intolerance. So, because I made this to replace hummus, I still call this recipe "hummus".
Whatever you want to call it, it's delicious.
Cauliflower blends up to be so creamy and smooth — the desired consistency you look for in hummus.
And when paired with roasted garlic, you get lots of flavor from this tasty hummus recipe.
Both cauliflower and garlic are low histamine and low lectin (and low oxalate if you need that, too).
And both can support your health. Did you know that garlic contains compounds shown to have these properties:
Antioxidant
Anti-inflammatory
Antibacterial
Antifungal
Immunomodulatory
Hepatoprotective (liver)
Neuroprotective (brain)
Digestive system protective
And cauliflower contains:
Fiber – can help lower risk of some digestive conditions
Vitamin C – supports mast cells, reduces inflammation, and acts as natural antihistamine
Magnesium – supports mast cells and histamine, regulates nerve function, and more!
B6 – supports DAO levels (diamine oxidase is a histamine-degrading enzyme)
Before we get to this healthy hummus recipe, I want to share with you a little more on lectins.
What are lectins? And why are they a problem?
Keep reading to find out.
What Are Lectins?
Lectins are proteins found in certain plant foods. The plants use these lectins to protect themselves from being eaten.
Some foods are much higher in lectins than others. These are some higher lectin foods:
Beans and lentils (including chickpeas)
Cucumbers
Tomatoes
Bell peppers
Eggplant
Grains (wheat, corn, rice, quinoa, etc.)
Potatoes (yukon, russet, red, etc. – not sweet potatoes)
Pumpkin seeds
Sunflower seeds
Soy
Peanuts
Cashews
Squashes (yellow, zucchini, winter squashes like butternut)
Some lectins are known to open the gut barrier. For example, gluten found in wheat, rye, and barley can break down the gut barrier.
This can cause Leaky Gut. And Leaky Gut can lead to mast cell activation and even potentially an imbalance in gut bacteria that can lead to SIBO.
(So, for your hummus, skip the pita and make my low histamine flatbread instead!)
Lectins may also contribute to autoimmunity.
And some studies have shown that lectins may interfere with the functions of hormones, cytokines, and neurotransmitters.
Common symptoms of Lectin Intolerance can include:
Fatigue
Lack of motivation
Brain fog
Joint pain
Skin breakouts
Digestive issues such as:

Bloating
Gas
Nausea
Irritable Bowel Syndrome
Can Eating Low Lectin Help You?
A low lectin diet isn't the answer for everyone. But it definitely helped me.
I've now figured out my own food triggers. I hope you can figure out yours, too. You can download my starter Low Histamine Food list here.
If you think you might have food sensitivities beyond histamines, work with a provider who can help guide you.
You don't want to give up foods unnecessarily.
But if you find out you do have Lectin Intolerance, you can still enjoy a lot of tasty foods. Just like this low histamine, low lectin cauliflower hummus recipe.
My Top Tip for Roasting Garlic
This is a super easy, versatile recipe. You can use this cauliflower hummus like a dip. Or spread it on veggies. I even use it to make a kind of white sauce base for my low histamine pizza.
The part that takes the longest is roasting the garlic. But that's not hands-on time.
Still, if you are like me, you love garlic in a lot of recipes. So why not make a bunch at once and freeze it to have on hand anytime? Prep once, eat anytime!
I learned an easy way to make a bunch of roasted garlic at once. I landed on this method by a funny accident.
I was trying Kroger Pickup for my groceries. I had ordered 5 heads of garlic to make this hummus recipe.
I pulled up to the pickup spot. The groceries were loaded in my trunk. I checked the receipt. Everything looked in order, and I drove home! Unloading the groceries though, I found I didn't get 5 heads of garlic. I got 5 POUNDS of garlic!
Have you ever seen 5 pounds of garlic?
That much garlic filled 2 very large grocery bags! I can't imagine what the grocery pickers thought I was making if they read 5 heads of garlic as 5 pounds.
Lol! So, I had to figure out what to do with all this garlic! Kroger didn't want it back.
I gave most of it away to neighbors and friends.
Even still, I had a lot of garlic left. I roasted what I kept and froze it. I've included my super easy, mass production method for roasted garlic.
You'll always have roasted garlic on hand for this and other recipes!
What to Eat with Cauliflower Hummus
You can serve it with: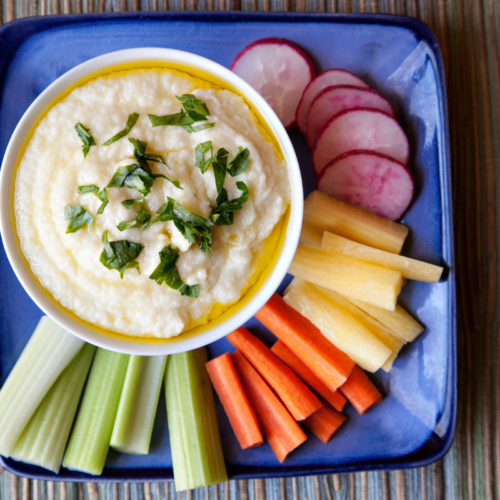 Low Histamine Cauliflower Hummus
Enjoy this cauliflower hummus that's low histamine, low lectin, and low oxalate.
Instructions
Preheat oven to 400 degrees F. (If using raw garlic skip steps 1 – 5 and instead just mince your raw garlic and skip to step 6.)

If roasting garlic, (recommended) remove most of the outer papery skin leaving enough so that the garlic head stays intact. 

Cut the top off the head of garlic so you can see the top of the cloves. Drizzle with 1 Tablespoon of olive oil. 

Place garlic on a baking sheet lined with a silicone mat or parchment paper (lining is optional but makes clean up easier).  

Bake for 30 minutes until the garlic cloves are mushy and roasted. 

While garlic is roasting, bring a pot of water to a boil.

While water is heating up, wash and cut your head of cauliflower into smaller pieces (about 1-2 inch florets).

Add cauliflower florets to boiling water and boil until soft (about 10 -15 minutes).

While cauliflower boils, add olive oil, lemon juice, and sea salt to your food processor or high speed blender (Don't blend yet, this is just to prep. If you have frozen, roasted garlic or raw garlic, you can add this, too.)

When cauliflower is soft, strain and let cool until your garlic is finished roasting. (If you are eating this as a dip for your veggies, you can prep your veggies during this time.)

When garlic is finished (should be mushy and soft), add cauliflower to the food processor or high speed blender that already holds your other ingredients.

Squeeze the soft garlic out of the skins and add to the food processor or high speed blender.

Blend on high until smooth.

To serve, you can eat it warm or let it chill in the refrigerator. When ready to eat, garnish with chopped parsley and extra virgin olive oil if desired.
Notes
Nutritional information is for the lemon, not camu camu powder.
Nutrition
Nutrition Facts
Low Histamine Cauliflower Hummus
Amount per Serving
% Daily Value*
* Percent Daily Values are based on a 2000 calorie diet.
What are your favorite veggies to dip in hummus? Tell me in the comments below!
More Low Histamine Cauliflower Recipes
Some links in this website are affiliate links, which means Mast Cell 360 may make a very small commission if you purchase through the link. It never costs you any more to purchase through the links, and we try to find the best deals we can. We only recommend products that we love and use personally or use in the Mast Cell 360 practice. Any commissions help support the newsletter, website, and ongoing research so Mast Cell 360 can continue to offer you free tips, recipes, and info. Thank you for your support!
References
Anogeianaki, A., et al. (2010). Vitamins and mast cells. International journal of immunopathology and pharmacology, 23(4), 991–996. https://doi.org/10.1177/039463201002300403
FoodData Central. (n.d.). https://fdc.nal.usda.gov/fdc-app.html#/food-details/169986/nutrients
Johnston, C. S., Martin, L. J., & Cai, X. (1992). Antihistamine effect of supplemental ascorbic acid and neutrophil chemotaxis. Journal of the American College of Nutrition, 11(2), 172–176.
Kapusta-Duch, J., et al. (2012). The beneficial effects of Brassica vegetables on human health. Roczniki Panstwowego Zakladu Higieny, 63(4), 389–395.
Milajerdi, A., et al. (2021). Association of Dietary Fiber, Fruit, and Vegetable Consumption with Risk of Inflammatory Bowel Disease: A Systematic Review and Meta-Analysis. Advances in Nutrition, 12(3), 735–743. https://doi.org/10.1093/advances/nmaa145
Shang, A., et al. (2019). Bioactive Compounds and Biological Functions of Garlic (Allium sativum L.). Foods (Basel, Switzerland), 8(7), 246. https://doi.org/10.3390/foods8070246
van der Schoot, A., et al. (2022). The Effect of Fiber Supplementation on Chronic Constipation in Adults: An Updated Systematic Review and Meta-Analysis of Randomized Controlled Trials. The American journal of clinical nutrition, 116(4), 953–969. https://doi.org/10.1093/ajcn/nqac184