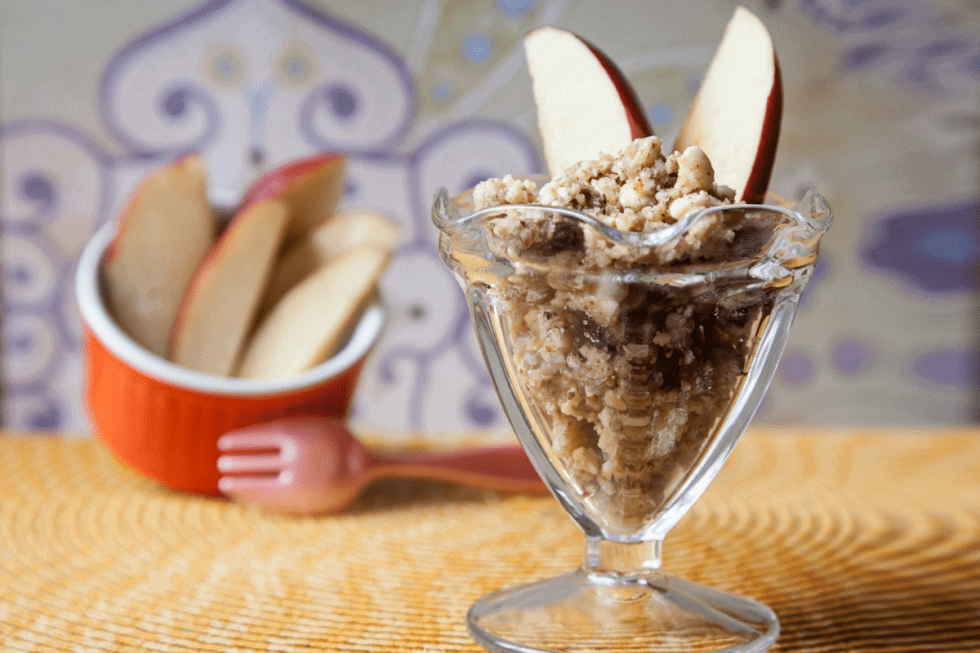 Low Histamine White Chocolate Cookie Dough Recipe for those with Mast Cell Activation Syndrome and Histamine Intolerance (Also Low Lectin, Medium Oxalate, Low Carb)
If you have Mast Cell Activation Syndrome or Histamine Intolerance, you are probably working hard on your diet. But sometimes we all just need some comfort food.
Cookie dough reminds me of making cookies as a kid. The sugary-vanilla dough was always irresistible. I couldn't help but eat a few bites. I hope this recipe brings up similar memories for you!
The problem with the cookie dough we ate as kids, though, is it contains so many ingredients that can cause histamine and mast cell issues.
For example, uncooked egg whites are a major histamine liberator. 
Chocolate chips are high in oxalates and sugar.
And wheat and sugar aren't good, either, if you have Mast Cell Activation Syndrome or Histamine Intolerance.
So, basically, regular cookie dough is out for us.
I used to cheat and still eat things I knew weren't good for me. But after, I felt so awful, I realized it was not worth it. Have you done this?
I don't want to eat things that make me worse anymore. My focus now is on healing my body. I hope your focus is here, too.
But I still wanted cookie dough!
So this recipe does away with all those things that made me feel awful. But it still satisfies the craving for something sweet and comforting.
I made "flour" out of ground pecans and macadamia nuts.
And instead of chocolate chips, I used cacao butter chips. Cacao butter chips give this recipe the feeling of white chocolate.
Instead of sugar, this recipe uses monk fruit to add sweetness. It is a natural, no-calorie sweetener. And it has a bit of a caramel flavor reminiscent of brown sugar.
I hope you'll enjoy this comfort food when you crave a treat. You can eat it just as you would cookie dough – get a spoon and dive in!
Or you might want to use it as a spread for a low histamine food like apples.
Looking for other treats and eats? You can find all the recipes we have for you here:
Mast Cell 360 Recipes – Low Histamine, Low Lectin, Lower Oxalate
Let's get to the cookie dough recipe!
Low Histamine, White Chocolate Cookie Dough Recipe -- for those with Mast Cell Activation Syndrome and Histamine Intolerance (Also Low Lectin, Lower Oxalate, Low Carb)
Please note: This is a cookie dough recipe. It's meant to be eaten as the dough. It won't bake well.
Ingredients
Directions
Pecans can be high in mold toxins. To reduce the mold toxins, soak the pecans in salt water for 12 hours in the fridge. Then dry them until crispy in a food dehydrator or oven on lowest temperature. Store in fridge or freezer.
Soften ghee or coconut oil but don't melt it.
Process macadamia nuts in a food processor to chop into pieces. Keep some texture to them. Remove from food processor and set aside.
Grind pecans in a food processor until it is flour consistency and just starts to clump together.
In a mixing bowl, combine all the ingredients except cacao butter and mix well. Taste and add more monk fruit as needed.
Chop cacao butter into chips and mix into dough.
Enjoy and freeze any leftovers!
It's important you know that this blog post is for informational and educational purposes. It's not meant to treat any health condition or to be prescriptive for anyone. Always be sure to work with your healthcare practitioner. 
Before you change your diet on your own, please make sure you're working with a healthcare practitioner who can help you with this.  
More Low Histamine Desserts
*Some links in this website are affiliate links, which means Mast Cell 360 may make a very small commission if you purchase through the link. It never costs you any more to purchase through the links, and we try to find the best deals we can. We only recommend products that we love and use personally or use in the Mast Cell 360 practice. Any commissions help support the newsletter, website, and ongoing research so Mast Cell 360 can continue to offer you free tips, recipes, and info. Thank you for your support!