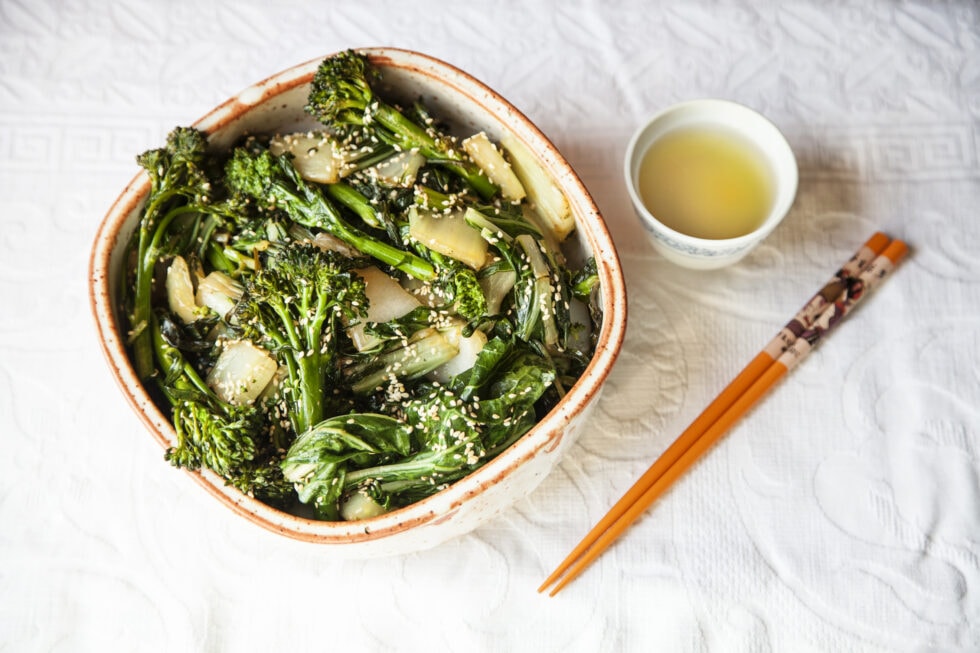 Low Histamine Chinese Broccolini Recipe Inspired by Gai Lan Chinese Broccoli (Also Low Oxalate, Low Lectin, Low FODMAP, and Gluten-Free)
I missed eating in restaurants. But it was just too risky for me to eat out.
With my Mast Cell Activation Syndrome and Histamine Intolerance, I'd gotten to a point where I could only tolerate about 10 foods without having a reaction.
I was a bit of a foodie. (I still am!) I love trying things I'd never had before.
I love trying all different kinds of cuisine. One of my favorites is Chinese food.
I really missed being able to enjoy it.
But even when I was this sick, I didn't want to give up hope that I'd be a foodie again one day. I'm a big believer in holding on to hope.
Sometimes I did this by writing my dreams out and putting them in my dream jar.
Sometimes, I'd go through detailed visualizations of what I wanted my life to look like again.
I'd imagine a fine dining experience with tablecloths, a linen napkin in my lap, utensils with a sleek, modern design.
I'd imagine the pianist playing my favorite song. I'd imagine smells of garlic and ginger.
I'd imagine wispy steam coming up off my plate. I imagined being able to try something new again.
Skip to the good part.
As I worked on my health, I started being able to eat a few more foods. Then slowly, a few more.
And here's the really good part. I can now eat out at restaurants again.
I do still have to make good choices and support myself with supplements like DAO. But I can do it.
Recently, I was able to dine out at a nice Chinese restaurant in town. And I was able to try something new! Just like I had dreamed of when I was sick.
I was with a friend who ordered something I hadn't heard of before. Gai Lan.
Gai Lan is Chinese Broccoli. It's different than the broccoli that looks like little trees. It's more of a leafy green with thick stems.
It's different than broccolini, too. Broccolini is a cross between broccoli and Chinese broccoli.
Anyway, the dish was prepared with garlic, sesame, and ginger for bold flavors. I tried a bite, and it was delicious!
It kind of reminded me of greens (like collard or mustard greens) and asparagus.
It had a certain bitterness (in a good way) that goes so well with a garlic sauce. And it was crispy AND soft.
Now, I suspect there were some high histamine ingredients in there. Most likely oyster sauce or soy sauce.
But since I've recovered my health, I was ok with just a bite. It did get me curious, though.
So, when I got home, I started looking through cookbooks and recipes online to learn more about it.
I wanted to see if I could adapt it to be low-histamine so I could eat as much as I wanted of this dish! 😀
I came up with something similar inspired by those bold flavors I tasted at the restaurant.
It's low histamine, low oxalate, low lectin, gluten-free, and vegan! Even if you aren't vegan, this is a tasty dish to help you get your veggies in!
And it's quick and easy to make!
Even if you aren't quite to the point where you can dine out again, I still want you to have delicious choices.
And maybe even try something new! I know it can be a big mood boost to eat something outside the norm.
I hope you'll enjoy this "restaurant recipe" in your own home.
Use your favorite dishware and put on your favorite tunes!
I'll share this flavorful recipe with you, and I'll share:
easy recipe swaps you can make for this and other recipes
health benefits of the ingredients (so you know what supports your health when making your own recipes!)
prep tips
suggestions for what to pair this recipe with
the recipe
Let's get to it!
Chinese Broccoli (Gai Lan) or Broccolini?
Like I mentioned earlier, Chinese broccoli (also called Gai Lan or Kai Lan) and broccolini are two different things.
Broccolini is a cross between broccoli and Chinese broccoli.
When I was creating this recipe, the first thing I came up against was that Chinese broccoli isn't readily available where I live.
I checked the specialty markets, the grocery store, the health food stores. Nothing.
Depending on where you live, it might be hard for you to come by, too.
Because of this, I swapped it with broccolini. Many of the recipes I saw online said this was a good swap if you couldn't find Chinese broccoli.
But broccolini is still more floret than leafy green. One thing I liked about my friend's meal was that it had crunch from the stem and softness of the leaves.
So, I experimented and added bok choy. Broccolini plus bok choy is the best of both worlds.
And both are low histamine, low oxalate, low lectin, and full of nutrients. I'll tell you about that in a minute.
But first, here are the other swaps I made for this recipe. How will you use these swaps in other recipes, too?
Easy Recipe Swaps for Chinese Broccolini Recipe
The first swap was using broccolini and bok choy instead of Chinese broccoli. This was purely done based on what I had available to me.
But here are the other swaps I made to keep this dish low histamine.
Skip: Oyster Sauce, Soy Sauce, Fish Sauce, MSG (monosodium glutamate), coconut aminos
Oyster, soy, and fish sauce as well as MSG and coconut aminos are often used to get the umami flavor.
Umami is now considered one of the basic tastes.
Salty, bitter, sweet and sour are the other basic tastes.
Umami is described as being rich and meaty. Some foodies say umami adds depth and body to a dish. Think of it like this.
You might describe certain fruits, vegetables, and herbs as being bright. Bright usually means an acid or general freshness that balances rich, fatty foods like meat or dairy.
The opposite of that is rich, "meaty," robust flavors to round out bright dishes. That's umami.
You'll find umami in a lot of Chinese food.
I love a great quality toasted sesame oil as a good replacement. It's got that rich, full, umami flavor. It's so tasty and it's low histamine.
But what you'll find at a health food store won't have the best flavor.
From the time I spent in Korea, I discovered a secret that the best toasted sesame oil comes from Japan. Here's the one I love:
Skip: Sugar
Replace with: Stevia
Certain greens can be a little bitter. Bitter isn't always bad, though! You can take the edge of the bitterness with a little bit of sweetness.
Of course, with Histamine Intolerance, you should try to avoid sugar. But when adding sweetness to a savory dish, you don't need much.
You don't even really want to taste the sweet. For example, one recipe called for just 1/2 teaspoon of sugar. It's just enough to cut some of the bitterness.
My go-to sweetener is either stevia or monk fruit powder. A little goes a long way so don't use it as a 1:1 swap for sugar.
TIP: You can use this idea in any recipe. If you make something and it's too bitter or spicy, add something sweet.
Here's the one I like best:
Skip: Rice wine or dry sherry
Replace with: Lemon juice or omit
Some recipes for Chinese broccoli that I checked out called for wine or sherry.
This is to bring an acid or "brightness" to the dish. Again, it's all about balancing flavors.
You can just as easily use lemon juice as your acid if you tolerate it.
Even when I was most symptomatic, I could take a little lemon or lime juice.
In this dish, you've got great flavors already. You could even leave it out. I happened to have a lemon, so I used it.
All the other traditional ingredients like ginger and garlic are low histamine. This was a fairly simple recipe to modify.
Getting your green vegetables in isn't hard with a recipe like this. It excites your taste buds! This vegetable dish is yummy. And it's got loads of health benefits.
Let's look at some of those health benefits next.
Health Benefits
Let's start with our 2 main ingredients: Broccolini and Bok Choy.
Broccolini has:
Calcium
Potassium
Fiber
Protein – not as much as you'd get from some animal-based proteins but this can be one way to sneak in a little extra protein
And broccolini may help with hormone balance. Hormonal imbalances can be a root cause of Mast Cell Activation Syndrome.
If you have estrogen dominance, broccolini may help support you. Here's how.

Broccolini is a cruciferous vegetable. Cruciferous vegetables have a compound called DIM.
DIM has been shown to help balance estrogen. This can be great if you have estrogen dominance.
Now, to be honest, you need to eat a lot of cruciferous vegetables to get the amounts of DIM you might need.
But if you can support yourself through your food choices, every little bit helps.
Bok choy has:
Calcium
Potassium
Magnesium
B6
Vitamin C
A Vitamin C boost is especially good news if you have Mast Cell Activation Syndrome (MCAS) or Histamine Intolerance. It's been shown to lower histamine.
Vitamin C helps the body produce more diamine oxidase (DAO). DAO is an enzyme that helps break down histamine.
And Vitamin C is an antioxidant. Antioxidants can support the reduction of inflammation in the body that comes from histamine.
Garlic and ginger have also been shown to have anti-inflammatory properties and be histamine-lowering.
I want to tell you about one more ingredient. Salt.
You do need some salt in your diet. But what I really want to tell you about salt is this.
Stick with Redmond Real Salt or even Celtic Sea Salt.
Not long ago, I found out that many salts have microplastics! Even Himalayan Sea Salt was found to be higher in microplastics.
You might be consuming as much as a credit-card sized amount of plastic each week!
So go ahead and switch to Redmond Real Salt.
Ready to get cooking?
Here's the recipe for Low Histamine Chinese Broccolini inspired by Chinese Broccoli.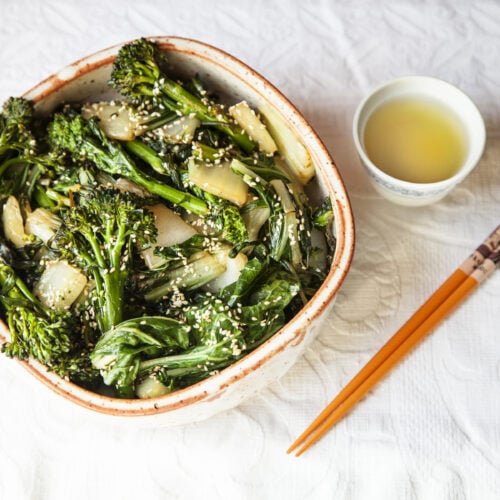 Low Histamine Chinese Broccolini
Enjoy this low oxalate, low lectin Gai Lan Chinese Broccoli recipe.
Instructions
Wash the broccolini and bok choy. 

Cut the green leafy part away from the white part. (You will use both.) Cut the white parts into bite sized pieces. Tear the leaves in half if they are large. 

Cut off any tough, thick, woody ends of the broccolini and discard. (Some parts of the stem are good. Only discard the tough parts.) 

Mince the garlic and grate the ginger. Set aside in a small bowl.

Lightly toast your sesame seeds in the skillet. Don't add any oil. (About 10-15 seconds over medium high.) Remove from heat and set aside in a small bowl. 

Use this same skillet to cook the vegetables. It's already hot and that's how you want it! 

Add 2 tablespoons of sesame oil to the skillet. Spread the oil around so it covers the bottom of the pan. 

Add the broccolini and white parts of the bok choy. Stir fry (keep stirring the food) until just starting to turn bright green (about 5 minutes.) 

Add the lemon juice, garlic, ginger, salt, stevia, and bok choy leaves.

Stir until ingredients are mixed well. Cover the leaves with the other vegetables so the leaves wilt faster.

It's done when your broccolini is tender but the stems still have some crunch. The white parts of the bok choy should be tender but with some crispiness. The bok choy leaves should be wilted. 

Remove from heat and finish with the remaining 1 tablespoon of sesame oil. 

Transfer to a serving dish. Sprinkle the toasted sesame seeds over the top. Enjoy! 
Notes
Low FODMAP version: omit garlic and drizzle
garlic infused extra virgin olive oil
on top at the end.
Note on salicylates: This recipe uses high salicylate ingredients, but we've got more recipes coming soon with low salicylate options! What kinds of low salicylate recipes would you like to see?
Nutrition
Nutrition Facts
Low Histamine Chinese Broccolini
Amount per Serving
% Daily Value*
* Percent Daily Values are based on a 2000 calorie diet.
What to Eat with Chinese Broccolini
Here are a few ideas for how to serve this recipe.
When you try this Chinese Broccolini (Inspired by Chinese Broccoli) let us know how you served it in the comments below!
More Low Histamine Recipes Inspired by Asian Cuisine
Some links in this website are affiliate links, which means Mast Cell 360 may make a very small commission if you purchase through the link. It never costs you any more to purchase through the links, and we try to find the best deals we can. We only recommend products that we love and use personally or use in the Mast Cell 360 practice. Any commissions help support the newsletter, website, and ongoing research so Mast Cell 360 can continue to offer you free tips, recipes, and info. Thank you for your support!
References
Anogeianaki, A., Castellani, M. L., Tripodi, D., Toniato, E., De Lutiis, M. A., Conti, F., Felaco, P., Fulcheri, M., Theoharides, T. C., Galzio, R., Caraffa, A., Antinolfi, P., Cuccurullo, C., Ciampoli, C., Felaco, M., Cerulli, G., Pandolfi, F., Sabatino, G., Neri, G., & Shaik-Dasthagirisaheb, Y. B. (2010). Vitamins and mast cells. International journal of immunopathology and pharmacology, 23(4), 991–996. https://doi.org/10.1177/039463201002300403
Dempsey, T. (2020, October 27). 5 Natural Antihistamines to Combat Allergies. Drtaniadempsey. https://www.drtaniadempsey.com/post/2017/06/01/5-natural-antihistamines-to-combat-allergies
Kyo, E., Uda, N., Kakimoto, M., Yokoyama, K., Ushijima, M., Sumioka, I., Kasuga, S., & Itakura, Y. (1997). Anti-allergic effects of aged garlic extract. Phytomedicine : international journal of phytotherapy and phytopharmacology, 4(4), 335–340. https://doi.org/10.1016/S0944-7113(97)80043-8
Mashhadi, N. S., Ghiasvand, R., Askari, G., Hariri, M., Darvishi, L., & Mofid, M. R. (2013). Anti-oxidative and anti-inflammatory effects of ginger in health and physical activity: review of current evidence. International journal of preventive medicine, 4(Suppl 1), S36–S42.
The Cleveland Clinic. (2022, March 2). The Health Benefits of Garlic. Cleveland Clinic. https://health.clevelandclinic.org/6-surprising-ways-garlic-boosts-your-health/
USDA. (2019, April 1). FoodData Central. US Department of Agriculture. Retrieved April 1, 2022, from https://fdc.nal.usda.gov/fdc-app.html#/food-details/170390/nutrients
USDA. (2021, October 28). FoodData Central. Retrieved April 1, 2022, from https://fdc.nal.usda.gov/fdc-app.html#/food-details/2182407/nutrients
Wszelaki, M. (2021a). Overcoming Estrogen Dominance (1st ed.). self-published.