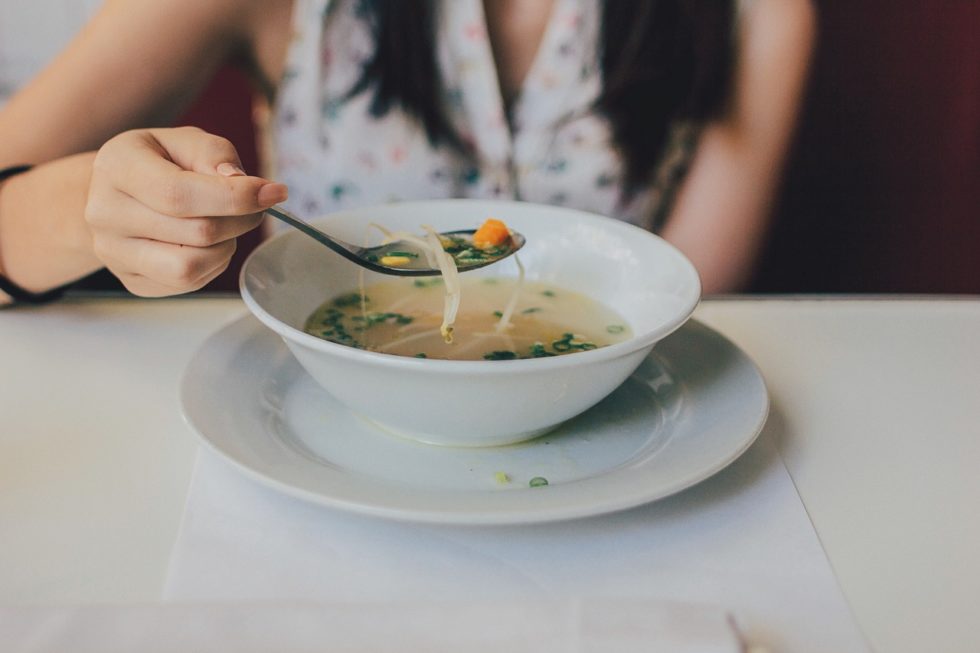 Warming Chicken Ginger Soup (Low Histamine, Low Oxalate, Low Lectin, Low FODMAP) for people with Mast Cell Activation Syndrome and Histamine Intolerance
If you have Mast Cell Activation Syndrome or Histamine Intolerance, you are probably always on the lookout for new Low Histamine Recipe ideas.
I'm really loving this Chicken Ginger Soup. I find it very satisfying and also gentle on my digestive tract.  It is low histamine. It's also low in oxalates and lectins.
I created this recipe to work for people with FODMAP sensitivities too. FODMAPs are types of fiber that can cause gas, bloating, abdominal pain, and constipation or diarrhea. FODMAP sensitivities are common in people with SIBO (Small Intestinal Bacterial Overgrowth).
You can learn more about FODMAPS and SIBO in this article:
SIBO is one of the common root triggers in both Mast Cell Activation Syndrome and Histamine Intolerance.
You can access my free report on the 7 Most Common Root Causes of Mast Cell Activation Syndrome and Histamine Intolerance here:
The most common FODMAPs are onion and garlic. Wheat, beans, and honey are all high in FODMAPs as well. If you feel bad after those foods, you may need to talk with a health care practitioner like me about your how to heal gut.
But not to worry, this recipe will work for many types of foods sensitivities. The ginger gives it a nice warm flavor. I like to jazz it up by adding some of my Homemade Pork Belly on top. This really gives it an Asian spin.
This soup is chock full of histamine-lowering ingredients, like ginger, green onion tops, arugula, and rutabaga. If you don't have FODMAP sensitivities, you can use the white part of the green onion. And you could also add some garlic to it. But if you do have FODMAP issues, leave the garlic and the rest of the green onion out.
To keep it low histamine, make sure to follow the Meat Handling Tips in this post for the meat. 
This is also a great healing soup if you have a cold or digestive trouble. Ginger has been shown in research to have significant anti-histamine and immune boosting properties.
More Low Histamine Soup Recipes
Warming Chicken Ginger Soup (Low Histamine, Low Oxalate, Low Lectin, Low FODMAP) for people with Mast Cell Activation Syndrome and Histamine Intolerance
Ingredients
2 T ghee or coconut oil
1 stalk celery, diced
1 bunch green onions, dark green tops only, chopped
4 cups cooked chicken, shredded. For low histamine chicken follow this recipe. 
2" of fresh ginger, finely grated with a Ginger Grater or finely chopped
6 quarts of water
4 ounces baby arugula
6 carrots, chopped into ¼" rounds
1-2 rutabagas
Redmond Real Salt to taste
Black pepper to taste
Cilantro, chopped (optional)
Homemade Pork Belly (optional) [Get my  low histamine recipe here]
Optional Tools
Directions
If using Pork Belly, follow recipe here and place Pork Belly in oven.
Saute' ½ the green onion tops and celery in ghee or coconut oil in an 8 Quart or larger stock or soup pot.
Add chicken, ginger, salt, freshly cracked black pepper, and water to pot. Simmer for 20-30 minutes.
Meanwhile, either cube the rutabagas into ½" cubes or use a Brieftons Spiralizer to make the rutabagas into noodles.
Add carrots and rutabaga to pot and continue to simmer until tender.
Add baby arugula to pot to wilt and turn off stove. Let sit for 5 minutes.
While arugula is wilting, chop remaining green onion dark green tops. Chop pork belly into bite size pieces (optional).
Dish soup into bowls and garnish with green onion tops, cilantro, and pork belly. Then serve and enjoy!
Freeze the leftovers. Freezing leftovers helps to keep histamine levels low. 
What did you think of this recipe? I'd love to hear from you in the comments below!
Low Histamine Meat Recipes
*Some links in this website are affiliate links, which means Mast Cell 360 may make a very small commission if you purchase through the link. It never costs you any more to purchase through the links, and we try to find the best deals we can. We only recommend products that we love and use personally or use in the Mast Cell 360 practice. Any commissions help support the newsletter, website, and ongoing research so Mast Cell 360 can continue to offer you free tips, recipes, and info. Thank you for your support!