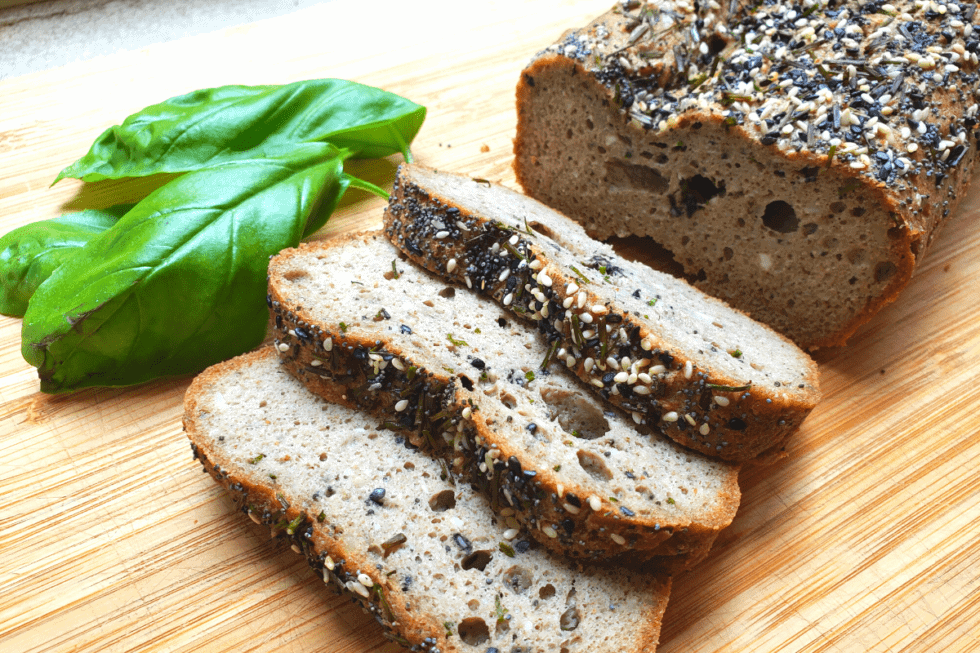 Low Histamine Bread Recipe: Everything Bagel (Gluten Free, Low Lectin, Low FODMAP, Moderate Oxalate)
Coming up with a low histamine bread recipe can be a challenge when you have Lectin, FODMAP, and Oxalate issues like I have.
But if you've been reading the blog, you know I enjoy finding ways to modify recipes for those of us with Mast Cell Activation Syndrome (MCAS) and Histamine Intolerance.
I consider myself a bit of a foodie. And I really like it when I can share a great treat with you that fits the low histamine diet!
So, I was really excited to pull together this Everything Bagel Flavor for Low Histamine Bread that hits so many checkmarks.
This recipe is:
Lactose-free / dairy-free (optional)
Gluten-free
The unique combination of flavors we associate with the Everything Bagel is so popular now.
You can find "everything" seasoning used in so many ways.
From popcorn toppings (or a topping for popped sorghum for those of us with Lectin Intolerance) to fish and meat rubs. It's showing up everywhere!
But where did it all begin? I started wondering about the origins of the Everything Bagel when I started putting this recipe together. Here's what I learned.
My Favorite Low Histamine Bread Flavor
It appears there is some dispute over who invented the Everything Bagel and when. One story goes that a teen working in a Queens bagel shop invented the Everything Bagel.
As the story goes, the bagel shop made many different types of bagels: poppy seed bagels, salt-crusted bagels, sesame bagels, and even onion bagels.
Part of his job was to clean out the ovens each night. And he'd sweep up the various toppings that had fallen off the bagels.
But one night, he looked at all the bagel toppings that had fallen off a little differently. He thought, why not top a bagel with all these ingredients and call it an Everything Bagel?!
So, he tried it. And as it turns out, when you get all those flavors together, from sesame to chives, it makes a really tasty combo.
But bagels aren't on the menu for those of us watching our histamine levels. Even ones made with gluten free flour or corn can cause reactions.
So, what can you do if you have Histamine Intolerance or Mast Cell Activation Syndrome?
You can get the "everything" flavor in this tasty low histamine bread recipe with an "everything" seasoning.
You can top it with some organic ghee or use it to as sandwich bread. It's up to you!
You could even combine it with our Butter Board Recipe for a delicious appetizer or snack.
And it's a good source of fiber which can help support good health!
Keep reading to learn more.
Low Histamine Bread Ingredients
Most baked goods you buy in the store are going to be high histamine foods.
This can be because:
They've been sitting on the shelf for a long time
They are made with sugar
They have high histamine or mast cell-triggering preservatives or additives
They are made with bleached flour
Even if you take an antihistamine or diamine oxidase (DAO) supplement, you may still react.
Instead of risking reactions, try this histamine-friendly recipe that avoids the major allergens.
It won't add to your histamine load AND you'll get lots of added benefits from the low histamine foods used to make the recipe.
You won't even miss the traditional high histamine sweeteners like maple syrup and processed sugar that other homemade breads have.
And you certainly won't come up short on flavor.
The fresh taste of chives complements the sesame and poppy seeds so nicely.
The hint of spiciness from the chives is balanced by the earthy flavors of sesame and the nuttiness of poppy.
There's a reason the Everything Bagel craze is here to stay.
And with this Low-histamine Everything Bagel Bread Recipe, you're getting flavor AND health benefits.
Keep reading to learn why healthy fiber is so good for you!
Fiber
This recipe has some good, healthy Low FODMAP bread fiber.
Tiger nuts and macadamia nuts are high in Low FODMAP fiber.
Psyllium is another form of fiber. It's made from the husks of the Plantago ovata plant's seeds.
Getting enough fiber has been shown to be a key component of a healthy diet.
Foods high in fiber have also been shown in research to be good for heart health.
And dietary fiber can help support your gut health, too.
Keep reading to learn more about the health benefits of fiber.
Fiber, Inflammation, and Your Gut Health
A lot of your immune system is in your gut. So, having a healthy gut is important for your overall wellness.
And a healthy gut is one that doesn't experience chronic inflammation.
You might be surprised at all the ways in which lowering gut-inflammation can positively affect your health.
And fiber can help with that.
Dietary fiber has been shown in studies to help:
Lower gut inflammation
Reduce symptoms of depression
Promote a healthy gut microbiome
Let's look more at these health benefits of fiber next.
Fiber Reduces Gut Inflammation
When you eat healthy forms of fiber, it becomes food for your good gut bacteria.
You want to feed the good gut bacteria to keep a healthy balance of flora in your gut.
This good gut bacteria plays a part in creating short-chain fatty acids (SCFAs) like butyrate.
These SCFAs are super important for good gut health.
Read More: Enzymes, Short-Chain Fatty Acids (SCFA's) and Gut Health in SIBO, Mast Cell Activation Syndrome and Histamine Intolerance
Among other benefits, these SCFAs can help reduce gut inflammation.
Did you know that you have a huge amount of mast cells in your gut?
And did you know that inflammation triggers mast cells? That's one reason why lowering inflammation can help if you have Mast Cell Activation Syndrome.
When you reduce gut inflammation, you are helping support your mast cells.
Here's another way that lowering gut inflammation with dietary fiber can help you.
Inflammation and Depression
Studies are showing links between gut inflammation and depression. And how healthy fiber can help.
Lower gut inflammation may reduce symptoms of depression. This is because lower inflammation can change the way your neurotransmitters respond.
Neurotransmitters are chemical messengers that signal other cells telling them what to do.
One example of a neurotransmitter is histamine. Another is serotonin. Serotonin is a "feel-good" chemical.
Serotonin is connected to mood, perception, appetite, memory, sexuality, and attention.
Inflammation can negatively affect the response of neurotransmitters like serotonin.
But on the other side of that, removing inflammation may give your serotonin a boost.
This means eating the right types of fibers may be able to fight both gut inflammation and depression.
So, in addition to being tasty, this low histamine bread supports your fiber intake. And that can be good news for your overall health.
Now, if you have FODMAP issues, Oxalate Intolerance, or Lectin Intolerance, you might be wondering how you can get fiber from bread.
Keep reading to learn more about how I adapted this recipe so it could meet all those needs.
Making Low Histamine Bread Fit Your Needs
Whether you have Histamine Intolerance, FODMAP issues, Oxalate or Lectin Intolerance, you know that choosing foods to support your health will make you feel a lot better.
Here's how this Everything Bagel Bread Recipe was adapted to fit those needs.
Low FODMAP Bread
For those of you dealing with FODMAP issues, you need more than just gluten-free bread.
This recipe is made with low FODMAP foods.
These are some high FODMAP ingredients found in many breads:
Rye
Fructose (sweetener)
Honey
But this recipe skips all sweeteners and uses these low FODMAP foods instead:
Eating low FODMAP may help you while you're healing your gut. Especially if you have IBS, bloating, or other digestive symptoms.
But always talk with your healthcare provider before changing your diet.
You don't want to eliminate foods unnecessarily.
Read More: Low FODMAP Diet for SIBO
If you are eating low FODMAP, rest assured that this low histamine bread recipe is also a low FODMAP bread recipe.
More FODMAP Friendly Recipes
Oxalate Intolerance and Lectin Intolerance
Some people think that gluten free bread is always a safe choice.
However, some gluten free recipes might use:
rice flour
chia
quinoa
a veggie like sweet potatoes.
If you are just dealing with Histamine Intolerance, those foods are low histamine. They shouldn't be a problem.
However, these are either high oxalate, high lectin, or both.
You'll want to avoid foods made with those ingredients if you have food intolerances like Oxalate Intolerance or Lectin Intolerance.
In this recipe, you won't see any of those ingredients. Tiger nuts and psyllium husk create the bulk of this recipe.
I also figured out how to make this bread the most efficient way possible. There's no need to separate out wet ingredients or dry ingredients.
It all goes into a large bowl. You don't even have to knead it!
Low Histamine Recipes to Serve With Low FODMAP Bread
Now, let's get to the recipe!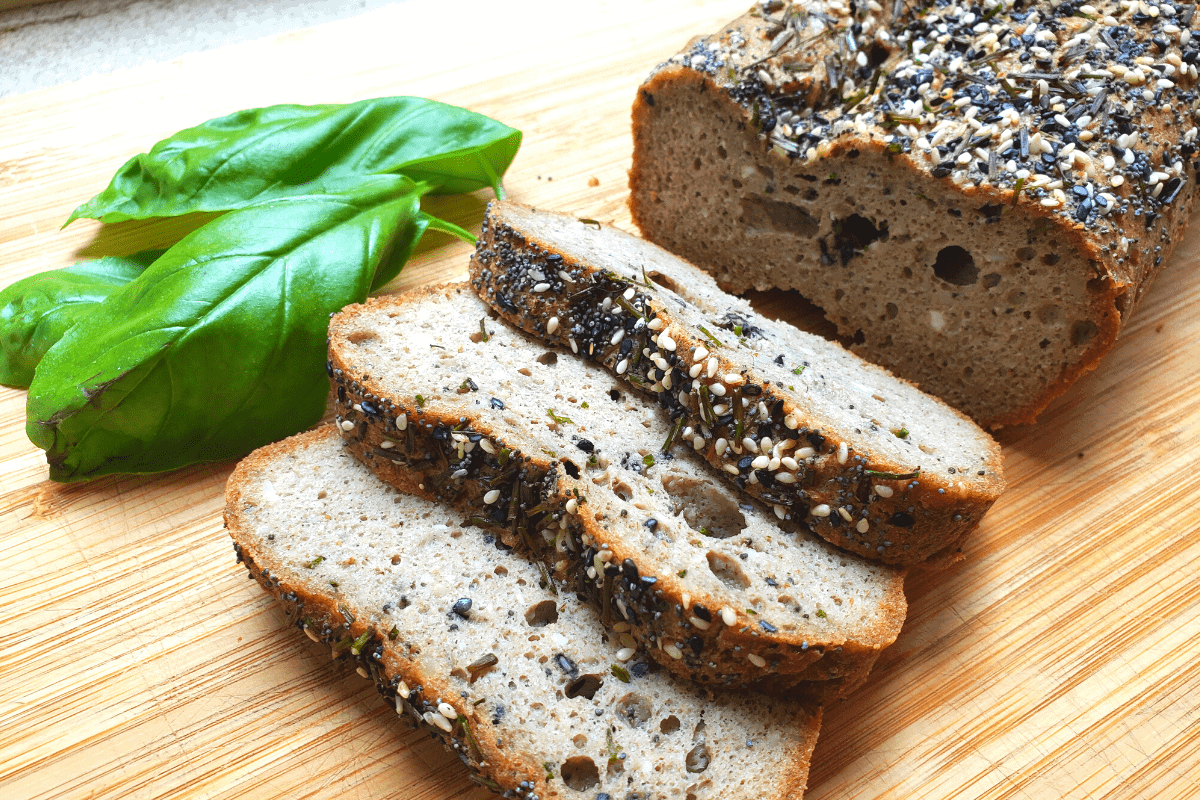 Low Histamine Bread (Medium Oxalate, Low Lectin, Low FODMAP Bread Recipe)
Enjoy this everything bagel flavored low histamine and low fodmap bread
Ingredients
Everything Bagel Seasoning
Instructions
Place ghee (or other oil) in a 5×9 bread loaf pan and place in oven. Heat until melted, remove from oven.

Meanwhile, pulse the macadamia nuts in a food processor until it forms a smooth macadamia nut butter.

Brush melted ghee (or other oil) around sides of the 5×9 bread loaf pan.

In a food processor or blender, combine eggs, macadamia nut butter, tigernut flour, and psyllium powder until smooth.

Add ½ of the Everything Bagel Seasoning, pulse to combine.

Pour batter into bread pan on top of melted ghee (or olive oil or coconut oil).

Mix and top with remaining Everything Bagel Seasoning.

Bake at 350F for 50 minutes until golden brown with crunchy/crispy edges. Keep an eye on it to make sure it doesn't brown too fast. You can cover it with a glass lid if it starts to brown too fast.

Bread is done when a toothpick comes out clean.

Remove from oven and allow to cool for 20 minutes. Then remove from pan and place it on a cooling rack.
Notes
Nutritional info is based on 1/6 of the low histamine bread loaf. 
Nutrition
Nutrition Facts
Low Histamine Bread (Medium Oxalate, Low Lectin, Low FODMAP Bread Recipe)
Amount per Serving
% Daily Value*
* Percent Daily Values are based on a 2000 calorie diet.
Let us know in the comments what you think about this Everything Bagel Low Histamine Bread! What are you topping it with?
---
Some links in this website are affiliate links, which means Mast Cell 360 may make a very small commission if you purchase through the link. It never costs you any more to purchase through the links, and we try to find the best deals we can. We only recommend products that we love and use personally or use in the Mast Cell 360 practice. Any commissions help support the newsletter, website, and ongoing research so Mast Cell 360 can continue to offer you free tips, recipes, and info. Thank you for your support!
References
Berger, M., Gray, J. A., & Roth, B. L. (2009). The expanded biology of serotonin. Annual review of medicine, 60, 355–366. https://doi.org/10.1146/annurev.med.60.042307.110802
Black Sesame Seeds. Fooddata Central Search Results. (n.d.). Retrieved January 4, 2023, from https://fdc.nal.usda.gov/fdc-app.html#/food-details/2439022/nutrients
Eggs, Grade A, Large, egg whole. Fooddata Central Search Results. (n.d.). Retrieved January 4, 2023, from https://fdc.nal.usda.gov/fdc-app.html#/food-details/748967/nutrients
Ghee, clarified butter. Fooddata Central Search Results. (n.d.). Retrieved January 4, 2023, from https://fdc.nal.usda.gov/fdc-app.html#/food-details/2345725/nutrients
Low FODMAP Diet | IBS Research at Monash University – Monash Fodmap. (n.d.). Retrieved October 19, 2022, from https://www.monashfodmap.com/
Macadamia nuts . Fooddata Central Search Results. (n.d.). Retrieved January 4, 2023, from https://fdc.nal.usda.gov/fdc-app.html#/food-details/2342980/nutrients
Poppy Seeds. Fooddata Central Search Results. (n.d.). Retrieved January 4, 2023, from https://fdc.nal.usda.gov/fdc-app.html#/food-details/2059254/nutrients
Schulman, M. (2008, March 2). Everything, everywhere. The New Yorker. https://www.newyorker.com/magazine/2008/03/10/everything-everywhere.
Soliman G. A. (2019). Dietary Fiber, Atherosclerosis, and Cardiovascular Disease. Nutrients, 11(5), 1155. https://doi.org/10.3390/nu11051155
Swann, O. G., Kilpatrick, M., Breslin, M., & Oddy, W. H. (2020). Dietary fiber and its associations with depression and inflammation. Nutrition reviews, 78(5), 394–411. https://doi.org/10.1093/nutrit/nuz072
Vinolo, M. A., Rodrigues, H. G., Nachbar, R. T., & Curi, R. (2011). Regulation of inflammation by short chain fatty acids. Nutrients, 3(10), 858–876. https://doi.org/10.3390/nu3100858
White Sesame Seeds . Fooddata Central Search Results. (n.d.). Retrieved January 4, 2023, from https://fdc.nal.usda.gov/fdc-app.html#/food-details/2288901/nutrients