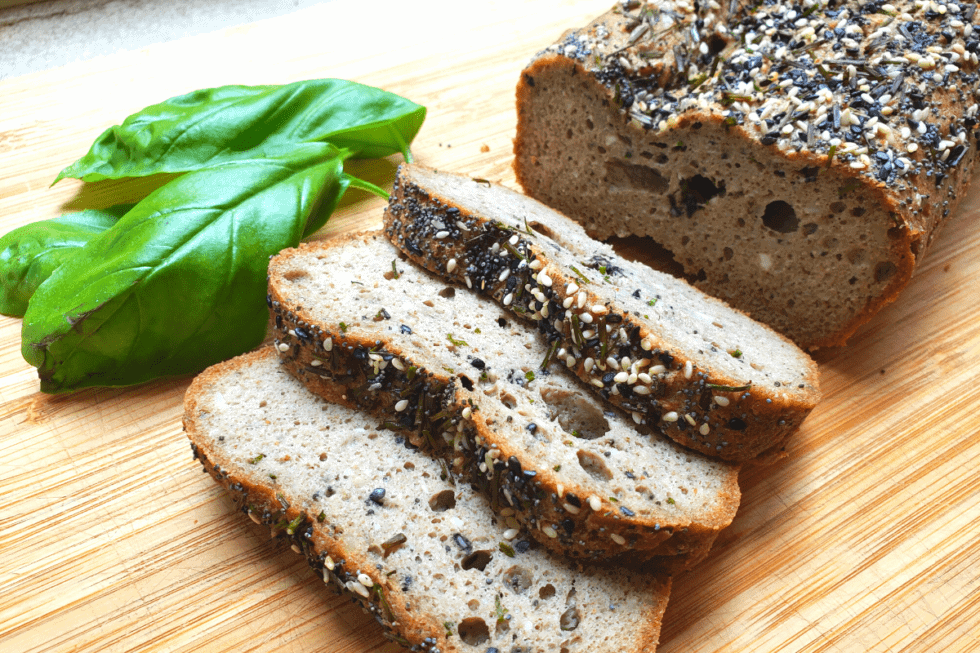 Low Histamine Everything Bagel Bread Recipe (Low Lectin, Low FODMAP, Medium Oxalate) for people with Mast Cell Activation Syndrome and Histamine Intolerance
If you've been reading the blog, you know I like to find ways to modify recipes for those of us with Mast Cell Activation Syndrome and Histamine Intolerance.  
I consider myself a bit of a foodie. And I really like it when I can share a great treat with you!  
But coming up with a bread recipe can be a challenge when you have Histamine, Lectin, FODMAP, and Oxalate issues like I have.  
So, I was really excited to pull together this Everything Bagel recipe that hits all the checkmarks. 
When I was putting together this recipe, I started wondering about the origins of the Everything Bagel. The unique combination of flavors is so popular now.  
You can find "everything" seasoning used in so many ways. From popcorn toppings (or a topping for popped sorghum for those of us with Lectin Intolerance) to fish and meat rubs. It's not only an "everything seasoning", but it's also showing up everywhere! 
It appears there is some dispute over who invented it and when. One story goes that a teen working in a Queens bagel shop invented the Everything Bagel.  
As the story goes, the bagel shop made many different types of bagels: poppy seed bagels, salt-crusted bagels, sesame bagels, and even onion bagels.  
Part of his job was to clean out the ovens each night. And he'd sweep up the various toppings that had fallen off the bagels.   
But one night, he looked at all the bagel toppings that had fallen off a little differently. He thought, why not top a bagel with all these ingredients and call it an Everything Bagel?! 
So, he tried it. And as it turns out, when you get all those flavors together, from sesame to chives, it makes a really tasty combo. 
But gluten-filled bagels aren't really on the menu for many of us. Instead, I've got a tasty bread recipe and an "everything" seasoning that meet that same taste profile.  
You can top it with some organic ghee or use it to make a low histamine sandwich. It's up to you! 
And it's made with ingredients that can help support good health as well! 
Let's check out those ingredients next.  
Fiber in Low Histamine Everything Bagels and the Potential Benefits: What to know for those with Mast Cell Activation Syndrome and Histamine Intolerance.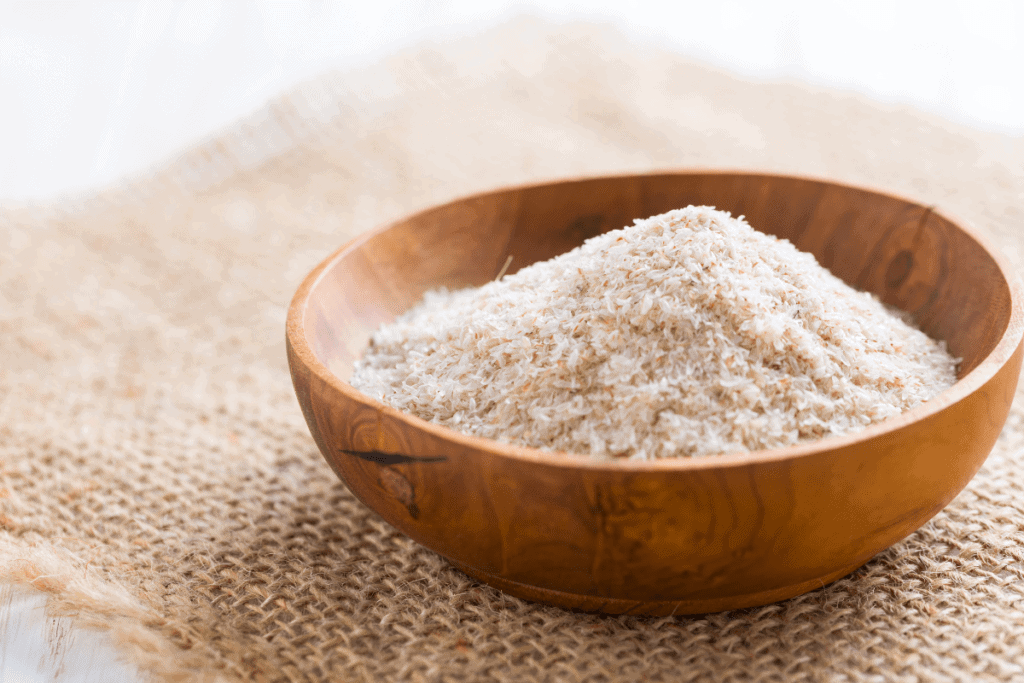 This recipe has some good, healthy Low FODMAP fiber going on.  
Tiger nuts and macadamia nuts are high in Low FODMAP fiber. Psyllium is another form of fiber. It's made from the husks of the Plantago ovata plant's seeds.   
Getting enough fiber has been shown to be a key component of a healthy diet. Foods high in fiber have also been shown in research to be good for heart health.  
And dietary fiber can help support your gut microbiome. Which has all kinds of benefits. 
A very recent study even showed how dietary fiber can help lower gut inflammation. And by doing so, improve neurotransmitters made in the gut that can help decrease depression. 
So this means eating the right types of fibers may be able to fight both gut inflammation and depression – what a bonus when something tastes really good, too!  
But how does this happen? 
When you eat healthy forms of fiber, it becomes food for your good gut bacteria. This is super important because this helps made things like short-chain fatty acids (SCFAs) and butyrate.  
These SCFAs and butyrate are super important for good gut health. 
Check out this article for more information on why: Enzymes, Short-Chain Fatty Acids (SCFA's) and Gut Health in SIBO, Mast Cell Activation Syndrome and Histamine Intolerance. 
And these SCFAs and butyrate can help reduce gut inflammation. Remember how you've learned that you have a huge amount of mast cells in your gut? 
Anything that reduces gut inflammation can help support your gut mast cells.  
Another piece of this puzzle is that when there is gut inflammation, the cells in your gut can't make enough of your feel-good neurotransmitters like Serotonin.  
But if you eat healthy fiber, this should help you start making more of those important neurotransmitters that help you avoid depression. 
So, in addition to being tasty, this low histamine bread supports your fiber intake. And that can be good news for your overall health. 
Plus, for those of you currently dealing with FODMAP issues, the fibers and other ingredients below are low FODMAP. This can help you while you're healing your gut. 
Not sure what FODMAPs are? Learn more in this post:  
What to Know About FODMAPS and SIBO if you have Mast Cell Activation or Histamine Intolerance 
Now, let's get to the recipe! 
Low Histamine Everything Bagel Bread Recipe (Gluten Free, Low Lectin, Low FODMAP, Moderate Oxalate) – a recipe made for those with Mast Cell Activation Syndrome and Histamine Intolerance
Servings: 12 slices 
Low Histamine Everything Bagel Bread Ingredients 
Everything Bagel Seasoning Ingredients 
Low Histamine Everything Bagel Bread Instructions 
Preheat oven to 350 degrees F.

Place ghee (or other oil) in a 5×9 bread pan and place in oven. Heat until melted, remove from oven.
Brush melted ghee (or other oil) around sides of baking dish. 
In a food processor or blender, combine eggs, macadamia nut butter, tigernut flour, and psyllium powder until smooth.
Add ½ of the Everything Bagel Seasoning, pulse to combine.
Pour batter into bread pan on top of melted ghee (or other oil)
7. Top with remaining Everything Bagel Seasoning.
8. Bake at 350 degrees F for 50 minutes until golden brown with crunchy/crispy edges. Keep an eye on it to make sure it doesn't brown too fast. Can cover it with a glass lid if it starts to brown too fast.
9. Bread is done with a toothpick comes out clean.
10. Remove from oven and allow to cool for 20 minutes. Then remove from pan and  place it on a cooling rack 
Let us know in the comments what you think about this Everything Bagel Bread! What are you topping it with? 
I am thinking of topping this bread with our Low Histamine Pesto Recipe!
I hope you enjoy! 
Egg replacement ideas: 
I really wanted to offer an egg-free version. I've seen this combo of flax eggs, oil, water, and baking powder work very well in other recipes. Full disclosure, though – we haven't tested this variation out yet. 
Just keep in mind, it won't rise as much. You may also have to experiment with shorter or longer cooking times, depending on your oven.  
If you try it, or if you find an even better egg-free substitute for this recipe, please let us know in the comments below! 
Mix 3 Tablespoons ground, organic flaxseed meal with 1 Cup + 1 Teaspoon of water. Let sit for 10 minutes until very thick.

 
Add an additional 4 ½ Tablespoons of ghee or other oil, 4 ½ Tablespoons of water, and 3 teaspoons of baking powder (not soda).

 
Add 1 and 2 to the blender in place of eggs in the directions above.

 
Use up the rest of the flaxseeds with my flaxseed crackers recipe! 
References on Fiber and Everything Bagel Bread for those with Mast Cell Activation Syndrome and Histamine Intolerance:
Schulman, M. (2008, March 2). Everything, everywhere. The New Yorker. https://www.newyorker.com/magazine/2008/03/10/
everything-everywhere. 
Soliman G. A. (2019). Dietary Fiber, Atherosclerosis, and Cardiovascular Disease. Nutrients, 11(5), 1155. https://doi.org/10.3390/nu11051155 
Swann, O. G., Kilpatrick, M., Breslin, M., & Oddy, W. H. (2020). Dietary fiber and its associations with depression and inflammation. Nutrition reviews, 78(5), 394–411. https://doi.org/10.1093/nutrit/nuz072 
*Some links in this website are affiliate links, which means Mast Cell 360 may make a very small commission if you purchase through the link. It never costs you any more to purchase through the links, and we try to find the best deals we can. We only recommend products that we love and use personally or use in the Mast Cell 360 practice. Any commissions help support the newsletter, website, and ongoing research so Mast Cell 360 can continue to offer you free tips, recipes, and info. Thank you for your support!