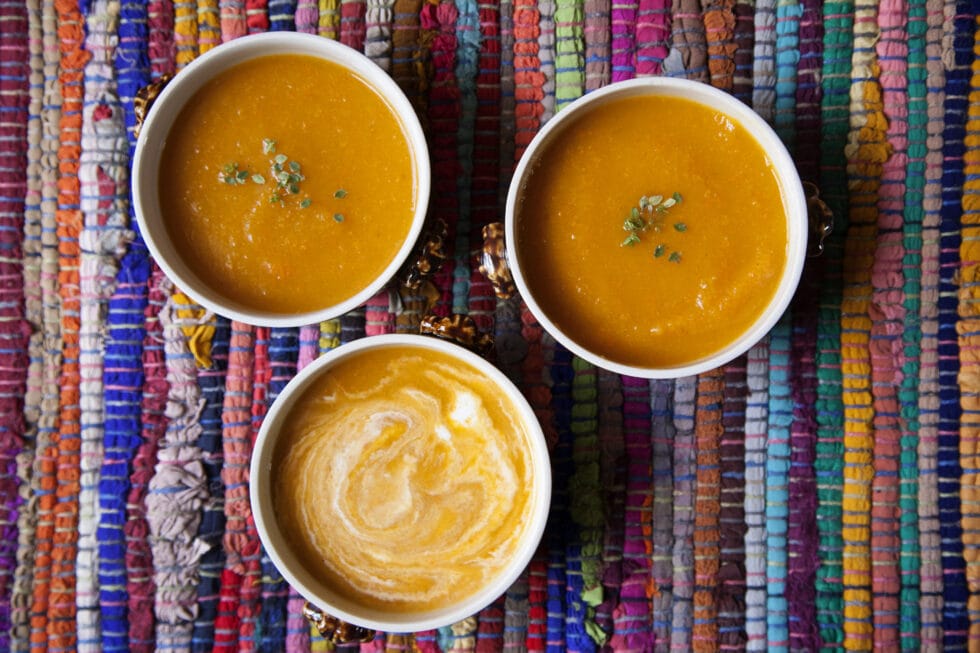 Low Histamine Roasted Carrot and Pear Soup (also Low Lectin with Low Salicylate Option) 
Few foods are as comforting to me as a warm bowl of soup. And I'm always looking for new flavor combos, like in this roasted carrot and pear soup.
You might raise an eyebrow about using fruit in a soup.
But with Mast Cell Activation Syndrome or Histamine Intolerance, you need to get creative!
There may be foods that you have to omit for a while. But there are still plenty of tasty options to choose from when you open your mind to them.
Fruit can add a delicate and subtle sweetness to your dishes. I love this balance of sweet and savory.
Here's another great thing about soups if you have MCAS or HIT.
Soups are great for low histamine meal plans. You can make several batches at once and freeze them to eat later in the week.
That makes for easy lunches when you don't have time or energy to cook up a low histamine lunch mid-day.
This roasted carrot and pear soup recipe is:
Gluten free
Dairy free
Vegan
There is even a low salicylate option.
But you won't miss anything with the warm and comforting flavors you'll get with this soup!
And next, take a look at some benefits these ingredients have to offer.
It's good to know about foods that support your health. You can incorporate them into your other meals, too.
Nutritional variety is so important!
Healthy and Tasty Ingredients in the Roasted Carrot and Pear Soup Recipe
There are all kinds of vegetable soups out there.
You've got classic vegetable soup with a mixture of cut-up veggies in a tomato base or clear broth.
You've got potato soup, butternut squash soup, lentil soup, and minestrone. So many varieties!
Those soups are great to get in your veggies for the day.
But they have ingredients that are high histamine, lectin, or oxalate.
Even dairy can be a problem for some people because of lactose and casein.
Related Article: Low Histamine Foods List for MCAS and Histamine Intolerance
But if you have those food intolerances listed above, you don't have to worry with this roasted carrot and pear soup.
And check out some of the benefits you'll get from the ingredients in this soup, too.
Carrots in Soup
Carrots are one of the main ingredients in this recipe.
And once you hear about all the benefits carrots have, you'll likely want to use them anywhere you can.
Carrots contain carotenoids. You may have heard of beta carotene. It's one kind of carotenoid.
You might see beta-carotene in a multi-vitamin.
And for good reason!
Carotenoids, like beta carotene, are fat-soluble pigments that give certain foods their bright color.
But aside from being colorful, these carotenoids have been shown to have antioxidant properties.
This antioxidant activity can protect cells and tissues from free radicals. Free radicals are atoms that can cause cell damage, illness, and premature aging.
Antioxidants in carotenoids can boost immune function, too.
That's good news if you have Mast Cell Activation Syndrome (MCAS) or Mold Toxicity.
Mold Toxicity is the #1 root cause of MCAS we see in the Mast Cell 360 practice.
And mycotoxins (the toxins from mold) can disrupt your immune system, among other things.
So, anything you can do to bolster your immune system may be helpful while you are dealing with this.
Carotenoids also act as a provitamin for vitamin A. What that means is that your body will take this vitamin A "precursor" and convert it into vitamin A.
Vitamin A is important for:
Wound healing
Prenatal and postnatal development
Eyesight
Reproduction
And emerging evidence shows that vitamin A supplementation may be helpful in:
Pregnancy to prevent allergic diseases
Adults to controlling asthma symptoms
TIP: Buy the carrots with the tops on. If the greens are fresh, the carrots are fresh. Bagged carrots without tops may be older. Histamine content increases as food ages.
Pears in Soup
I chose pears for this recipe for a change of pace. I tend to use apples a lot in my recipes. I wanted to try something different.
But you could use apples for a roasted carrot apple soup, instead.
I've made it both ways. And I've made it with one pear and one apple. It's all very tasty.
Apples have a lot of benefits, too, so you can't go wrong either way.
But take a look at what you'll get with pears.
Pears are a source of:
Calcium
Potassium
Vitamin C
Copper
Zinc
Vitamin C, copper, and zinc are nutrients that can support diamine oxidase (DAO) levels.
DAO is one of the enzymes that breaks down histamine in the body. DAO is really important if you have Histamine Intolerance.
And while I do often suggest considering vitamin C, in the Mast Cell 360 clinic, we don't typically recommend supplementing copper for those with MCAS.
Copper supplementation gets a bit complicated. If needed, we address it much later in the healing process.
Getting smaller amounts of copper naturally through foods is the better option.
TIP: Fresh pears will give you the best flavor. Choose varieties like Bartlett or Bosc. And select ripe pears but avoid overripe. If it's too soft to the touch, it will be older and have elevated histamine levels.
Herbs for Carrot Pear Soup
Herbs are among the most nutrient dense foods you can eat. And they add so much flavor to any dish.
This soup has:
They've all been shown to have anti-inflammatory and antioxidant properties.
And with this combo of herbs, you'll get important nutrients like:
That's a lot of goodness coming out of something so small!
TIP: Use fresh herbs for the best flavor. Fresh herbs also have more histamine lowering properties than dried herbs.
And the great thing about soup is that you can customize it to your own preferences and requirements.
Swap out any herb. Add more or less salt. Add an additional veggie. Serve chunky or smooth. It's all up to you!
But I think this one is sure to become a favorite in your weekly meal plan!
Make Ahead Carrot Pear Soup
Leftovers in the fridge grow histamine.
The way around this if you have histamine intolerance is to freeze your leftovers. It's best to do this before it reaches room temperature.
You want to store it in a non-toxic solution. I don't recommend storing in plastic because it can leech petrochemicals into your food.
You can store this carrot pear soup in glassware or glass jars. Just be sure to not fill the jars more than 2/3s of the way. The soup will expand and if it's too full, it can break the glass.
I'd hate for you to lose your lunch!
The best solution I've found is these silicone 1 cup cubes. They are like giant ice cube trays that fit one serving of soup!
What to Serve with Carrot Pear Soup
Here are some delicious low histamine options: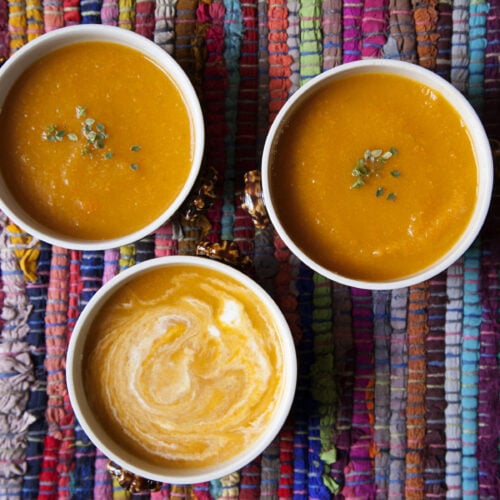 Roasted Carrot and Pear Soup Recipe
Enjoy this low histamine roasted carrot & pear soup that's low lectin with low salicylate option. Batch and freeze for easy lunches.
Ingredients
8

cups

Filtered Water

1

pound

Carrots

5

ribs

Celery

1

Yellow Onion

large

3

cloves

Garlic

smashed

¼

ounce

Ginger

(about 1 inch piece) (omit for low salicylate) 

1

sprig

Rosemary

(omit for low salicylate)

3

teaspoons

Thyme

(1 teaspoon is for garnish) (sub flat leaf parsley for low salicylate option) 

½

teasponn

Redmond Real Salt

2

Bartlett Pears

(peeled for low salicylate)

1

(16 ounce) can

Coconut Milk

(optional, omit for low salicylate. Consider adding another fat that is tolerated.) 
Instructions
Put 8 cups of filtered water into a large pot over high heat and bring to a boil. 

Preheat oven to 425° Fahrenheit. 

Wash all fruit, veggies, and herbs. 

For low salicylate option, peel carrots and peel pears.

Cut carrots, onion, celery, pears and ginger into about ½ inch pieces. (Remove core and stem from pears.) 

Remove rosemary and thyme leaves from the stems. 

Put the following into the boiling water: 

1/3 of your carrots

all the celery 

½ the onion 

all the rosemary 

2 teaspoons thyme 

½ teaspoon salt 

all the ginger 

Bring heat down to medium low and simmer for about 30 minutes. 

Put the following ingredients on a silicone mat or unbleached parchment paper on a baking sheet (this makes clean up easier):  2/3 of the carrots, remaining ½ onion, all garlic, all pears. 

Toss with olive oil to coat and roast for 25 minutes. 

Remove the large soup pot from the stove and take the baking sheet out of the oven when done. 

Use your immersion blender to blend up the contents of the pot. 

You should have about 7-8 cups of "broth" here. Remove 6 cups into a large mixing bowl. (Sometimes you lose water due to evaporation, that's why I use extra. If you do have extra broth, you can freeze this as a stock to use for a future dish.) 

Add all of the roasted ingredients to the 6 cups of broth that you now have in a large mixing bowl. 

Use immersion blender to blend contents until you get a smooth purée. 

You may want to strain your soup with a colander. I blended until most of it was smooth, but there were still a couple big chunks of carrot I missed. Don't use a mesh type strainer. It's too fine. Use one with bigger holes if you have it.  
Options for Serving
You can add more salt to taste. 

You can garnish with parsley or thyme. 

You can add about 1 teaspoon of coconut milk to each serving for a creamy, richer soup. It reminds me of soups from a Thai restaurant when the coconut milk is added. Yum! 
Notes
This recipe makes 2 big meals or 4 appetizer portions.
Nutrition
Nutrition Facts
Roasted Carrot and Pear Soup Recipe
Amount per Serving
% Daily Value*
* Percent Daily Values are based on a 2000 calorie diet.
More Low Histamine Freeze Ahead Lunches
Some links in this website are affiliate links, which means Mast Cell 360 may make a very small commission if you purchase through the link. It never costs you any more to purchase through the links, and we try to find the best deals we can. We only recommend products that we love and use personally or use in the Mast Cell 360 practice. Any commissions help support the newsletter, website, and ongoing research so Mast Cell 360 can continue to offer you free tips, recipes, and info. Thank you for your support!
References
Hufnagl, K., & Jensen-Jarolim, E. (2019). Does a carrot a day keep the allergy away?. Immunology letters, 206, 54–58. https://doi.org/10.1016/j.imlet.2018.10.009
Jiang T. A. (2019). Health Benefits of Culinary Herbs and Spices. Journal of AOAC International, 102(2), 395–411. https://doi.org/10.5740/jaoacint.18-0418
USDA. (2019, April 1). FoodData Central. Retrieved August 15, 2022, from https://fdc.nal.usda.gov/fdc-app.html#/food-details/173470/nutrients
USDA. (2019b, April 1). FoodData Central. Retrieved August 15, 2022, from https://fdc.nal.usda.gov/fdc-app.html#/food-details/169230/nutrients
USDA. (2019c, April 1). FoodData Central. Retrieved August 15, 2022, from https://fdc.nal.usda.gov/fdc-app.html#/food-details/173473/nutrients
USDA. (2019d, April 1). FoodData Central. Retrieved August 15, 2022, from https://fdc.nal.usda.gov/fdc-app.html#/food-details/170416/nutrients
USDA. (2019, December 16). FoodData Central. Retrieved August 15, 2022, from https://fdc.nal.usda.gov/fdc-app.html#/food-details/746773/nutrients
Xavier, A. A., & Pérez-Gálvez, A. (2016). Carotenoids as a Source of Antioxidants in the Diet. Sub-cellular biochemistry, 79, 359–375. https://doi.org/10.1007/978-3-319-39126-7_14
Zinder, R., Cooley, R., Vlad, L. G., & Molnar, J. A. (2019). Vitamin A and Wound Healing. Nutrition in clinical practice : official publication of the American Society for Parenteral and Enteral Nutrition, 34(6), 839–849. https://doi.org/10.1002/ncp.10420