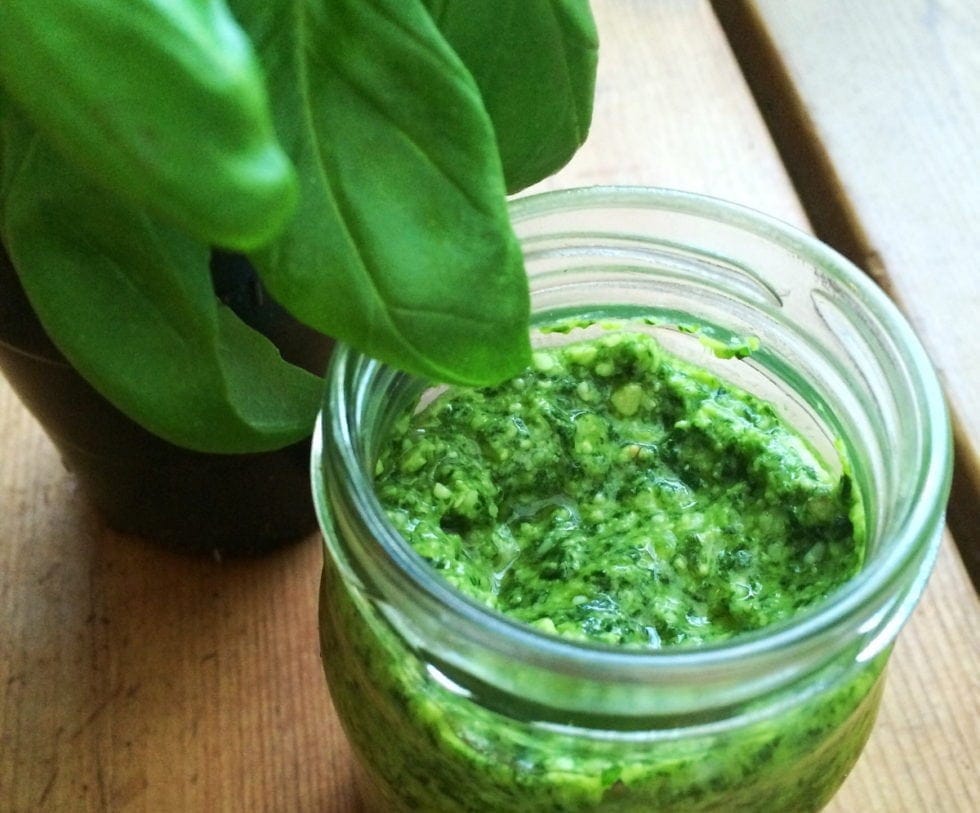 Low Histamine Pesto Recipe for Those With Mast Cell Activation Syndrome or Histamine Intolerance (Also Medium Oxalate, Low Lectin with Low FODMAP Options)
If you have Mast Cell Activation Syndrome or Histamine Intolerance, this recipe for low histamine pesto is for you.
One of the things I love about summer is fresh basil. Basil has antihistamine properties so I add it to as many foods as I can all summer long.
I grow fresh basil in my own backyard. It is very easy to grow basil. All you need is a small area with good sunlight.
I have 10 basil plants growing right now. I have more yield than I can use. But with this pesto recipe, I can have this taste of summer all year. This pesto recipes freezes very well.
There are a number of different types of basil plants. I find Globe Basil makes the best pesto. You can also get beautiful purple basil called Amethyst Basil. There is Thai Basil, Italian Basil, Lemon Basil, Holy Basil (Tulsi) – the list goes on and on.
If you can't grow your own basil, most grocery stores carry fresh basil. Just look it over carefully before you buy it. You want to make sure it hasn't grown any mold.
Notes about using Nuts in this Low Histamine Pesto Recipe for those with Mast Cell Activation Syndrome and Histamine Intolerance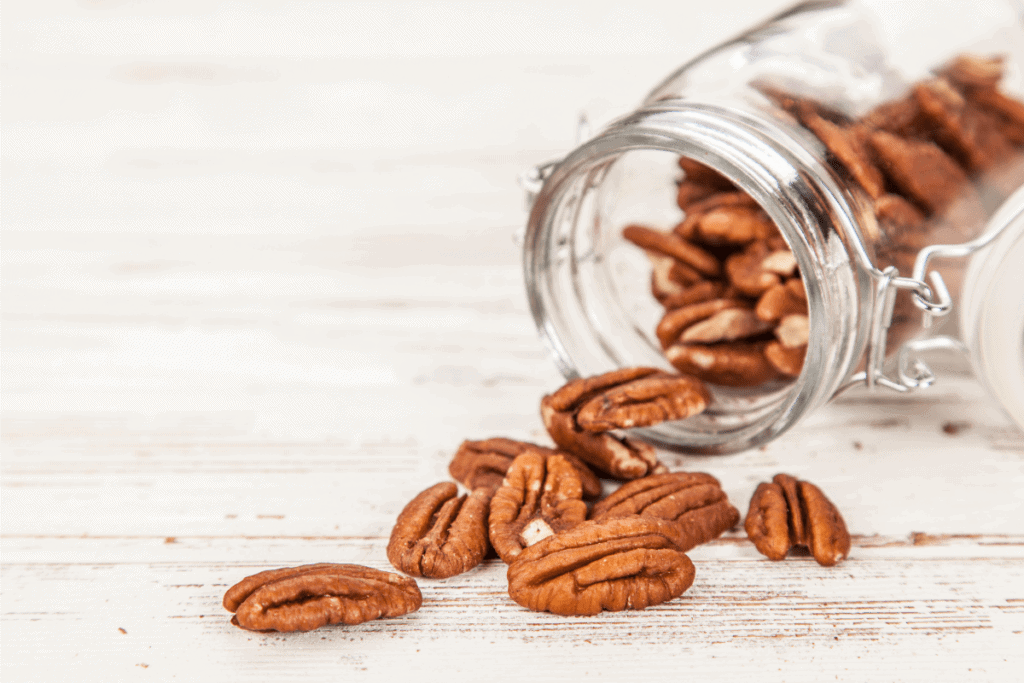 A traditional pesto recipe usually calls for Parmesan cheese. But cheese is high histamine. And Parmesan is particularly high histamine. This recipe leaves out the cheese, but still tastes just as amazing.
Pesto is also traditionally made with pine nuts. But there are several different types of nuts that can work here. The ones I would avoid for this recipe are walnuts, peanuts, and cashews – these are higher histamine.
I eat lower oxalate. So I usually use pistachios, pecans, or macadamias in pesto. This recipe will be medium oxalate at 1 Tablespoon with these nuts.
You could also use almonds or pine nuts. If you have oxalate issues, keep in mind that these are much higher oxalate though.
Almonds do have lectins in the skin. So, if you eat low-lectin and want to use almonds – be sure to use blanched almonds.
Many nuts can have mold toxins in them called mycotoxins.
To help remove these toxins, I always soak nuts for 12-24 hours in salt water. I then drain them and dry them in a food dehydrator.
There's another benefit to doing this, too. It also makes the nuts much more digestible. The one exception is Macadamias – you don't have to soak those. They rarely have mold.
Notes about Olive Oil for Low Histamine Pesto Recipe for those with Mast Cell Activation Syndrome and Histamine Intolerance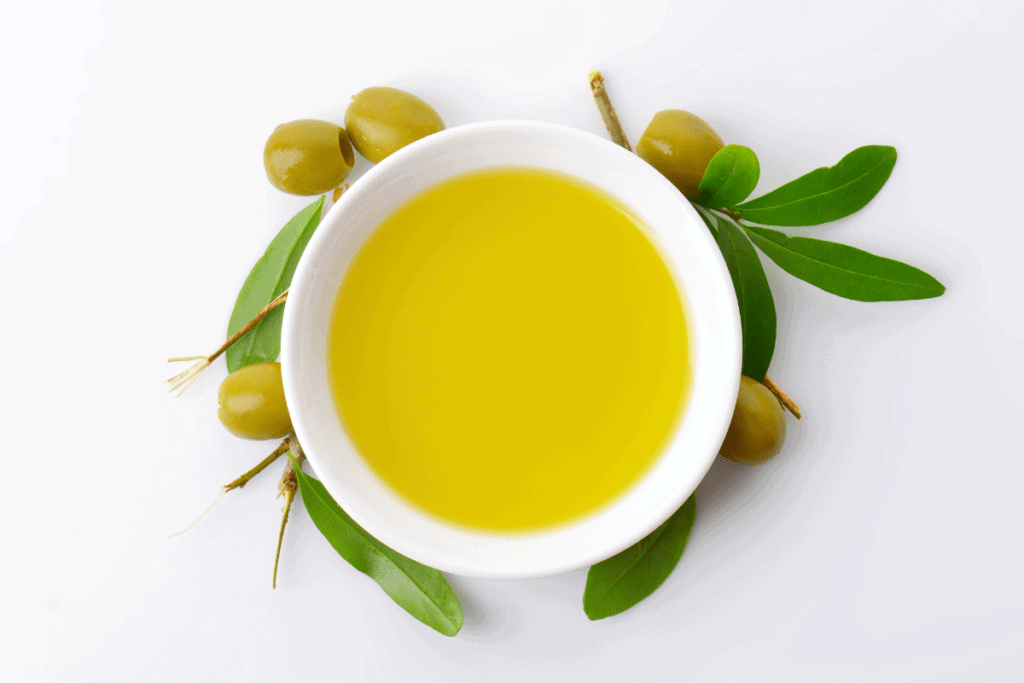 I use Kasandrinos Extra Virgin Olive Oil in this recipe because it boosts DAO, one of the histamine degrading enzymes.
Technically, olive oil is a bit of a higher histamine food. But it helps increase the histamine-lowering enzyme, diamine oxidase (DAO).
So, for many people with Mast Cell Activation Syndrome and Histamine Intolerance, olive oil may be helpful.
But with olive oil, you have to be careful to avoid the fakes. Some olive oils are diluted with lesser quality oils! And many have sat in the bottle so long they've lost the health boosting properties.
Kasandrinos is the real deal, though. I noticed a difference with it right away.
If you want to read more about the benefits of olive oil and what you should look for when choosing a quality product, you can check out this blog post:
Olive Oil – Avoiding the Frauds and Finding the Truth
Garlic Tips for this Low Histamine Pesto Recipe for those with Mast Cell Activation Syndrome and Histamine Intolerance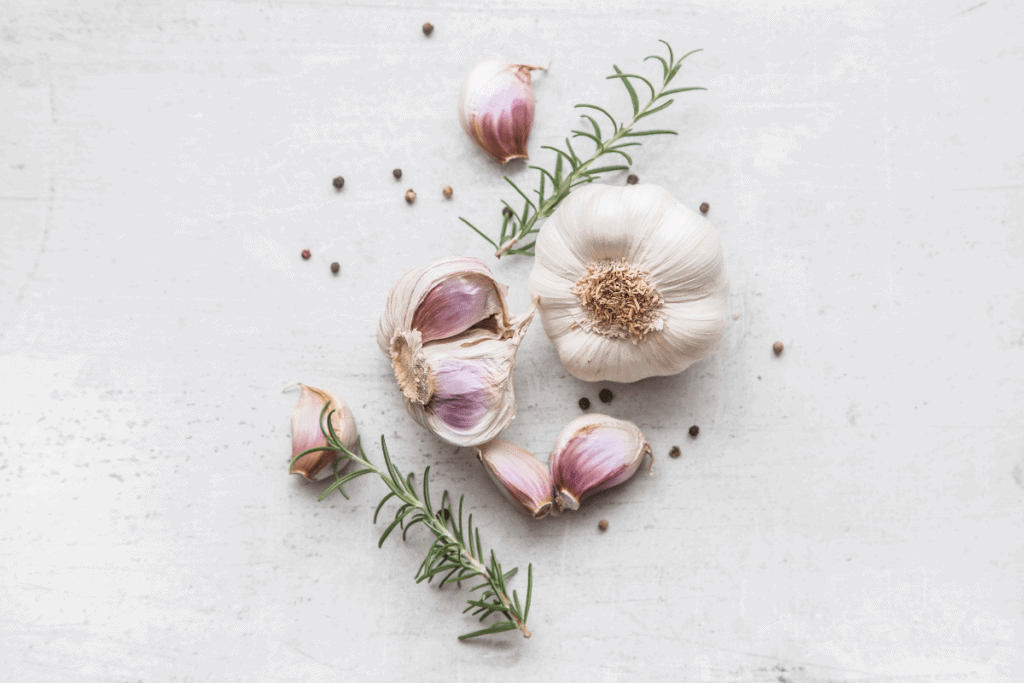 Another histamine busting food in this recipe is garlic. Garlic contains quercetin.
Quercetin helps lower histamine levels. And quercetin is a wonderful mast cell support.
It has been used for a long time as a natural allergy remedy. It also has great anti-inflammatory properties.
And garlic has immune boosting properties to help fight off infections. Try to eat as much garlic as you can!
In this recipe, a tiny bit of garlic goes a long way. But you can add as much as you want if you really love raw garlic.
But what if you have FODMAP intolerances and can't eat garlic? Then, you can sub some Garlic Infused Olive Oil for the Kasandrinos Olive Oil.
This will get you some garlic flavor and health benefits without the fibers that can cause bloating for some people.
Serving Ideas for this Low Histamine Pesto Recipe for those with Mast Cell Activation Syndrome and Histamine Intolerance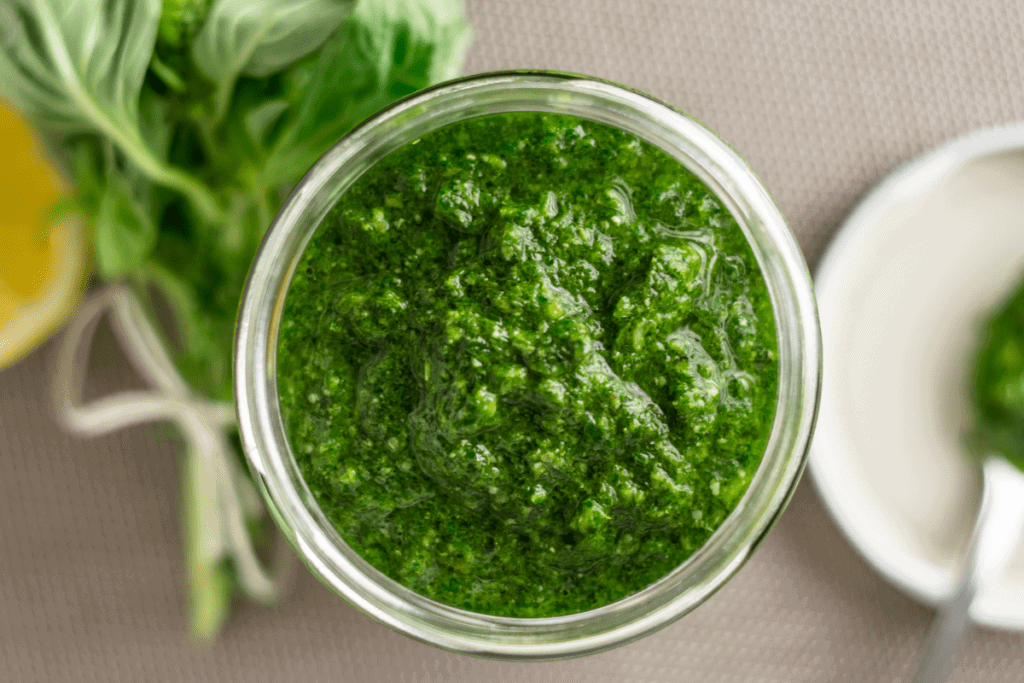 You can use this pesto in so many dishes!
You can make veggie noodles and top with pesto and sautéed shallots. It makes a great topping for chicken.
I also love to use pesto as a sauce on my Low Histamine Pizza.
So, get creative and find some ways to add basil to your diet.
Oh, and like I mentioned earlier, this Low Histamine Pesto freezes really well. I usually make a double batch. Then I freeze it into ½ cup glass containers.
Some people like to use ice cube trays to freeze individual portions. I've found that these silicone freezing trays are better than regular ice cube trays.
They make it easy to thaw a small portion at a time. And unlike a regular ice cube tray, this has a lid to help keep your pesto from getting freezer burn.
What do you use pesto for? Share your creative ideas in the comments below!
Low Histamine Pesto Recipe for those with Mast Cell Activation Syndrome and Histamine Intolerance
Ingredients
3 cups fresh basil leaves
1/2 cup pecans, pistachios, or macadamias
½ raw garlic clove, peeled and pressed or chopped
3/4 teaspoon unrefined sea salt Redmond Real Salt
Optional: Juice of 1/2 lemon (you can sub Camu Camu Powder* for the tartness if sensitive to lemons)
Directions
Add the nuts to a food processor or high speed blender (like a Blendtec Blender* or Vitamix blender*). Blend until the nuts are well chopped.
Add the basil, garlic, and salt to food processer or blender and pulse until the basil is finely chopped.
Add the Kasandrinos extra virgin olive oil and optional lemon or Camu Camu powder. Pulse until everything is well combined but not completely smooth.
Freeze leftovers.
Notes:For lower FODMAP, omit the garlic and sub 1-2 teaspoons of Garlic Infused Olive Oil for equal amounts of Kasandrinos Olive Oil.
Are you struggling with Histamine Intolerance or Mast Cell Activation Syndrome?

Want More Low Histamine Recipes?
Check these out next:
Some links in this website are affiliate links, which means Mast Cell 360 may make a very small commission if you purchase through the link. It never costs you any more to purchase through the links, and we try to find the best deals we can. We only recommend products that we love and use personally or use in the Mast Cell 360 practice. Any commissions help support the newsletter, website, and ongoing research so Mast Cell 360 can continue to offer you free tips, recipes, and info. Thank you for your support!