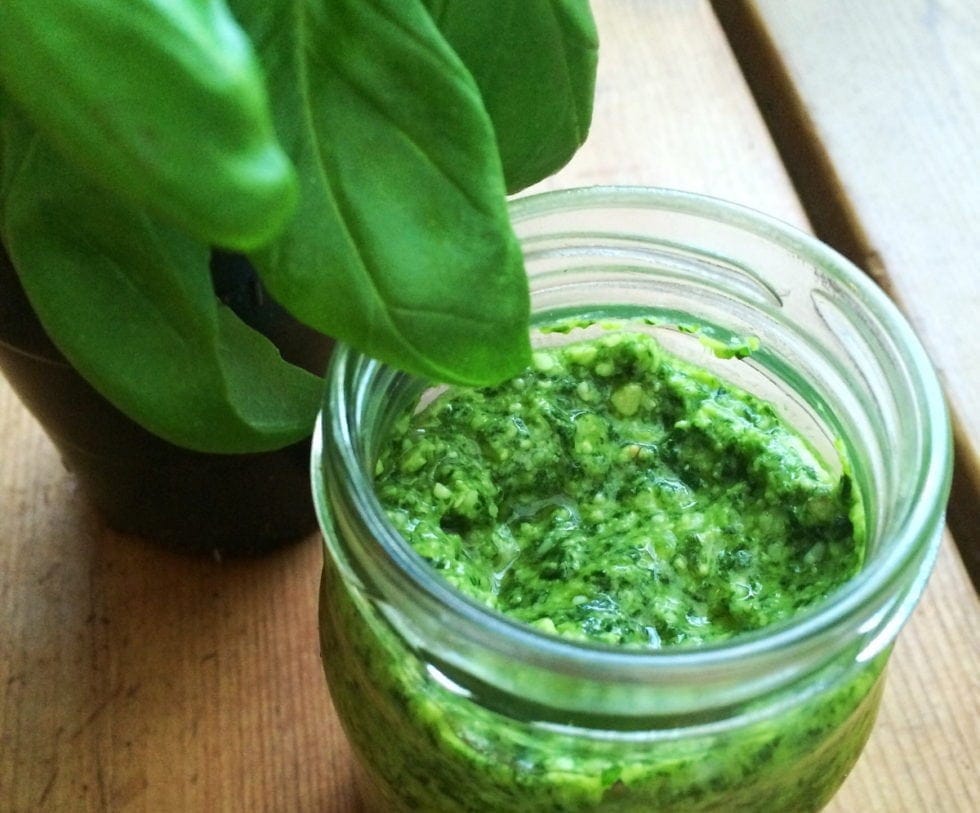 Low Histamine Pesto Recipe
One of the things I love about summer is fresh basil! Basil has major antihistamine properties, which is great if you have Histamine Intolerance or Mast Cell Activation Syndrome.
I try to pack as much basil as I can into my foods all summer long.
If you have a small area with good sunlight, it is very easy to grow basil. I have 10 basil plants going right now so I can make a ton of pesto at the end of the summer and freeze it.
There are a number of different types of basil plants. I find the Globe Basil makes the best pesto. You can also get beautiful purple basil called Amethyst Basil. There is Thai Basil, Italian Basil, Lemon Basil, Holy Basil (Tulsi) – the list goes on and on.
If you can't grow your own basil, most grocery stores carry fresh basil. Just check it well before you buy it. You want to make sure it hasn't grown any mold.
Pesto is usually made with Parmesan cheese. But cheese is high histamine. And Parmesan is particularly high histamine. This recipe leaves out the cheese, but still tastes just as amazing.
Pesto is also traditionally made with pine nuts. But there are several different types of nuts that can work here. The ones I would avoid for this recipe are walnuts, peanuts, and cashews – these are higher histamine.
I eat lower oxalate. So I usually use pistachios, pecans, or macadamias in pesto. You could also use almonds or pine nuts.
If you are eating low lectin, the almonds would need to be blanched. Many nuts can have mold toxins in them called mycotoxins.
To help remove these toxins, I always soak my nuts for 12-24 hours in salt water. I then drain them and dry them in a food dehydrator.
This really doesn't take too long. The great thing about this method is that it also makes the nuts much more digestible. The one exception is Macadamias – you don't have to soak those.
I use Kasandrinos Extra Virgin Olive Oil in this recipe because it boosts DAO, one of the histamine degrading enzymes.
Some people don't tolerate Olive Oil in the beginning though. If you have trouble with Olive Oil, you could use Extra Virgin Avocado Oil instead. And no, Avocado Oil isn't higher histamine like avocados.
Another histamine busting food in this recipe is garlic. Garlic contains quercetin, which helps lower histamine levels. It has been used for a long time as a natural allergy remedy. It is also anti-inflammatory.
And garlic has immune boosting properties to help fight off infections. Try to eat as much garlic as you can! Because this is a raw recipe, a tiny bit of garlic goes a long way. But you can add as much as you want if you really love raw garlic.
If you have Mast Cell Activation Syndrome or Histamine Intolerance, enjoy this pesto recipe! You can use this pesto in so many dishes! You can make veggie noodles and top with pesto and sautéed shallots. It also makes a great topping for chicken.
I love to use pesto as a sauce on my Low Histamine Pizza. So get creative and find some ways to add basil to your diet.
Oh, and one last note. This Low Histamine Pesto freezes really well. I usually make a double batch. Then I freeze it into ½ cup glass containers.
Other people like to freeze it in ice cube trays so it is easy to pop a cube or two into any dish. If you freeze it in the ice cube trays, be sure to transfer it to a glass storage container. This way it won't get freezer burned.
What do you use pesto for? Share your creative ideas in the comments below!
Low Histamine Pesto Recipe
Ingredients
Directions
Add the nuts to a food processor or high speed blender (like a Blendtec Blender* or Vitamix blender*). Blend until the nuts are well chopped.
Add the basil, garlic, and salt to food processer or blender and pulse until the basil is finely chopped.
Add the Kasandrinos extra virgin olive oil and optional lemon or Camu Camu powder. Pulse until everything is well combined but not completely smooth.
Freeze leftovers.
Are you struggling with Histamine Intolerance or Mast Cell Activation Syndrome?
*Some links in this website are affiliate links, which means Mast Cell 360 may make a very small commission if you purchase through the link. It never costs you any more to purchase through the links, and we try to find the best deals we can. We only recommend products that we love and use personally or use in the Mast Cell 360 practice. Any commissions help support the newsletter, website, and ongoing research so Mast Cell 360 can continue to offer you free tips, recipes, and info. Thank you for your support!