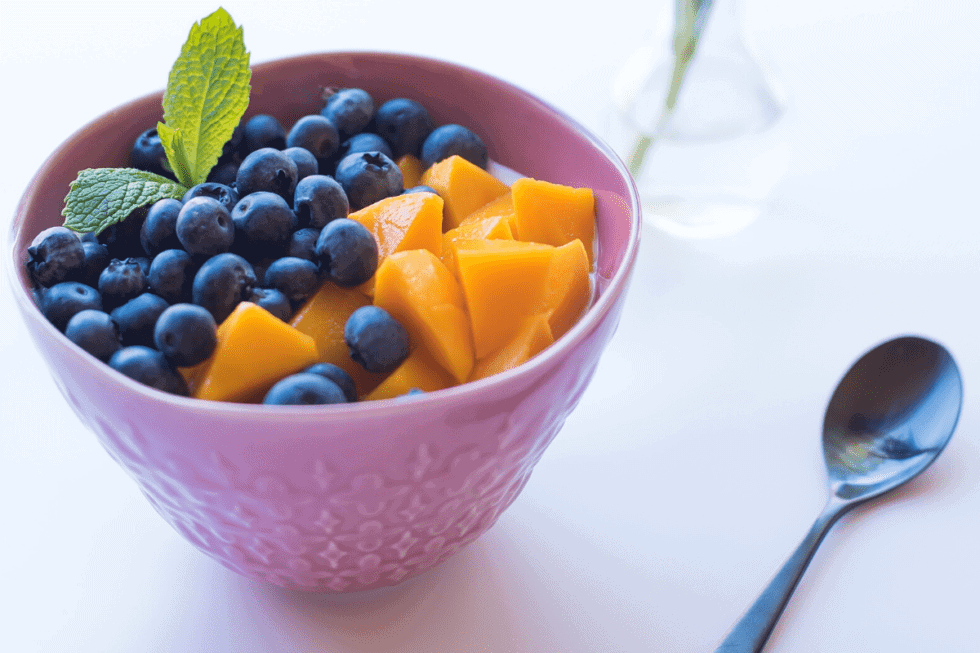 Low Histamine Mango Blueberry Basil Salad Recipe (also Low Oxalate, Low Lectin)
Many times, people with Mast Cell Activation Syndrome and Histamine Intolerance tell me they have trouble finding something tasty to eat.
I did too when I first started. It can take a lot to change old food habits. But it actually made me much more creative about what I eat.
And one of my favorite foods is mango. Fresh mango is one of the most luscious foods I can imagine.
And a second favorite of mine is blueberries.
On top of that, I love basil. So why not throw all these histamine lowering foods together?
Let's look at how these ingredients can support mast cells and histamine levels.
Histamine Balancing/Mast Cell Supporting Properties of These Foods
Mango has antihistamine properties. Mango also support healthy metabolism and cholesterol balance. It's also high in beta carotene, the precursor to Vitamin A. Vitamin A is essential for mast cell support. Make sure it is just-ripe. But not over-ripe, which will be a little higher histamine.
More Delicious, Low Histamine Mango Recipes:
Blueberries are naturally high in quercetin. And quercetin is a natural antihistamine. They also have a compound called pterostilbene. Which is another natural antihistamine!
Basil also has great antihistamine properties. It also supports digestion. And can help balance blood sugar. It adds a nice complexity to the flavor in this recipe.
Peaches have been shown in research to support mast cells by reducing inflammation. The also can support digestion and have loads of nutrients.
On top of that we have olive oil which supports DAO! But with olive oil, be sure to get one that is very fresh like this one:
Note: Anyone with Mast cell Activation Syndrome or Histamine Intolerance can react to anything. If any of these foods are new for you, try them slowly.
Low Histamine Mango Blueberry Basil Salad Recipe
Serves: 4
Ingredients
1 cup cubed just-ripe mango
1 cup fresh blueberries
1 cup cubed just-ripe peaches
6 large basil leaves, finely chopped
2 tablespoons extra-virgin olive oil
½ lime juiced (optional)
2 pinches of Redmond Real Salt – save 15% with this link
2 drops Better Stevia or 100% Monk Fruit Liquid
Directions
Toss the mango, blueberries, and peaches together.
Whisk the basil, olive oil, lime juice, and salt together.
Pour dressing over the fruit.
Mix and enjoy!
You can freeze leftovers. Before serving, thaw until just barely frosty, but not fully thawed for best texture.
I hope you enjoy this recipe! I would love to hear your thoughts below!
Download your free report for the 7 common root causes of Mast Cell Activation Syndrome here:
Rosemary Chicken Low Histamine Salad – Mast Cell 360
More Light Low Histamine Recipes
Some links in this website are affiliate links, which means Mast Cell 360 may make a very small commission if you purchase through the link. It never costs you any more to purchase through the links, and we try to find the best deals we can. We only recommend products that we love and use personally or use in the Mast Cell 360 practice. Any commissions help support the newsletter, website, and ongoing research so Mast Cell 360 can continue to offer you free tips, recipes, and info. Thank you for your support!