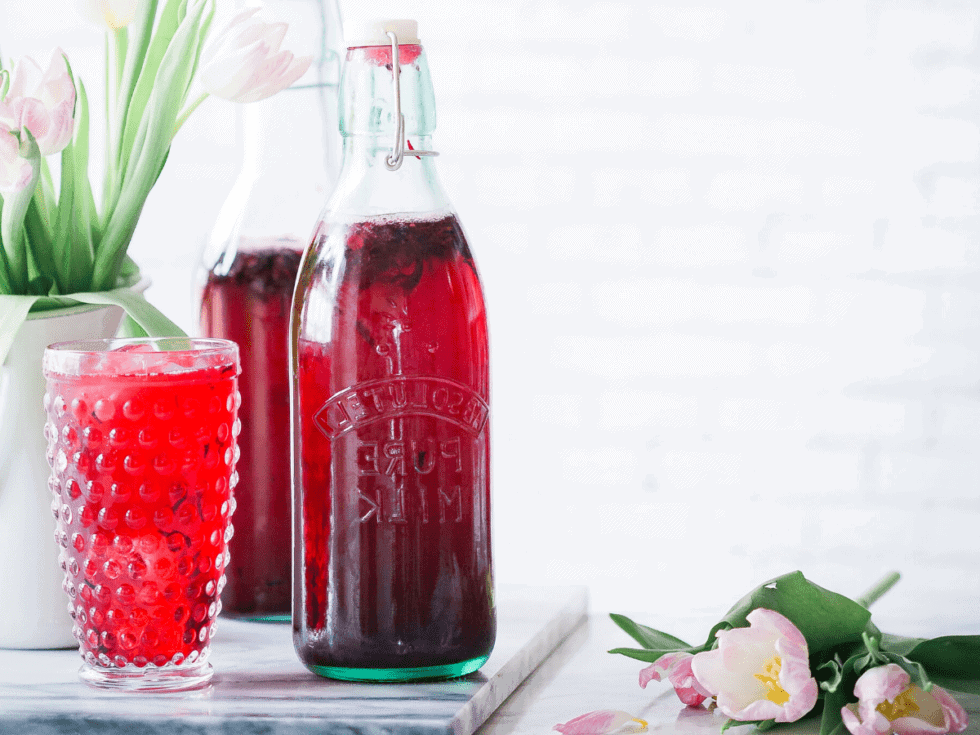 Low Histamine Iced Hibiscus Tea for those with Mast Cell Activation Syndrome or Histamine Intolerance (Also Low Lectin and Low Oxalate)
Heat intolerance is common with Mast Cell Activation Syndrome and Histamine Intolerance. So it is really nice to have something to cool off with when you are hot.
This is one of my favorite summer drinks. It's really refreshing.
Have you ever noticed retaining more water in the summer? That happens a lot to me. So, I made this tea with herbs that help to reduce water retention.
This tea is also made with these histamine lowering ingredients:
Hibiscus
Holy Basil
Dandelion Leaf
Ginger
Let's look at these ingredients and how they can be helpful.
Hibiscus is high in quercetin and kaempferol that can support mast cells. Be sure to use organic hibiscus flowers like this:
Holy Basil is loaded with anti-inflammatory properties that can also support mast cells. One of my favorite Holy Basil teas is from Kauai Farmacy. Their ingredients are so fresh and full of taste.
Use code mastcell360 and save 15%!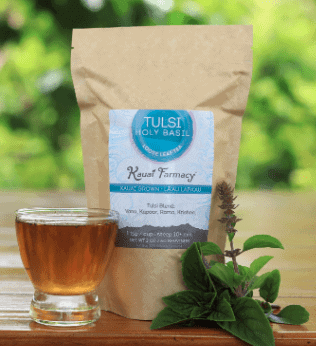 Dandelion Leaf has been shown to help with water retention and support the liver. And research has demonstrated anti-inflammatory properties.
Fresh Ginger has been shown to have antihistamine properties, particularly for the gut. Ginger also supports mast cells.
I like to make 2 pitchers at a time. I use these glass pitchers you can pick up on Amazon.
(Don't pour hot water into a plastic pitcher – you'll end up with plastic particles in your tea. Plastics are hormone and immune disrupters.)
Here is the really cool extra-large tea strainer I use to make this recipe. It fits perfectly in the opening of the pitcher above.
Let's get to the recipe!
Note: if you have significantly low blood pressure or salicylate intolerance, this may not right for you. Those with Mast Cell Activation can react to anything, so go slow if these herbs are new for you.

Low Histamine Iced Hibiscus Tea for Mast Cell Activation Syndrome or Histamine Intolerance
Tools
1 2-QT glass pitcher
1 Extra Large Tea Strainer
Ingredients
2 quarts of filtered water
2 Tablespoons of Hibiscus flowers
2 Dandelion Leaf Tea Bags
½" Fresh Ginger, sliced
Organic Liquid Stevia or Liquid Pure Monk Fruit Extract
Directions
Heat 2 quarts of water until just boiling. (If you boil it for more than a few seconds, let it cool down before pouring into glass.)
Set the glass pitcher in the sink (in case your water was too hot).
Place the tea bags in the pitcher and wrap the strings around the handle.
Add hibiscus and fresh ginger to tea strainer and place in the opening of the pitcher.
Pour hot water over the tea strainer.
Let steep for 20 minutes.
Remove the strainer and tea bags.
Stir in Organic Liquid Stevia or Liquid Pure Monk Fruit Extract to taste.
Put in the fridge to cool.
Drink in 24-48 hours.
I hope you enjoyed this recipe!
Let me know your thoughts and any recipe ideas in the comments below!
More Low Histamine Drinks
Download your free report for the 7 common root causes of Mast Cell Activation Syndrome here:
References
Cassol, L., Rodrigues, E., & Zapata Noreña, C. P. (2019). Extracting phenolic
compounds from Hibiscus sabdariffa L. calyx using microwave assisted extraction. Industrial Crops and Products, 133, 168–177.
Chen, B., Wu, P., Chen, K., Fu, T., Wang, H., & Chen, C. (2009). Antiallergic Potential on RBL-2H3 Cells of Some Phenolic Constituents of Zingiber officinale (Ginger). Journal of Natural Products, 72(5), 950-953. doi:10.1021/np800555y
Mediratta PK, Sharma KK, Singh S. Evaluation of immunomodulatory potential of Ocimum sanctum seed oil and its possible mechanism of action. J Ethnopharmacol 2002;80:15-20.
Mediratta PK, Dewan V, Bhattacharya SK, Gupta VS, Maiti PC, Sen P. Effect of Ocimum sanctum Linn. on humoral immune responses. Indian J Med Res 1988;87:384-6.
Pharmacological Basis For Antianaphylactic, Antihistaminic And Mast Cell Stabilization Activity Of Ocimum Sanctum. (2009). The Internet Journal of Pharmacology, 7(1). doi:10.5580/bc4
Sarris, Jerome. "Taraxcum: a review." Australian Journal of Medical Herbalism, vol. 19, no. 1, 2007, p. 40+. Gale OneFile: Health and Medicine, Accessed 21 June 2020.
Xue, Y., Zhang, S., Du, M., & Zhu, M.-J. (2017). Dandelion extract suppresses reactive oxidative species and inflammasome in intestinal epithelial cells. Journal of Functional Foods, 29, 10–18. https://doi.org/10.1016/j.jff.2016.11.032
*Some links in this website are affiliate links, which means Mast Cell 360 may make a very small commission if you purchase through the link. It never costs you any more to purchase through the links, and we try to find the best deals we can. We only recommend products that we love and use personally or use in the Mast Cell 360 practice. Any commissions help support the newsletter, website, and ongoing research so Mast Cell 360 can continue to offer you free tips, recipes, and info. Thank you for your support!