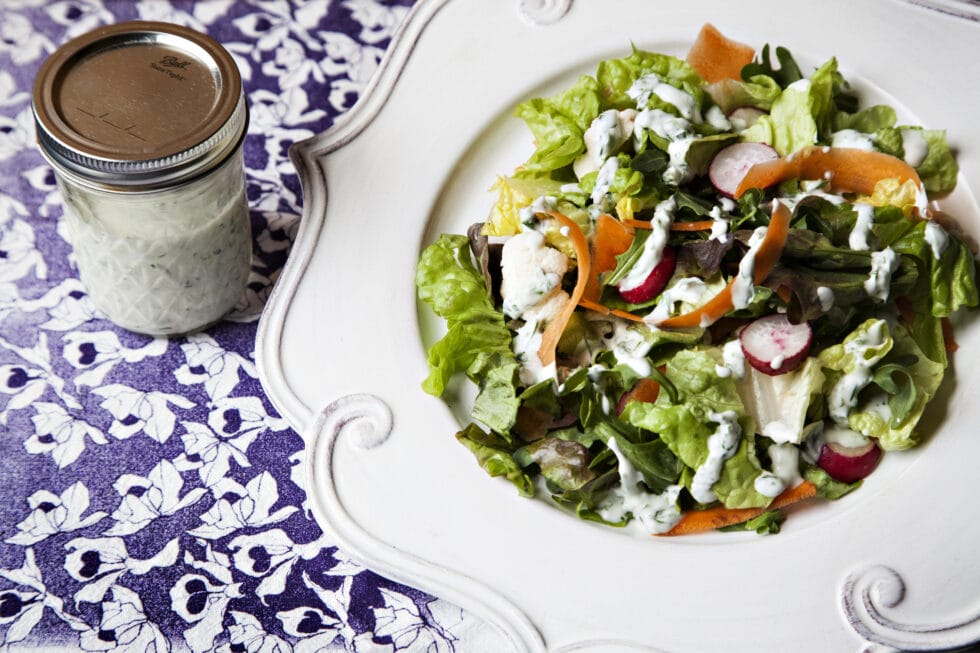 Ranch-Inspired Low Histamine Salad Dressing (Low Lectin, Low Oxalate, and Low FODMAP Options)
When I first found out I had Histamine Intolerance, I made some big changes to my diet. Salads became a go-to for me. I could eat them as a side dish or more often as a meal.
Salads were simple to make and a great, easy way to get my veggies in.
Plus, I could easily remember how to swap my usual high histamine ingredients for lower histamine ones. I'd swap out the high histamine tomatoes and spinach with low histamine radishes and arugula.
I had major brain fog, so keeping it easy and simple like this was a bonus.
I even started making my own dressing. I started with a good quality extra virgin olive oil like Kasandrinos. Then I added lemon juice for acid and lots of herbs for flavor.
I've been using that basic recipe with a combo of herbs for a long time now.
But I've been wanting something different lately. I know a lot of you have been looking for more dressing recipes, too. We all like variety!
But with Histamine Intolerance, we can't pick up any bottle of salad dressing from the grocery store.

Store-bought dressings have loads of high-histamine ingredients.

And histamine levels will start to increase even more once a bottle has been opened.
What this means is that you started out with a healthy salad. But pouring on store-bought dressing just made it a mast cell and histamine trigger. Bummer!
So, I've got a brand-new low histamine salad dressing recipe for you.
Low Histamine Salad Dressing
I usually fall back to Italian-style salad dressings. But since I wanted to try something new for you, too, I decided to see what was popular.
According to a 2017 study, 40% of Americans prefer ranch dressing over all others. We favor it over Italian, vinaigrette, and French.
This ranch-inspired dressing is low histamine, low lectin, and low oxalate. It's also gluten-free, dairy-free, and vegan. And most importantly…it's delicious!
This creamy dressing brings lots of herb flavors to enhance your salads. You can even use it as a dip.
Shallots give you just a hint of a spicy kick. (Check my notes for a Low FODMAP version.) But the coconut cream base balances this nicely.
You'll also get earthy, peppery flavors from parsley (just use flat leaf parsley if you need low oxalate.) And dill brings a fresh brightness.
Keep reading to get the recipe and some tips on:
Let's start by looking at what's in a bottle of store-bought ranch dressing.
Reading Labels — What to look for if you have Histamine Intolerance or Mast Cell Activation Syndrome
Take a look at this ingredient list from one of the popular brands of ranch dressing.
Which of the following ingredients do you recognize from the MC360 Low Histamine Food List as high histamine?
Soybean Oil, Water, Buttermilk, Egg Yolk, Sugar, Distilled Vinegar, Salt, Phosphoric Acid, Modified Corn Starch, Xanthan Gum, Monosodium Glutamate, Potassium Sorbate and Sodium Benzoate Added as Preservatives, Dehydrated Garlic, Spices, Natural Flavors, Calcium Disodium EDTA Added to Protect Flavor, Disodium Inosinate, Disodium Guanylate
Quick Answer: Almost every single one is high histamine! Yikes!
You definitely want to stay away from an ingredient list like this if you are following a low histamine diet.
And to make it even worse, did you know that ingredients like sodium benzoate and MSG can be mast cell triggers, too?
This dressing is a histamine and mast cell nightmare!
When you look at an ingredient list, you might have a feeling that "artificial" is not good. This includes artificial colors and artificial flavors.
But some high-histamine ingredients are tricky. "Spices" and "natural flavors" sound fine. Many of these can be high histamine!
Many of these high-histamine ingredients extend shelf life and add flavor, so they are very common.
Below, you'll find a list of the more common high-histamine additives you'll see in packaged products. There are lots more, though!
Here are common high-histamine ingredients you'll find in packaged foods.
artificial colors
artificial flavors
artificial sweeteners
calcium chloride (preservative; adds salty flavor)
carrageenan (thickener)
citric acid (preservative, flavor)
dried ingredients (dried onion, onion powder, dried garlic, garlic powder)
hydrolyzed lecithin (emulsifier*)
lecithin (preservative)
maltodextrin (flavor, thickener, preservative)
MSG (flavor)
"natural flavors" that may contain MSG or gluten
potassium sorbate (preservative)
sodium benzoate (preservative)
"spices" that may contain MSG or gluten
xanthan gum (emulsifier, thickener)
yeast
yeast extract
*Emulsifiers help keep oil and water from separating.
You also want to watch out for corn-based ingredients, too. Corn can be a mast cell trigger for some people.
With all those high-histamine ingredients you just saw, you can see why I've got a homemade salad dressing recipe for you today.
It's quick and doesn't take much effort. And I certainly know when you don't have a lot of energy, you want things that are easy.
Homemade doesn't have to mean hard to make.
A lot of times, when I've made something from scratch, it turned out to be so much easier than I imagined. Just like this ranch dressing I've got for you today.
And as a bonus, I get a real boost knowing I can make something tasty from fresh, whole ingredients. I hope you'll feel that way, too!
Before we get to the recipe, though, I'll highlight some of the key ingredients for you.
A lot of the herbs in this low histamine dressing have been shown to have mast cell supporting properties. And they have histamine lowering nutrients, too.
Let's take a look at that next.
Benefits of Low Histamine Herbs in Salad Dressings
If you look at the MC360 Low Histamine Food List, you'll see that some foods are in italics. These are foods that have been shown to have histamine-lowering nutrients. It's great to use these whenever you can.
Most of the following herbs used in this salad dressing fall under that category.
Did you know that herbs are one of the most nutrient-dense foods you can eat?
They are full of essential vitamins and minerals like vitamins C and K. And many herbs contain compounds with antioxidant and anti-inflammatory properties.
Vitamin C has been shown to be a natural antihistamine. It's important for healing and has been shown to have antioxidant properties.
Vitamin K has been shown to be important for blood clotting and wound healing. Some evidence shows it may be important for bone health, too.
Check out the benefits of the herbs in this recipe.
chives – antioxidant, antifungal, anti-bacterial properties, Vitamin C, Vitamin K
dill – antioxidant, anti-inflammatory, antimicrobial, antifungal activities, Vitamin C
garlic – antioxidant, anti-inflammatory, immune boosting, Vitamin C
parsley – may be helpful for autoimmune and inflammatory disorders, Vitamin C
shallots – antioxidant, contains quercetin (natural antihistamine)
green onion – source of Vitamin C
You'll see that a lot of the herbs listed have been shown to have anti-inflammatory properties. So why is that important if you have Histamine Intolerance and Mast Cell Activation Syndrome (MCAS)?
If you have Histamine Intolerance or MCAS you are likely to have chronic inflammation.
Here's one way inflammation becomes a problem. Inflammation triggers mast cells. Mast cells release a number of types of inflammatory mediators, like histamine.
Histamine release causes more mast cell inflammation. And back to the beginning again. You can see what a bad cycle this is.
So, anything you can do to help reduce inflammation can be a help to your body. Good news for your mast cells.
And using these herbs is good news for your tastebuds, too. You want healthy foods, but you want flavor, too!
Speaking of flavor…Let's get to the food now!
Play With Your Food!
I give you permission to play with your food! Have fun! Get creative!
Use any of the low histamine foods from the Mast Cell 360 Low Histamine Foods List as inspiration.
Here are some fun ideas for your salads to keep them exciting.
Mix different varieties of lettuce and greens
I grew up eating a lot of iceberg lettuce. It's so popular because it holds a nice crunch. But you can get a wider variety of nutrients if you use other greens like:
red leaf lettuce
arugula
romaine
butter lettuce
Add low histamine seeds and nuts
Just be mindful if you have oxalate intolerance.
For those with histamine, oxalate and lectin intolerance use:
If you can handle medium oxalate (less than 1/8 cup) try:
If you only have histamine intolerance, consider:
chia seeds
sesame seeds
pine nuts
Add veggies of all kinds!
Carrots, cucumbers, and tomatoes are salad standards. Cukes are high lectin, though. And tomatoes are high histamine.

But you can add anything to a salad. Here are some of my favorites:
radishes
lightly steamed broccoli or cauliflower (a light steaming makes these easier to digest)
roasted asparagus
shredded red cabbage for a nice crunch
jicama

Consider fruit
It adds different textures and pops of sweetness. Try it! I think you'll be pleasantly surprised. To a basic salad, I love adding fresh:
Croutons
You can break up the herb crackers from this Low Histamine Cassava Herb Crackers Recipe into small pieces to get the herb flavors and crunch of a crouton.
And of course, top it all off with a tasty low histamine salad dressing.
Here's that ranch-inspired creamy herb dressing recipe for you. I hope you enjoy it!
TIP: Dining out? If I'm going out to eat, I bring my own dressing in a small glass jar. I keep it in a small cooler during the car ride to the restaurant. When I get there, I tuck it in my purse. (I put the glass jar in a baggie just in case it leaks.) I discreetly add it to my salad once the waiter leaves.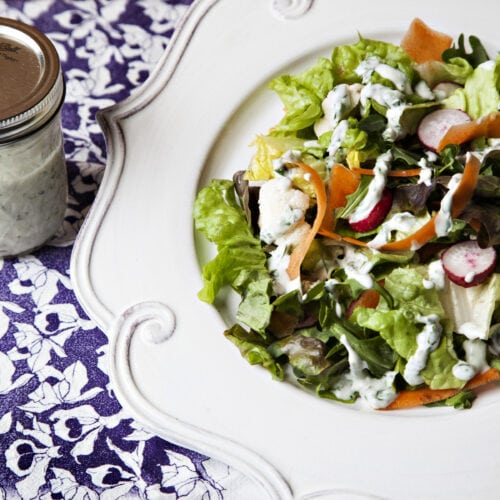 Low Histamine Salad Dressing
Enjoy this ranch-inspired low histamine salad dressing with low oxalate, medium oxalate, low lectin, and low FODMAP options.
Ingredients
1

(14 ounce) can

Coconut Cream

1

teaspoon

Shallots

(For a low FODMAP version, replace the shallots with leak greens or more green onion tops)

2

teaspoons

Fresh Chives

1⅓

tablespoons

Fresh Parsley

(Use flat leaf parsley for lower oxalates)

1⅓

tablespoons

Fresh Dill

1

Tablespoon

Fresh Green Onion Tops

(green part only)

2½

teaspoons

Lemon Juice

fresh squeezed, if tolerated

Redmond Real Salt

to taste
Instructions
Open the can of coconut cream and separate the solids from the liquids. First, scoop out the solids and place them in the mixing bowl. Save the liquid coconut water in the can. You will need this later. This should yield about 1⅓ cup of coconut solids and about ¼ cup of coconut water. For this recipe, use 1 cup of coconut solids.

If you are using a food processor or blender, add the coconut solids to it.  

Rough chop the green onion, shallots, chives, parsley, and dill. Add them too. 

Add lemon juice (if tolerated).  Blend until smooth. 

If you are NOT using a food processor or blender, keep the coconut solids in the mixing bowl.  

Finely chop the green onion, shallots, chives, parsley, and dill. Add them to the mixing bowl with the coconut solids. 

Add lemon juice (if tolerated). Stir until all ingredients are combined. 

Add the coconut water 1 teaspoon at a time until you get your desired consistency. You may want it thicker if you are using it as a dip. A little thinner may be better for dressing. I used 2 teaspoons for the dressing. 

Add salt to taste and blend/stir. 

Use right away or refrigerate in a glass jar for up to 12 hours to keep it lower histamine. If you aren't super sensitive, you may be ok storing it for 2-3 days in the fridge.   
Notes
For a low FODMAP version, replace the shallots with leak greens or more green onion tops. 
If you can't find coconut cream, you can use coconut milk, but you must refrigerate it overnight to get the solids and liquids to separate. Coconut cream should typically be separated right off the shelf.
Prepare in the food processor or blender for a smoother texture or you can opt to hand mix and knife chop if you prefer.
This small amount of lemon juice gives just a hint of a tangy flavor like what you'd find with a buttermilk ranch. If you can't tolerate lemon, leave out the lemon juice. It will still be tasty.
Nutrition
Nutrition Facts
Low Histamine Salad Dressing
Serving Size
1 Tablespoon
Amount per Serving
% Daily Value*
* Percent Daily Values are based on a 2000 calorie diet.
You can experiment with the coconut cream base and different herbs for even more options. I might try a creamy garlic rosemary mint next.
What flavors will you experiment with for your customized salad dressing? Let us know in the comments below!
Want More Low Histamine Recipes?
Check these out next:
Some links in this website are affiliate links, which means Mast Cell 360 may make a very small commission if you purchase through the link. It never costs you any more to purchase through the links, and we try to find the best deals we can. We only recommend products that we love and use personally or use in the Mast Cell 360 practice. Any commissions help support the newsletter, website, and ongoing research so Mast Cell 360 can continue to offer you free tips, recipes, and info. Thank you for your support!
References
Arpornchayanon, W., Klinprung, S., Chansakaow, S., Hanprasertpong, N., Chaiyasate, S., Tokuda, M., & Tamura, H. (2019). Antiallergic activities of shallot (Allium ascalonicum L.) and its therapeutic effects in allergic rhinitis. Asian Pacific journal of allergy and immunology, 10.12932/AP-300319-0529. Advance online publication. https://doi.org/10.12932/AP-300319-0529
Hublik, G. (2012, January 1). Xanthan. ScienceDirect. https://www.sciencedirect.com/science/article/pii/B9780444533494002624
Jaffe, R., & Mani, J. (2018). Polyphenols: Mechanisms of Action in Human Health and Disease (2nd ed.). Academic Press. https://doi.org/10.1016/B978-0-12-813006-3.00029-5
Kempuraj, D. (2019). Mast Cells in Stress, Pain, Blood-Brain Barrier, Neuroinflammation and Alzheimer's Disease. Frontiers. https://www.frontiersin.org/articles/10.3389/fncel.2019.00054/full#:%7E:text=NGF%20level%20has%20been%20shown,Gupta%20and%20Harvima%2C%202018).
Mayo Clinic. (2020, November 17). Vitamin C. Retrieved March 8, 2022, from https://www.mayoclinic.org/drugs-supplements-vitamin-c/art-20363932
Moskin, J. (2018, September 19). Ranch Nation. The New York Times. https://www.nytimes.com/2018/09/18/dining/ranch-dressing-history.html#:%7E:text=Invented%20in%20the%201950s%2C%20ranch,came%20in%20at%2010%20percent.)
NHS website. (2021, November 18). Vitamin K. Nhs.Uk. Retrieved March 8, 2022, from https://www.nhs.uk/conditions/vitamins-and-minerals/vitamin-k/
Nutrition. (2017, February 5). TMS – The Mast Cell Disease Society, Inc. Retrieved March 4, 2022, from https://tmsforacure.org/nutrition/
Paduch, R., Kandefer-Szerszeń, M., Trytek, M., & Fiedurek, J. (2007). Terpenes: substances useful in human healthcare. Archivum immunologiae et therapiae experimentalis, 55(5), 315–327. https://doi.org/10.1007/s00005-007-0039-1
Park, H. H., Lee, S., Son, H. Y., Park, S. B., Kim, M. S., Choi, E. J., Singh, T. S., Ha, J. H., Lee, M. G., Kim, J. E., Hyun, M. C., Kwon, T. K., Kim, Y. H., & Kim, S. H. (2008). Flavonoids inhibit histamine release and expression of proinflammatory cytokines in mast cells. Archives of pharmacal research, 31(10), 1303–1311. https://doi.org/10.1007/s12272-001-2110-5
Rautio, S., Michigan State University Extension. (2022, January 21). Increase intake of fresh herbs for everyday health. MSU Extension. https://www.canr.msu.edu/news/increase_intake_of_fresh_herbs_for_everyday_health#:%7E:text=And%2C%20herbs%20can%20pack%20in,antioxidant%20and%20anti%2Dinflammatory%20capabilities.
Shahrajabian, M. H., Sun, W., Khoshkharam, M., & Cheng, Q. (2021). Caraway, Chinese Chives and Cassia as Functional Foods with Considering Nutrients and Health Benefits. Carpathian Journal of Food Science and Technology, 13(1), 101–119. https://www.researchgate.net/profile/M-Hesam-Shahrajabian/publication/351005359_Caraway_Chinese_Chives_And_Cassia_As_Functional_Foods_With_Considering_Nutrients_And_Health_Benefits/links/607eda94881fa114b4151dd3/Caraway-Chinese-Chives-And-Cassia-As-Functional-Foods-With-Considering-Nutrients-And-Health-Benefits.pdf
Vitamin K. (2019, July 2). The Nutrition Source. Retrieved March 4, 2022, from https://www.hsph.harvard.edu/nutritionsource/vitamin-k/#:%7E:text=Vitamin%20K%20helps%20to%20make,directly%20involved%20with%20blood%20clotting.
Worm M. (2011). Q&A: Food additive intolerance. BMC medicine, 9, 115. https://doi.org/10.1186/1741-7015-9-115
Yang, J., Meyers, K. J., van der Heide, J., & Liu, R. H. (2004). Varietal differences in phenolic content and antioxidant and antiproliferative activities of onions. Journal of agricultural and food chemistry, 52(22), 6787–6793. https://doi.org/10.1021/jf0307144
Ykelenstam, Y. (2018). Vitamin C, Nature's Best Antihistamine For Histamine Intolerance? | Healing Histamine. Healing Histamine. Retrieved March 8, 2022, from https://healinghistamine.com/blog/vitamin-c-natures-best-antihistamine-for-histamine-intolerance/
Yousofi, A., Daneshmandi, S., Soleimani, N., Bagheri, K., & Karimi, M. H. (2012). Immunomodulatory effect of Parsley (Petroselinum crispum) essential oil on immune cells: mitogen-activated splenocytes and peritoneal macrophages. Immunopharmacology and immunotoxicology, 34(2), 303–308. https://doi.org/10.3109/08923973.2011.603338