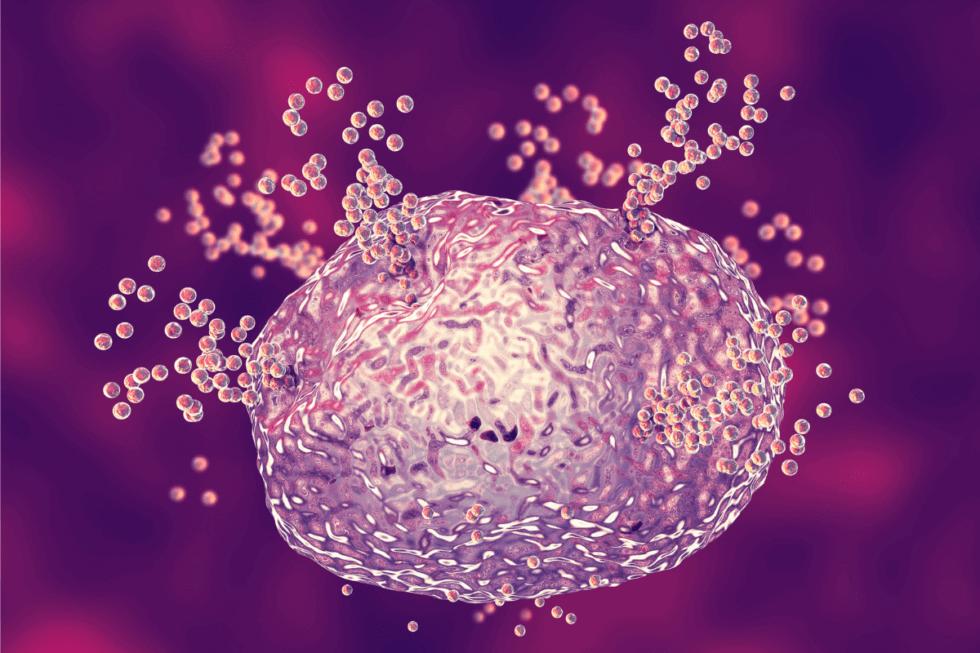 Can Mast Cell Activation Syndrome Go Away?
There are many possible symptoms to Mast Cell Activation Syndrome. Does laundry detergent make your skin itch? Does perfume cause your chest to tighten up? Do certain foods leave you covered in red, itchy hives? Do you have a lot of unexplained symptoms that doctors can't seem to figure out?
Do you have any of these common Mast Cell Activation Syndrome Symptoms?
As little as 3 years ago the only word we had for people like us was "sensitive." Today we know that many people who have been called "sensitive" are actually dealing with a condition called Mast Cell Activation Syndrome.
Those of us with MCAS are now often called the canaries in the coal mine.
This is because miners would take canaries into the coal mine with them. The canaries were very sensitive to carbon monoxide in the coal mines. When the canaries got sick, it warned the miners of toxic danger in the mine.
Those of us that are the "canaries" can have reactions to things like pesticides, perfumes, junk foods, pollution, and inflammatory triggers that may take other people years to react to.
These chemicals are hurting all of us. But when you have Mast Cell Activation Syndrome, the ill effects catch up to you much more quickly.
I know because I have MCAS, too, and I've made it my life's work to help others with this condition.
Mast Cell Activation Syndrome (MCAS) was only officially listed as a medical diagnosis in 2016. It was once considered rare.
But now lead MCAS researcher Dr. Afrin says that it affects 14%-17% of the general population. And it is likely highly underdiagnosed.
Some people with MCAS have genetic weaknesses that set the stage for illness. Others get MCAS after an infection, like Lyme, or after mold exposure.
However we get it, MCAS is on the rise.
Whether you've recently been diagnosed with MCAS or are trying to find an answer to a lifetime of "sensitivity", this guide is for you.
You'll find out:
What is MCAS and what are mast cells?
What are the most common symptoms of MCAS?
How is MCAS diagnosed?
Can mast cell activation syndrome go away?
What is the difference between Mast Cell Activation Syndrome and Mastocytosis?
What should you do if you suspect you might have MCAS?
What Are Mast Cells??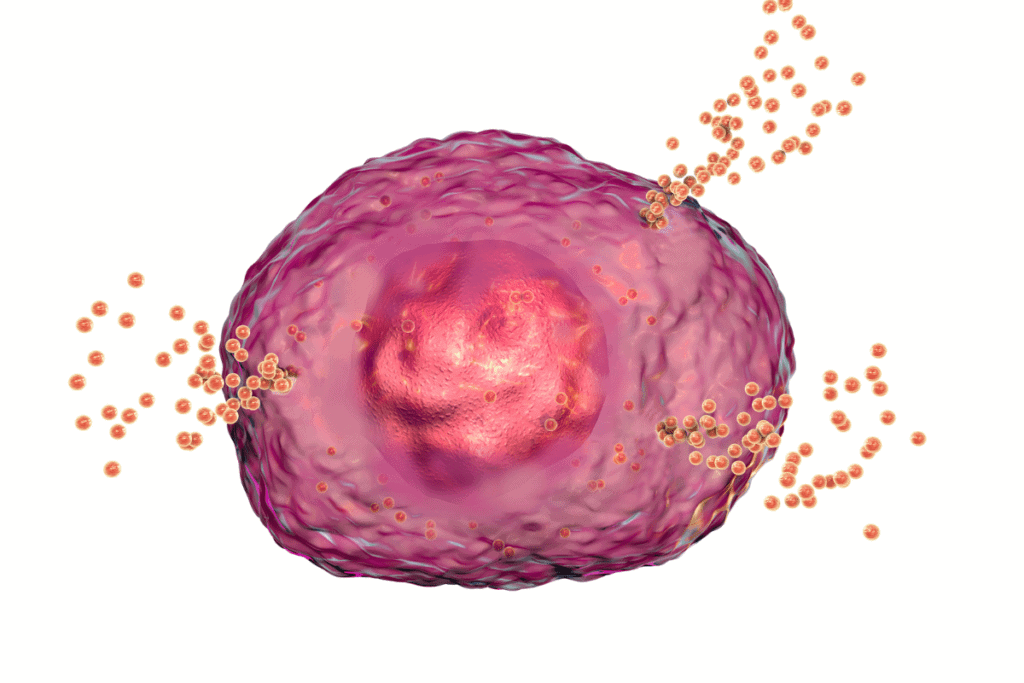 Mast Cell Activation Syndrome is caused when the mast cells become over-responsive. But to understand why MCAS happens, we have to understand the mast cells, first.
Mast cells are a type of white blood cell that play an important role in regulating the immune system. Mast cells are found in almost all tissues in the body – in the skin, gut lining, lung lining, lining of the bladder, blood vessels, nerves, tendons, ligaments, bones, and even the brain.
They are also found in the mouth, eyes, and ears. They are an important part of allergic responses (which isn't always a bad thing!), wound healing, and maintaining the blood-brain barrier function.
You can think of mast cells like the guards of the body. They protect our bodies from invaders. When there is a perceived threat from a virus, bacteria, parasite, or an allergen, the mast cells are activated to release chemicals throughout the body.
There are over 200 different chemicals that can be released from mast cells. These chemicals are held in little granules inside the mast cells. When mast cell activation occurs, the mast cells release these inflammatory molecules into the body. This is done to get rid of a pathogen or allergen.
This process is called degranulation.
The most famous of the mast cell chemicals is histamine, which causes swelling, redness, and itching. You may have noticed these symptoms when you get a cut that becomes infected or an insect bite.
There are many other chemicals as well that are released by mast cells, too. Some you may have heard of include prostaglandins, leukotrienes, tryptase, cytokines, and reactive oxygen species. These are all involved in creating and managing inflammation in the body.
How Mast Cells Lead To Mast Cell Activation Syndrome (MCAS)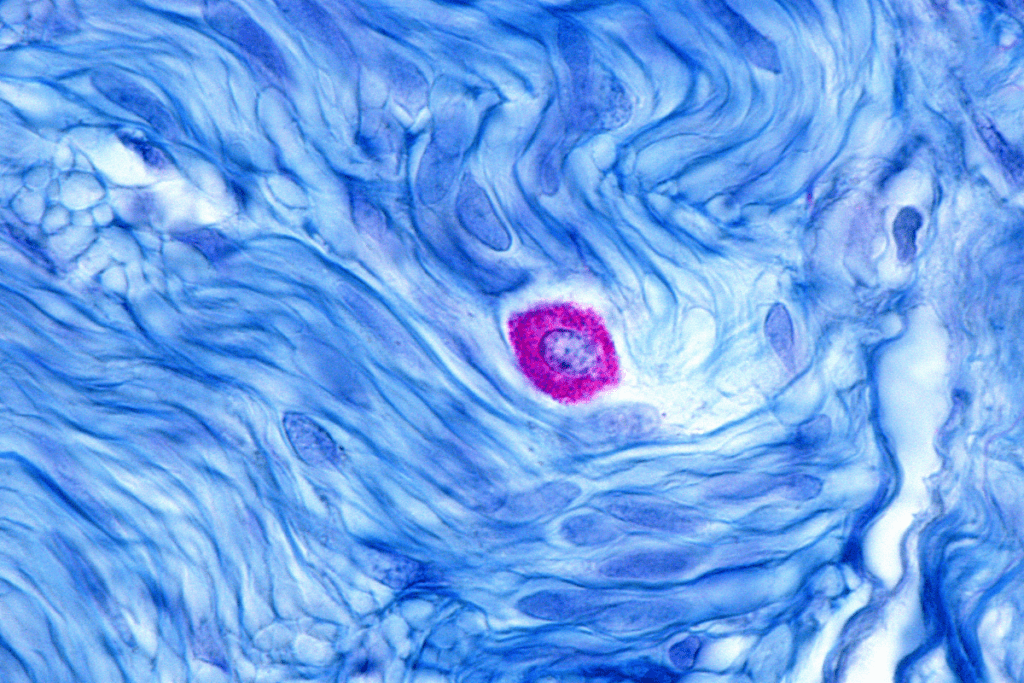 When mast cells perceive a threat to the body, they degranulate to release chemicals to protect our bodies.
The chemicals released by the mast cells also call other immune cells to come to areas of the body where they are needed.
The mast cells are like the first responders, calling in other immune cells for backup. This is all a good thing because we need our immunes systems to protect us.
Mast Cell Activation Syndrome occurs when the mast cells stop responding to threats as they should and start to over-react.
And once mast cell reactions get out of control in someone with Mast Cell Activation Syndrome, it triggers the other mast cells to keep responding and degranulating.
This starts an inflammatory cascade like a forest fire that starts with a little spark and eventually burns out of control.
The causes of MCAS are different for everyone, but there are some common triggers:
Certain foods
Chemicals (such as perfumes, cleaning products, and pollutants)
Infections
Hormone imbalances
Temperature extremes
Lack of sleep
Alcohol
Surgery
Injuries
Heavy metal toxicity
Stress
Symptoms of Mast Cell Activation Syndrome (MCAS)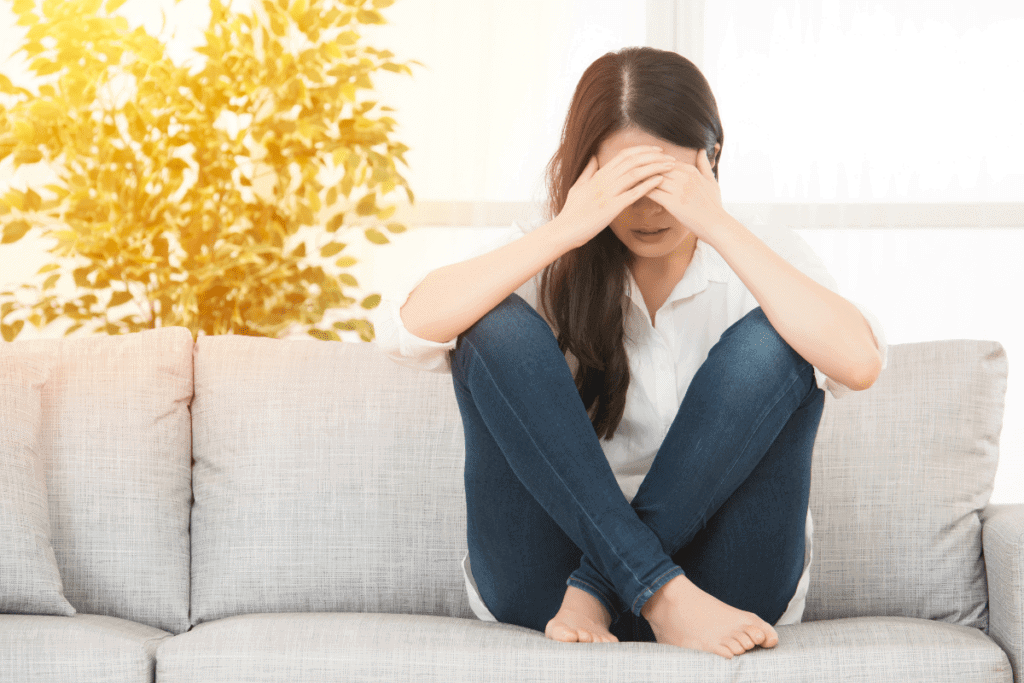 MCAS symptoms can occur many different systems in the body. I like to break these symptoms down into the larger, macro body systems and then into the smaller, micro systems.
You don't have to remember all of these symptoms. This is just a map for you to look at if you have a lot of different symptoms and no doctor can figure out what is wrong.
So as you read this, pay attention to whether you have symptoms in multiple systems. If so, you might want to talk to your doctor about MCAS.
General Symptoms:
Mast cells are in most tissues of the body, so MCAS can affect almost every body system. Many people with MCAS have a general sense of overall fatigue and feeling bad.
MCAS patients frequently have multiple food, drug, environmental, and chemical sensitivities. They may also have chills, sweats, and a sense of being cold all the time. Generalized inflammation and swelling are also common in MCAS.
Muscles/Skeleton:
Mast cells are prevalent in the muscles and bones. Most people with MCAS complain of general muscular and bone pain and a feeling of arthritis that moves around.
They may have been diagnosed with fibromyalgia. Hyperflexible joints are common in MCAS, causing joint pain and instability. MCAS can sometimes cause osteoporosis and osteopenia, even in young people. Degenerative disk issues can also arise due to MCAS.
Skin:
There are numerous mast cells in the skin. Flushing, itching, and burning sensations frequently occur for people with MCAS. Some people even get hives. Lots of us with MCAS have a ruddy or reddish complexion on the checks.
Other skin symptoms include easy bruising, psoriasis, eczema, rosacea, and slow healing of the skin. Some people experience hair loss. Dermatographia (persistent redness or white marks after scratching skin) is also quite common.
Heart:
Mast cells reside in the heart too. Patients with MCAS often complain of feeling faint or even fainting. They may have chest pains, fast heartbeat, and heart palpitations that are not heart attack related. Dizziness and lightheadedness when standing up and low blood pressure are common as well.
Digestion:
The entire GI tract is lined with mast cells. So diarrhea, constipation, cramping, abdominal pain, nausea, and vomiting can occur. Reflux is common, especially after eating high histamine foods. Some people have a really hard time with mouth burning.
Trouble swallowing and throat tightness can occur. People with MCAS may also have malabsorption, bloating, and irritable bowel syndrome.
Mast cell issues contributing to leaky gut can lead to food sensitivities and food allergies. Obesity, elevation of liver enzymes and high cholesterol may occur due to fat metabolism and absorption issues.
Brain and Nervous System:
There are huge amounts of mast cells in the brain. Lots of people with MCAS complain of brain fog, short term memory issues, trouble recalling words, and trouble with attention.
Headaches, migraines, and nerve pains are common too. Since the mast cells can affect neurotransmitters, some people with MCAS get depression, loss of pleasure in life, anxiety, and insomnia. Mast cells in the brain can also contribute to dizziness, tinnitus, numbness, sweating, and temperature changes.
Lungs:
Mast cells line the lungs and can lead to the production of a lot of mucus.
Because of this, people with MCAS often clear their throats to dislodge the mucus. They may also have congestion, coughing, and wheezing. Asthma is also common in MCAS.
Eyes:
The eyes also have mast cells. When the mast cells in the eyes are overactive, it can lead to eye pain and redness. It can also contribute to inflammation in the eyes and trouble focusing.
Reproductive System:
The reproductive organs are full of mast cells. Women with MCAS may have endometriosis, painful periods, infertility, and hormonal imbalances. Men with MCAS can also experience hormonal imbalances and infertility issues that are mast cell related.
Anaphylaxis (can be life threatening): Anaphylactic reactions occur when the mast cells have an extreme reaction. There are different grades of anaphylaxis.
The lowest grade causes difficulty breathing, itchy hives, flushing or pale skin, feeling of warmth, weak and rapid pulse, low blood pressure, GI distress with nausea and diarrhea, and lightheadedness. In more extreme cases, vomiting and fainting can occur with cardiac and respiratory arrest.
Other conditions that may be related to MCAS:
Because the mast cells are so common throughout the body, MCAS can be an underlying factor in a number of other disorders.
Fibromyalgia and Chronic Fatigue are often related to mast cell issues with the muscular system.
Interstitial Cystitis can be related to mast cells in the urinary tract. Crohn's disease and Irritable Bowel Syndrome can be connected to mast cells in the GI system.
Mast cells are in high numbers in the joints and blood vessels and can contribute to Ehlers-Danlos Syndrome (EDS) and Postural Orthostatic Tachycardia Syndrome (POTS).
Related post: Mast Cell Activation Syndrome and Ehlers-Danlos Syndrome
Because of the role of the mast cells in immune system, MCAS can be involved in autoimmunity, such as Rheumatoid Arthritis, Lupus, Hashimoto's Thyroiditis, and Multiple Sclerosis.
There is also much evidence linking MCAS to Autism Spectrum Disorders. This is due to the mast cell/brain connection.
Mast cell disorders may also be involved in certain cancers and diabetes.
What is the difference between MCAS and Mastocytosis?
Mastocytosis occurs when there are abnormally high levels of mast cells. Mastocytosis is quite rare, unlike MCAS.
It is estimated fewer than 200,000 in the US have mastocytosis. More doctors know about mastocytosis than MCAS, though.
One type of mastocytosis is called cutaneous mastocytosis. It affects mostly children and causes skin symptoms. Children often outgrow this form of mastocytosis.
Systemic mastocytosis involves the bone marrow, organs and skin. Systemic mastocytosis can cause similar symptoms as MCAS. It is usually more severe than MCAS, though.
Anaphylactic shock can be life threatening with mastocytosis. This site focuses on Mast Cell Activation Syndrome. If you have mastocytosis, please reach out to a mastocytosis medical expert.
How is Mast Cell Activation Syndrome Diagnosed?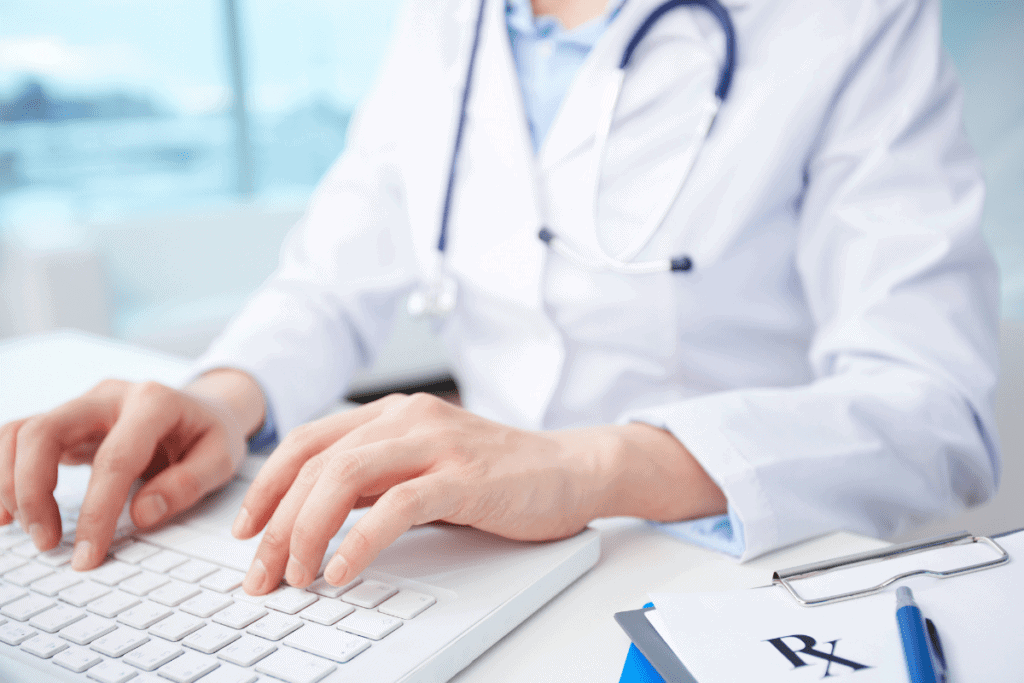 Mast Cell Activation Syndrome can be hard to diagnose. One of the reasons is because MCAS symptoms affect so many different parts of the body.
Western medicine is mostly divided into specialties:
GI issues are managed by a gastroenterologist.
Allergies are handled by an allergist.
Skin issues are managed by a dermatologist.
Heart problems are overseen by a cardiologist.
The problem with this is, that specialists can miss the bigger picture behind all these symptoms.
This is like the story of the blindfolded men touching different parts of an elephant. The man holding the leg says he is feeling a tree trunk. The man touching the tail says he feels a rope. Another man holds the tusk and believes he is touching a spear. None of the men understand that all these different parts are really one elephant.
Mast Cell Activation Syndrome only reached status as an official medical diagnosis in 2016. There are still no official diagnosis criteria yet, though.
However, top MCAS researcher Dr. Afrin lists these guidelines:
Unusual, chronic symptoms that affect multiple systems of the body. These symptoms come and go.
Mastocytosis ruled out through lab testing.
Other major medical conditions are ruled out.
Lab testing for certain markers can be ordered. These are serum tryptase, N-methyl histamine, prostaglandin D2 or 11-beta- prostaglandin F2 alpha, leukotriene E4. These tests often produce false negatives, though, and are not reliable.
Medications such as antihistamines and mast cell stabilizers help improve symptoms.
Related Post: The Best Antihistamines for Histamine Intolerance and Mast Cell Activation Syndrome
Can Mast Cell Activation Syndrome Go Away?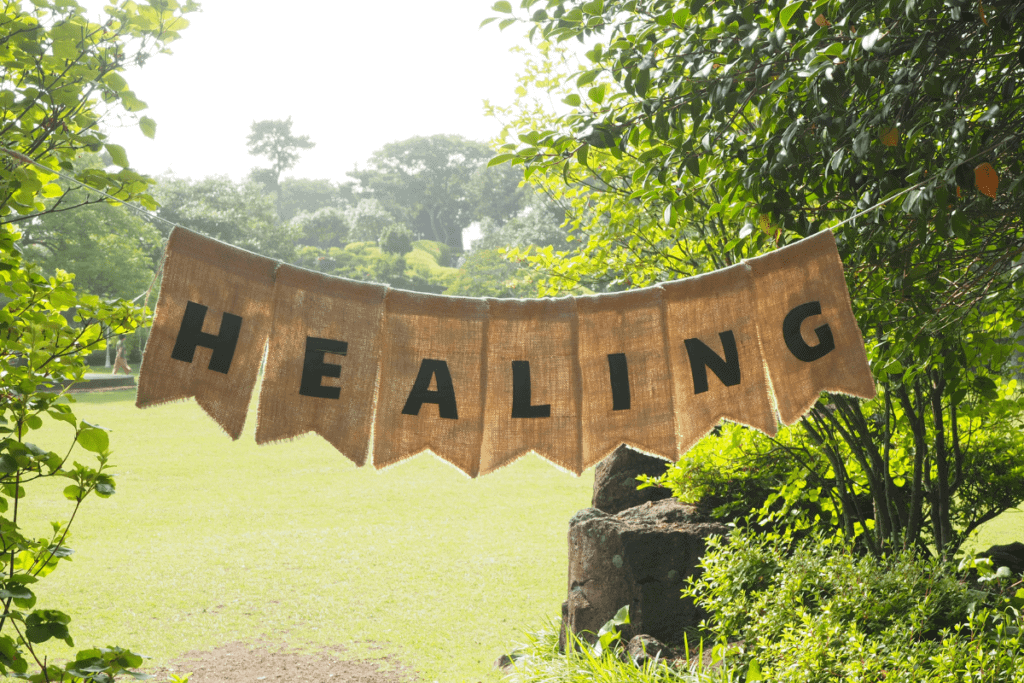 I wish I could tell you that healing from Mast Cell Activation Syndrome (MCAS) is simple and easy. Unfortunately, it rarely is.
Mast Cell Activation is a complex process. Everyone's triggers, sensitivities, and underlying root causes are different.
There is a lot we still do not know about MCAS. I am always learning more each day. As a community, though, we can support one another in learning about Mast Cell Activation Syndrome (MCAS). And we can keep growing and healing together.
There are two major keys that I have seen work for people with Mast Cell Activation Syndrome on their healing journey:
They take complete responsibility for their health and work on researching and learning about their conditions and ways to heal.
They enroll the help of others knowledgeable in MCAS to discover their specific triggers and inflammatory issues to give their bodies the best chance at healing and recovery.
Managing Mast Cell Activation Syndrome means managing triggers and systemic inflammation as much as possible.
Many people have seen improvements in their MCAS symptoms through addressing the underlying root factors in MCAS by:
You likely won't have to do all of this. But in your Mast Cell 360 Root Cause Analysis, we'll identify which of this will help you with your symptoms.
Can mast cell activation syndrome go away?
The good news is, there is a lot we can do to help manage our symptoms and to feel better. We can do this by supporting our bodies' natural healing processes. I'm always very up front. I want you to know this isn't a quick fix and there are no guarantees.
However, 95% of the clients who are willing to put in the work have seen improvements. Many with MCAS have gone on to feel much, much better. It does take work to get better. But we do have the opportunity to heal, regain our lives, and live to our fullest potential.
Are you ready to learn more about how you can heal with MCAS?
Sign up below to get your FREE REPORT on the 7 most common root causes of MCAS and how they may be affecting you. I'll send it right to your inbox.
Some links in this website are affiliate links, which means Mast Cell 360 may make a very small commission if you purchase through the link. It never costs you any more to purchase through the links, and we try to find the best deals we can. We only recommend products that we love and use personally or use in the Mast Cell 360 practice. Any commissions help support the newsletter, website, and ongoing research so Mast Cell 360 can continue to offer you free tips, recipes, and info. Thank you for your support!