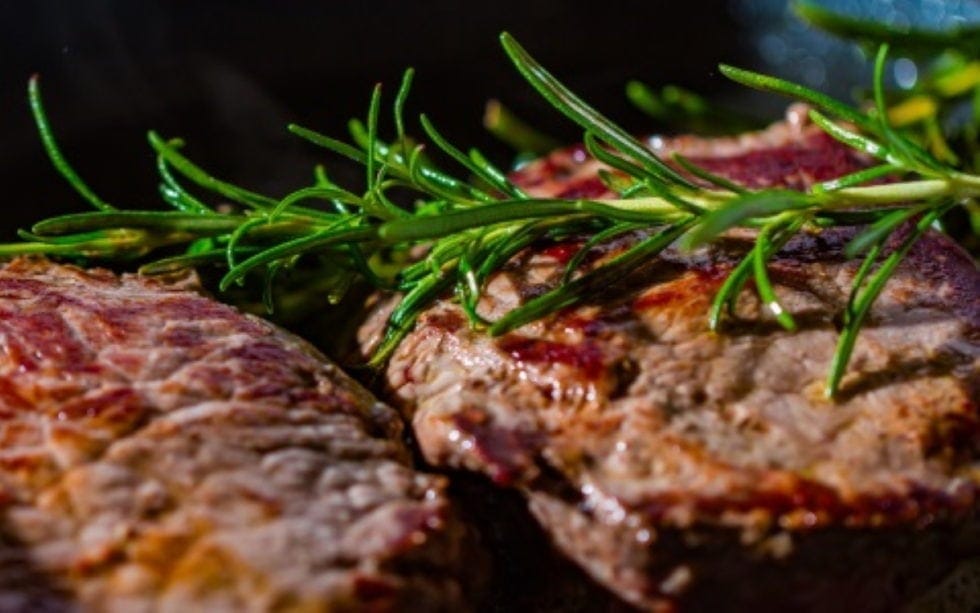 Rosemary Roasted Garlic Pork Chops: Low Histamine Recipe (Also Low Oxalate and Low Lectin)
Some people think if they have Mast Cell Activation Syndrome or Histamine Intolerance that they can't eat meat. But that just isn't true if you follow Low Histamine Recipes like this one for Low Histamine Rosemary Roasted Garlic Pork Chops. There are ways to keep meat lower histamine. And I'll share those with you in this post.
I actually tried being vegetarian for 4 years and then vegan for 2 years. While this works great for some people with Mast Cell Activation Syndrome or Histamine Intolerance, it didn't work so well for me. I felt worse and worse eating vegetarian and vegan.
I now know it is because most of the vegetarian sources of protein are either high lectin or high oxalate. And I have issues with both lectins and oxalates. Both lectins and oxalates can trigger mast cells in some people. Beans, peas, and soy are high in lectins. And hemp, almonds, hazelnuts, and many of the other high protein nuts are high oxalates. Walnuts and peanuts are out (histamines and oxalates).
So, eventually I went back to eating meat. I started feeling better when I included meat in my diet again. For me, I need animal protein to feel well. But I had to do so in a way that kept it low histamine. I have pretty significant Histamine Intolerance, so I have to be careful with meat.
Meat Handling Tips for Low Histamine Recipes when you have Mast Cell Activation Syndrome or Histamine Intolerance
Here are the top things I do to make sure meat stays low histamine:
Only buy pasture-raised meat, never conventionally-raised meat.
Buy meat that's as fresh as possible and was immediately frozen after slaughter.
Buy through a local farmer or from my favorite sources of low histamine meats:
Avoid aged meats. Beef and Bison are usually aged after slaughter.
Avoid ground meats.
Avoid fish (some people can do frozen, wild Alaskan salmon like from Vital Choice.
Thaw meat in the fridge until it is still a little frosty but almost thawed through, no longer. Or thaw by running hot water over it and cook right away.
Freeze all leftovers.
Don't order meat at a restaurant. I actually bring my own.
Do the best you can, but don't stress.
I have all the details about these tips on this blog post if you want to read more:
Are you Raising your Histamine Levels with these Meat Handling Mistakes?
Rosemary Roasted Garlic Pork Low -Histamine Recipe
This is one of my favorite Low Histamine recipes. This method makes the pork chops tender and juicy. I love how the garlic slowly roasts. The flavor is amazing. Garlic has great histamine-lowering properties. The rosemary balances the flavors and is a great anti-histamine herb as well!
If you don't eat pork or can't get pastured pork, you could easily substitute lamb or chicken in this recipe. You'd just need to adjust the cooking times for the type and thickness of the meat.
The best part? This is super easy to make. You can pop this in the oven while you whip up some mashed cauliflower and Low Histamine Bacon with Southern Greens to serve on the side.
Or pair it with this Low Histamine Coleslaw.
So here's the Rosemary Roasted Garlic Pork Low Histamine Recipe! Make sure you start with the Meat Handling Tips above. If you do that, you should feel great after eating these.
Ingredients:
4 pasture-raised pork chops
2 Tablespoons Grass Fed Ghee
4 cloves fresh garlic
6 springs fresh rosemary, stems removed
Redmond Real Salt and Pepper to taste (if tolerated)
Directions:
Preheat oven to 325 degrees.
Line a glass baking pan with a Silicone Mat to make cleanup a cinch. Or you can grease the baking pan with extra ghee.
Place pork chops in the baking pan on top of the Silicone Mat.
Salt and pepper both sides of the pork chops.
Crush the garlic with a garlic press. No need to peel the garlic. Pick the garlic skins out. Then spread 1 clove worth of crushed garlic across each pork chop.
Chop rosemary roughly. Sprinkle on top of the pork chops.
Put ½ Tablespoon of ghee on top of each pork chop. This helps keep them moist and tender.
Bake for 15-25 minutes, depending on how thick the pork chops are and how done you like them.
Set aside what you will have for dinner and immediately freeze any leftovers in glass.
I hope you enjoy!
A Mast Cell Activation Syndrome / Histamine Intolerance Success Story For You
Success stories like this kept me going when I was really sick and still healing. I hope this success story will bring you some light and help you keep going too!
"Carol" started seeing me because she was really struggling with sleep due to shoulder pain. She had injured her shoulder several months before. But her shoulder just wasn't getting any better. She had tried physical therapy. And all the normal things to make it better weren't helping: icing, heat, ibuprofen, etc. It had been 9 months of this. By the time we started working together, she was in rough shape. She was waking up all night due to pain. Her gut was a mess too. And she just wasn't enjoying life.
I recognized that Carol was in a mast cell cascade. This is where inflammation from an injury causes the surrounding mast cells to get activated. Then those mast cells release inflammation and trigger more nearby mast cells. This goes on and on, like a forest fire out of control. Unfortunately, too much ice and heat can make this worse. You want to get ahead of this inflammation as soon as possible.
We worked together for a few months to slow down that inflammation. We ran a couple labs and did genetic analysis to identify the root factors that might be contributing to the inflammation. We worked on:
Food changes to reduce inflammation
Topical mast cell stabilizing options
The right supplements for her genetics and individual needs.
The last time I saw Carol, she was doing so much better. She was sleeping quite well. Her gut was much better. And her pain was nearly gone. Her shoulder was moving better too. She worked on all the things we discussed and really stuck to it. This paid off for her. She's back to enjoying life and getting projects finished around her house.
Do you need any help with your Mast Cell Activation Syndrome or Histamine Intolerance?
I'm here for you. Just let me know if you need help.
Keep in mind that healing with Mast Cell Activation Syndrome does take work and time. You'll need to make changes in your life and take supplements. You'll likely need to get some labs too.
If you are up for this and are ready to address your root causes, just let me know. Let's start getting your health and your life back!
Are you interested in working with a practitioner 1:1?
If so, you can apply to see if the Mast Cell 360 Practice is a good fit for you. Click the button below:
It's important you know that this blog post is for informational and educational purposes. It's not meant to treat any health condition or to be prescriptive for anyone. Always be sure to work with your healthcare practitioner.
Before you change your diet on your own, please make sure you're working with a healthcare practitioner who can help you with this.
More Low Histamine Meat Recipes
Instant Pot Chicken – Low Oxalate, Low Lectin
Pork Roast – Low Oxalate, Low Lectin, Low FODMAP, Low Salicylate Options
Warming Chicken Ginger Soup – Low Oxalate, Low Lectin, Low FODMAP
Sesame Chicken Salad – Low Oxalate, Low Lectin, Low FODMAP
Rosemary Chicken Salad – Low Histamine, Low Lectin, and Low to Medium Oxalate Options
Easy Chicken Tacos – Low FODMAP, Low Lectin, Low Oxalate, Low Salicylate
Spring Roll Stir Fry – Low Salicylate, Low FODMAP, Low Lectin, Low Oxalate
Low Histamine Bacon with Southern Greens – Low Oxalate, Low Lectin
Some links in this website are affiliate links, which means Mast Cell 360 may make a very small commission if you purchase through the link. It never costs you any more to purchase through the links, and we try to find the best deals we can. We only recommend products that we love and use personally or use in the Mast Cell 360 practice. Any commissions help support the newsletter, website, and ongoing research so Mast Cell 360 can continue to offer you free tips, recipes, and info. Thank you for your support!