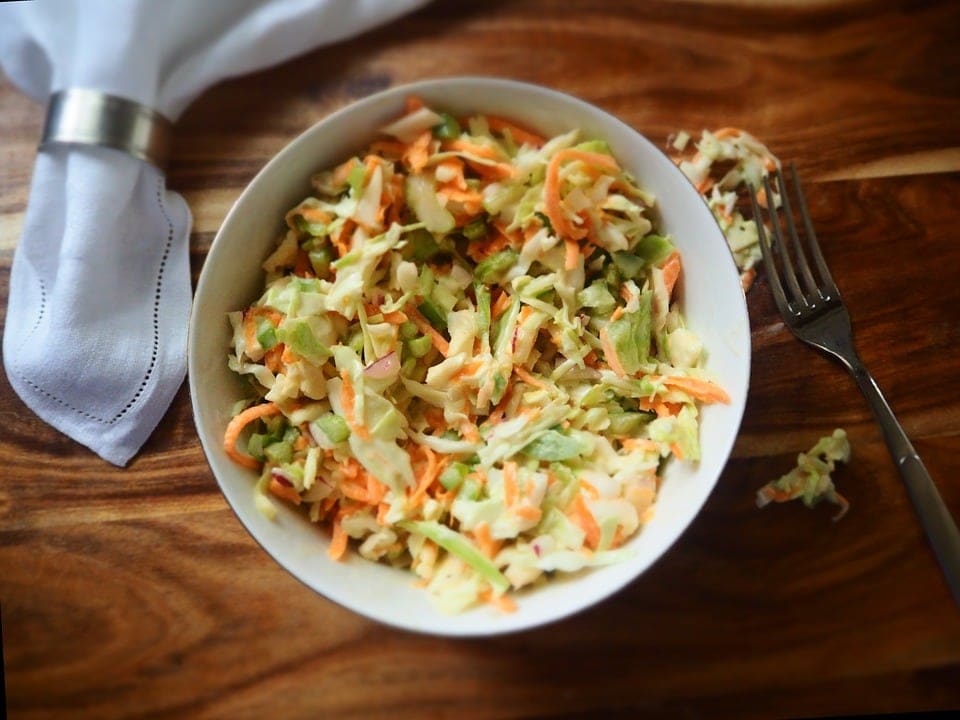 Low Histamine Coleslaw Recipe for People With Mast Cell Activation Syndrome and Histamine Intolerance (also Low Lectin, Low Oxalate, with Low FODMAP and Low Salicylate options)
Sometimes when you have Mast Cell Activation Syndrome or Histamine Intolerance, you just want to be able to go back to some classic flavors.
I've been craving fresh and bright flavors. And I really like a good coleslaw!
Not, like a drowning in mayo coleslaw. Or a tired, sat too long at a restaurant, yucky coleslaw. But one that has some bright, crisp flavors. And is actually nourishing as well as mast cell and histamine supporting!
This coleslaw recipe takes a detour from traditional creamy slaw. Mayonnaise is high histamine, so you want to avoid it if you have Mast Cell Activation Syndrome or Histamine Intolerance. But I've got a good substitute.
And this version of coleslaw is full of histamine lowering ingredients! Let's take a look at a few of those ingredients next.
The main ingredient is cabbage, just like in other slaw recipes. Cabbage is high in sulfur. That's great news if you have Mast Cell Activation Syndrome. Sulfur helps mast cells make heparin sulfate. And mast cells use heparin sulfate to stabilize themselves.
So definitely eat those veggies containing sulfur, if you can!
Another main ingredient — carrots. Carrots have beta-carotene, the precursor to the active form of Vitamin A called retinol. Retinol is also a great mast cell stabilizer.
To get the lowest histamine carrots, choose ones with the tops still on. Make sure the green tops look fresh and not wilted. When you get them home, cut the greens off before you store the carrots in the fridge. That step is important because otherwise the greens will keep pulling nutrients out of the carrots.
Half a cup of raw carrots is high oxalate. To reduce to medium oxalate you can boil half a cup of carrots making sure to discard the cooking water. 
Next up — green onions. They are packed with quercetin! Quercetin has anti-oxidant and anti-inflammatory properties.
And last — extra virgin olive oil. A good quality extra virgin olive oil can be histamine lowering. It helps the body release the enzyme Diamine Oxidase. That enzyme, called DAO for short, reduces histamine throughout the whole body!
And extra virgin olive oil has tons of other health benefits. But you want to make sure the olive oil you are buying is really extra virgin.
Many olive oils say they are extra virgin but aren't.
You can read more about olive oil fraud, benefits of extra virgin olive oil, and what to look for here.  The extra virgin olive oil I like is Kasandrinos. (If you can't use olive oil, though, then check out the sub below)
Now for the Low Histamine Slaw recipe!
Low Histamine Coleslaw Recipe for People With Mast Cell Activation Syndrome and Histamine Intolerance (also Low Lectin, with Low FODMAP and Low Salicylate options)
This recipe makes about 10 – 12 cups of slaw. You can half or quarter this if you don't want leftovers.
Ingredients:
1 head green cabbage
½ head red cabbage (omit red cabbage and use only the green/white cabbage for low salicylate)
8 organic carrots (keep at 1-2 carrots only for low salicylate, boil 1/2 cup of carrots to reduce to medium oxalate or omit for low oxalate)
2 green onions (use green tops only for low FODMAP)
½ cup Kasandrinos Extra Virgin Olive Oil*
(for low salicylate, use sub expeller-pressed, organic sunflower oil instead. A good organic one is La Tourangelle)
1 tsp Redmond Real Salt
4 drops organic stevia* (can omit if salicylate sensitive)
1 bunch cilantro (optional)
1 yellow or red delicious apple (optional) (peel for low salicylate, omit for low FODMAP)
Directions:
Chop green and red cabbage into small pieces. You can also use a food processor to shred the cabbage. But when I have the time, I like to chop it by hand for this recipe. I've found that the cabbage has more of a sulfur taste when I use the food processor.
Shred the carrots. I definitely use a food processor for this.
Chop green onions.
Chop cilantro, if using.
Mix all the veggies together in a bowl.
In a separate bowl, blend extra virgin olive oil, salt, and stevia together with a whisk. Once blended, pour over the slaw.
If using the apple, peel and chop finely. Only add to the portion you are eating. (The apple won't freeze well.)
Enjoy!
For leftovers, freeze in individual serving size containers.
Eat while it's still a little frosty. It will get mushy if it defrosts entirely.
To thaw, pop in the microwave for 30-60 seconds (I leave the room while the microwave is running). Or you can run the container under hot water to flash thaw. Or let warm in a toaster oven.
I hope you enjoy this recipe! Let us know what you think in the comments below!
Have food sensitivities? Check out this course:
*Some links in this website are affiliate links, which means Mast Cell 360 may make a very small commission if you purchase through the link. It never costs you any more to purchase through the links, and we try to find the best deals we can. We only recommend products that we love and use personally or use in the Mast Cell360 practice. Any commissions help support the newsletter, website, and ongoing research so Mast Cell 360 can continue to offer you free tips, recipes, and info. Thank you for your support!