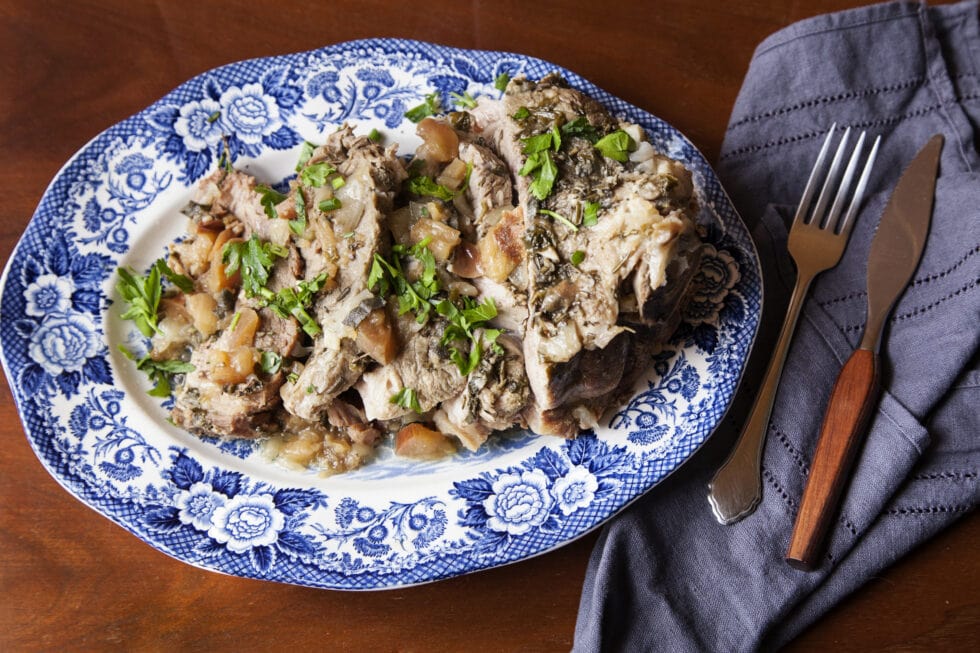 Low Histamine Pork Roast Recipe (Low Oxalate, Low Lectin, Low Salicylate and Low FODMAP Options)
When you need low histamine recipes, putting meals together can sometimes be a challenge.
Especially if you are cooking for other people in your family who don't have special dietary requirements.
If you're like me, you'd prefer to cook just one meal that everyone in the household can enjoy.
And it would be even better if you didn't have a lot of hands-on time.
Mostly it's just me and my husband having dinner together. He can eat just about anything.
But sometimes, we host friends on weekends or have special celebrations.
Most of our friends don't have the same kind of dietary needs that I do.
So, when it comes to meals, I want to make one thing everyone can enjoy, whether they have any special dietary needs or not.
One of my favorite savory crowd-pleasers is this low histamine pork roast.
My husband loves it. And I've made it for dinner parties. No one missed an oven-roasted ham one bit.
It's been a big hit.
Pair it with a lower histamine wine, if tolerated, for special occasions.
It makes me happy to have something delicious that won't give me any reactions and satisfies the taste buds of even the picky eaters.
And with lots of tasty anti-inflammatory herbs, this is a recipe that supports your health while satisfying your taste buds.
What's even better? Using an Instant Pot helps keep this recipe lower histamine and easy to make with little hands-on time.
This low histamine pork recipe is:
Before I share this recipe with you, I want to help you choose the best low histamine protein option.
I struggled with meat for a while. Sometimes I could tolerate it. Sometimes I couldn't.
But then I learned why even some of the quality meats from Whole Foods were causing reactions for me.
Read about that next.
Then you'll want to keep reading to learn more about some benefits of the herbs I use in this low histamine pork recipe.
But first, here's the secret to sourcing low histamine pork and other meats.
Sourcing Low Histamine Pork
It's important you know that this blog post is for informational and educational purposes. It's not meant to treat any health condition or to be prescriptive for anyone.  If you have any medical condition, it is critical you work under the care and guidance of a licensed medical provider.
When I was very sensitive, one of the only foods I could tolerate was chicken. Usually.
I figured out that I needed to get it as fresh as possible. So, I'd show up to Whole Foods within an hour of their delivery.
But I'd still get reactions sometimes.
Eventually I learned that even "fresh" meat isn't always as fresh as you might think.
You've got the transport time. The time it sits in the grocery store. And you really have no idea how or when the animal was butchered.
All those things can make a big difference in the histamine levels.
Once I learned how to choose meats better, I noticed fewer issues with a variety of meats.
You can find the low histamine food list here to get started: Low Histamine Foods List for MCAS and Histamine Intolerance
Here are some key points you can use for choosing the lowest histamine meats.
Choose Frozen Pork
With Mast Cell Activation Syndrome and Histamine Intolerance, we talk a lot about the importance of getting fresh foods.
However, "fresh" isn't always best when it comes to meat.
What you are getting "fresh" at your local grocery store usually just means "not frozen".
But here's what I learned. Frozen meats can actually be much better for levels of histamine!
Now, it's a little more complicated than just choosing frozen over fresh at the market.
In most cases, you still won't know when it was frozen.
And the key to keeping histamine levels low in meat is that it be frozen almost immediately following being slaughered.
Some farms like Northstar Bison and White Oak Pastures are very particular in how they handle animal processing.
White Oak Pastures will chill the carcass immediately. Then they butcher and freeze cuts of meat within one day of slaughter. This is about the fastest processing you can get when it comes to pork.
Lower temperatures keep histamine levels as low as possible since it hinders the growth of histamine-releasing bacteria.
I noticed a big difference in what I could tolerate once I figured this out.
Northstar also has rigorous standards when it comes to harvesting and processing their meats. When I talked to Sean from Northstar Bison, he let me know that all of their products have tested at lower than 10ppm (parts per million) histamine content. That's very low.
So, you want to choose pork from farms that get the animal chilled, butchered, and frozen as soon as possible after slaughter.
Check out this post for more details on choosing The Best Low Histamine Meat and Seafood Options.
Know Farming Practices
To reduce mast cell triggers in your meat, I suggest getting pasture raised pork.
Pasture raised means the animal can roam outside and eat naturally.
This lessens the stress of the animals and improves their lives. And this improves the quality of the meat.
One study shows that animals subjected to stressful conditions yielded meat that was dark, firm, and dry. Who wants dry, tough meat?
Additionally, pasture raised meat means more omega-3 fatty acids. These omega-3s are important for you if you have Mast Cell Activation Syndrome or Histamine Intolerance because they help to reduce levels of inflammation.
Conventionally raised meat is very high in omega-6s.
The imbalance of omega-6s with omega-3s is super common and worsens MCAS.
So, those are very good reasons to choose pasture raised.
For pasture-raised meats, I like White Oak Pastures and Northstar Bison.
Check out all of White Oak Pasture's Low Histamine Meat Options and search for pork.
>>> Use coupon code MASTCELL360 for 10% off your first purchase!
Alternatively, you can also buy from NorthStar Bison by searching for pork.
>>>Use coupon code MASTCELL360 for 10% off!
How to Season Low Histamine Pork
Now that you know how to get started with low histamine pork, take a quick look at how these flavorful herbs can support your health.
Herb Benefits
I absolutely love using fresh herbs in my recipes.
You can use fresh herbs in just about everything to add flavor and support your body.
In this recipe you can use any herbs you like. But I've chosen these since they are:
Low histamine
Low oxalate
Low lectin
Low salicylate (I'll let you know which ones to omit to keep this recipe low salicylate)
I'll also share about how to adapt this recipe to be low FODMAP in just a bit.
If you've emptied your histamine load, you may be able to tolerate dried herbs occasionally. But if you are still very Histamine Intolerant, you may want to stick to fresh herbs.
Here are some highlighted benefits of the top herbs in this recipe.
Omit the first 3 if you have Salicylate Intolerance.
Rosemary (omit if Salicylate Intolerant)

Anti-inflammatory
Antioxidant
Anticarcinogenic
Antihistamine and mast cell supporting properties
Glucose-lowering properties
Properties that affect cognition and mood
Sage (omit if Salicylate Intolerant)

Anti-inflammatory properties
Antioxidant properties
May support brain health and memory
Basil (omit if Salicylate Intolerant)

Antimicrobial properties
Anti-inflammatory effects
Immunomodulatory activity
Source of vitamin C – helps with production of histamine-degrading enzyme, diamine oxidase (DAO)
I also love basil in my low histamine mango-basil smoothie recipe.
You can include the following herbs even if you have Salicylate Intolerance.
Chives

Antioxidant properties
Antifungal properties
Antibacterial properties
Source of vitamin C – helps with production of histamine-degrading enzyme, diamine oxidase (DAO)
Parsley

Source of magnesium – mast cell and histamine support
Antioxidant properties
Antimicrobial properties
Source of quercetin (for supporting mast cells)
Source of Vitamin C – helps with production of histamine-degrading enzyme, diamine oxidase (DAO)
Garlic

Antioxidant properties
Anti-inflammatory properties
Antimicrobial properties
May aid in digestion
Source of Vitamin C – helps with production of histamine-degrading enzyme, diamine oxidase (DAO)
Those are just some of the nutrients and health benefits you'll get out of adding herbs to your foods.
Ready to try this mouth-watering low histamine pork recipe?
You'll need just a few pieces of kitchen equipment to get started.
Including an Instant Pot. Why the Instant Pot?
Here's why I'm loving this cooking method.
Instant Pot Cooking
Watching out for high histamine foods is just one step of the low histamine diet.
Cooking methods and prep also matter.
For example, long roast times will raise levels of histamine.
And you don't want to thaw your meat at room temperature on the counter. That's one of the top meat-handling mistakes you can make.
It will raise histamine content!
If you aren't as sensitive, you can thaw meat in the fridge until it is still just slightly frosty.
But the ease of the Instant Pot is being able to cook frozen meat. In other words, no need to thaw at all! That helps to keep the pork lower histamine.
The Instant Pot is a brand of pressure cooker. And pressure cooking also helps cut down cook times significantly. That keeps histamine levels lower, too.
Here is the 8 Quart Instant Pot Model I have.
You could make this recipe in a 6 Quart Instant Pot, but only with a cut of meat 3 pounds or less.
Before you get started, here's a cheat sheet on what to omit to make this recipe salicylate friendly or FODMAP friendly.
Low Salicylate Pork
To make the low histamine pork also low salicylate, omit:
Use only peeled Red Delicious apples. (Discard peels.) These are the lowest salicylate apples. But it is important to peel them to keep them low salicylate.
Related Article: Salicylates and Salicylate Foods
Low FODMAP Pork
To make the low histamine pork also low FODMAP, omit:
I love garlic, but you won't miss it too much in this recipe if you need to omit it. The chives have a similar taste profile. You can always add more chives for a stronger flavor.
And you can consider adding leeks in place of onion. But only use the green tops.
There isn't a great low FODMAP substitute for apples.
However, you'll still get a lot of good flavors from the other seasonings and the pork itself.
Read More: FODMAP Intolerance
Instant Pot Low Histamine Pork Roast Recipe
Serve this pork roast with: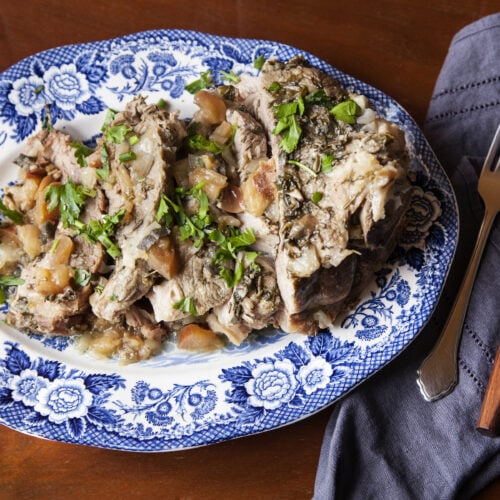 Instant Pot Low Histamine Pork Roast Recipe
Enjoy this low histamine pork recipe that you can make low oxalate, low lectin, low salicylate, low carb, and low FODMAP. 
Instructions
Wash and chop up all herbs, garlic, onion, and apples. Set aside.

Remove frozen pork roast from freezer and unwrap from packaging. Do not thaw! 

Add 1½ cups filtered water to the bottom of the inner pot of the Instant Pot.  

Place meat in the water in the pot. 

Cover meat with apples and onions and all remaining herbs, including garlic and salt. 

Make sure your silicone seal is in place on the Instant Pot lid. Tighten lid to lock position. Set float valve to sealing. 

Program Instant Pot to High Pressure for recommended cook times for your pressure cooker. Please note that times vary based on if your meat is totally frozen or just frosty. It also varies model to model of pressure cooker. Using my 8 Quart Instant Pot, a 3-pound roast takes about 60 minutes from frozen.  

Allow pressure to release naturally. This can take 10-15 minutes. 

Carefully remove meat from the pot with tongs and let rest for 5 minutes to cool slightly. Then remove the meat from the bone and serve. 

Garnish with any leftover herbs like parsley or rosemary.  

Slice and freeze any leftovers immediately, and enjoy your low histamine, super easy meal! 
Notes
This recipe is for a 3-pound roast.
I've
made up to a 5-pound roast this way, too. Just
add more herbs
for larger cut
s
.
And be sure to adjust your time. A 4 pound roast cooked
at
70 minutes and a 5
pound at 80
minutes
in my Instant Pot.
Nutrition
Nutrition Facts
Instant Pot Low Histamine Pork Roast Recipe
Amount per Serving
% Daily Value*
* Percent Daily Values are based on a 2000 calorie diet.
Remember to get your low histamine pork from a reputable source.
Check out all of White Oak Pasture's Low Histamine Meat Options and search for pork.
>>>Use coupon code MASTCELL360 for 10% off your first purchase!
Alternatively, you can also buy from NorthStar Bison by searching for pork.
>>>Use coupon code MASTCELL360 for 10% off!
What to Buy With Low Histamine Pork Roast
Here's what you can make with the rest of your order:
What are your favorite herbs to serve on low histamine pork?
Some links in this website are affiliate links, which means Mast Cell 360 may make a very small commission if you purchase through the link. It never costs you any more to purchase through the links, and we try to find the best deals we can. We only recommend products that we love and use personally or use in the Mast Cell 360 practice. Any commissions help support the newsletter, website, and ongoing research so Mast Cell 360 can continue to offer you free tips, recipes, and info. Thank you for your support!
References
Akhondzadeh, S., et al. (2003). Salvia officinalis extract in the treatment of patients with mild to moderate Alzheimer's disease: a double blind, randomized and placebo-controlled trial. Journal of clinical pharmacy and therapeutics, 28(1), 53–59. https://doi.org/10.1046/j.1365-2710.2003.00463.x
Carrasco-García, A. A., et al. (2020). Effect of stress during slaughter on carcass characteristics and meat quality in tropical beef cattle. Asian-Australasian journal of animal sciences, 33(10), 1656–1665. https://doi.org/10.5713/ajas.19.0804
DAO Deficiency and Histamine: The Unlikely Connection – MTHFR Support Australia. (2016, September 14). https://mthfrsupport.com.au/2016/09/dao-deficiency-and-histamine-the-unlikely-connection/
Ghasemzadeh Rahbardar, M., & Hosseinzadeh, H. (2020). Therapeutic effects of rosemary (Rosmarinus officinalis L.) and its active constituents on nervous system disorders. Iranian journal of basic medical sciences, 23(9), 1100–1112. https://doi.org/10.22038/ijbms.2020.45269.10541
HappyForks. (n.d.). Recipe analyzer. https://happyforks.com/analyzer/result
Liberal, Â., et al. (2020). Bioactive Properties and Phenolic Compound Profiles of Turnip-Rooted, Plain-Leafed and Curly-Leafed Parsley Cultivars. Molecules, 25(23), 5606. https://doi.org/10.3390/molecules25235606
Lu, Y., & Foo, L. Y. (2002). Polyphenolics of Salvia–a review. Phytochemistry, 59(2), 117–140. https://doi.org/10.1016/s0031-9422(01)00415-0
Nogoy, K. M. C., et al. (2022). Fatty Acid Composition of Grain- and Grass-Fed Beef and Their Nutritional Value and Health Implication. Food Science of Animal Resources, 42(1), 18–33. https://doi.org/10.5851/kosfa.2021.e73
Peiretti, P. G., et al. (2012). Effects of Rosemary Oil (Rosmarinus officinalis) on the Shelf-Life of Minced Rainbow Trout (Oncorhynchus mykiss) during Refrigerated Storage. Foods (Basel, Switzerland), 1(1), 28–39. https://doi.org/10.3390/foods1010028
Perry, N. S., et al. (2003). Salvia for dementia therapy: review of pharmacological activity and pilot tolerability clinical trial. Pharmacology, biochemistry, and behavior, 75(3), 651–659. https://doi.org/10.1016/s0091-3057(03)00108-4
Jiang T. A. (2019). Health Benefits of Culinary Herbs and Spices. Journal of AOAC International, 102(2), 395–411. https://doi.org/10.5740/jaoacint.18-0418
Shahrajabian, M. H., Sun, W., & Cheng, Q. (2020). Chemical components and pharmacological benefits of Basil (Ocimum basilicum): a review. International Journal of Food Properties, 23(1), 1961–1970. https://doi.org/10.1080/10942912.2020.1828456
Shang, A., et al. (2019). Bioactive Compounds and Biological Functions of Garlic (Allium sativum L.). Foods (Basel, Switzerland), 8(7), 246. https://doi.org/10.3390/foods8070246
Smith, S, Ph.d. (2019, March 25). Ground beef from grass-fed and grain-fed cattle: Does it matter? – Animal Science. Animal Science. https://animalscience.tamu.edu/2013/12/07/ground-beef-from-grass-fed-and-grain-fed-cattle-does-it-matter/
Takemoto, S., et al. (2013). Magnesium deficiency induces the emergence of mast cells in the liver of rats. Journal of nutritional science and vitaminology, 59(6), 560–563. https://doi.org/10.3177/jnsv.59.560
USDA. (2019, April 1). FoodData Central. US Department of Argriculture. Retrieved November 23, 2022, from https://fdc.nal.usda.gov/fdc-app.html#/food-details/1104647/nutrients
USDA. (2019, April 1a). FoodData Central. US Department of Argriculture. Retrieved April 22, 2023, from https://fdc.nal.usda.gov/fdc-app.html#/food-details/170416/nutrients
USDA. (2019, April 1b). FoodData Central. US Department of Argriculture. Retrieved April 22, 2023, from https://fdc.nal.usda.gov/fdc-app.html#/food-details/172232/nutrients
USDA. (2019, April 1c). FoodData Central. US Department of Argriculture. Retrieved April 22, 2023, from https://fdc.nal.usda.gov/fdc-app.html#/food-details/170935/nutrients
Yousef, M., et al. (2020). Attenuation of allergen-mediated mast cell activation by rosemary extract (Rosmarinus officinalis L.). Journal of leukocyte biology, 107(5), 843–857. https://doi.org/10.1002/JLB.3A0320-434R