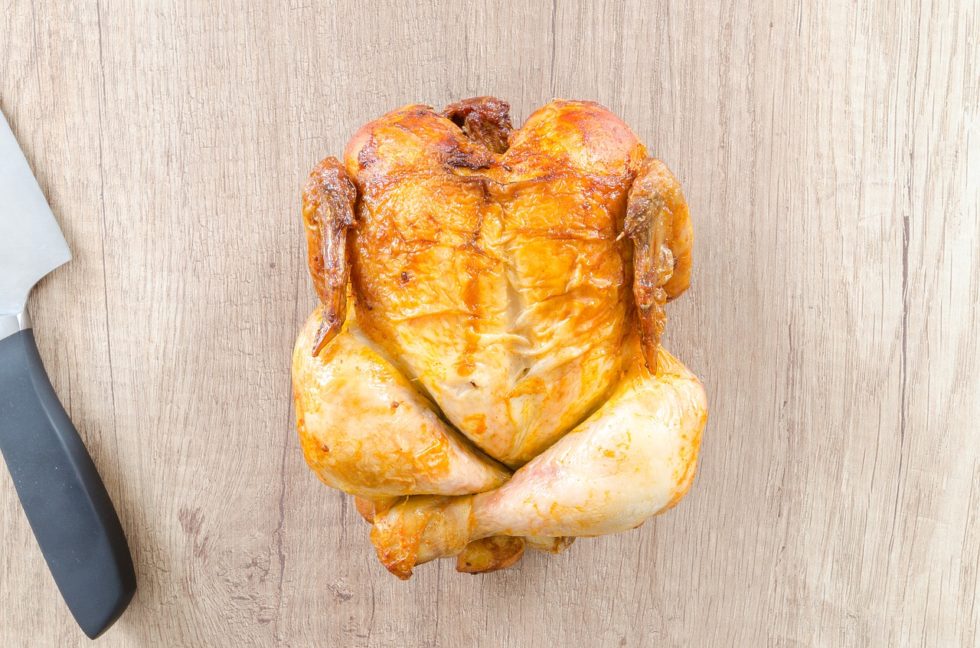 Super Easy Low Histamine Roast Chicken (also Low Oxalate, Low Lectin)
Roast Chicken is my weekly, easy go-to for lunches and dinners. It takes very little prep time, and you just have to be around to take it out of the oven.
Once it cools down a little, you can quickly cut it into individual serving sizes and have meals for the week! I put it in salads, wraps, or have it as the main course with sides of veggies. What you can do with the leftovers is really limitless!
If you own an Instant Pot, use this low histamine chicken recipe to cook it from frozen. Or else keep reading to make roast chicken in your oven.
Check out all these low histamine recipes that use leftover chicken!
Now, I do have to tell you I'm a bit of a lazy cook. It isn't that I don't like cooking, I do. I just have a lot of other things to spend my time on.
And I don't want to spend all day in the kitchen. But I also want my food to taste really good. So I am always looking for the easiest ways to make food that tastes great.
To keep histamine levels low, it is always important to start with very fresh ingredients and the right handling and storage.
Pasture raised chicken is less inflammatory than grain fed meat. So get pasture raised chicken whenever you can.
You can learn more about ways to keep meat as low histamine as possible in this post: Are you Raising your Histamine Levels with these Meat Handling Mistakes?
Give this super easy roast chicken recipe a try and make your meal prep easier. Let me know what you think in the comments!
Ingredients:
1 pasture-raised chicken, mostly thawed – 2.5-4 lbs
Herbamare Organic Herbed Sea Salt
Optional:
2 Organic Lemons
Fresh Cracked Pepper
Organic garlic cloves, peeled (optional)
Instructions:

Preheat oven to 350.
Pour out any blood that is in the cavity. You don't have to wash the chicken. In fact, most hygiene experts recommend you skip washing. They say it can increase your chance of getting sick through bacteria transfer. The bacteria will die in the cooking process.
Put the chicken in a baking dish. I like to put down a silicone mat in the pan to prevent sticking and for easy cleanup. Then place the chicken in the pan on top of the silicone mat. Or you can grease the pan with some ghee just place the chicken directly in the pan. Breast side down will give you more tender breast meat. Or breast side up will give you crispier skin.
Sprinkle the Herbamare over all sides of the chicken. You can also add some fresh cracked pepper if you like.Optional: slice lemons in half and place in the cavity. Place peeled garlic cloves in cavity. I usually skip this, but it does add a nice flavor.
Bake at 350 for about 90 minutes (depending on your oven) or until the chicken is cooked through. Be sure to check the thighs and breasts. The liquid should be clear with no hint of pink. Check with a meat thermometer if you aren't sure.
Right after you serve the chicken, place the remaining whole chicken in the fridge to cool down while you eat. Putting it in the fridge right away will slow down any rising histamine levels. After you eat and as soon as the chicken is cool enough to handle, separate the meat into individual pieces and freeze.
That's it! Easy peasy! What did you think of this recipe? Do you have any roast chicken tips? You can add your thoughts below.
Are you interested in working with a practitioner 1:1?
If so, you can apply to see if the Mast Cell 360(R) Practice is a good fit for you. Click the button below:
It's important you know that this blog post is for informational and educational purposes. It's not meant to treat any health condition or to be prescriptive for anyone. Always be sure to work with your healthcare practitioner.
Before you change your diet on your own, please make sure you're working with a healthcare practitioner who can help you with this.
And you can learn more about the Top 8 Mast Cell Supporting Supplements in our master class, available any time!
Some links in this website are affiliate links, which means Mast Cell 360 may make a very small commission if you purchase through the link. It never costs you any more to purchase through the links, and we try to find the best deals we can. We only recommend products that we love and use personally or use in the Mast Cell 360 practice. Any commissions help support the newsletter, website, and ongoing research so Mast Cell 360 can continue to offer you free tips, recipes, and info. Thank you for your support!