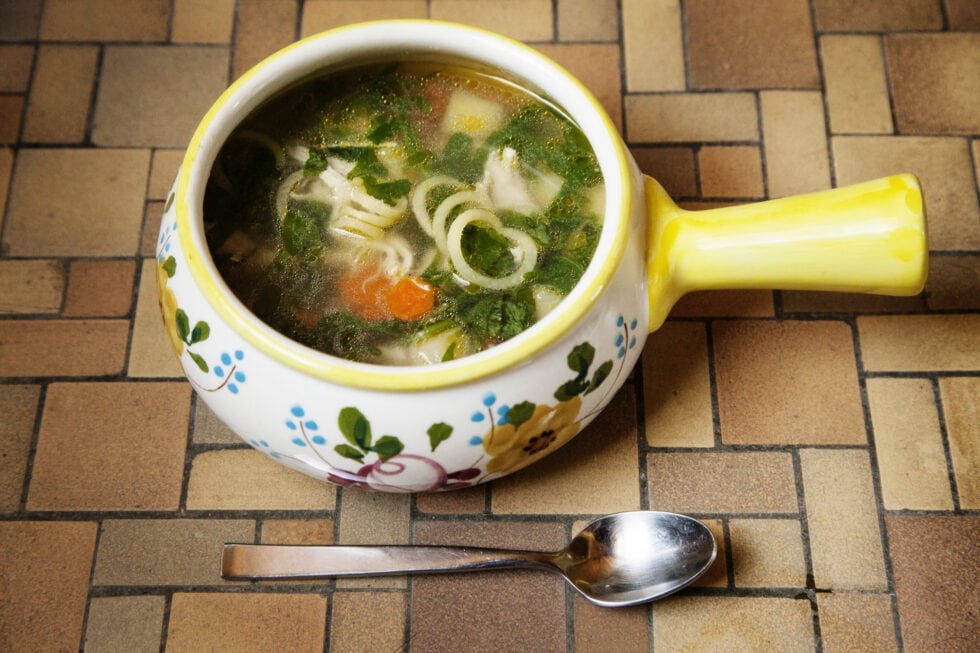 Chicken Ginger Low Histamine Soup (Low FODMAP, Low Oxalate, and Low Lectin)
If you have Mast Cell Activation Syndrome or Histamine Intolerance, you're going to love this Low Histamine and Low FODMAP Soup Recipe. 
I'm a big fan of soup year-round. But I really look forward to a warm bowl of soup on a chilly night.
Chicken soup is a classic comfort food. And I'm really loving this Chicken Ginger Soup Recipe.
It's so satisfying! And it's gentle on the digestive tract.
This is a great healing soup if you have a cold or digestive trouble!
I created this low FODMAP chicken soup recipe especially for those with FODMAP sensitivities.
This recipe is:
This recipe is also gluten-free and dairy-free.
Keep reading to learn more about FODMAPs, and to get this delicious low histamine soup recipe that will warm you from the inside out.
Before you change your diet on your own, please make sure you're working with a healthcare practitioner who can help you with this. Never limit foods unnecessarily, and always have a medical provider who is supervising your case.
Low FODMAP Soup for those with FODMAP Intolerance
You've probably at least heard the term FODMAPs.
But what exactly are FODMAP foods?
FODMAP is an acronym that stands for:
Fermentable
Oligosaccharides
Disaccharides
Monosaccharides
Polyols
These are short-chain carbohydrates (sugars) found in some foods.
These carbohydrates aren't completely digested or absorbed in your gut.
This is true for everyone.
But not everyone will have adverse symptoms from eating them.
So why are some people affected and others aren't?
According to Monash University, a leader in FODMAP research, FODMAPs may be more problematic if you have IBS (Irritable Bowel Syndrome).
Put simply, eating high FODMAP foods can result in extra water and gas in your gut.
And this extra water and gas can trigger IBS symptoms like:
Pain
Excessive gas
Bloating
Distension
Diarrhea
Constipation
FODMAP sensitivities are also common in people with SIBO (Small Intestinal Bacterial Overgrowth). 
That's because these carbs are fuel for certain healthy bacteria. But, if you have an imbalance of these bacteria, such as in SIBO, then high FODMAP foods can lead to a lot of gas and bloating.
This can also contribute to Mast Cell Activation by triggering mast cells in your gut.
Did you know that infections and food intolerances are two big root causes of MCAS?
So, cutting back temporarily on these foods that you are intolerant of helps calm your mast cells.
And in the case of FODMAPs, cutting back on high FODMAP foods removes a powerful source of food for overgrown bacteria in your gut. That can help get SIBO under control, too.
I am still dealing with getting SIBO under control. And I've done a low FODMAP diet while I've been working on this.
But the good news is that if SIBO is why you've cut out FODMAPs, you should be able to add them back into your diet at some point.
I've been slowly able to add some FODMAPs like garlic, onions, and Brussels sprouts back into my diet.
High FODMAP Foods
The most common FODMAPs are onion and garlic.
Here are just a few other common low histamine, but high FODMAP foods.
Wheat
Cauliflower
Peas
Brussels sprouts
Apples
Cranberries
Beans
Honey
Cashews
You can learn more about FODMAPS and SIBO in this article. And you'll find a bigger list of high FODMAP foods you may still be eating on a low histamine diet. 
Read More: What to know about FODMAPs and SIBO if you have Mast Cell Activation Syndrome or Histamine Intolerance 
If you get gut-related issues after eating high FODMAP foods, you may need to talk with a health care practitioner about how to address it.
But not to worry, this recipe is FODMAP friendly and will work for many types of foods sensitivities.
More Low FODMAP Recipes
Next let's look at what makes this recipe so good for you if you have Histamine Intolerance and FODMAP Intolerance.
Low Histamine & Low FODMAP Soup Recipe Ingredients
This recipe packs a lot of flavors with just a few simple low histamine foods.
Here are some tips on how to keep similar recipes low histamine and low FODMAP.
Low Histamine Chicken
The chicken soup base is a low FODMAP chicken stock.
Now, you may have heard a lot about the health benefits of bone broth. Unfortunately, bone broth can be higher histamine.
Bones (or meat) cooked for long periods of time, like in a slow cooker, are going to be high histamine.
But there's another reason to be concerned about bone broth.
Glycine is an amino acid found in bone broth. Glycine can be converted to oxalates in the body.
That's not good if you have Oxalate Intolerance.
That's why I use meat broths like chicken broth made with chicken meat instead.
You don't need to cook meat a long time to get a flavorful broth.
This chicken broth starts with cooked chicken. You can cook up any cut of meat while you are making this recipe. I often use chicken breasts since that's easy.
Another option if you do a meal plan each week would be to start with a recipe like this Super Easy Oven Roast Chicken. If you have an Instant Pot, use my Instant Pot Low Histamine Chicken Recipe to cook frozen chicken for your lowest histamine option.
You can use some of the chicken from those recipes for this soup, and some of the chicken for your other meals during the week. It freezes well!  
TIP: I like to jazz up this soup by adding some of my Homemade Pork Belly on top. This reminds me of soups I've eaten at Asian restaurants.
For more tips on keeping meat suitable for a low histamine diet, check out this post on Meat Handling Tips.  
Ginger Soup
Ginger is one of my favorite histamine-lowering ingredients to use in recipes. It adds a nice warm flavor with a little kick.
Ginger has been shown in research to have significant anti-histamine and immune boosting properties. 
I use ginger in a lot of recipes because it is:
And there's good reason to use it whenever you can.
Ginger has been shown to have all kinds of health benefits like these properties:
Anti-oxidant
Anti-inflammatory
Anti-microbial
Anti-nausea 
Neuroprotective
Cardiovascular protective
Respiratory protective
And you'll get these nutrients and more from ginger, too:
Calcium
Magnesium
Potassium
Vitamin C
Low FODMAP Green Onion Tops
Onions and garlic are both common ingredients found in a lot of soups. They are often used to add spiciness and complexity to a dish.
Onions and garlic have a lot of health benefits, too.
But unfortunately, they are both high FODMAP foods.
However, if you have issues with FODMAPs, here's what you can do to get some of that spicy, savory flavor that you'd get from garlic and onion.
Use green onion!
All edible parts of the green onion are low histamine.
But if you have FODMAP sensitivities, you'll only want to use the green part (tops) of the green onion.
The white part is high FODMAP.
Now when it comes to garlic, I've got a hack for you on that, too.
If you don't have FODMAP sensitivities, you could add 1- 2 cloves garlic to this recipe.
But if you do have FODMAP issues, here's how you can get some garlic flavor.
Use garlic infused olive oil. I've found this is generally well tolerated. But if you aren't sure, start with just a little bit.
Here's how you can add it to this recipe.
When you are sautéing the green onion tops and celery in coconut oil (or ghee), you can also add about 1 Tablespoon of garlic infused olive oil. (I'll make a note for you in the instructions below, too.)
You can make your own garlic infused olive oil, or you can buy one ready-made.
Here's a garlic infused olive oil you can buy that has the best flavor of the ones I've tried.
If you make your own, check out this recipe for how I made mine.
Here are a couple extremely important things to know if you are going to make your own infusions, though.
If you are making your own, there is a risk of botulism if you don't pay attention to these important tips.
Don't store the oil for longer than 3 days.
Don't ever infuse raw garlic in extra virgin olive oil. In my recipe, you'll see that I sauteed it.
But with or without garlic, you'll still get lots of flavor from this recipe.
Arugula
Arugula quickly became one of my favorites when I started focusing on eating low histamine foods.
Spinach is a high histamine food. It's also high oxalate.
And I'd eaten quite a lot of it before I knew better.
Arugula is a great replacement. It's a leafy green like spinach.
Arugula nicely replaces spinach in recipes that call for cooked spinach. It holds up to heat similarly. Other leafy greens like certain lettuces wouldn't hold up well at all.
But what I really love about arugula is the peppery flavor. In truth, I'd use arugula even if I could eat spinach. It's much tastier!
Fun Fact: Arugula is also called rocket, roquette, and rucola.
You'll get nutrients like these from adding arugula to your recipes:
Calcium
Iron
Magnesium
Vitamin C
Vitamin A
Getting vitamins and minerals like these in your diet is important for maintaining immune health!
Rutabaga
Chicken noodle soup is one of the ultimate comfort foods.
But when it comes to noodles, you'll likely be avoiding a lot of packaged noodles. They can be made with bleached flour which is higher histamine.
And the popular zucchini noodle may also be off the menu for you if you have MCAS.
That's because zucchini is high lectin. Lectins can be a mast cell trigger.
I've been working more and more with rutabaga. This root veggie is great because it's:
Low histamine 
Low oxalate  
Low lectin  
Low FODMAP 
It's a great substitute for potatoes. And you can make it into a rice, too.
Cauliflower rice is good, but it's not going to work if you have FODMAP issues.
Well, I thought to myself, if I can make a rutabaga rice, why not try a rutabaga noodle?
And I was happy with the results when I used the Brieftons Spiralizer
You'll want to use a spiralizer like this one. Some of the other types won't accommodate a bigger vegetable like rutabaga.
And they require a lot more muscle. That's a lot of extra time and energy.
So definitely, stick with the Brieftons Spiralizer.
However, if you don't have a spiralizer, you can optionally cut the rutabaga into ¼ inch cubes.
Rutabaga has more of the important vitamins and minerals you need to stay healthy like:
Vitamin C
Iron
Vitamin B6
Magnesium
Calcium
And it's a good source of dietary fiber.
That's a lot of great benefits!
Ready to make this delicious and nourishing low FODMAP chicken soup?
Get the recipe coming up.
But first, here's one more great thing about this recipe. It freezes well (like my other low histamine soup recipes!)
More Low Histamine Soup Recipes (not low FODMAP)
Freezing Low FODMAP Chicken Soup
I had limited energy for making meals when I was really sick.
But I couldn't just pop out to the fast-food restaurants to pick something up. Most fast-food isn't healthy. And it most definitely poses problems if you must eat low histamine.
So, I did a lot of meal prep. I'd cook a couple times a week and freeze extra portions to thaw and heat up later.
With Histamine Intolerance, you want to be careful about leftovers. They can build in histamine even if they are refrigerated.
That's why I generally recommend freezing leftovers. This is especially important if you are doing meal prep.
With meal prep, you might be cooking on Sunday and eating that food on Wednesday.
But you can only do this if you freeze your foods. That long time in the refrigerator is going to make histamine levels rise too much for most people with Histamine Intolerance to tolerate.
I've found that most soups are easily frozen and then heated up later.
If you are making big batches, you can save space in your freezer and have added convenience by using storage containers like souper cubes.
They are silicone food storage containers with lids. That makes them stackable. You can get them in different sizes.
What's really nice is that you can pre-portion out servings so you can pop out one or two cubes at a time to reheat. It's so convenient!
But to have leftovers, first, you have to make the recipe! So that's up next. Enjoy!
Low Histamine Recipes to Pair with Soup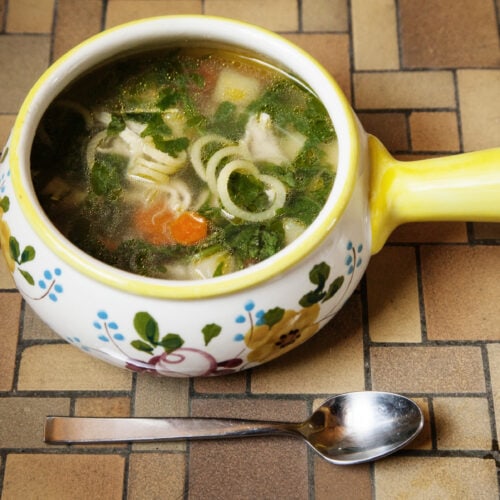 Warming Low Histamine Chicken Ginger Soup (Low FODMAP, Low Oxalate, Low Lectin)
Enjoy this delicious and nourishing soup on a chilly day!
Equipment
Knife

Large Stock Pot with Lid
Ingredients
2

Tablespoons

Coconut Oil

1

Tablespoon

Garlic Infused Olive Oil

(optional)

1

Medium Stalk Celery

diced

1

Bunch Green Onions, Dark Green Tops Only

chopped

4

cups

Cooked Chicken

shredded (about 4 breasts)

2

Tablespoons

Fresh Ginger

finely grated

6

quarts

Filtered Water

4

ounces

Baby Arugula

6

Medium Carrots

chopped into ¼ inch, boiled separately and discard cooking water to reduce oxalates

1-2

Rutabagas

⅛

teaspoon

Redmond Real Salt

¼

teaspoon

Black Pepper

if tolerated

2

Tablespoons

Cilantro

chopped (optional)

1

pound

Homemade Pork Belly

(optional)
Instructions
If using Pork Belly, follow recipe here and place Pork Belly in oven.  

If you are cooking your chicken at the time you are preparing the soup, start the chicken. 

Cut up the green onions and celery. Grate the ginger. 

On the stovetop, sauté ½ the green onion tops and celery in ghee or coconut oil in an 8 Quart or larger stock or soup pot.  About 3 minutes. Add garlic or garlic infused olive oil here, too, if using.

Add shredded chicken, ginger, sea salt, freshly cracked black pepper, and water to pot. Simmer for 20-30 minutes.  

Meanwhile, peel and cut the carrots. 1/2 cup of raw carrot is high oxalate, so boil separately and discard cooking water if Oxalate Intolerant.  

Either cube the rutabagas into ½ inch cubes or use a Brieftons Spiralizer to make the rutabagas into noodles.  

Add carrots and rutabaga to pot and continue to simmer on medium heat until tender.  About 15-20 minutes. 

Add baby arugula to pot to wilt and turn off stove. If you cooked carrots separately, you can add them now. Let sit for 5 minutes.  

While arugula is wilting, chop pork belly into bite size pieces (optional). And chop cilantro if using. 

Dish soup into bowls and garnish with green onion tops, cilantro, and pork belly. You could also use fresh parsley if you have it. Then serve and enjoy!  

Freeze the leftovers in Souper Cubes. Freezing leftovers helps to keep histamine levels low. 
Notes
Can sub ghee for coconut oil.
Nutritional information does not include pork belly.
There are 16 – one cup servings in this recipe.
Nutrition
Nutrition Facts
Warming Low Histamine Chicken Ginger Soup (Low FODMAP, Low Oxalate, Low Lectin)
Amount per Serving
% Daily Value*
* Percent Daily Values are based on a 2000 calorie diet.
Low Histamine Meat Recipes
Some links in this website are affiliate links, which means Mast Cell 360 may make a very small commission if you purchase through the link. It never costs you any more to purchase through the links, and we try to find the best deals we can. We only recommend products that we love and use personally or use in the Mast Cell 360 practice. Any commissions help support the newsletter, website, and ongoing research so Mast Cell 360 can continue to offer you free tips, recipes, and info. Thank you for your support!
References 
Carr, A. C., & Maggini, S. (2017). Vitamin C and Immune Function. Nutrients, 9(11), 1211. https://doi.org/10.3390/nu9111211
FoodData Central. (n.d.). Retrieved October 18, 2022, from https://fdc.nal.usda.gov/fdc-app.html
FoodData Central. (n.d.-b). Retrieved October 18, 2022, from https://fdc.nal.usda.gov/fdc-app.html
FoodData Central. (n.d.-c). Retrieved October 18, 2022, from https://fdc.nal.usda.gov/fdc-app.html
Low FODMAP Diet | IBS Research at Monash University – Monash Fodmap. (n.d.). Retrieved October 19, 2022, from https://www.monashfodmap.com/
Mao, Q. Q., Xu, X. Y., Cao, S. Y., Gan, R. Y., Corke, H., Beta, T., & Li, H. B. (2019). Bioactive Compounds and Bioactivities of Ginger (Zingiber officinale Roscoe). Foods (Basel, Switzerland), 8(6), 185. https://doi.org/10.3390/foods8060185
Weyh, C., Krüger, K., Peeling, P., & Castell, L. (2022). The Role of Minerals in the Optimal Functioning of the Immune System. Nutrients, 14(3), 644. https://doi.org/10.3390/nu14030644