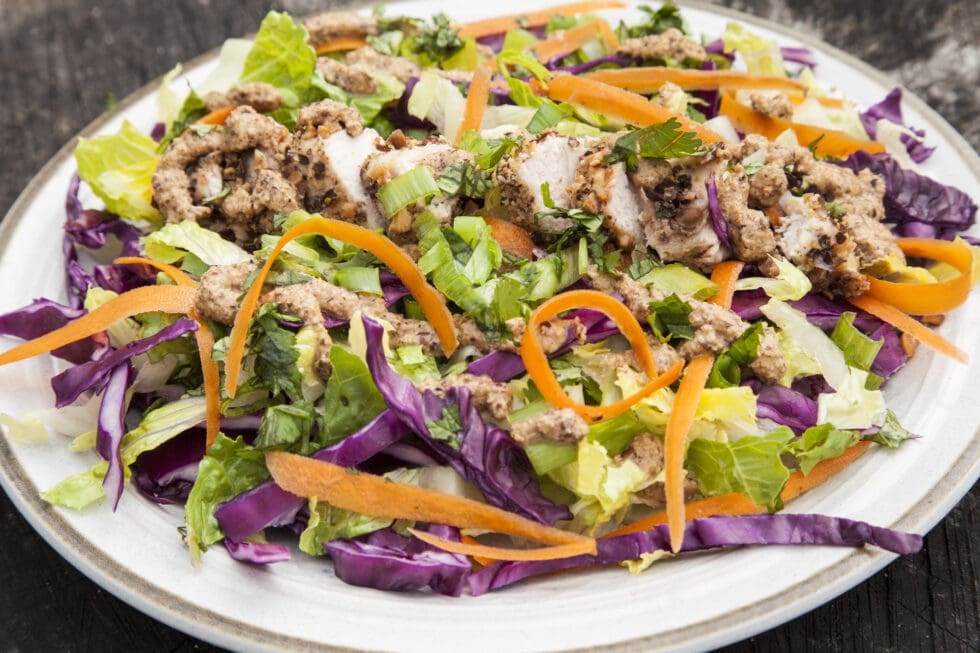 Low FODMAP Salad & Dressing with Baru Nut Crusted Chicken (Low Histamine, Low Oxalate, Low Lectin)
Dressings add flavor to any low histamine recipe and keep meals exciting. Interested in a recipe for a low histamine, low FODMAP dressing?
I've got that for you.
But this recipe isn't just about the dressing. It's a recipe for a low FODMAP salad with chicken, too.
I've used some outside the box ingredients as the salad base and added chicken to make this a hearty meal.
But the dressing really is the star. The creamy, nuttiness comes from baruka nuts (also called baru nuts). And it adds so much flavor to the dish.
This low FODMAP salad dressing takes plain protein and turns it into something craveable.
I do my best to keep all the recipes on the site low histamine, low lectin, and low to medium oxalate.
But I really love it when I can make a recipe even more inclusive for those with different food intolerances.
That's why I especially love that this recipe is FODMAP friendly.
I know how painful my gut felt when I had SIBO (Small Intestinal Bacterial Overgrowth) and ate high FODMAP foods.
Did you know the #1 root cause of FODMAP Intolerance is an imbalance of bacteria in the gut?
Eating low FODMAP foods really helped calm my gut.
So, I'm really appreciative of a good low FODMAP recipe now.
But even if you are cooking for people who don't need to follow a low FODMAP diet, this dressing brings bold flavor that anyone can enjoy.
This creamy, nutty dressing is:
Plus, it's so easy to make. The whole salad can come together in about 20 minutes. That's even if you bake the chicken rather than using thawed leftovers!
If you'd prefer to cook the chicken ahead of time to have on hand, use this Instant Pot Low Histamine Chicken Recipe to cook frozen chicken for your lowest histamine option. If you don't have an Instant Pot, use this oven roast chicken recipe.
Before we get to the Low FODMAP Dressing & Salad with Baru Nut Crusted Chicken recipe, take a look at why making your own dressing is better than buying commercial salad dressings.
Why Low FODMAP Salad Dressing?
Most of the clients I see who have Mast Cell Activation Syndrome also have some kind of food intolerance.
And commercial salad dressings pose a few potential problems if you have food intolerances.
Here's what you need to know before you pick up a bottled balsamic vinaigrette or ranch dressing from your store if you have Histamine Intolerance or FODMAP Intolerance.
Common High Histamine Ingredients in Dressings
Pre-packaged foods need to be shelf stable. So, manufacturers add preservatives and additives to make them last longer on the grocery store shelf.
Pre-packaged foods also tend to need additives for flavoring.
And then there's the matter of making the consistency of the product desirable.
That means store bought dressings are likely going to have a lot of ingredients that are high histamine.
Which can be a problem if you've got Mast Cell Activation Syndrome or Histamine Intolerance.
Related Article: Low Histamine Diet
For example, anything "artificial" is likely going to be high histamine.
For example:
Artificial colors
Artificial flavors
Artificial sweeteners
These preservatives and flavor enhancers are also high histamine:
Calcium chloride
Citric acid
Lecithin
Maltodextrin
MSG
"Natural flavors" that may contain MSG or gluten
Potassium sorbate
Sodium benzoate
"Spices" that may contain MSG or gluten
You may also find high histamine ingredients used for consistency and to prevent separation like:
Carrageenan
Hydrolyzed lecithin
Xanthan gum
High histamine ingredients are just one problem with commercially prepared dressings.
Dressing ingredients may also be adding to your pain if you've got FODMAP Intolerance.
Let's look at that next.
High FODMAP Ingredients
There was a time when I thought my gut symptoms were related to Irritable Bowel Syndrome (IBS). I struggled with IBS for a long time.
But IBS wasn't the only culprit behind my ongoing gut issues.
I mentioned earlier that I'd struggled with SIBO (Small Intestinal Bacterial Overgrowth).
For years.
And it led to FODMAP Intolerance.
That meant I suffered badly if I ate high FODMAP foods.
So, if you have FODMAP Intolerance, that's another reason to avoid commercially prepared dressings. They can have high FODMAP ingredients.
Here's a quick rundown of just a few examples.
The letters in FODMAP stand for:
Fermentable
Oligosaccharides
Disaccharides
Monosaccharides
And
Polyols
Related Article: FODMAP Intolerance
Some people only react to some of the types of FODMAPS. So, here are some of the common high FODMAP ingredients and which type they are.
Oligosaccharides
Oligosaccharides show up in dressings in high fodmap ingredients like:
Disaccharides
Disaccharides are carbohydrates made up of two sugar molecules.
There are 3 main disaccharides:
Dressing ingredients with disaccharides can include:
White sugar
Brown sugar
Milk
Cheese
Sour cream
Monosaccharides
Another term you'll come across for monosaccharides is fructose.
Examples of monosaccharides you might find in dressing include:
Honey
High fructose corn syrup
Ingredients like these are used for adding sweetness.
Polyols
Polyols include sugar alcohols like:
Sorbitol
Mannitol
Xylitol
Erythritol
These can be found in dressings as sweeteners, too. These are low calorie sweeteners, so they are often found in "lite" dressings.
Now you know a few of the problems with store bought dressings.
But you won't miss them with tasty, easy to make dressings like this one made with baru nuts.
Before we get to the Low FODMAP Dressing & Salad with Baru Nut Crusted Chicken recipe, here are a few notes for how you can change up the recipe to meet your needs.
Low FODMAP Salad Recipe Notes
Before you make any changes to your diet, here's what I want you to know.
Don't give up any foods unnecessarily. You should always work with your provider. Especially if what you can tolerate is already limited.
Dieticians can be very helpful in making sure your nutritional needs are still being met, even with food intolerances.
And if you do discover you need a low FODMAP diet, apps like the one from Monash University can be helpful, too.
Monash is the leader in reliable FODMAP information.
If you do have some food intolerances or dietary preferences, here are some notes for this Low FODMAP Dressing & Salad with Baru Nut Crusted Chicken.
For FODMAP Intolerance
This recipe is in large part already low FODMAP. But you may make one small change to lower the FODMAPS.
You have to omit minced garlic. Instead, you can use garlic infused olive oil or garlic infused ghee.
There's instructions in the recipe for how to make your own garlic infusion. It will take some preparation ahead of time.
While garlic is a high FODMAP food, garlic oil isn't.
For Oxalate Intolerance
If you have Oxalate Intolerance, here's how to tweak this recipe for your needs.
Carrots
There are varying degrees of Oxalate Intolerance. A ½ cup of raw carrots is considered high oxalate.
So, depending on how sensitive you are, you can omit the carrots completely. Or you can substitute a different crunchy vegetable like radishes.
However, if you can tolerate some oxalates, you could just use a few shavings per serving which would come in well under ½ cup.
One small carrot chopped is about ¼ cup. So, if you have 1 carrot for this recipe which makes 2 servings, that's only ⅛ cup each.
Pepper Seasoning
Black, green, and white pepper are higher histamine foods.
Pink peppercorns are lower histamine. But they are higher oxalate.
Again, depending on how sensitive you are, you may need to omit the ground pepper. But if you can tolerate a little, you may be fine with just a dash.
Sesame Seeds and Sesame Oil
Sesame seeds and tahini are high oxalate foods. But sesame oil is lower oxalate.

The best sesame oils come from Korea or Japan. I use this one from Kadoya. It really does make a big difference in the flavor.
Vegetarian
Whether you are a full-time vegetarian, do meatless Mondays, or just aren't in the mood for meat, you can adapt this recipe to your needs. To make this recipe vegetarian, leave out the chicken.
You can make it vegan by:
Leaving out chicken
Using the avocado oil or coconut oil option instead of ghee
Taste Preferences
We all have different things that we like and don't like.
Salad recipes are super flexible when it comes to changing out ingredients.
For example, in this recipe, if you don't like cabbage, you can use different low FODMAP ingredients. Romaine lettuce would be a great crispy substitute and arugula adds a peppery flavor.
Does cilantro taste like soap to you? No worries. Consider flat leaf parsley or basil instead.
I hope you enjoy this Low FODMAP Dressing & Salad with Baru Nut Crusted Chicken.
This recipe serves 2 as a hearty meal.
Because the chicken cooks while you prepare the rest the whole meal comes together in about 20 minutes! If you want to infuse the garlic oil, you'll want to plan for 35 minutes for that.
What to Serve Low FODMAP Salad and Dressing With
This salad would go well with these Low FODMAP recipes: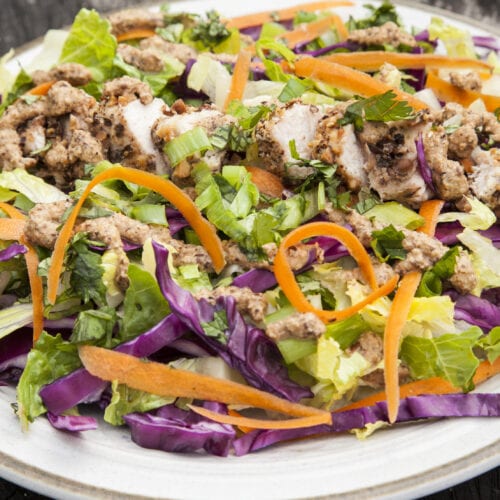 Low FODMAP Dressing & Salad with Baru Nut Crusted Chicken
Enjoy this low FODMAP salad recipe and dressing recipe that's also low histamine, low oxalate, and low lectin.
Ingredients
Low FODMAP Salad
¼

head

Red Cabbage

thinly sliced

1

head

Napa Cabbage

thinly sliced

1

Carrot

omit or reduce for Oxalate Intolerance

6

Green Onions

green only, omit white parts for FODMAP Intolerance, thinly sliced

¼

cup

Cilantro

roughly chopped

8

leaves

Fresh Mint

roughly chopped
Low FODMAP Salad Dressing
Garlic Infused Oil, optional (for FODMAP Intolerance)(*requires preparation in advance)
Instructions
Start the Garlic Infused Oil, optional (for FODMAP Intolerance)
Pour your oil of choice (Kassandrinos extra virgin olive oil, ghee, or coconut oil) into a pot.  

Warm the oil gently (don't let it overheat).

Peel and halve the garlic cloves.

Add garlic to the oil, turn off the heat, and let sit for 30 minutes.
Baru Nut Crusted Chicken
Preheat your oven to 400℉.

Line a baking sheet with parchment paper or a silicone mat for easy clean up.  

Cut chicken into thin strips.

In the first medium bowl, whisk an egg or use oil if you are not currently tolerating eggs. This only serves to act as a binder for the nuts. You just need some moisture to help the nuts hold. 

Pulse the 6 Tablespoons of baru nuts you have measured out for the chicken in a blender until small, but not a paste. Go slowly. It will turn to a paste quickly.

Place the 6 Tablespoons ground baru nuts into the second, empty medium bowl and stir in ½ teaspoon of salt.  

Dip the chicken strips into the bowl with the egg to coat. Remove.

Then dip the egg-coated chicken into the bowl with the ground baru nuts and salt mixture. Remove. 

Place baru nut chicken on the lined baking sheet.

Bake chicken for 15-18 minutes, until chicken is cooked through and no pink remains.  The internal temperature should be at least 165℉.
Low FODMAP Salad
While the chicken cooks, wash and chop the salad ingredients up (red cabbage, Napa cabbage, carrot, green onions, cilantro, and mint) and place in a large bowl.
Low FODMAP Salad Dressing
Put all the dressing ingredients (the ¼ cup of baru nuts you have set aside for the dressing, filtered water, lime juice, sesame oil, garlic or garlic oil, stevia, ginger, salt, pepper) in a blender, and blend until smooth. 
Finish the Garlic Infused Oil, optional (for FODMAP Intolerance)
After 30 minutes of simmering, strain into a clean mason jar making sure to remove all garlic pieces. A mesh strainer can be helpful.

Pour leftover oil into ice cube trays to freeze. Then store in the freezer for up to 3 months.

To reduce this risk of botulism, the garlic infused oil should be refrigerated and used within 2-3 days.

Garlic in oil should always be discarded after two hours at room temperature. 

Commercially prepared oils have added acids and other chemicals to eliminate the risk of botulism, but still must be handled carefully and correctly. 
Putting Your Low FODMAP Salad Together
Add cooked chicken to the salad bowl.

Pour the dressing on top of the salad and toss until the chicken and salad ingredients are evenly coated.  

Freeze any leftover chicken.
Nutrition
Nutrition Facts
Low FODMAP Dressing & Salad with Baru Nut Crusted Chicken
Amount per Serving
% Daily Value*
* Percent Daily Values are based on a 2000 calorie diet.
What are your favorite low FODMAP salad and dressing ingredients? Share in the comments below!
Want More Low FODMAP Recipes?
Some links in this website are affiliate links, which means Mast Cell 360 may make a very small commission if you purchase through the link. It never costs you any more to purchase through the links, and we try to find the best deals we can. We only recommend products that we love and use personally or use in the Mast Cell 360 practice. Any commissions help support the newsletter, website, and ongoing research so Mast Cell 360 can continue to offer you free tips, recipes, and info. Thank you for your support!
References
Worm M. (2011). Q&A: Food additive intolerance. BMC medicine, 9, 115. https://doi.org/10.1186/1741-7015-9-115
HappyForks. (n.d.-a). Recipe analyzer. https://happyforks.com/analyzer/result