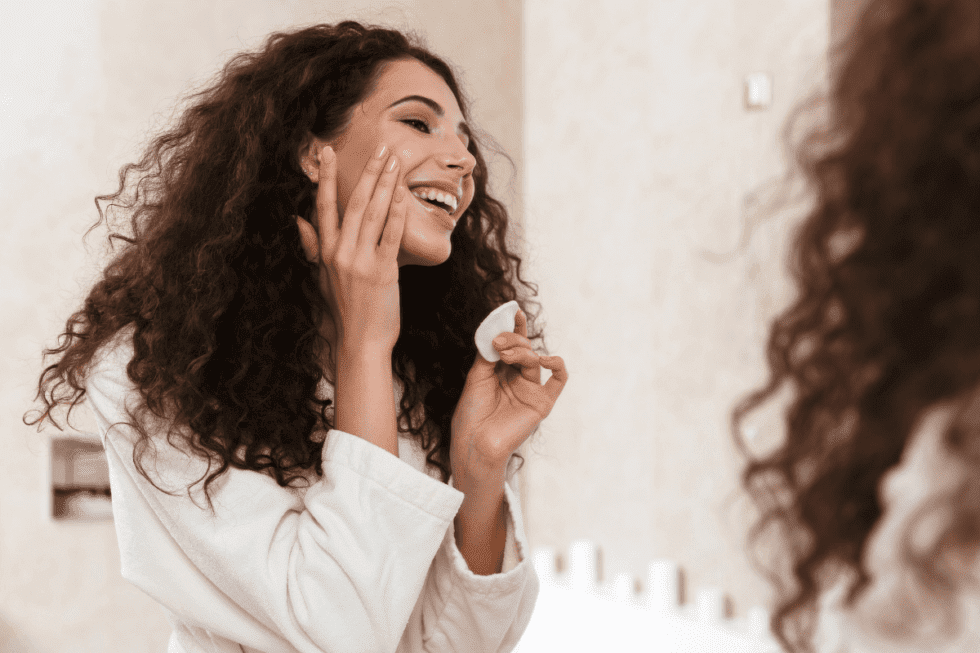 The Ultimate Anti-Aging Facial for People with Mast Cell Activation Syndrome
If you have Mast Cell Activation Syndrome and Histamine Intolerance you might want to take a closer look at your bathroom… 
But it's not for the reasons you might be thinking.  
I'm talking about your skincare products.   
When I work with my private clients, one of the first things I do is look at their personal skincare and hygiene products to identify triggers. From soaps and scrubs to makeup and facemasks…there are a lot of potential mast cell triggers to be found! 
Not only do we use these kinds of skincare products for our everyday hygiene like showers, but we use them to pamper ourselves, too.  
Have you ever had a challenging day and thought: I could really do with a cup of herbal tea and a relaxing facial?  
Taking that time for yourself is healthy and feels good!  
However, many of the standard skincare products on the market have ingredients that can trigger mast cells. So, what starts out as well-meaning self-care can end up in a mast cell flare and money wasted. 
That doesn't mean you can't have your at-home spa days, though.  
I've shared some of my favorite products with you in the past, and today, I've got something new for you. I've been sampling this line of skincare for several months now. Like always, I only share the things I truly love…and I really do love this new line! 
So, this week, I want to talk more about skin, skincare, and mast cells.  
In this blog post we'll look at:  
How mast cells contribute to sensitive skin

 

Mast cell triggers in skincare products

 

How to take care of sensitive skin

 

Mast cell friendly skincare products so you can enjoy some pampering

 

Step-by-step anti-aging facial!

 
Let's start by looking at how mast cells contribute to sensitive skin. 
Mast Cells and Sensitive Skin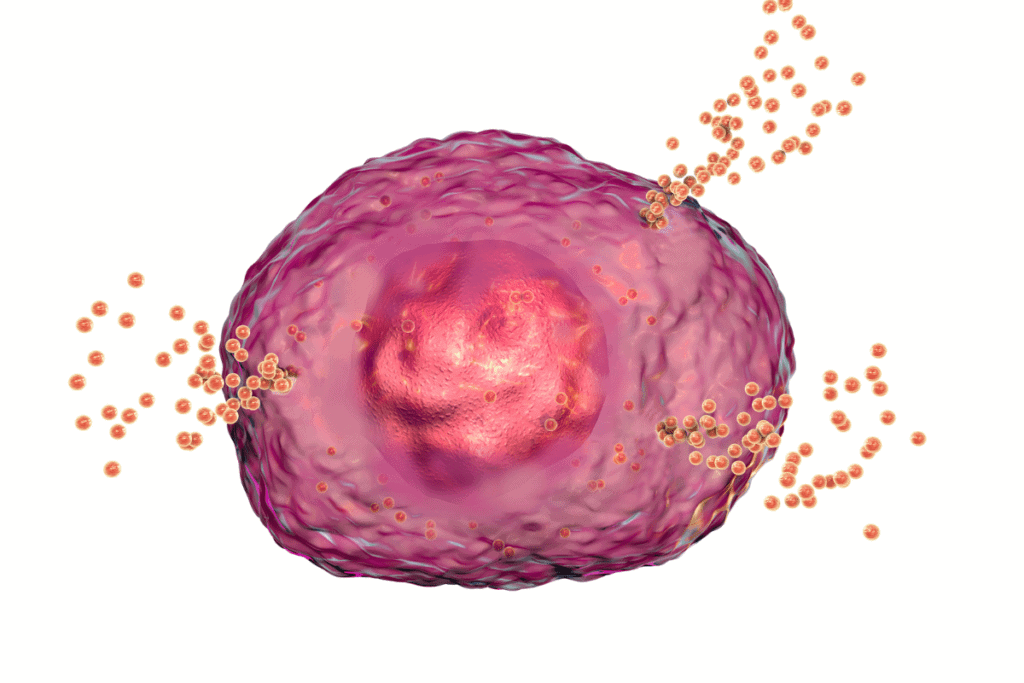 Did you know that skin is the largest organ we have? The average adult has about 22 square feet of skin! Amazing!  
By now, you probably know that mast cells are almost everywhere in the human body. That's part of the reason why the range of symptoms related to Mast Cell Activation Syndrome varies so widely.  
When it comes to the skin and Mast Cell Activation Syndrome, you might see things like:  
Burning sensations 

 

Dermatographia 

 

Eczema

 

Flushing

 

Hives

 

Itching

 

Psoriasis

 

Reddish complexion

 

Rosacea

 
So how do mast cells contribute to sensitive skin? A lot of it has to do with inflammation.  
Inflammation is a mast cell response. When mast cells become triggered, they can release certain mediators (like histamine) that cause inflammation. This inflammation can show up in symptoms like: 
Redness

 

Itching

 

Pain

 

Dryness of the skin

 
Mast cells can be triggered by a host of different things. Toxins, pollen, allergens, and chemicals can all be seen by the body as a threat. The body will trigger mast cells to deal with those threats.  
Have you ever noticed changes in your skin after you've used certain skincare products?  
That may be because of the ingredients in the skincare products you are using. 
A lot of skincare products on the market have chemicals, toxins, and allergens that will trigger mast cells.   
So how do these mast cells in the skin get triggered in the first place? Like you just read, toxins, allergens, and chemicals can all be mast cell triggers. It can be more than just the ingredients of a product that can trigger you, though!  
Let's look at that next. 
Mast Cell Triggers in Skincare Products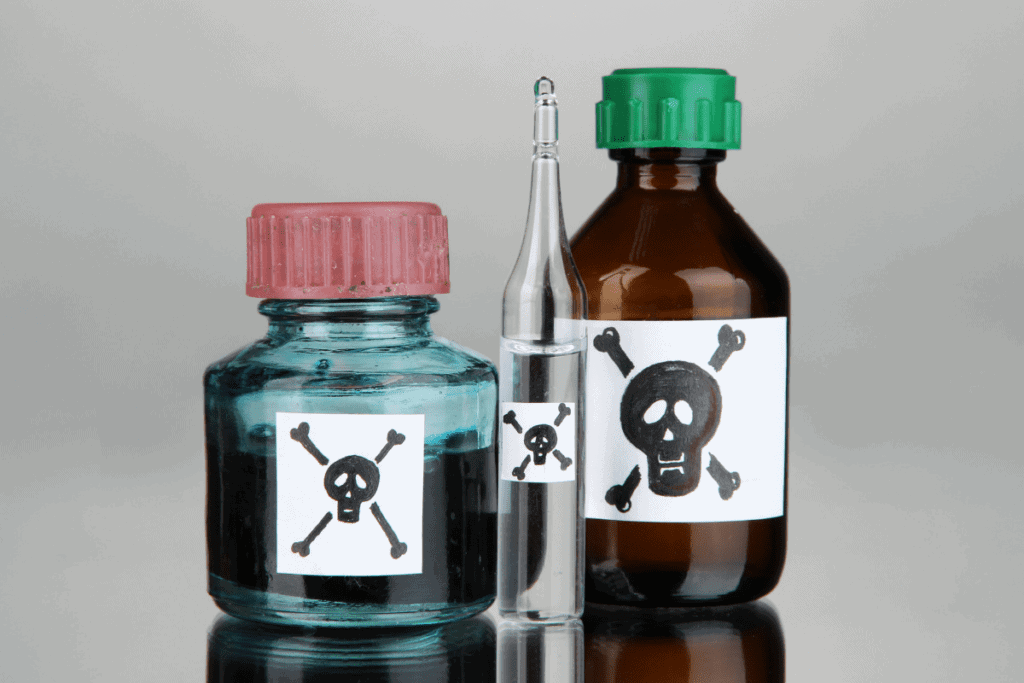 Have you ever picked up a product, read the ingredients, and wondered what half of them were? You're not alone in that!  
Even if you do recognize what some of the ingredients are, you might not suspect them to be a problem. 
Water, for instance. Water in and of itself is fine, of course. We need it to survive!  
There are potential problems with water in natural skincare products, though. Mold and bacteria can grow if there aren't preservatives. 
Mold and Bacteria 
Natural skincare products try hard to avoid chemical preservatives. Natural skincare products without preservatives can go bad more quickly, though…just like natural foods. 
If the skincare products contain water and don't use preservatives, they can easily grow mold and bacteria. 
Here's the gross part. You might have mold in your product and not see it…especially if it's in a tube.  
If you are only squeezing a little out at a time, you might not notice discoloration or see anything alarming. But I've seen pictures of some gross examples of mold growth in tubes that were cut open.  
TIP: Do you already have some natural skincare products that are water based? If they're new, one way to slow down bacterial growth is to keep those products in the fridge and use them quickly. I'd hate for you to let them go to waste!  
But if they're more than 2 months old you'll want to replace them soon with non-water based products like Annmarie Skincare products. 
So, you can see why preservatives are used in water-based products. 
But here's the other problem with preservatives if you have Mast Cell Activation Syndrome. Many preservatives are often highly toxic chemicals that can trigger the mast cells. 
Preservatives and Mast Cells 
So, what about those other ingredients that you don't recognize? The Environmental Working Group lists these preservatives as the worst:  
Formaldehyde – carcinogen

 

Dibutyl & diethylhexyl phthalates – affects hormones and reproductive organs

 

Isobutyl & isopropyl parabens– affects hormones and reproductive organs

 

Methylene glycol – a form of formaldehyde

 

Paraformaldehyde – a form of formaldehyde 

 

Quaternium 15 – releases formaldehyde

 

PFAS – carcinogens

 
Hopefully none of your products contain any of these! 
Not all preservatives are toxic. There are some non-toxic preservatives that are fine for a lot of people. 
However, even these can be a problem for many of us with Mast Cell Activation Syndrome.
Here are a few:  
Sodium benzoate

 

Potassium sorbate and

 

Citric acid

 
There is a fairly easy way to avoid these types of preservatives and avoid potential exposure to mold, too. You can look for oil-based or dry products. It's as easy as that!  
Now, that's not to say that oil-based products last forever. It's just that oil-based products are less likely to need chemical preservatives and are naturally less likely to have mold growth. Some oils naturally have properties that destroy bacteria and fungi. 
This new line of products I'm loving is called Annmarie Skincare. And they have just those types of oil-based and dry skincare products. 
These products are 100% natural. And because they are oil-based, they avoid the need for the preservatives required for water-based products. 
Here's another great thing about Annmarie. They are completely toxin free! Here's what Annmarie pr ducts don't have: (and you won't miss any of it!)  
Aluminum

 

Carrageenan

 

Fragrance

 

Mineral Oil (Paraffin Oil, Paraffin Wax, Petrolatum, Liquid Paraffinum)

 

Nanoparticles

 

Parabens 

 

Phthalates

 

Ethylene Glycol

 

Oxybenzone

 

Surfactants (lathering agents) such as:

 

Ammonium Laureth Sulfate (ALES)

 

Ammonium Lauryl Sulfate (ALS)

 

Potassium Coco Hydrolyzed Collagen

Sodium Coco Sulfate (SCS)

 

Sodium Laureth Sulfate (SLES)

 

Sodium Lauryl Sulfate (SLS) and others

 

High-risk pesticide residue, such as: 

 

Acetochlor 

 

Glyphosate

 

Paraquat and others

 

GMOs

 

Styrene

 

Siloxanes and Silanes (Silicon-Based Ingredients)

 
And that's a shortened list! They really take care to provide what they call clean beauty.  
Remember – your skin absorbs everything you put on it. If you want healthy, glowing skin you want to use non-toxic and effective ingredients.   
If you wouldn't eat it, don't put it on your skin! 
Now that you've seen all the junk that's left out of Annmarie skincare products, let's look at the good stuff it does have. And then…it's facial time!  
Healthy Skin with Annmarie Skincare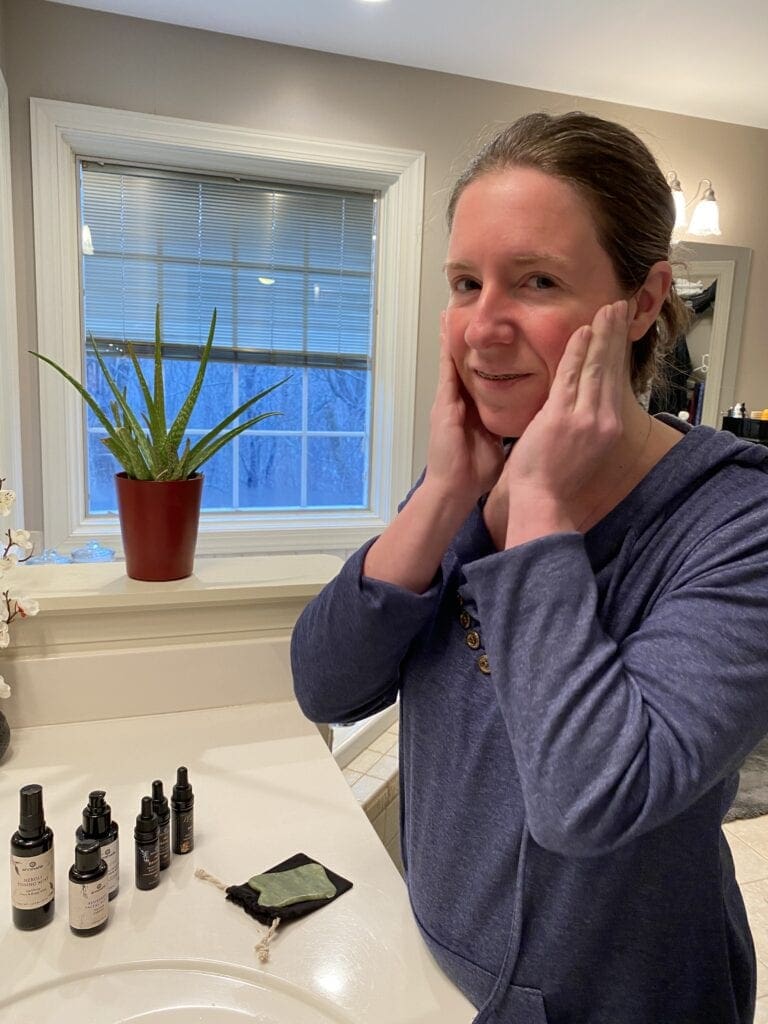 I spent a long time checking out various skincare products. Why? Because people with Mast Cell Activation Syndrome already have way too high of a toxic load in their bodies. 
I'm also concerned that skincare isn't regulated at all in the US. This means that any skincare company can put toxins in their products and sell them.  
The European Union has a ban on over 1,000 chemicals when it comes to cosmetics. The US has a ban on only 11. Shocking! 
This is why I had several calls with Annmarie Skincare. I also did my own research on them (and several other companies). I tried out their products, too.  
My standards are very high when it comes to products I'll use and recommend. 
Annmarie Skincare was one of the very few companies that made the cut. In fact, they came out at the very top of the companies I researched and tested.  
I know what it's like to try product after product only to end up having to throw most of it away because it caused a reaction. I hate wasting money! 
I want to take some of the guess work out of shopping for you, so you can use and enjoy what you buy!  
Annmarie starts with wildcrafted and organic ingredients.  
Wildcrafted means plants are harvested from their natural habitat. About 95% of the ingredients they use are wildcrafted and free of toxic pesticides.  
That's why you won't see them labeled as "organic." Wild sourced plants can't be organic certified.   
Any supplemental ingredients that aren't wildcrafted are sourced from companies using sustainable and organic practices. 
Once these herbs are gathered, they are infused into organic aloe vera and skin-nutritive oils. They are infused for up to 30 days. These infusions form the base of all their formulas.   
Their products are also MADE SAFE® certified. That means they have been screened for: 
Behavioral, developmental, and reproductive toxins

 

Carcinogens

 

Endocrine disruptors

 

Heavy metals

 

Neurotoxins

 

High-risk pesticides

 

Toxic solvents

 

Harmful VOCs

 
They did a lot of research on industry practices. What they uncovered were a lot of chemical derivatives in so-called natural ingredients. 
They wanted no part of that in their products, so they worked to create their own processes. They felt like that was the way forward for them to deliver the high-quality, clean beauty products they were passionate about.  
Instead of toxic preservatives and chemicals, with Annmarie products you'll find all-natural, effective botanical ingredients. Many are known to support the mast cells, too! 
I'll tell you about some of those as we go through the facial next. 
Step-By-Step At-Home Facial
Annmarie Skincare has a wide selection of products. They're all very clean and of high quality. Some of them had some higher histamine ingredients, though. 
I went through every product on their website with a fine-tooth comb, so you don't have to. I've already tried out several and narrowed the choices down to the gentlest products you'll likely do best with.  
I found all the options you'll need for a rejuvenating facial. Let's get started with some basics. (If you want even more pampering, there are more fun options below!) 
Watch this Facebook Live where I show you all the products:
Skincare expert Rachel Pachivas walked us through the facial live on Facebook!  
Here are the facial steps we'll be doing. You can bookmark this page so you can come back anytime and see the steps.  
Step 1. Cleanse and Exfoliate. 
You want to start with clean skin. I absolutely love the Ayurvedic Facial Scrub. 
This scrub cleans your skin, and it exfoliates. Exfoliation just means getting rid of dead skin cells from the surface of your skin. It can give your skin a fresher, brighter look. 
Some natural exfoliants are made from ground up seeds. This one has fenugreek seeds to do just that.  
Fenugreek has been shown to have:  
anti-inflammatory

 

antioxidant

 

antifungal and 

 

antibacterial properties.

 
This scrub does more than exfoliate, though. It's calming for the mind and the skin. 
Lavender, rosemary, and lemon balm have been shown to have mast cell supporting properties such as being anti-inflammatory.  
And lavender can help ease stress through aromatherapy.  
This scrub also has clay to absorb excess oil. But if you have dry skin, don't worry. This won't over-dry your skin. It's considered suitable for all skin types. 
This scrub and the toning mist (which comes next) also have aloe vera.   
Aloe vera has traditionally been used to treat burns, cuts, and other skin conditions. It's great for this because it has: 
anti-inflammatory

 

antimicrobial

 

and wound healing properties.

 
It's soothing and feels light on the skin, too. That makes it a great ingredient for the face. 
This product has so many great ingredients. I'll tell you about one more: neem.  
Neem's benefits include being: 
anti-inflammatory

 

antifungal

 

antibacterial

 

antiviral

 

and having antioxidant properties, too.

 
You're getting a lot of benefits from just that one ingredient alone! 
Step 2. Toner 
After you've given your face a good scrub, you can use the Neroli Toning Mist. This aloe vera infusion gives your skin a hydration boost. It's great for facials, but you can also use it throughout the day for a fresher upper. 
One of the main ingredients is aloe which we just talked about. Another main ingredient is neroli oil.  
Neroli is an essential oil made from flowers of the bitter orange tree. That's what gives it the orange-blossom scent.  
Neroli has been shown to have: 
antibacterial and

 

anti-inflammatory properties. 

 
Some people with Mast Cell Activation Syndrome experience skin breakouts like acne because of inflammation. Bacteria can trigger acne, too. So, an ingredient like neroli oil which has both antibacterial and anti-inflammatory properties may be helpful.  
This toning mist also has aspen extract.   
Aspen has been shown to have: 
antioxidant properties (anti-aging)

 

and is antimicrobial, too. 

 
Antioxidants help protect cells against the negative effects of free radicals. Free radicals contribute to aging by damaging cells.  
Antimicrobials can inhibit the growth of bacteria, mold, and mildew. That's good for the product (natural preservative) and good for your face!  
One study showed that on average, people touch their face 23 times per hour!  
When you think about all the potentially contaminated surfaces you touch during the day (handshakes, bathroom doors, shared office equipment, grocery carts, cell phones), that can be a lot of bad bacteria transferred directly onto your face! So, antimicrobials in your products can be a big benefit!  
Plus, these types of herbal antimicrobial ingredients can simultaneously support the good bacteria on your skin – it's a win-win! 
Step 3. Facemask 
The next step of the facial is a soothing facemask. Facemasks can feel like the ultimate at-home pampering. When I think of a spa day, I think of relaxing in a reclining chair in a fluffy robe with some nice music playing in the background. I've got a facemask on, and my eyes are closed. Ahh! Pure bliss.  
This Coconut Honey Mask hydrates, moisturizes, and nourishes dry skin. It also smells amazing. Everything from Annmarie is natural and I love being able to appreciate the botanical aromas. 
This mask is all food-grade ingredients. It smells absolutely delicious. I really couldn't help myself. I did sneak a taste – it tastes divine too!   
This mask is made with pure Colorado mountain wildflower honey.   
Honey's benefits: 
amino acids that help keep skin looking smooth and plump 

 

antimicrobial

 

antioxidant

 

anti-inflammatory 

 
You may have noticed that a lot of ingredients in Annmarie skincare are anti-inflammatory.  
That's great news if you have skin-related symptoms from Mast Cell Activation Syndrome. Remember, mast cells can contribute to sensitive skin. And a lot of that is related to inflammation.  
Coconut oil is one of my favorite ingredients for everything. I use it in a lot of recipes, but it's also good for cosmetic use, too. 
If you wear make-up, pure coconut oil is a great eye-makeup remover. 
And when coconut oil is in a great product like this facemask, you'll get: 
moisturizing benefits

 

anti-inflammatory benefits

 

and antioxidant benefits, too.

 
Can't you just see yourself kicking back with this facial treatment? 
Step 4. Moisturize 
To finish your at-home spa day, check out this Herbal Facial Oil. It's suitable for all skin types including sensitive skin, dry skin, and combination skin. 
This calming and soothing formula has omega-rich oils to nourish and revitalize skin. 
Now, you might be wondering why an oil is suitable for all skin types. You might be thinking, I have oily skin! I don't want to add more oil!  
Here's what Annmarie says about that:  
"Our Herbal Facial Oils are fantastic moisturizers, especially for those with clogged pores…It seems contrary to put a facial oil on a skin type that is prone to clogged pores, but by using an oil your skin will sense that moisture levels are more normalized which helps balance vital skin oils." 
That's great news for all types of skin!  
This moisturizer packs a big punch. It has both lavender and rosemary which we already talked about in the facial scrub. 
It's also got calendula flower.  
Calendula has been shown to alleviate the appearance of redness in the skin.  
This moisturizer also has several different seed oils like perilla seed oil, pomegranate seed oil, and cranberry seed oil.  
These oils: 
moisturize

 

firm and tighten the skin

 

reduce the appearance of fine lines and wrinkles

 
And if perilla seed sounds familiar to you, it's one of the top 8 mast-cell supporting supplements I recommend. Among its many benefits, it has been shown to reduce skin allergic reactions.  
Here's something you might not have heard about: sea buckthorn. Contrary to its name, it does not come from the sea. It's a shrub with leaves and berries, and it's been used for centuries to help with various ailments. 
Sea buckthorn is: 
rich in vitamins A, B, C, E, and K

 

full of antioxidants

 

rich in omega fatty acids

 

anti-inflammatory 

 
Studies have also shown that certain omega fatty acids can reduce skin sensitivity and inflammatory skin disorders. 
Are you excited to try this great skincare line? Here's where you can get the products for the facial. 
How to Save on Annmarie Skincare Products
You can get all these great products a la carte, but Annmarie put together a special for our community if you get them all in one bundle!  
When you get the Basic Skin Care Favorites Bundle, Annmarie Skincare is offering our community a special deal. 
You'll get the Ayurvedic Facial Scrub, Neroli Toning Mist, Coconut Honey Mask and Herbal Facial Oil for 10% off when you get it as a bundle! 
Want a little extra self-care? Take a look at some of my other favorites. 
Have you heard of Gua Sha? Gua Sha is an ancient Chinese technique used to ease facial tension. It's done using a smooth piece of jade like this Gua Sha Lifting Tool. 
Here's how it's used:  
After cleansing, mist your face with toner and then apply a generous amount of your preferred facial oil. (Think of this as a massage with massage oil helping the tool glide along your face.) 
Do one side of your face at a time…But be sure to do both sides!  
Take the tool and start along your neckline, gliding up to your jaw. 
Next, moving along your jawline, sweep the tool gently upwards until it reaches your earlobes. Then sweep the tool from the sides of your lip towards your cheekbone. 
Use the curved end of the tool for delicate areas near your eyes and brow starting at the inner part of your face moving the tool outwards. You don't want to use much pressure under your eyes. 
Next, focus on the middle of your forehead and sweep the tool upwards and out to your hairline. 
I love to finish by using it on the back of my neck. I position it so the notch on the short edge goes over my cervical spine. Then I gently run it up and down my neck.   
This is so relaxing! 
Repeat each step 3-5 times. 
Want to give your face some extra attention? Check out these Concentrated Boosting Elixirs. This is a set of 3 different elixirs: Hydrate, Brighten, and Revitalize. 
You don't use these elixirs directly on your skin because they are so concentrated.  
You only use about 1-3 drops of these elixirs. You mix these drops in your palm with your Herbal Facial Oil. Then you apply to your face. 
This set is designed to work together to address any specific skin concern. While one is working to gently exfoliate, another is working to brighten and even tone and yet another is working to sustain healthy and resilient skin.  
All the elixirs here are suitable for all skin types. You can use Hydrate morning and night.  
Hydrate has: 
hyaluronic acid for supreme hydration

 

aspen bark for antioxidant properties

 
Brighten is suggested for use with your morning routine. It's got sea buckthorn, vitamin C, and jojoba seed oil.  
The sea buckthorn we just talked about.  
Vitamin C benefits: 
targets dark spots

 

gives your skin a bright glow

 

rich in antioxidants (anti-aging benefits)

 
Jojoba seed oil benefits: 
has been used in products to aid in repair of the skin barrier

 

has been shown to have anti-inflammatory and antioxidant effects on the skin

 
Revitalize is suggested for your evening skincare routine. It has jojoba and buriti.  
Buriti is a fruit native to South America. It looks a little bit like a strawberry.   
Along with jojoba, this gives this product antioxidant effects. 
Skin care also means skin protection. Even daily sun exposure can take a toll on the skin and speed up aging. 
This sun protection has Broad Spectrum SPF 20. It's formulated with non-nano zinc oxide to protect from UV rays. And it moisturizes as it protects! 
What I love best about it is that it doesn't leave you pasty like most natural sunscreens. 
Sun Love protects with zinc oxide, but it is non-nano so it isn't going to penetrate the skin in the same way toxic nanoparticles do.  
Additionally, this Sun Love gives you moisturization with sunflower seed oil, olive oil and hemp seed oil.  
It's also got lavender and buriti, too! Both are great for the skin and mast cells.  
Want to get some of these additional products for your skin care routine? 
Annmarie has created another special bundle offer that includes everything in the Basic Skin Care Favorites PLUS these additions.  
When you get the Ultimate Skin Care Favorites Bundle, you'll get 20% off! 
The Ultimate Skin Care Bundle includes:  
Ayurvedic Facial Scrub

 

Neroli Toning Mist 

 

Coconut Honey Mask

 

Herbal Facial Oil for Sensitive Skin

 

All 3 Concentrated Boosting Elixirs: Brighten, Hydrate, and Revitalize

 

Gua Sha Lifting Tool

 

Sun Love

 
And this bundle is 20% off for the Mast Cell 360 Community! 
Here's a Facebook Live where you can see me use the products: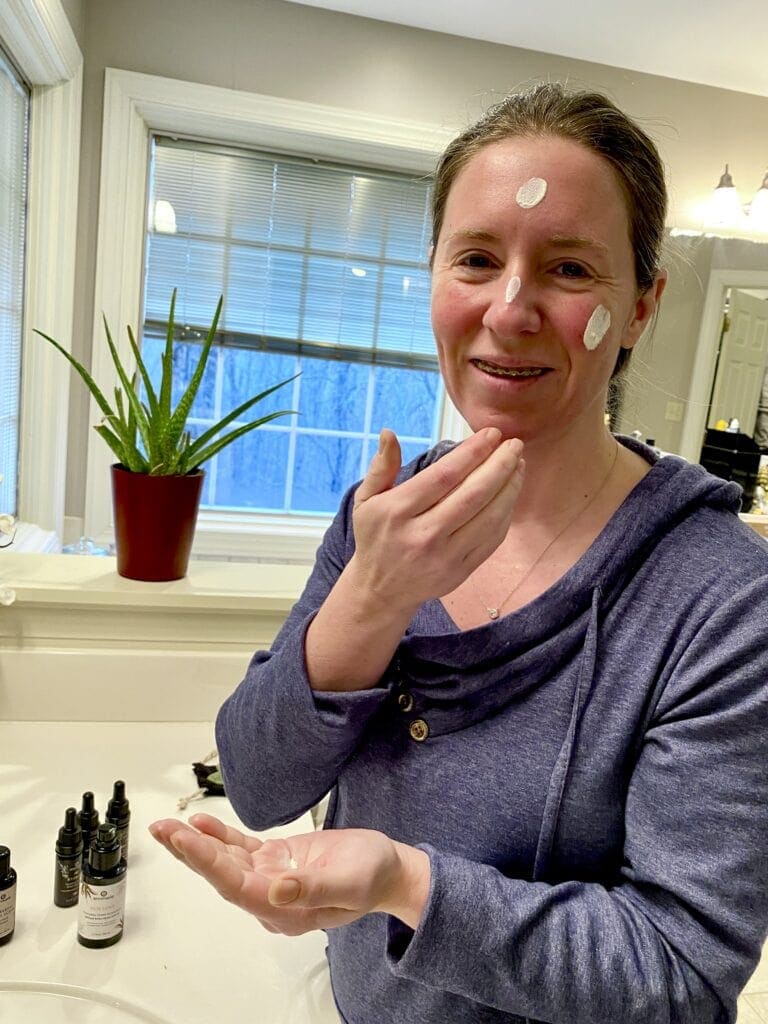 I wanted to treat myself to a spa treatment for years, but the one time I did my skin was on fire from the products they used! 
Probably like me, you've had so many years of having to be really careful with even organic skincare products. And you've probably had to use basic products because most skincare products made your sensitive skin worse.  
Now, I like to give myself spa treatments at home. And it's so much less expensive! 
I've looked at the ingredients in the Annmarie facial products carefully. I've tested them for myself. I've had clients who have tested them, too, and loved them.  
These products tend to work well because they don't have chemical additives or high histamine ingredients. The botanicals aren't treated with toxic pesticides. There are no GMO ingredients, either. 
If you have sensitive skin from Mast Cell Activation Syndrome, you'll likely love these products! Especially if your skin responds well to ingredients like coconut oil and very gentle herbals. 
You'll likely do quite well with them. 
Enjoy some "me" time or get together with a friend to share the experience of relaxation and healthy skincare! 
What if you have Salicylate Intolerance, though? 
Here's something to consider if you have Salicylate Intolerance. There are a lot of herbal ingredients in these all-natural products. That means this might not be the best option if you have significant Salicylate Intolerance. 
Salicylate Intolerance isn't common. But those who have it may have issues with plant-based products like coconut oil on their skin. 
If you do have Salicylate Intolerance, check out Cleure that specializes in salicylate-free skincare for some options that might be right for you! 
Just pick out your cleanser, toner, mask, and moisturizer and follow along with the at-home anti-aging spa facial video above! 
And, you can still use the Gua Sha Lifting Tool for your facial! 
*Some links in this website are affiliate links, which means Mast Cell 360 may make a very small commission if you purchase through the link. It never costs you any more to purchase through the links, and we try to find the best deals we can. We only recommend products that we love and use personally or use in the Mast Cell 360 practice. Any commissions help support the newsletter, website, and ongoing research so Mast Cell 360 can continue to offer you free tips, recipes, and info. Thank you for your support!
Ammar, A. H., Bouajila, J., Lebrihi, A., Mathieu, F., Romdhane, M., & Zagrouba, F. (2012). Chemical composition and in vitro antimicrobial and antioxidant activities of Citrus aurantium l. flowers essential oil (Neroli oil). Pakistan journal of biological sciences: PJBS, 15(21), 1034–1040. https://doi.org/10.3923/pjbs.2012.1034.1040 
Amorim, V. R., Rodrigues, D. C., Silva, J. do, Ramos, C. L., Almeida, L. M., Almeida, A. A., Pinheiro-Neto, F. R., Almeida, F. R., Rizzo, M. S., Pereira-Freire, J. A., & Ferreira, P. M. (2021). Anti-inflammatory mechanisms of fruits and by-products from Mauritia flexuosa, an exotic plant with functional benefits#. Journal of Toxicology and Environmental Health, Part A, 84(11), 441–457. https://doi.org/10.1080/15287394.2021.1881672 
Angelo, G. (2022, January 3). Essential Fatty Acids and Skin Health. Linus Pauling Institute. Retrieved January 13, 2022, from https://lpi.oregonstate.edu/mic/health-disease/skin-health/essential-fatty-acids 
Arora, D., Rani, A., & Sharma, A. (2013). A review on phytochemistry and ethnopharmacological aspects of genus Calendula. Pharmacognosy reviews, 7(14), 179–187. https://doi.org/10.4103/0973-7847.120520 
Bagetta, G., Cosentino, M., & Tsukasa, S. (2016). Aromatherapy: Basic Mechanisms and Evidence Based Clinical Use (Clinical Pharmacognosy Series) 1st Edition (First ed.). Boca Raton, FL: CRC Press. 
Bentham Science Publishers. (2005). Medicinal Properties of Neem Leaves: A Review: Ingenta Connect. Ingenta Connect. Retrieved January 12, 2022, from https://www.ingentaconnect.com/content/ben
/cmcaca/2005/00000005/00000002/art00006 
Bhattacharyya, T. K., Pathria, M., Mathison, C., Vargas, M., & Thomas, J. R. (2014). Cosmeceutical effect on skin surface profiles and epidermis in UV-B-irradiated mice. JAMA facial plastic surgery, 16(4), 253–260. https://doi.org/10.1001/jamafacial.2013.2582 
Birdane, Y. O., Birdane, F. M., Cemek, M., & Yavuz, H. (2007). Anti-inflammatory and Antinociceptive Effects of Melissa Officinalis L. in Rodents. Revue de Médecine Vétérinaire, 158(02), 75–81. https://www.researchgate.net/profile/Yavuz-Birdane/publication/256841456_Anti-inflammatory_and_Antinociceptive_Effects_of_
Melissa_Officinalis_L_in_Rodents/links/
0c960523e1a51738cc000000/Anti-inflammatory-and-Antinociceptive-Effects-of-Melissa-Officinalis-L-in-Rodents.pdf  
Brown et al. The role of skin absorption as a route of exposure for volatile organic compounds (VOCs) in drinking water. Am J Public Health. 1984 May; 74(5): 479–484. 
Cardia, G., Silva-Filho, S. E., Silva, E. L., Uchida, N. S., Cavalcante, H., Cassarotti, L. L., Salvadego, V., Spironello, R. A., Bersani-Amado, C. A., & Cuman, R. (2018). Effect of Lavender (Lavandula angustifolia) Essential Oil on Acute Inflammatory Response. Evidence-based complementary and alternative medicine: eCAM, 2018, 1413940. https://doi.org/10.1155/2018/1413940 
Chemicals of Concern. Accessed July 6, 2019. Campaign for Safe Cosmetics. http://www.safecosmetics.org/get-the-facts/chem-of-concern/ 
Cianciosi, D., Forbes-Hernández, T. Y., Afrin, S., Gasparrini, M., Reboredo-Rodriguez, P., Manna, P. P., Zhang, J., Bravo Lamas, L., Martínez Flórez, S., Agudo Toyos, P., Quiles, J. L., Giampieri, F., & Battino, M. (2018). Phenolic Compounds in Honey and Their Associated Health Benefits: A Review. Molecules (Basel, Switzerland), 23(9), 2322. https://doi.org/10.3390/molecules23092322  
Crinnion W. J. (2010). Toxic effects of the easily avoidable phthalates and parabens. Alternative medicine review: a journal of clinical therapeutic, 15(3), 190–196. 
Faber, S. (2020, May 5). The Toxic Twelve Chemicals and Contaminants in Cosmetics. Environmental Working Group. Retrieved January 12, 2022, from https://www.ewg.org/the-toxic-twelve-chemicals-and-contaminants-in-cosmetics  
Gianni, A. (2021, October 19). Perilla Seed Oil — Our New Ingredient Will Help You Fall in Love With Your Sensitive Skin. Annmarie Skin Care. Retrieved January 12, 2022, from https://www.annmariegianni.com/perilla-seed-oil-for-sensitive-skin/ 
Gliński W. (2003). Wyprysk alergiczny [Allergic contact dermatitis]. Polski merkuriusz lekarski : organ Polskiego Towarzystwa Lekarskiego, 14(84), 605–608.  
Harvima, I. T., & Nilsson, G. (2011). Mast cells as regulators of skin inflammation and immunity. Acta dermato-venereologica, 91(6), 644–650. https://doi.org/10.2340/00015555-1197 
Harvima, I. T., Nilsson, G., & Naukkarinen, A. (2010). Role of mast cells and sensory nerves in skin inflammation. Giornale italiano di dermatologia e 
venereologia : organo ufficiale, Societa 
italiana di dermatologia e sifilografia, 145(2), 195–204. 
Harvima, I. T., Nilsson, G., Suttle, M. M., & Naukkarinen, A. (2008). Is there a role for mast cells in psoriasis?. Archives of dermatological research, 300(9), 461–478. https://doi.org/10.1007/s00403-008-0874-x 
Johns Hopkins. (n.d.). Rashes and Skin Inflammation. Johns Hopkins Medicine. Retrieved January 8, 2022, from https://www.hopkinsmedicine.org/health/
wellness-and-prevention/rashes-and-skin-inflammation 
Jones, K. (2021, October 28). Beyond the eczema rash. National Eczema Association. Retrieved January 8, 2022, from https://nationaleczema.org/beyond-the-eczema-rash/
Kashyap, N., Kumari, A., Raina, N., Zakir, F., & Gupta, M. (2022, February 1). Prospects of essential oil loaded nanosystems for skincare. ScienceDirect. Retrieved January 12, 2022, from https://www.sciencedirect.com/science/article
/pii/S2667031321001809 
Kwok, Y. L., Gralton, J., & McLaws, M. L. (2015). Face touching: a frequent habit that has implications for hand hygiene. American journal of infection control, 43(2), 112–114. https://doi.org/10.1016/j.ajic.2014.10.015 
Lin, T. K., Zhong, L., & Santiago, J. L. (2017). Anti-Inflammatory and Skin Barrier Repair Effects of Topical Application of Some Plant Oils. International journal of molecular sciences, 19(1), 70. https://doi.org/10.3390/ijms19010070 
Liu, K., MD. (2020, January 23). The hype on hyaluronic acid. Harvard Health. https://www.health.harvard.edu/blog/the-hype-on-hyaluronic-acid-2020012318653
Mandal, M. D., & Mandal, S. (2011). Honey: its medicinal property and antibacterial activity. Asian Pacific journal of tropical biomedicine, 1(2), 154–160. https://doi.org/10.1016/S2221-1691(11)60016-6 
Mariana, M., Feiteiro, J., Verde, I., & Cairrao, E. (2016). The effects of phthalates in the cardiovascular and reproductive systems: A review. Environment international, 94, 758–776. https://doi.org/10.1016/j.envint.2016.07.004 
Mashiko, S., Bouguermouh, S., Rubio, M., Baba, N., Bissonnette, R., & Sarfati, M. (2015). Human mast cells are major IL-22 producers in patients with psoriasis and atopic dermatitis. The Journal of allergy and clinical immunology, 136(2), 351–9.e1. https://doi.org/10.1016/j.jaci.2015.01.033 
Mayo Clinic. (2020, November 17). Vitamin C. Retrieved January 13, 2022, from https://www.mayoclinic.org/drugs-supplements-vitamin-c/art-20363932
Monneret C. (2017). What is an endocrine disruptor?. Comptes rendus biologies, 340(9-10), 403–405. https://doi.org/10.1016/j.crvi.2017.07.004 
Nagulapalli Venkata, K. C., Swaroop, A., Bagchi, D., & Bishayee, A. (2017). A small plant with big benefits: Fenugreek (Trigonella foenum-graecum Linn.) for disease prevention and health promotion. Molecular nutrition & food research, 61(6), 10.1002/mnfr.201600950. https://doi.org/10.1002/
mnfr.201600950 
National Psoriasis Foundation. (2021, November 9). Psoriasis: Causes, Triggers and Treatments. Retrieved January 8, 2022, from https://www.psoriasis.org/about-psoriasis/ 
Neacsu, M., Eklund, P.C., Sjöholm, R.E. et al. Antioxidant flavonoids from knotwood of Jack pine and European aspen . Holz Roh Werkst 65, 1–6 (2007). https://doi.org/10.1007/s00107-006-0121-0 
Nguyen, A. T. (2020, April 21). Inhibition of Proinflammatory Cytokines in Cutibacterium acnes-Induced Inflammation in HaCaT Cells by Using Buddleja davidii Aqueous Extract. Hindawi. Retrieved January 8, 2022, from https://www.hindawi.com/journals/iji/2020/
8063289/  
NIH. (2021). Endocrine Disruptors. National Institute of Environmental Health Sciences. Retrieved January 8, 2022, from https://www.niehs.nih.gov/health/topics/agents/
endocrine/index.cfm 
Patel, C. A., Divakar, K., Santani, D., Solanki, H. K., & Thakkar, J. H. (2012). Remedial Prospective of Hippophae rhamnoides Linn. (Sea Buckthorn). ISRN pharmacology, 2012, 436857. https://doi.org/10.5402/2012/436857 
Prusakiewicz, J. J., Harville, H. M., Zhang, Y., Ackermann, C., & Voorman, R. L. (2007). Parabens inhibit human skin estrogen sulfotransferase activity: possible link to paraben estrogenic effects. Toxicology, 232(3), 248–256. https://doi.org/10.1016/j.tox.2007.01.010 
Sánchez, M., González-Burgos, E., Iglesias, I., & Gómez-Serranillos, M. P. (2020). Pharmacological Update Properties of Aloe Vera and its Major Active Constituents. Molecules (Basel, Switzerland), 25(6), 1324. https://doi.org/10.3390/molecules25061324 
Singh, S., & Li, S. S. (2012). Epigenetic effects of environmental chemicals bisphenol A and phthalates. International journal of molecular sciences, 13(8), 10143–10153. https://doi.org/10.3390/ijms130810143 
Skin. (2021, May 3). Science. Retrieved January 8, 2022, from https://www.nationalgeographic.com/science/
article/skin-1 
St-Pierre, A., Blondeau, D., Lajeunesse, A., Bley, J., Bourdeau, N., & Desgagné-Penix, I. (2018). Phytochemical Screening of Quaking Aspen (Populus tremuloides) Extracts by UPLC-QTOF-MS and Evaluation of their Antimicrobial Activity. Molecules (Basel, Switzerland), 23(7), 1739. https://doi.org/10.3390/molecules23071739  
Ruszkiewicz, J. A., Pinkas, A., Ferrer, B., Peres, T. V., Tsatsakis, A., & Aschner, M. (2017). Neurotoxic effect of active ingredients in sunscreen products, a contemporary review. Toxicology reports, 4, 245- 259. https://doi.org/10.3390/ijms130810143 
Takaki, I., Bersani-Amado, L. E., Vendruscolo, A., Sartoretto, S. M., Diniz, S. P., Bersani-Amado, C. A., & Cuman, R. K. (2008). Anti-inflammatory and antinociceptive effects of Rosmarinus officinalis L. essential oil in experimental animal models. Journal of medicinal food, 11(4), 741–746. https://doi.org/10.1089/jmf.2007.0524 
TMS. (2019, July 29). Symptoms and Triggers of Mast Cell Activation. TMS – The Mast Cell Disease Society, Inc. Retrieved January 8, 2022, from https://tmsforacure.org/symptoms/symptoms-and-triggers-of-mast-cell-activation/