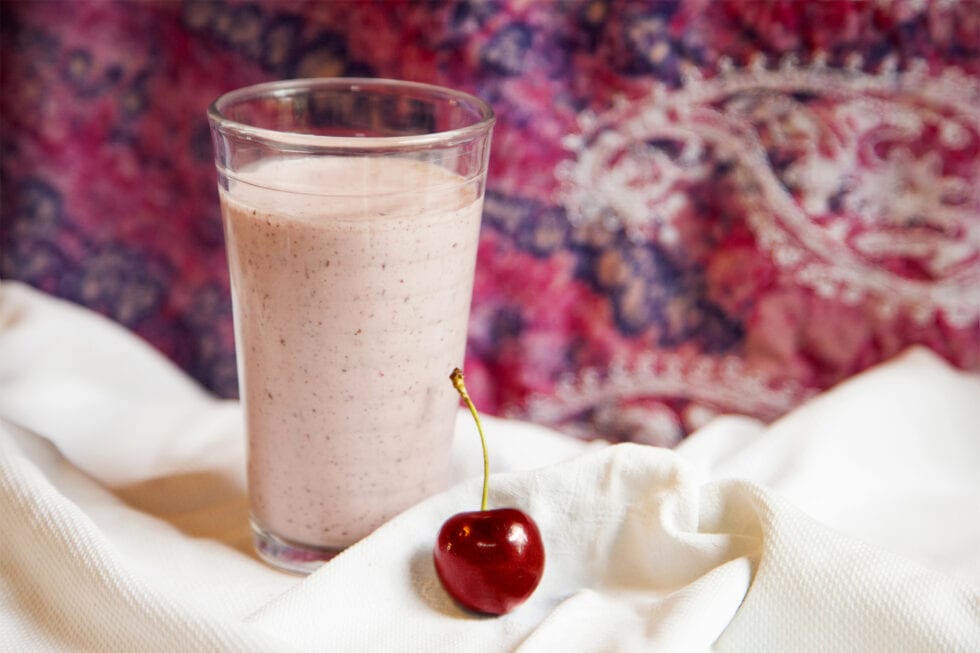 Low Histamine Cherry Smoothie Recipe (Also Low Oxalate and Low Lectin)
A short while ago, I shared a mango basil smoothie recipe that Jen Colletti made. Jen's come up with a another low histamine smoothie recipe for you to enjoy, too!
If you have trouble sleeping, you'll want to check out this recipe!
This recipe uses tart cherries. Tart cherries have been shown to have lots of health benefits… including helping with insomnia.
Keep reading to learn more about this and other health benefits of tart cherries.
Jen's easy to make cherry smoothie recipe is:
And its fresh, bright flavors will make your taste buds come alive!
How to Make a Low Histamine Cherry Smoothie Recipe
Smoothies are so versatile. To make a healthy smoothie, you basically need a fruit and a liquid. From there, you can add a second fruit or some herbs for a richer depth of flavor.
And you can choose other add ins like proteins or healthy fats to boost nutrition and make smoothies more filling, too.
Let's look at how this recipe came together and some of the health benefits you'll get from each of these ingredients.
Fruit
When choosing your fruit, check out the Mast Cell 360 Low Histamine Foods List to be sure you're starting with a low histamine fruit.
Both fresh or frozen bananas as well as strawberries are found in a lot of smoothies. But you'll want to nix these in favor of low histamine fruits.
Jen chose tart cherries. Both tart and sweet cherries are low histamine. (You may also see tart cherries called sour cherries.)
In this cherry smoothie recipe, you can use frozen cherries to make prep super easy. But you could use fresh cherries as well.
TIP: If you use fresh cherries, throw in a couple small ice cubes to get your smoothie extra cold and refreshing. This blended ice also gives it a more slushy-like texture.
Tart cherries have all kinds of health benefits.
Like many brightly colored foods, cherries are rich in antioxidants.
And they have been shown to have anti-inflammatory properties as well.
That's good news if you have Mast Cell Activation or Histamine Intolerance. Both can increase inflammation in your body.
And you'll get Vitamin C from cherries, too. Your body doesn't make Vitamin C, so you need to get it through the foods you eat.
And it's important to do so because Vitamin C helps with many of your body's healing processes.
Tart cherries have another benefit you may not know about.
They may help with insomnia!
Studies have shown that tart cherries increase melatonin levels. Melatonin is a hormone that plays a role in your sleep-wake cycle.
Studies have shown improved sleep quality, which means longer, less interrupted sleep.
Good sleep is so important for your body to heal.
Related Article: Fixing Sleep Challenges in Mast Cell Activation Syndrome and Histamine Intolerance
Liquid
For the liquid, coconut milk is a go-to for me for my smoothies.
Almond milk would also work if you don't have Lectin or Oxalate Intolerance.
If you do use almond milk, go with unsweetened almond milk. Some milks have added cane sugar. With Histamine Intolerance or MCAS, you don't want any added sugars.
Sugar can increase blood sugar levels. And when blood sugar levels increase, histamine levels can increase, too.
I just wanted to mention almond milk because a lot of people have asked if they can sub almond milk in our recipes that use coconut milk.
Native Forest Coconut Milk is my choice, though. It's 100% coconut milk with no added sugars or additives.
And it's ok to use it if you have Histamine Intolerance, Lectin Intolerance, or Oxalate Intolerance.
If you're looking for another refreshing coconut treat, try this delicious Easy Mango Ice Cream.
Here's another reason I like coconut milk.
I know a lot of people like to use ripe bananas, frozen bananas, or Greek yogurt in smoothies. It can make for a thicker smoothie. However, both bananas and yogurt are high histamine.
The Native Forest Coconut Milk is thicker than almond milk. Using coconut milk, you'll get a thicker, creamier texture.
Flavor Boosters for Cherry Smoothie Recipe
Fresh ginger in this recipe is optional. But it gives this cherry smoothie a unique twist.
The spiciness of the ginger is a nice complement to the sweet and tart of the cherries.
TIP: Fresh is best when it comes to herbs and spices.
At ½ teaspoon, it's a nice back note in this smoothie. It's not overpowering. You'll still get the tang of the cherries first.
Another reason to add ginger is that it's been shown to have anti-inflammatory properties.
Ginger root has also been used to help with aches and pains and for various digestive issues like indigestion and nausea.
Another flavor booster in this recipe is vanilla powder. I think it rounds out all the flavors nicely.
I recommend vanilla powder instead of vanilla extract because the alcohol in the extract is high histamine.
Now, if you are further along with your health, a small amount of extract may be ok. But if you are still unsure about all your triggers or still in Phase 1 of the low histamine diet, stick with the vanilla powder.
Health Boosters for Cherry Smoothie Recipe
Protein powder is a popular add in for smoothies.
I haven't found a protein powder that works across the board, though.
Rice and pea protein are lectins. Hemp protein is high oxalate. And most are going to be high salicylate.
If you do want to add a protein powder, this one has lower levels of salicylates and oxalates. However, it does have rice and pea protein (if you have Lectin Intolerance, this won't be the best choice for you.)
If you can't do protein powder, Jen's added some protein to this cherry smoothie recipe by using pecans and flax seeds.
You could also use chia seeds or hemp seeds. However, both are higher oxalate. So, avoid those if you have Oxalate Intolerance.
Flax seeds are low histamine, low lectin, and low oxalate, though.
Flax is a good source of plant-based protein.
And while the amount of protein you'll get from a teaspoon of flax won't equal a scoop of protein powder, you're still sneaking in some extra protein and nutrients by adding it.
Flax also has potassium, magnesium, iron, calcium, and healthy fats.
Related Article: Flaxseed Crackers Recipe
Similarly, even though there aren't a lot of pecans in this recipe, you'll still get a little boost of protein from adding a nut or homemade nut butter to your smoothie.
You could use a lot of different nuts or nut butters here. But just remember, almond butter is high oxalate, and high lectin if made with skins still on.
And you'll probably want to avoid peanut butter and cashew butter altogether. Both are high histamine, high oxalate, and high lectin.
But pecans and macadamia nuts are fine up to ¼ cup. Above that is a concern only if you have Oxalate Intolerance.
Enjoy all the health benefits from this delicious and easy-to-make smoothie!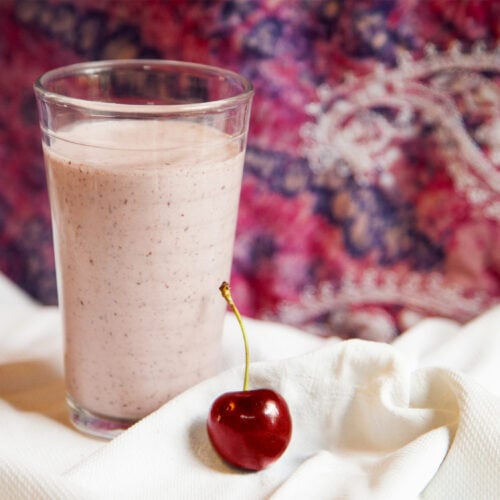 Low Histamine Cherry Smoothie Recipe with Tart Cherries
Enjoy this easy breakfast or snack that's also low oxalate and low lectin
Instructions
Add all ingredients to your high speed blender.

Blend for 30- 45 seconds or until smooth. 

Pour into glass and serve.  
Notes
Stevia is used here as a
sweetener
. You can add
more or less to
your taste preference. 
What low histamine smoothies have you tried? What flavor combos will you add to your cherry smoothie recipe to mix it up?
More Low Histamine Drink Recipes
Some links in this website are affiliate links, which means Mast Cell 360 may make a very small commission if you purchase through the link. It never costs you any more to purchase through the links, and we try to find the best deals we can. We only recommend products that we love and use personally or use in the Mast Cell 360 practice. Any commissions help support the newsletter, website, and ongoing research so Mast Cell 360 can continue to offer you free tips, recipes, and info. Thank you for your support!
References
Aryaeian, N., et al. (2019). The effect of ginger supplementation on some immunity and inflammation intermediate genes expression in patients with active Rheumatoid Arthritis. Gene, 698, 179–185. https://doi.org/10.1016/j.gene.2019.01.048
Haniadka, R., Saldanha, E., Sunita, V., Palatty, P. L., Fayad, R., & Baliga, M. S. (2013). A review of the gastroprotective effects of ginger (Zingiber officinale Roscoe). Food & function, 4(6), 845–855. https://doi.org/10.1039/c3fo30337c
Howatson, G., et al. (2012). Effect of tart cherry juice (Prunus cerasus) on melatonin levels and enhanced sleep quality. European journal of nutrition, 51(8), 909–916. https://doi.org/10.1007/s00394-011-0263-7
Xavier, A. A., & Pérez-Gálvez, A. (2016). Carotenoids as a Source of Antioxidants in the Diet. Sub-cellular biochemistry, 79, 359–375. https://doi.org/10.1007/978-3-319-39126-7_14
Vitale, K. C., Hueglin, S., & Broad, E. (2017). Tart Cherry Juice in Athletes: A Literature Review and Commentary. Current sports medicine reports, 16(4), 230–239. https://doi.org/10.1249/JSR.0000000000000385