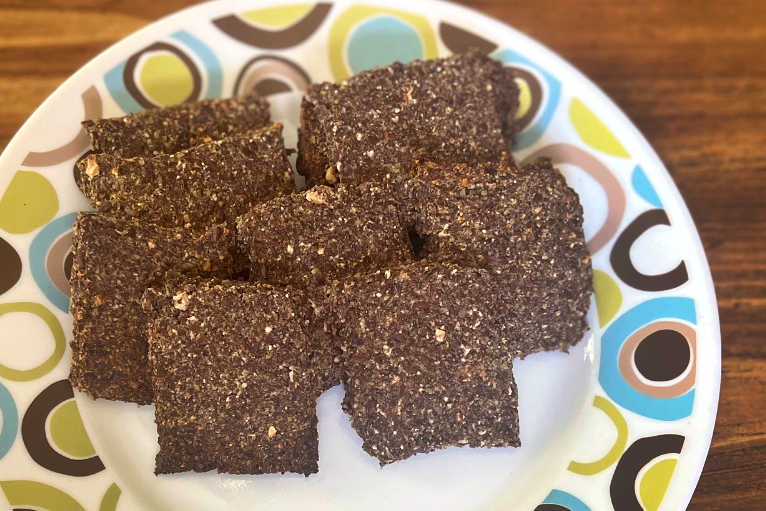 Low Histamine Flaxseed Crackers Recipe (also Low Lectin and Medium Oxalate)
I've been determined to find the perfect flaxseed cracker recipe after so many of you loved my cassava crackers.
Not everyone can have cassava though.
Salty and crunchy snacks are so satisfying.
But so many crispy snacks are high in histamine and/or have other unhealthy ingredients.
But I want you to be able to enjoy crunchy snacks, too!
These healthy flaxseed crackers fit the bill. They are:
paleo
keto
grain free
gluten free
nut free
dairy free
egg free
low carb
vegan
They are so delicious with a nutty flavor.
They make a great addition to an appetizer plate that you can share with friends at any party.
Even if you can have the cassava crackers, you'll enjoy this crispy cracker recipe for the variety it adds to your diet.
Why Flaxseed Crackers?
You might also hear flaxseed crackers called flax crackers.
Flaxseed (or flax) crackers use flax meal made from freshly ground flax seeds.
I love flaxseeds because they meet most of the dietary recommendations for my clients.
Flaxseeds are:
You may use golden or brown flax seeds in this recipe. I had brown on hand so that's what I used for the picture above.
You can even enjoy them if you are doing a low FODMAP diet. You just have to pay attention to how many you eat.
Right now, I'm able to enjoy 2-3 of these at a time. Flax seeds are low FODMAP up to 1 tablespoon. Flax meal is low FODMAP up to ½ tablespoon.
Health Benefits of Flaxseed
Flaxseeds can be tolerated with several different food intolerances. That's a big plus.
And did you know that flaxseeds are rich in omega 3 fats?
Omega 3 fats help calm mast cells by modulating inflammation levels.
So, not only do these flaxseed crackers taste good, but they may also help stabilize your mast cells.
Whole Flax Seeds vs. Flax Meal
The key to making this recipe taste delicious is starting with fresh, whole flax seeds.
Ground flax meal can go rancid faster than whole flaxseed so it's better to buy whole instead of ground.
TIP: To keep your flax seeds fresher longer, refrigerate them in an opaque bag as soon as you get them home. It will keep them fresher for longer.
You can easily make flax meal by grinding your flax seeds.
You can't do it with a food processor like most other nuts and seeds, though.
You must use a coffee grinder or a high-powered blender.
Grind only what you need because flax meal can go rancid faster than whole seeds.
As long as you wash it well, it can be the same one that you grind your coffee in.
Related Article: My Favorite Mold Free Coffee
If you don't have a coffee grinder and you still want to try this recipe, the next best thing is to buy cold-pressed flax meal (not ground flaxseed).
More Low Histamine Flax Seed Recipes
Low Histamine Swaps for Flaxseed Cracker Recipe
While traditional flaxseed crackers use some no-no ingredients for the MCAS community, I've got some easy swaps for you to try!
Sliced Tiger Nuts
Swapped for:
pumpkin seeds
sunflower seeds
sesame seeds
chia seeds
almond flour
Why: These ingredients are ok if you only have Histamine Intolerance. But, pumpkin seeds and sunflower seeds are high lectin. Sesame seeds, chia seeds, and almond flour are high oxalate. If you don't have trouble with oxalates or lectins, it's fine to use these, though.
To keep this recipe low histamine, lower oxalate, and low lectin, tiger nuts are a wonderful ingredient swap.
I love using tiger nuts in so many recipes from breakfast cereal to pecan clusters.
TIP: If your GI tract is sensitive, try roasting sliced tiger nuts in the oven instead of eating them raw. Roasting makes them even easier to digest.
Herbs
Swapped for:
parmesan cheese
nutritional yeast
Why: Most cheeses and cheese substitutes are high histamine.
While this recipe tastes fine with just salt, it's even more delicious if you add some of your favorite low-histamine herbs.
Herbs are some of the most nutrient dense foods.
The best fresh herb to use is rosemary. When I tested other fresh herbs, it was hard to chop them finely enough that they wouldn't burn.
Remember, dried herbs can be higher histamine depending on how old they are.
If you are able to tolerate a pinch, some of the best dried herbs to use are:
If you don't have FODMAP Intolerance:
garlic powder
onion powder – not really an herb, but I know it's in your spice cupboard!
You really can use any dried spice mix that fits your dietary recommendations and taste buds.
See this post for my low histamine foods list (it also tells you the low oxalate and low lectin spices.)
Commonly used high histamine spices to skip:
paprika
black pepper
cumin
Pair Flaxseed Crackers With Soup for a Satisfying Meal
Flaxseed Cracker Recipe Tips
This yummy snack recipe doesn't take long to put together. Especially if you know these helpful tips.
Line the Baking Sheet
Flax seeds are really sticky when combined with water.
This is what makes them such a great egg substitute.
But it is a bad idea to pour it directly onto a metal baking sheet.
You will want to use either a sheet of unbleached parchment paper or a silicone mat (or 2) to cover the entire baking sheet.
TIP: If you only have small silicone mats, you just have to overlap them on your baking sheet. It will come out fine this way, too.
Smooth It Out Very Thin
To ensure that they come out nice and crispy, you'll have to work with a silicone spatula to smooth the flaxseed mixture out.
The first time I made this, I didn't smooth it out evenly enough. I ended up with burnt edges and a soggy middle.
I tried using a rolling pin, but I found out that the silicone spatula works much better.
After smoothing the mixture out flat, cut it into your desired size of crackers. Some people will use a pizza cutter to do this.
But I just use the same silicone spatula I used to smooth out the mixture. No need to dirty another dish!
Use the Hottest Spot in Your Oven
Most ovens have one spot that cooks faster than other spots. If you have a side of the oven that burns quicker, set a timer halfway to turn the baking sheet.
In mine, the top rack gets hotter than the bottom, so I always cook my flax seed crackers on the top rack of my oven.
Storing your Flaxseed Crackers
If you have have Histamine Intolerance or Mast Cell Activation Syndrome, I recommend eating your flaxseed crackers immediately after they cool or immediately freezing them.
I pushed the air out of silicone bag and froze it overnight. They only took 2-3 hours to defrost, and they still were pretty crisp.
They start to lose their crispiness after 3 days in the fridge when I put them in a silicone bag.
Any airtight container will store them well like glassware with a snap lid.
Just remember that histamine levels will rise the longer the cracker sit in the fridge.
These flaxseed crackers pair great with my low histamine hummus recipe.
Ready to get snacking? Here's the recipe for you. Enjoy!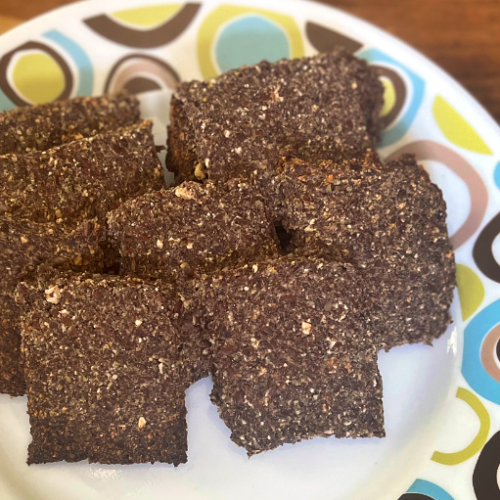 Low Histamine Flaxseed Crackers Recipe (Also Low Lectin and Medium Oxalate)
Delicious flaxseed crackers recipe with the secret power of tiger nuts and herbs!
Instructions
Preheat your oven to 400℉.

If needed, grind your flaxseed ¼ cup at a time in your coffee grinder. Add to your mixing bowl.

Then, grind the ¼ cup tiger nuts.

Then add 1 cup of water and mix until combined. It should be soupy (about as runny as pancake mix), but you may need to add up to ¼ cup more water to get this consistency. The flaxseed will thicken quickly.  

Line your baking sheet with unbleached parchment paper or silicone mat(s).  

Pour the mixture across the baking sheet and spread it as thin as you can. Take care to make sure there are no holes.  

Once it's all smoothed out to less than ⅛ inch, make sure it is not thinner at the edges than the middle. This will help it to cook evenly and to prevent it from burning.  

If desired, use your spatula (not a sharp knife) to draw lines for where your crackers will be. You can make a grid about every 1 – 2 inches. 

Place in the oven and set a timer for 30 minutes. It will likely take closer to 40 minutes but in case your oven has a hot spot, check it.  

You'll know it's done when the edges are brown, and the center is crisp. 
Notes
If the edges get burnt, simply break them off. You can still enjoy the middle! 
The nutritional facts are for only water, flaxseeds, tiger nuts, and salt. 
Nutrition
Nutrition Facts
Low Histamine Flaxseed Crackers Recipe (Also Low Lectin and Medium Oxalate)
Amount per Serving
% Daily Value*
* Percent Daily Values are based on a 2000 calorie diet.
What herbs will you try in your flaxseed crackers? Share in the comments below!
More Low Histamine Snacks
Some links in this website are affiliate links, which means Mast Cell 360 may make a very small commission if you purchase through the link. It never costs you any more to purchase through the links, and we try to find the best deals we can. We only recommend products that we love and use personally or use in the Mast Cell 360 practice. Any commissions help support the newsletter, website, and ongoing research so Mast Cell 360 can continue to offer you free tips, recipes, and info. Thank you for your support!

References
Flax Seeds. (2020). FoodData Central. https://fdc.nal.usda.gov/fdc-app.html#/food-details/1100610/nutrients
Parikh, M., et al. (2019). Dietary Flaxseed as a Strategy for Improving Human Health. Nutrients, 11(5), 1171. https://doi.org/10.3390/nu11051171
Park, B. K., et al. (2013). Omega-3 fatty acids suppress Th2-associated cytokine gene expressions and GATA transcription factors in mast cells. The Journal of nutritional biochemistry, 24(5), 868–876. https://doi.org/10.1016/j.jnutbio.2012.05.007
Tiger Nuts. (2021). FoodData Central. https://fdc.nal.usda.gov/fdc-app.html#/food-details/2176879/nutrients