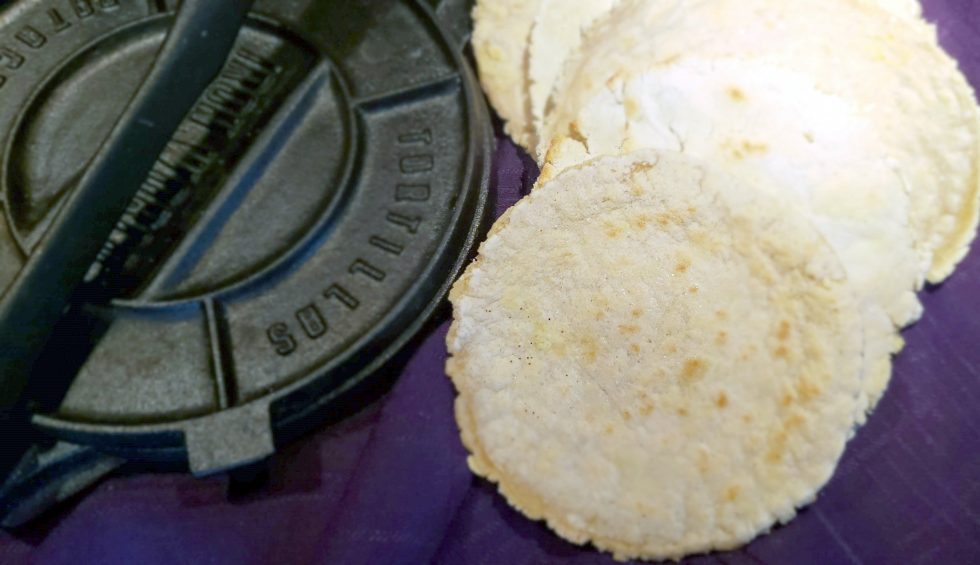 Low Histamine Cassava Tortillas
I love this Cassava Tortilla recipe! These tortillas are low histamine, but also low oxalate and low lectin. They freeze really well – making them perfect to pull out for a quick meal or snack. They work great for wraps, open-faced sandwiches, or as a bread substitute. These hold up really well and actually taste a little like flour tortillas. The best thing to me is that they are grain-free. For many people, including myself, grains are inflammatory. So I'm always really excited when I can figure a grain-free alternatives!
If you haven't used cassava flour before, you are in for a treat. It is really versatile! Cassava flour is made from Yuca root. The root is peeled, dried, and then ground into this flour. Because it is starchy, it substitutes well for wheat flour in many recipes.
I've tried different cassava flours and found that many are fermented. Those didn't work so well for my histamine levels. Fortunately Otto's cassava flour* has never bothered me. I think it is processed more cleanly, or perhaps not fermented. It also has the best taste and texture of all the others I tried. They also test each batch for quality. So, I really trust this company!
What about Siete Tortillas? These are cassava tortillas available in the freezer section of Whole Foods and other grocery stores. I would love to have something easy like this. But I've always reacted to these. It may be due to the time they sit in the freezer. This could be weeks or months. It could also be the added Xanthan Gum. This is a mast cell destabilizer. Or it might be the form of cassava flour they use. Fortunately, the cassava recipe below is easy to make, freeze, and reheat!
Cassava is in the rubber plant family. Bananas and latex come from the same family. So if you have allergies to latex or issues with bananas (besides histamines), then you may not want to use cassava. Or at least test a tiny amount first to make sure you don't react. If you don't have sensitivities to cassava, then this flour may be your new best friend in the kitchen!
I found the secret to making these tortillas quickly is to use a Tortilla Press like one of these*. I also use unbleached parchment rounds* to keep things from sticking. However, if you don't have these, you can use a rolling pin or even your hands. Sometimes if I'm just making one or two tortillas, I'll just pat the dough out right into the skillet. (Before the skillet is turned on, of course.) That method isn't pretty, but it is fast! But I usually make a big batch of these with the tortilla press. The tortillas come out more consistent and nicer looking. The tortilla press is fast too. And then I just freeze the leftovers between pieces of parchment rounds.
Let's talk about what kind of pan to use. I don't like the Teflon type non-stick since it can be very toxic. I'm not a fan of uncoated cast iron skillets. These have inorganic iron that transfers into your food. That type of iron isn't well absorbed and can cause inflammation for some. I use Ceramic non-stick*for cooking these tortillas. Ceramic non-stick is a very safe cooking material. I like to put 4 skillets on the stove and cook 4 tortillas at a time. The tortillas are small enough that any size skillet works. Since I have exactly 4 ceramic non-stick skillets, this works out really great. You can always just cook 1 or 2 at a time too.
The Otto's Cassava Flour has a tortilla recipe on the back of the bag. I've never gotten it to work as written. The dough was always too dry. The other problems is the recipe uses Extra Virgin Olive Oil in the dough. I don't like cooking with Extra Virgin Olive Oil. EVOO has a low smoke point. This means when it is heated much, it burns and oxidizes. Oxidized fats become inflammatory. So, I use Extra Virgin Avocado Oil instead – it is a healthy fat and has a higher smoke point. That makes it safer for cooking with. Virgin Coconut Oil, like Dr. Bronner's brand, will also work. I found I prefer the flavor of the Avocado Oil for these, though.
So here is my version of Cassava Tortillas. I hope you enjoy them! I'd love to hear how it goes for you.
Ingredients
Makes 10-12 tortillas. You can easily double or half this recipe.
Tools
Directions
Prepare tortilla press and parchment paper.
Put non-stick skillet(s) on stove. If you use Ceramic Non-Stick, don't add anything to the pan.
Mix flour and salt together. Pour in oil and water and mix well until you have a solid dough.
The exact amount of water will differ depending on how humid your kitchen is. This can even vary day to day.
You want the dough to hold together well without being sticky. If it is dusty, it needs more water. If it sticks to your hands, add more flour.
Roll some dough into a smooth ball. The size should be between a golf ball and tennis ball like this:

Layer between 2 sheets of parchment paper and press with tortilla press to between 1/8" and ¼" thick. Thinner dough will be crispier. Thicker dough will be softer.
Gently remove from parchment paper and place onto skillet.
Turn on skillet and cook on medium low until the edges look dry and cooked through. This will take about 3-5 minutes per side, depending on how hot your burner gets.
This one isn't quite done yet – look at the edges:

Use a silicone spatula to flip the tortilla.
While the tortilla is cooking, prep the dough for the next one.
You'll notice the dough becomes white and loses the "wet" look when it is finished.
Transfer to a baking rack to cool while you cook the rest of the tortillas.
To freeze, layer between pieces of parchment paper. Place in a gallon size freezer bag.
To reheat, warm in toaster oven or microwave.
How did you serve your Cassava Tortillas? Did you make anything tasty?
I would love to hear about your Cassava Tortillas in the comments below! 
*Some links in this website are affiliate links, which means I may make a very small commission if you purchase through the link. It never costs you any more to purchase through the links, and I try to find the best deals I can. I only recommend products that I love and use personally or use in my practice. Any commissions help support the newsletter, website, and ongoing research so I can continue to offer you free tips, recipes, and info. Thank you for your support!