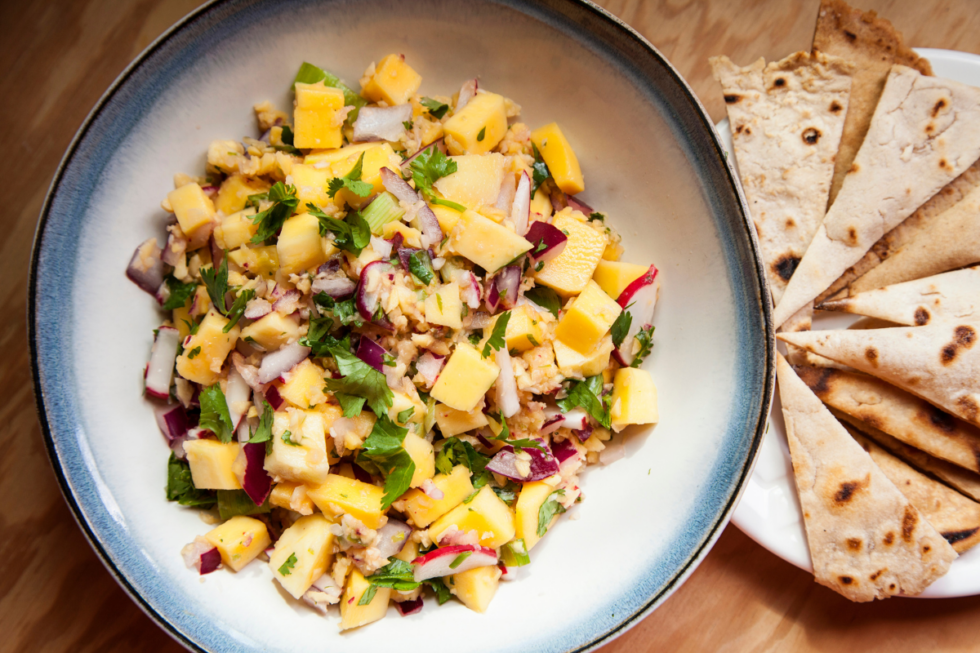 Low Histamine Salsa (Low Oxalate, Low Lectin Mango Recipe for Salsa)
This low histamine salsa recipe will bring a bold, fresh taste to your next Taco Tuesday!
I love Mexican food. So, I'm loving this recipe for mango salsa, especially on top of my low histamine tacos.
Eating at Mexican restaurants was challenging when I was dealing with so many food intolerances.
I couldn't eat black beans since they have high levels of lectins.
Corn can be a mast cell trigger. That meant no corn tortilla chips! 🙁
Meats are often prepared with higher histamine spices like cayenne pepper, chili powder, or paprika. Even unseasoned meats at a restaurant may be high histamine, especially beef.
And no tomatoes! They aren't histamine friendly AND they fall into the lectin category. Sadly, that took salsa off the menu for me, too!
If you've dealt with food intolerances, you know you have to get creative if you want to keep eating some of the foods you love.
So, I learned how to make tortillas with cassava flour.
I found sources for quality, low histamine meats.
Salsa is pretty healthy, as far as snacks go. It's made up of mostly fresh fruit, vegetables, and herbs.
But if you've reacted to salsa in the past, keep reading to learn more about the top traditional salsa recipe ingredients that aren't great for Histamine Intolerance and Lectin Intolerance.
Then you can read about how I swapped those problem ingredients out to make this tasty homemade mango salsa recipe.
This recipe is:
Low Histamine Salsa
Before you change your diet on your own, please make sure you're working with a healthcare practitioner who can help you with this. Never limit foods unnecessarily, and always have a licensed medical provider who is supervising your case.
I make lots of low histamine substitutions for main ingredients in this recipe for mango salsa.
For example, in this recipe, I've replaced tomatoes with succulent mangos. Ripe mangoes give you the same great texture without the high histamine content. And they are sweet, but also slightly acidic like a tomato.
This hearty dish works great as an appetizer with cassava "tortilla chips." (I'll tell you more about my hack for making these, too!)
It would also be great as a condiment for a dish like fish tacos … or any taco for that matter!
And it's substantial enough to be served as a side dish alongside a recipe like low histamine fish, low histamine pork, or low histamine chicken. 
Salsas often have ingredients that aren't suitable for certain intolerances. Like Histamine Intolerance and Lectin Intolerance.
Let's take a look at some of those ingredients next.
Salsa Ingredients and Histamine Intolerance
Tomatoes are the base of many salsa recipes.
Cayenne pepper, paprika, and chili powder may be found in some salsa recipes, too.
All of these ingredients have high histamine levels.
This means that eating these high histamine foods may contribute to your Histamine Intolerance symptoms.
In a nutshell, Histamine Intolerance is what happens when your body's histamine load is more than it can handle.
Eating high histamine foods significantly contributes to your histamine load.
Switching to a low histamine diet may be helpful to reduce your histamine levels and reactions.
You can also help reduce your histamine load with supplements like diamine oxidase (DAO enzyme).
Now that we've looked at the high histamine foods to avoid, let's look at lectins.
Salsa Ingredients and Lectin Intolerance
Here's an important distinction about lectins you'll want to know.
Your body makes lectins. They are an important part of cell communication.
These lectins aren't the problematic lectins in Lectin Intolerance.
The problem is the lectins found in some plants. These lectins are proteins that act as part of a plant's natural defense system.
Some plant lectins can be triggers for mast cell activation because they mess up our own cell communication.
Related Article: Lectins, Low Lectin Foods, and the Mast Cell Connection
Some of the top salsa ingredients with high lectin content include:
Tomatoes
Corn
Peppers including:

Bell peppers (both green and red bell peppers)
Serrano peppers
Jalapeno peppers
Chili peppers
Red pepper
Other hot peppers

Chili powder
Cayenne powder
Paprika
You can see why this "healthy" snack may not be so healthy if you have Histamine Intolerance or Lectin Intolerance.
But you can still enjoy salsa with this fresh mango salsa recipe.
Low Histamine Salsa Swaps
Remember: Replace, Don't Remove!
What that means is you don't want to start limiting your foods. Think instead of replacing them with other foods that you can tolerate.
You'll keep more variety in your diet this way. That means you'll be getting a variety of nutrients. And you'll keep your morale up, too.
Here are the top swaps I made in the Mango Low Histamine Salsa.
Swapping Tomatoes
This homemade mango salsa is tomato free!
Technically, tomatoes are fruits. I know we often typically think of them as veggies.
But that got me thinking. Why not replace tomatoes with another fruit?
Mango is one of my favorite fruits.
I enjoy it in desserts like this mango low histamine ice cream.
And it's great in smoothies like this mango basil low histamine smoothie recipe, too.
Mangos are sweet, but not overly so. I think they also have a tanginess to them that reminds me of citrus fruits.
There is another flavor profile that I can only describe as "earthy." This may be what keeps them from tasting super sweet like a peach or blueberry.
And it's what makes them so versatile! Mangos are great in both desserts and savory dishes.
Be sure to read the recipe card for the easiest way to prepare mango!
Swapping Hot Peppers
Hot peppers seem to be all the rage these days. I've even heard of pepper eating contests where they start with the Carolina Reaper, one of the hottest!
Now, I'm not looking for anything nearly that hot. I do still want a little kick from my salsa, though.
But you read earlier that peppers fall into the high lectin category.
So, instead of peppers, I'm adding a little heat to this salsa with:
Garlic
Green onions
Radishes
Not all radishes have a lot of heat. Some sources say larger radishes have more spiciness.
Variety also matters. The type you see most in the store is called Cherry Belle. They are considered medium.
One variety that is spicier is called Black Spanish. If you can find these and like some zing, this might be the radish for you!
And some people find that the fresher radishes are more peppery than the ones you see already bagged in the store. You can often find fresher produce at your local farmer's market and health food stores.
I also like adding radishes because it's another way to sneak some healthy veggies into snacks. And it adds a crispy element to mix up the textures in the salsa.
Radishes also have a lot of good nutrients like vitamin C.
Vitamin C helps your body produce more of the histamine-degrading enzyme, diamine oxidase (DAO).
I mentioned earlier that I think this homemade mango salsa recipe would be a great appetizer, condiment, or side dish.
But I know that when most people think of salsa, they think chips and salsa.
Since corn chips may be out for you, what can you do instead?
Here's my low histamine "tortilla chips" hack that you can try with this easy mango salsa recipe.
Mango Salsa Recipe with Low Histamine Cassava Chips
If you are a little further along in your health journey, you have some options here.
There are some store-bought cassava chips that could be good for dipping. Often, they just have a few ingredients like cassava, oil, and salt.
But here's my experience. When I was much more sensitive, I couldn't even eat the cleaner brands of cassava tortillas or chips.
This could be due to a number of things.
One could be that in higher amounts, cassava can be higher oxalate. So, if you are dealing with Oxalate Intolerance, this might not be the choice for you. I didn't know I had Oxalate Intolerance at the time I tried the store-bought products.
And some cassava products are more prone to mold exposures and fermentation (making them higher histamine).
So, the source of the cassava and how it's processed also matter if you are dealing with Histamine Intolerance or Mast Cell Activation Syndrome.
That's why I like Otto's Cassava flour. It's made without fermentation. And because it's baked, not sun dried, the risk for mold drastically decreases.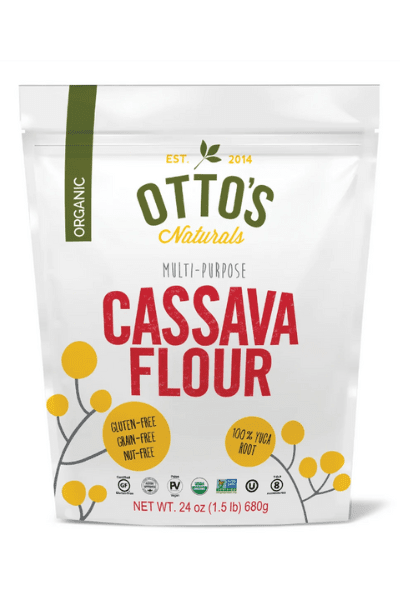 Use coupon code MASTCELL360 for 10% off!
I make big batches of cassava flour tortillas using Otto's Cassava Flour. I keep a stash frozen in airtight containers in my freezer. That way, I've always got some ready to use.
So, I got to wondering…
What if I toasted them to get them crispy and used them as chips?
I asked one of my team members to test it for you. Here's what she said.
Cooking Methods for Cassava Chips
Her first tip was to start with the thinnest possible tortillas. This yielded the crispiest results.
You can start by thawing frozen tortillas that you made previously.
You can also start with fresh tortillas made using my cassava flour tortilla recipe. That's what she did.
She cooked the tortillas according to the recipe. Then she cut them into triangles and tried 3 different prep methods:
Broiled
Baked
Air Fried
1. Broiled
For the first batch, she tested the cooked tortillas under the broiler of her gas oven for about 5 minutes.
At about 5 minutes they were browned to the point that she felt any longer would burn them.
The result was similar to toasted pita bread. It had some crispiness but remained a little soft, too.
2. Baked
Second, she tried a batch baked at 350 degrees F for about 15 minutes. The results were similar to the broiled ones with the thicker tortillas.
But the thinner tortillas were very similar to pita chips. Lots of great crunch!
3. Air Fried
Lastly, she tried her air fryer. I don't have one, so I was glad she was able to try with hers!
She has a smaller air fryer. She cooked them at 350 degrees F for about 12 minutes.
This method yielded a good crispy texture, too.
Like the baked ones, the thinner ones were the crispiest.
Low Histamine Salsa Chip Results
Just remember, each appliance cooks differently.
You may need more or less time depending on factors like electric versus gas oven or the model of air fryer you have.
And here's what we want you to know in full disclosure. None of the methods yielded what my team member would consider an exact side-by-side comparison to a corn tortilla chip. She said they were more similar to a good pita chip.
However, she also wants you to know this.
She couldn't stop eating any of them and they made great dippers!
She told me she felt confident that if you are looking for something to dip with, you would be pleased with any of these!
Here's my recipe for low histamine cassava tortillas!
Now that you have a dipper, here's what you can dip them in!
Mango Low Histamine Salsa Recipe
Serve this mango salsa with: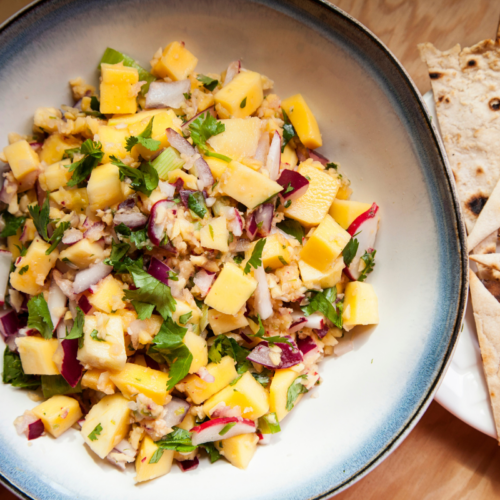 Mango Low Histamine Salsa
Enjoy this recipe for mango salsa that's a low oxalate, low lectin, and low histamine salsa.
Ingredients
2

Mangos

diced

3

Radishes

grated or cut into thin strips

2

Tablespoons

Red Onion

finely chopped

2

Green Onions

chopped

3

Tablespoons

Fresh Cilantro Leaves

chopped

2

Fresh Garlic Cloves

minced

½

teaspoon

Redmond Real Salt

1

Tablespoon

Fresh Lime Juice

(if tolerated)
Instructions
Prepare your ingredients by washing and peeling (onions, garlic, mango). 

For mangos, the easiest way I've prepared them is to use a vegetable peeler to take the skin off. Then, cut across the mango where the stem was. This gives the mango a flat side which you can stand up on a cutting board. Then, you'll make four cuts down the left, right, front and back around the pit. This is the easiest way to get around the pit. Press softly close to the center of the mango into each side with your knife. If you feel some resistance, that's the pit. Just bring your knife outward a little until you don't feel that resistance anymore. Cut through. Then dice mango into cubes.

If desired, use a box shredder on the slicing side or food processor shredding attachment to thinly slice your radishes.

Add in diced mango, cut radishes, chopped red and green onion, chopped cilantro, minced garlic, and salt into a medium bowl.

Gently toss all ingredients until combined.

Squeeze lime juice over top the mixture (if tolerated).

If serving as a side dish, serve as is.

If serving as a condiment or appetizer to eat with chips, you can purée half of your mixture in your blender or food processor.

Add in puréed mixture with chunky mixture and toss again.

Makes about 2¼ cups (puréed with chunky).
Notes
I add a little lime juice for acid. Tomatoes have a lot of acid that gives them a zippy flavor. Now, not everyone can tolerate citrus. Even at my worst, I could tolerate a squeeze of lemon or lime. Just omit the lime if you aren't sure.
For a side dish, dice your mango into bigger chunks. For an appetizer or condiment, smaller chunks are more bite-sized and easy to eat.
Nutrition
Nutrition Facts
Mango Low Histamine Salsa
Amount per Serving
% Daily Value*
* Percent Daily Values are based on a 2000 calorie diet.
More Low Histamine Recipes
Some links in this website are affiliate links, which means Mast Cell 360 may make a very small commission if you purchase through the link. It never costs you any more to purchase through the links, and we try to find the best deals we can. We only recommend products that we love and use personally or use in the Mast Cell 360 practice. Any commissions help support the newsletter, website, and ongoing research so Mast Cell 360 can continue to offer you free tips, recipes, and info. Thank you for your support!
References
FoodData Central. (n.d.). https://fdc.nal.usda.gov/fdc-app.html#/food-details/169276/nutrients
Gundry, S. R., MD. (2017). The Plant Paradox: The Hidden Dangers in "Healthy" Foods That Cause Disease and Weight Gain. HarperCollins.
HappyForks. (n.d.). Recipe analyzer. https://happyforks.com/analyzer/result#
Jarisch, R., Weyer, D., Ehlert, E., Koch, C. C., Pinkowski, E., Jung, P. M., Kähler, W., Girgensohn, R., Hemmer, W., & Koch, A. (2011). Influence of orally taken vitamin C on histamine levels and motion sickness. The Journal of Allergy and Clinical Immunology, 127(2), AB261. https://doi.org/10.1016/j.jaci.2010.12.1040
Lepenies, B., & Lang, R. (2019). Editorial: Lectins and their ligands in shaping immune Responses. Frontiers in Immunology, 10. https://doi.org/10.3389/fimmu.2019.02379
Obong'o, B. O., Ayodo, G., Kawaka, F., & Adalla, M. K. (2020). Fungi and Aflatoxin Levels in Traditionally Processed Cassava (Manihot esculenta Crantz) Products in Homa Bay County, Kenya. International Journal of Microbiology, 2020, 1–7. https://doi.org/10.1155/2020/3406461
Schnedl, W. J., et al. (2019). Diamine oxidase supplementation improves symptoms in patients with histamine intolerance. Food Science and Biotechnology, 28(6), 1779–1784. https://doi.org/10.1007/s10068-019-00627-3