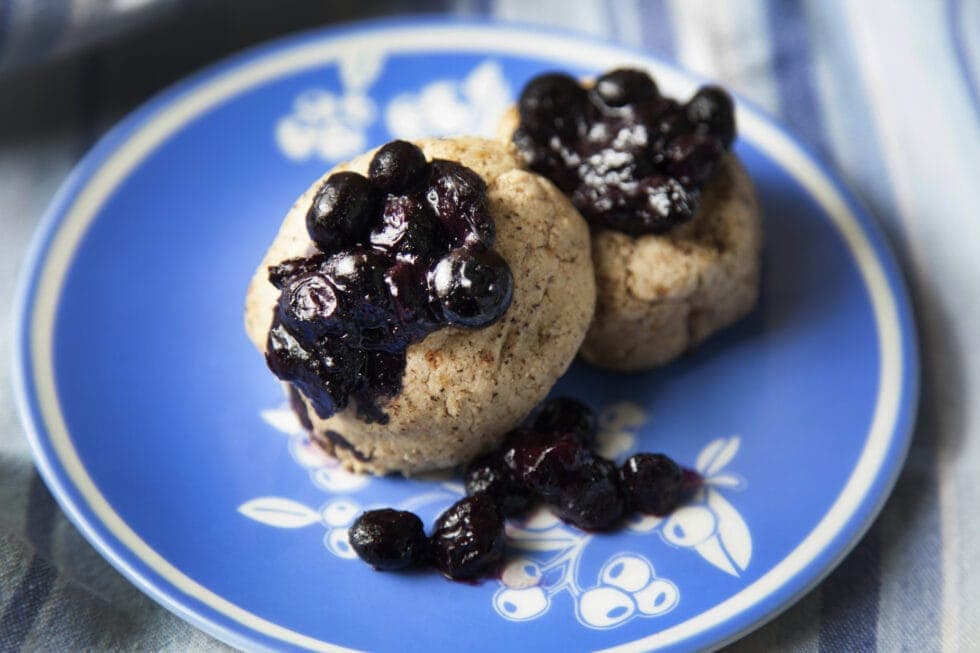 Low Histamine Scones Recipe (Medium Oxalate and Low Lectin)
Don't low histamine scones sound good? Before I knew I had Mast Cell Activation Syndrome and Histamine Intolerance, I loved sweets.
I would decide what I wanted for dessert first when I went out to eat. Then I would pick the rest of my meal to go with that dessert!
I wanted something sweet every single day. But when I found out I had Mast Cell Activation Syndrome and Histamine Intolerance…that all had to change.
I know processed sugar isn't good for anyone. But it's particularly problematic for those of us with Mast Cell Activation Syndrome or Histamine Intolerance.
I eat a lot differently now. And my tastes have changed so much!
I found that out when my husband got a couple treats for me from a gluten free bakery for a special occasion.
I really appreciated the thoughtfulness! And I was excited to try them. But when I did, they tasted way too sweet for me.
I used to be the girl who could eat a dozen cookies in one sitting. It's amazing how much things change!
I no longer crave sugar like I once did. But I do still like a treat every now and then.
So next I'll tell you about a lovely blueberry scone recipe I made. It's sweet, but not too sweet.
This recipe is:
You'll learn about some of the low histamine ingredients I used. You can use these ingredients in other baked goods, too.
They are good substitutes if you have MCAS or Histamine Intolerance. But first, let's look at what to avoid.
It's important you know that this blog post is for informational and educational purposes. It's not meant to treat any health condition or to be prescriptive for anyone. Always be sure to work with your healthcare practitioner.
Blueberry Scone Recipe Ingredients to Avoid
If you have Mast Cell Activation Syndrome or Histamine Intolerance, you'll need to avoid these traditional scone ingredients and toppings.
But here's what you can do instead to enjoy delicious blueberry scones.
Low Histamine Blueberry Scone Recipe
Let's dig into how I make this. I want to share how I come up with my recipes so you can do your own recipe adaptations to fit your low histamine meal plans.
Sweeteners
One of the most common questions I get is how to make low histamine foods taste sweet without sugar!
Sugar makes both Histamine Intolerance and Mast Cell Activation Syndrome worse.
Sugar can increase inflammation. It can also feed pathogens like bacteria and yeast in the body.
Instead of white, granulated sugar, I like using Better Organic Stevia or Pure Monk Fruit Extract in my dessert recipes. 
Stevia and monk fruit are natural, plant-based sweeteners with no calories.
And stevia and monk fruit don't affect your blood sugar like sugar, honey, and maple syrup.
But not all stevia and monk fruit products are the same. You need to check the ingredients to make sure they don't have any other added ingredients.
Many stevia and monk fruit brands have fillers. And some fillers can be bad if you have Mast Cell Activation Syndrome or Histamine Intolerance.
The brands I've linked here don't have those fillers.
There is a noticeable difference in flavor, too. Some monk fruit sweeteners have a strange aftertaste.
Pure Monk is the best I've used. In this recipe, the monk fruit extract adds a slight caramel flavor.
You could add a few drops of stevia, too, if you want a much sweeter scone. I'd make them on the sweeter side if you are planning to share these at brunch with friends.
Depending on your taste buds, you can use a few drops of Better Organic Stevia.
If you're extra sensitive, you may want to use this alcohol free Stevia with glycerite.
I personally stick with just the monk fruit extract, though. But you may prefer the added sweetness of stevia if you are newer to the low histamine diet.
Cassava Flour Scones
Wheat flour is a no-go for the low histamine diet.
That's because gluten can be a problem when you have Mast Cell Activation Syndrome or Histamine Intolerance. Gluten can cause more gut inflammation and trigger mast cells and histamine release.
It can also cause leaky gut.
Related Article: Are Wheat and Gluten Really Mast Cell and Histamine Triggers?
Gut issues are a big root factor in both Mast Cell Activation Syndrome and Histamine Intolerance.
You can read more about the root factors involved in Mast Cell Activation Syndrome and Histamine Intolerance.
Instead, I typically use Otto's Cassava Flour for baking.
I find cassava flour to be one of the easier flours to bake with.
Cassava flour bakes very similarly to wheat flours like all purpose flour. But cassava flour is gluten-free!
Cassava flour is also a resistant type of starch. This means it doesn't affect blood sugar as much. Resistant starches also feed good gut bacteria.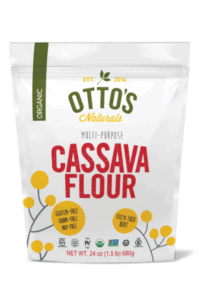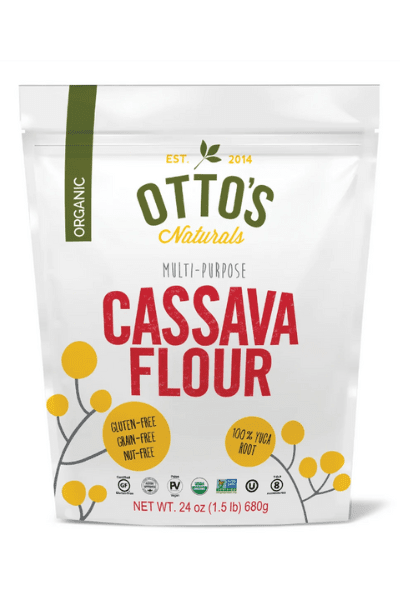 It is medium oxalate and lectin free too. What determines oxalate levels in some cases is how much you eat. In this recipe, one serving is medium oxalate.
If you don't tolerate cassava flour, you could substitute organic white rice flour if you are less sensitive to lectins.
Or if you don't have an oxalate issue, you could try blanched almond flour.
Coconut Milk & Cream
I use Native Forest coconut milk. The ingredients are only organic coconut and filtered water.
Native Forest is 100% coconut milk with no added ingredients.
Some other brands have preservatives that can be mast cell triggers.
This is the coconut cream I use for the topping.
Ghee
Ghee is clarified butter that has been strained of water content. It has a slightly different taste than the unsalted butter you might be used to.
I'd say it's a little stronger in flavor. But I don't notice any difference in baked goods.
If the plain flavor is out of stock, alternatively, you can buy ghee with salt.
I've found that ghee tends to be better tolerated, though. This is because ghee is casein free.
Casein is the protein in dairy that many struggle to digest. With ghee, you don't have to worry about casein.
Vanilla Powder
Vanilla extract is high histamine because of the alcohol.
I like to substitute vanilla powder to get that warm, delicious vanilla flavor.
It does cost more than vanilla extract. But it lasts a long time if you store it in the fridge. And a little goes a long way.
Make sure the ingredient list only shows raw, ground vanilla beans. Some vanilla powders have additives.
And be sure the powder is brown, not white. White means it has been highly processed.
Frozen Blueberries
Blueberries are one of my favorite low histamine fruits. I use blueberries in a lot of recipes. So, I like to keep frozen blueberries on hand.
You could also use fresh blueberries in this recipe, though.
Blueberries are naturally high in quercetin. And quercetin is a natural antihistamine.
They also have a compound called pterostilbene. Which is another natural antihistamine!
Blueberries are a great source of:
You could also make these with fresh cranberries, too. Let me know in the comments if you try this adaptation!
The only fruit I like more than blueberries is mango.
Check out these mango recipes:
Pasture Raised Eggs
Eggs play different roles in recipes.
They can add fluffiness because they act as a leavening agent (helps baked goods rise).
And the fat content adds rich flavor.
I used to have trouble eating 2 or more eggs at a time if I was just eating eggs alone. Like scrambled eggs for breakfast.
But if it was a small amount in a recipe like this, I was fine.
You might be avoiding eggs if you are in Phase 1 of the low histamine diet, though. You can always come back to this recipe in Phase 2 if you aren't sure if eggs are right for you.
American vs. British Scones Recipe
Before I get to the recipe, I want to mention something about American vs. British scones.
American scones tend to be very large.
They are also much sweeter than British scones.
British scones are often served with jam and clotted cream. So, they don't need to be as sweet since the jam adds sweetness.
British scones are also a bit crumbly.
I've followed more of the British style scone in this recipe.
Crumbly scones are the best scones for the Blueberry Topping and Coconut Cream Topping, in my opinion
If you prefer more of an American-style scone, you'll want to add extra monk fruit and/or stevia to make the scones a little sweeter.
And if you prefer a less crumbly scone, you can add extra ghee or coconut milk to the dough.
What to Serve with Blueberry Scones Recipe
Scones are traditionally served with hot tea.
Regular black tea inhibits your DAO enzymes, though. But there are some nice alternatives. I like to have these scones with:
I put a few drops of Better Organic Stevia in my tea to sweeten it.
You can make it to your own taste. If you do use stevia, remember a little goes a long way.
I really hope you enjoy this recipe as a treat to have with afternoon tea, brunch, or anytime! Are you ready to make some delicious low histamine scones?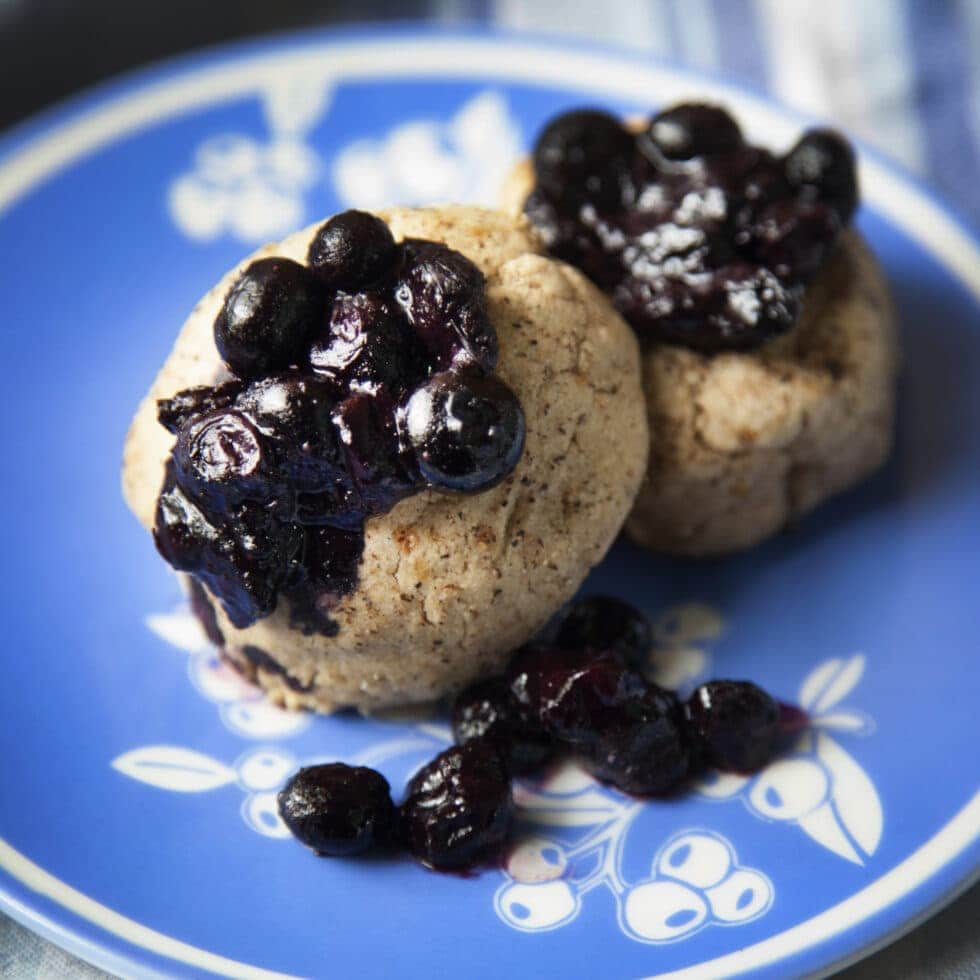 Low Histamine Blueberry Scone Recipe
Enjoy this delicious blueberry scone recipe that's low histamine, low lectin, and medium oxalate.
Ingredients
Instructions
The Night Before
If you will be making the cream topping with only coconut milk, place a can of Native Forest Coconut Milk in the refrigerator overnight. This will cause the coconut cream to separate from the coconut water. If you are using Let's Do…Organic Coconut Cream, you can skip this step.  
Scone Base 
Preheat oven to 325 F. Grease a baking sheet with ghee. Or use a silicone baking mat or unbleached parchment paper. 

Make the Ghee Spread to spread on top of the scones before the bake. Do this by whipping the ghee, monk fruit, and vanilla powder together using a high-speed mixer or blender. Set aside until scones are ready to go into the oven. 

Mix together the ghee, monk fruit, and eggs until smooth with a whisk, food processor, pastry cutter, or high-speed blender. (Note: You can use an electric stand mixer with a pastry blender attachment if you have one, but the other methods work just as well.) 

Next, mix in the vanilla and coconut milk.

In a separate bowl, mix your dry ingredients: cassava flour, baking powder, baking soda, and salt.  

Once combined, add the dry ingredients to the wet ingredient mixture. Mix until the dough comes together. If the dough is too crumbly, add a little extra coconut milk, or ghee. If the dough is too wet, add a little more cassava flour. 

Shape the dough into scone shapes – about 3"x3" squares and place on your lined or greased baking sheet.  

Get the Ghee Spread mixture you made earlier and spread on top of the scones.  

Make sure scones are snug and touching to prevent them from drying out.  

Remove from oven and let baked scones cool for 5-10 minute before removing from baking sheet.  

And remember, this is a crumbly scone. It will hold together when it comes out of the pan. But when you bite or cut into it, you will get crumbs.  
Blueberry Topping
While your scones are in the oven, heat blueberries in a small pan over medium heat for 5-10 minutes until they begin to bubble.  

Mix in monk fruit powder and vanilla powder.

Top scones with Blueberry Topping when you're ready to eat.  
If Using the Coconut Milk for Topping
After allowing Native Forest Coconut Milk to sit in the refrigerator all night, remove it from the fridge. 

Then open the can and scoop the thickest cream from the top.

Whip the coconut cream, monk fruit extract, and raw vanilla powder with a whisk.  

Top scones with coconut cream.
OR If Using the Coconut Cream for Topping
Scoop out 1 cup of coconut cream from the top of the can.  

Whip the coconut cream, monk fruit extract, and raw vanilla powder with a whisk.  

Top scones with coconut cream.  

You can use the leftover coconut water or coconut cream for smoothies or other recipes. You can freeze it in an ice cube tray to make it easier to use.
Notes
You aren't going to see a lot of rise with this recipe. And they will brown slightly as they cook, but the color doesn't change much. Cassava doesn't turn golden brown.  
You can use the leftover coconut milk in Purity Coffee (goes great with sco
nes, too!)
You can freeze these in an airtight container once they reach room temperature.
Will you make this blueberry scone recipe for your next brunch? Tell me your favorite brunch foods in the comments!
More Mast Cell Friendly Breakfast Recipes
Some links in this website are affiliate links, which means Mast Cell 360 may make a very small commission if you purchase through the link. It never costs you any more to purchase through the links, and we try to find the best deals we can. We only recommend products that we love and use personally or use in the Mast Cell 360 practice. Any commissions help support the newsletter, website, and ongoing research so Mast Cell 360 can continue to offer you free tips, recipes, and info. Thank you for your support!
References
Quercetin supports mast cells: Li, Y., Yao, J., Han, C., Yang, J., Chaudhry, M. T., Wang, S., Liu, H., & Yin, Y. (2016). Quercetin, Inflammation and Immunity. Nutrients, 8(3), 167. https://doi.org/10.3390/nu8030167
Blueberries quercetin content:Häkkinen, S. H., Kärenlampi, S. O., Heinonen, I. M., Mykkänen, H. M., & Törrönen, A. R. (1999). Content of the flavonols quercetin, myricetin, and kaempferol in 25 edible berries. Journal of agricultural and food chemistry, 47(6), 2274–2279. https://doi.org/10.1021/jf9811065