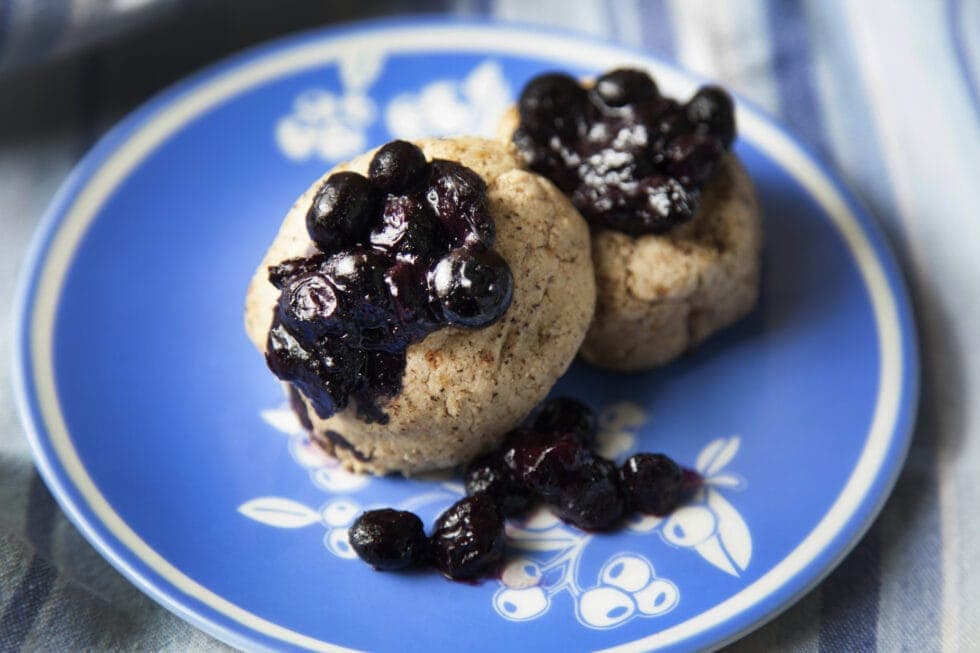 Scones with Blueberry or Cream Topping Recipe- For Those With Mast Cell Activation Syndrome or Histamine Intolerance (Medium Oxalate and Low Lectin)
Before I knew I had Mast Cell Activation Syndrome and Histamine Intolerance, I loved sweets. When I went out to eat, I would decide what I wanted for dessert first. Then I would pick the rest of my meal to go with that dessert!
I wanted something sweet every single day. But when I found out I had Mast Cell Activation Syndrome and Histamine Intolerance…that all had to change.
I know that processed sugar isn't good for anyone. But it is particularly problematic for those of us with Mast Cell Activation Syndrome or Histamine Intolerance.
Sugar can increase inflammation. It can also feed pathogens like bacteria and yeast in the body. So sugar makes both Histamine Intolerance and Mast Cell Activation Syndrome worse.
Gluten is also a problem when you have Mast Cell Activation Syndrome or Histamine Intolerance. Gluten can cause more gut inflammation and trigger mast cells and histamine release.
It can also cause leaky gut. Gut issues are a big root factor in both Mast Cell Activation Syndrome and Histamine Intolerance. You can read more about the root factors involved in Mast Cell Activation Syndrome and Histamine Intolerance here:
I eat a lot differently now. No more daily desserts. No more gluten.
I will still have a treat every now and then, though. Like for special occasions.
But I found out something not that long ago. It was when my husband took me to a Gluten-Free bakery for my birthday. They had a lot of beautiful choices. But I found that all the ones we tried were too sweet for me. My tastes have changed so much!
I used to be the girl who could eat a dozen cookies in one sitting. It is amazing how much things change!
I no longer crave sugar like I once did. But I do still like a treat every now and then. So next I'll tell you about a lovely scone recipe I made. It's sweet, but not too sweet.
And I'll tell you a little about some of the ingredients. You can use these ingredients in other baked goods, too. They are good substitutes if you have Mast Cell Activation Syndrome or Histamine Intolerance.
Ingredients to Use When You Have Mast Cell Activation Syndrome or Histamine Intolerance
Now, when I make dessert, I make them with  Better Organic Stevia* or Pure Monk Fruit Extract*.
Stevia and Monk Fruit are natural, plant-based sweeteners with no calories.
They don't affect your blood sugar like sugar, honey, and maple syrup.
But you need to check the ingredients to make sure they don't have any other added ingredients.
Both Stevia and Monk Fruit often have fillers. And fillers can be bad if you have Mast Cell Activation Syndrome or Histamine Intolerance.
The brands I've linked here don't have those fillers.
I used the monk fruit extract in this recipe. It adds a slight caramel flavor. You could add a few drops of Stevia, too, if you want a much sweeter scone. I personally stick with just the monk fruit extract.
I typically use Otto's Cassava Flour* for baking. Cassava flour bakes very similarly to wheat flour. But cassava flour is gluten-free!
It is medium oxalate and lectin-free too
. Oxalate levels depend on the quantity you eat. In this recipe, one serving is medium oxalate.
Cassava flour is also a resistant type of starch.
This means it doesn't affect blood sugar as much. Resistant starches also feed good gut bacteria.
If you are allergic to latex, though, you may not do well with cassava flour. Cassava is in the same plant family as latex.
In that case, you could substitute
Organic White Rice Flour
* in this recipe if you are less sensitive to lectins. Or if you don't have an oxalate issue, you could try
Blanched Almond Flour
.* For the coconut milk in this recipe, I use
Native Forest
. The ingredients are only organic coconut and filtered water.
Native Forest
is 100% coconut milk with no added ingredients. These are great ingredients to use in baking when you have Mast Cell Activation Syndrome and Histamine Intolerance. And you can see how they are used in this scone recipe. Let's look at that next.
Low Histamine Scone Recipe for Those with Mast Cell Activation Syndrome and Histamine Intolerance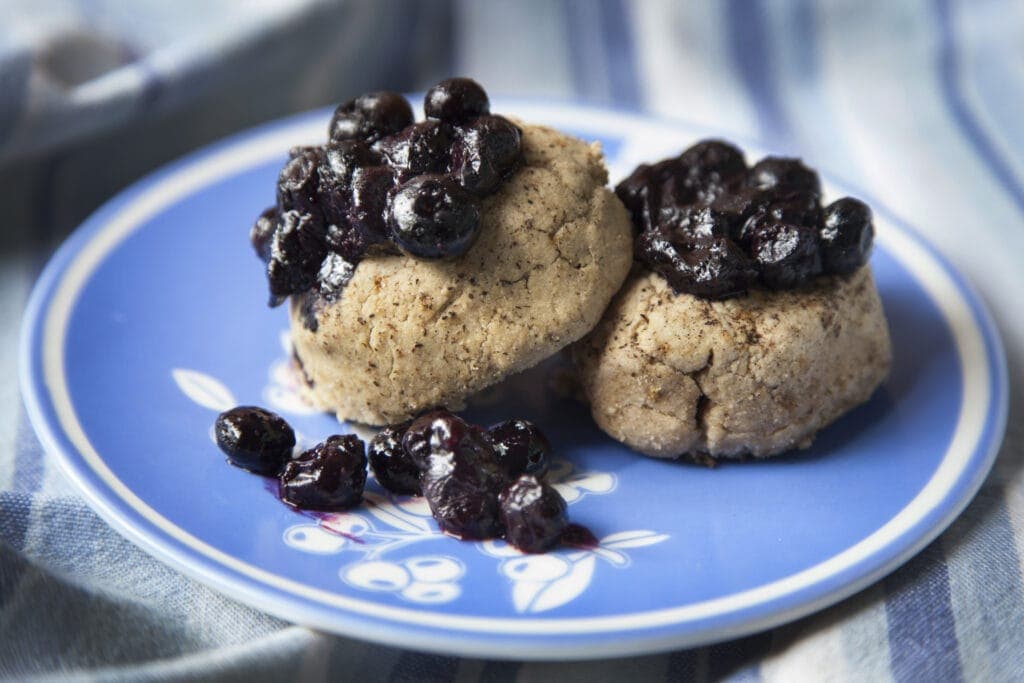 Before I get to the recipe,
I want to mention something about American vs. British scones.
American scones tend to be very large. They are also much sweeter than British scones. British scones are less sweet. They are often served with jam and clotted cream. So they don't need to be as sweet since the jam adds sweetness. They are also a bit crumbly to soak up the cream.
I've followed more of the British style scone in this recipe.
It is a crumbly scone that works great with the Blueberry Topping and/or Coconut Cream. If you prefer more of an American-style scone, you'll want to add extra monk fruit to make the scones a little sweeter. You may also want to add extra butter to the dough so it won't be as crumbly. And because it will be sweeter, you might choose to skip the Blueberry Topping and Cream. Scones are traditionally served with hot tea. Regular black tea is high histamine, though. But there are some nice alternatives. I like to have these scones with
Roasted Dandelion Root Tea
,
Raspberry Leaf Tea
, or
Tulsi Tea
. I put a few drops of
 Better Organic Stevia*
in my tea to sweeten it. You can make it to your own taste. If you do use stevia, remember a little goes a long way. I really hope you enjoy this recipe as a treat to have with Afternoon Tea! Or anytime!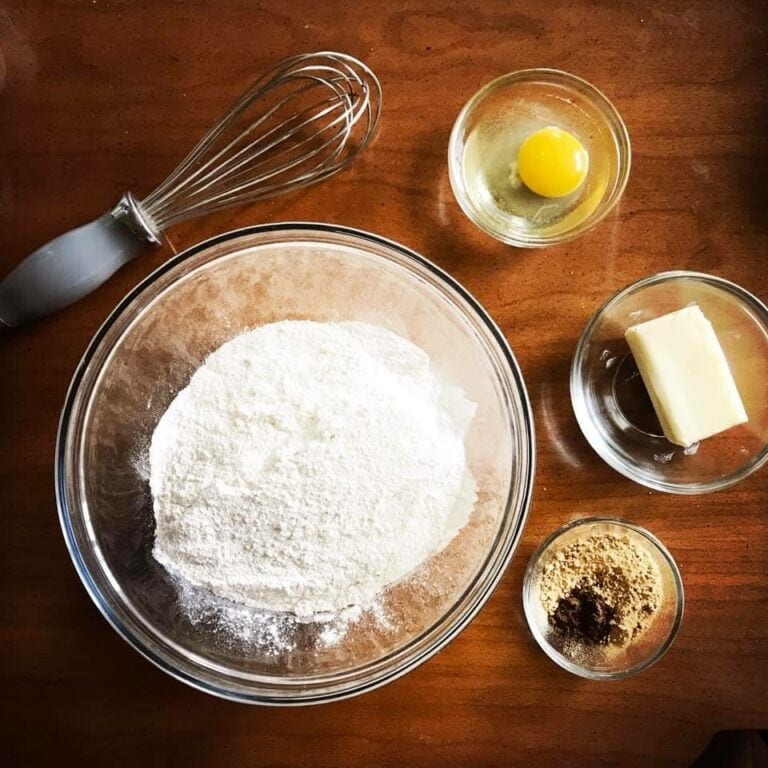 Ingredients for the Scones
To spread on top of the scones (before the bake)
For Blueberry Topping (added after the bake)
For Cream Topping (added after the bake) (requires some day ahead prep if using coconut milk rather than coconut cream)
Directions
If you will be making the Cream Topping, place a package of Native Forest Coconut Milk in the refrigerator overnight. This will cause the coconut cream to separate from the coconut water. If you are using Let's Do…Organic Coconut Cream, you can skip this step.
Preheat the oven at 325 degrees. Grease a pie pan with ghee or use a silicone baking mat.
Make the butter mixture to spread on top. Do this by whipping the butter, monk fruit, and vanilla powder together using a high-speed mixer or blender. Set aside until scones are ready.
Cream together the butter, monk fruit, and eggs until smooth with a whisk, food processor, or high-speed blender.
Next mix in the vanilla, and coconut milk.
In a separate bowl mix cassava flour, baking powder, baking soda, and salt.
Add the dry ingredients to the wet mixture and mix together until the dough comes together. If the dough is too crumbly, add a little extra coconut milk. If the dough is too wet, add a little more cassava flour.
Shape the dough into scone shapes – about 3"x3" and place in a pie pan.
Get the butter mixture you made earlier and spread on top of the scones.
Make sure scones are snug and touching to prevent them from drying out.
Bake for 28 minutes.
Let cool for 5-10 minute before removing from pan.

*note: You aren't going to see a lot of rise with this recipe. And they will brown slightly as they cook, but the color doesn't change much.

And remember, this is a crumbly scone. It will hold together when it comes out of the pan. But when you bite or cut into it, you will get delicious crumbs. For less crumble, you can try adding more butter.
For Blueberry Topping
Heat blueberries in a small pan over medium heat for 5-10 minutes until they begin to bubble.
Mix in Monk Fruit Powder and Vanilla Powder.
Top Scones with Blueberry Topping.
For Coconut Cream Topping
If using the Coconut Milk:
After allowing Native Forest Coconut Milk to sit in the refrigerator all night, remove it from the fridge.
Then open the package and scoop the thickest cream from the top of the package.
OR
If using the Coconut Cream:
Scoop out 1 cup of coconut cream.
Whip the coconut cream, monk fruit extract, and raw vanilla powder with a whisk.
Top scones with coconut cream.
You can use the leftover coconut water or coconut cream for smoothies or other recipes. You can freeze it in an ice cube tray to make it easier to use.
It's important you know that this blog post is for informational and educational purposes. It's not meant to treat any health condition or to be prescriptive for anyone. Always be sure to work with your healthcare practitioner.
Before you change your diet on your own, please make sure you're working with a healthcare practitioner who can help you with this.
*Some links in this website are affiliate links, which means Mast Cell 360 may make a very small commission if you purchase through the link. It never costs you any more to purchase through the links, and we try to find the best deals we can. We only recommend products that we love and use personally or use in the Mast Cell 360 practice. Any commissions help support the newsletter, website, and ongoing research so Mast Cell 360 can continue to offer you free tips, recipes, and info. Thank you for your support!