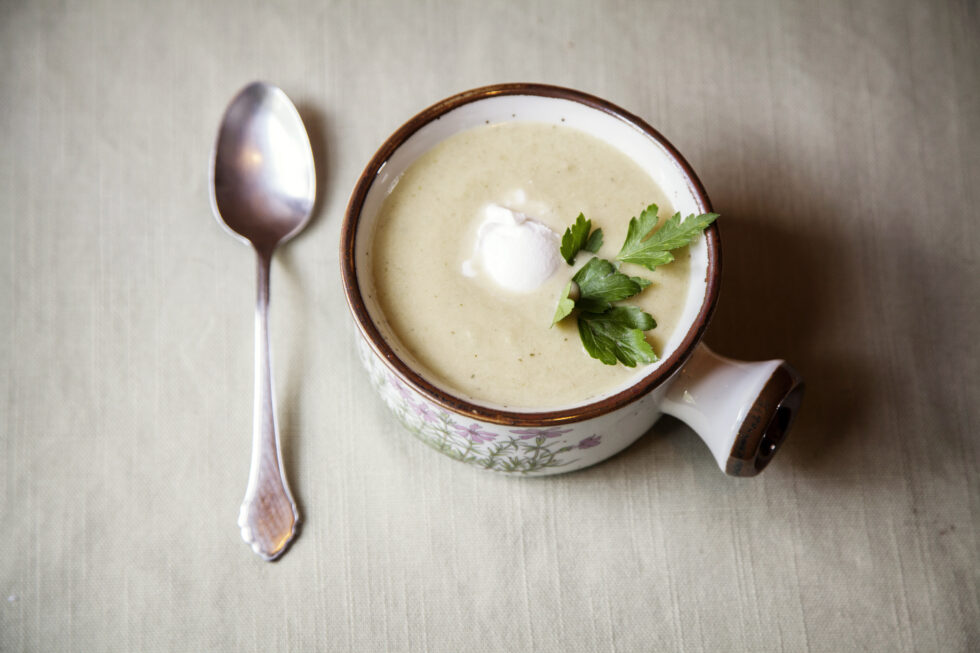 Low Histamine Leek and Fennel Soup Recipe (also Low Lectin, Low Oxalate, Low Salicylate, Gluten Free) 
I've had a lot of gut issues related to Mast Cell Activation Syndrome and Histamine Intolerance.
So, from time to time, I've had to eat easy to digest foods to give my gut a chance to rest and repair.
Puréed soups are good when you need something to give your gut a break.
But soups are great no matter what. You can get so creative with soups!
And soups are easy to freeze and reheat during the week.
TIP: Always freeze your leftovers to keep them low histamine!
Those are all reasons why soups are a go-to for me.
This Leek and Fennel Soup Recipe is one of my favorites throughout the year.
Well, I should say I used to like it all year round.
I'm currently having to eat low FODMAP, so I've had to put this recipe aside for a bit.
I'm looking forward to coming back to it, though.
And I didn't want my issues to keep you from enjoying something new!
If you don't have to worry about FODMAPs, I hope you'll enjoy this recipe. It's
And I've got a low salicylate option for you, too.
This silky-smooth soup is a great way to get in your veggies.
It's a thicker soup since it is puréed. The texture is somewhat like a cream of broccoli.
You've got bright notes of fennel which make this soup feel light, not heavy.
And you've got the depth of flavor from the leeks and herbs like thyme and parsley.
These fresh ingredients provide you with some important nutrients, too.
Take a look at a few of the health benefits you'll get with this recipe.
What to Know About the Ingredients in Leek and Fennel Soup
It's important you know that this blog post is for informational and educational purposes. It's not meant to treat any health condition or to be prescriptive for anyone.  If you have any medical condition, it is critical you work under the care and guidance of a licensed medical provider.
The flavors of fresh foods are so much more vibrant than canned or frozen foods.
Frozen foods are usually fine in terms of histamine levels.
But in terms of taste, nothing really compares to fresh, in-season produce.
Check out the Low Histamine Foods List to see both low histamine and high histamine produce.
This leek and fennel soup takes advantage of those fresh vegetable flavors.
There aren't many ingredients in this soup, but the ingredients are flavorful and nutritious.
Keep reading to learn more about fennel and leeks.
You'll want to check out these sections because I've got some good tips for you that will be helpful when it comes to making the recipe.
What is Fennel?
Here's a fun fact for you. Fennel is a member of the carrot family!
It doesn't taste anything like carrots though.
Many people think the taste of fennel is like anise or black licorice. If you're not a fan of candy licorice, hear me out!
I'm one of those people who really doesn't like black licorice…at all. But fennel is quite different from black licorice. It's more like anise.
Fennel is delightfully aromatic.
When I've made this in the past, the scents coming from the kitchen made me so excited to eat!
3 Parts of Fennel
This recipe uses fennel in 3 ways. You'll use fennel bulbs, fennel stalks and fronds, and fennel seeds.
If you aren't familiar with fennel, you'll need to know the different parts of the plant for the recipe. Come back to this part if you need to.
The bulb is the white part at the base of the plant
The stalks are the stem-like parts that grow out of the bulb
The fronds are the wispy green leaf part
You can also buy the seeds separate from the plants. These are found in the spice aisle of the grocery.
Now that you know a little more about fennel, keep reading to learn more about leeks. I've got a good tip for you for cleaning leeks, too.
What are Leeks?
The other main ingredient in this soup is leek.
Leeks are in the allium family. Some other alliums you may be familiar with are garlic, onions, and shallots.
Leeks have thick, green, leafy tops. These can be a little tough at the very top.
But for this recipe, you'll just be using them for the stock base of this soup. You don't see the green parts in a lot of recipes, but they are edible.
And they contain a lot of vitamin C. Even just using them in stock gives you a nutrient boost.
Plus, they add good flavor to the stock.
Note: You may be tempted to use chicken stock or vegetable stock. However, I really recommend making this stock. It enhances the flavor.
Toward the root, leeks become white and more tender. You'll use this white part in the soup. (This white part is high FODMAP, which is why I can't eat it right now.)
Unlike garlic and onions, leeks don't have the same sharp "spiciness". Some people even describe them as being a little sweet.
The milder flavor makes it great in this dish. It doesn't overpower the other flavors.
How to Clean Leeks for Soup
Leeks tend to hold a lot of dirt and sand due to their shape. Here's how to clean them for this recipe.
Rinse the leeks with water to remove visible dirt or sand from the outer part of the plant.
Cut off the roots of the leeks. (The bottom of the white part will have visible roots. You want to keep most of the white part. Cut just the string-like roots off).
Slice the leeks in half, top to bottom.
Rough chop the leeks, crosswise.
Separate the white parts and the green parts into two different medium bowls.
Add cold water to both bowls of leeks. Swirl the leeks around with your hands to get rid of any remaining dirt or sand.
Strain contents of each bowl separately. Rinse once more in the strainer.
Rinse each bowl and put the white parts back in their bowl and the green parts back in their bowl.
Set aside white parts for soup.
Fennel and leeks both provide nutrients that may support your health. Combine tastiness with health benefits and that's a winning recipe.
Next, take a look at some of those health benefits.
Benefits of Leek and Fennel Soup Recipe Ingredients
When you choose fresh produce, you're helping yourself to some beneficial nutrients.
Both fennel and leeks have lots of nutrients. But I want to highlight just a couple:
You'll read more about that in just a bit.
But because leeks are part of the allium family, they also have one other benefit you might be interested in.
Leeks contain allicin. Allicin is a sulfur compound. It has been shown to have antimicrobial properties.
Because of this, some people take allicin supplements to aid with SIBO (small intestinal bacterial overgrowth.)
But if you can get allicin naturally through your foods, that's an extra way you can help support a healthy gut microbiome.
Next, take a look at those other two nutrients you'll get from both fennel and leeks.
Phosphorous
Phosphorous is important for your bones and teeth. It's also important for supporting kidney functions.
Your kidneys are an important detox organ.
You always want to support your body's ability to detox. It's important to process out any toxins you might have in your body.
Why is that especially important if you have Mast Cell Activation Syndrome?
The majority of my clients with Mast Cell Activation Syndrome also have Mold Toxicity. And detoxing mycotoxins (toxins from mold) is a big step in getting your MCAS under control.
You want to support all your detox pathways when you are dealing with Mold Toxicity!
Magnesium
Your body needs magnesium to produce DAO (diamine oxidase).
DAO is an enzyme that breaks down histamine.
It's important that your body be able to break down histamine.
If your body can't break down histamine efficiently, histamine can build up in your body.
That's when you can get Histamine Intolerance (HIT).
Magnesium is also an important nutrient for mast cells.
Related Article: Mast Cell and Histamine Safe Forms of Magnesium
It's always great to have healthy foods to choose from.
And when you find tasty ingredients, those bursts of flavor feel like a big win when you have food intolerances!
I hope the flavors in this recipe will feel like a win for you!
This recipe would go great with:
Ready to get started?
Check out this recipe for Low Histamine Leek and Fennel Soup.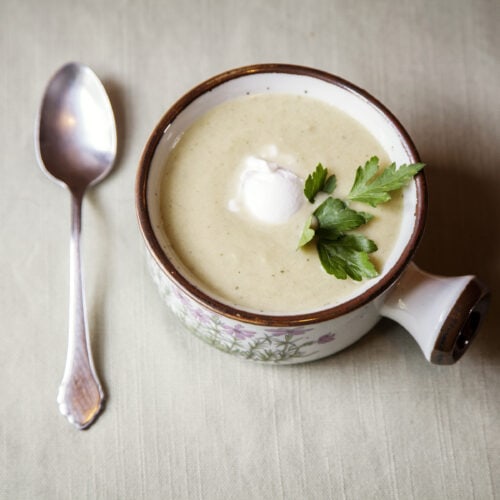 Low Histamine Leek and Fennel Soup Recipe
This delicious soup is also Low Lectin, Low Oxalate, Low Salicylate, and Gluten-Free!
Ingredients
Stock Base
7

cups

Filtered Water

2

Medium Leeks

Leafy Green Part (set aside white part for soup) 

2

Fennel Plants

Stalks and Fronds (set aside bulbs for soup) 

1

Celery Stalk

Diced

3

Tablespoons

Fennel Seeds

5

Parsley Sprigs

(Flat Leaf Parsley for low oxalate)
Soup
2

Tablespoons

Kasandrino's Olive Oil

(substitute with ghee for low salicylate)

2

Medium Leeks

White Part

5

cups

Stock

(above)

2

Fennel Bulbs

1

Celery Stalk

2

teaspoons

Fresh Thyme Leaves

(omit for low salicylate)

1

teaspoon

Redmond Real Salt

½

teaspoon

Fennel Seeds

8

Fresh Mint Leaves

(omit for low salicylate)

Parsley

for garnish

Coconut Cream

(omit for low salicylate)
Instructions
Make the Stock
Add 7 cups of water to a large pot (any large stock pot or Dutch oven will work.) Cover and bring to a boil. 

Clean all veggies thoroughly.

Rough chop the fennel stalks and fronds and bulbs. Keep the stalks and fronds separate from the bulbs. Set aside bulbs for the soup. 

Rough chop 1 stalk of celery.

Add leek tops, fennel stalks, fennel frond, celery, parsley, and fennel seeds to the boiling water. 

Bring to a boil again, then turn the heat down to medium heat. Let the stock simmer 20-30 minutes.  

Strain the stalk into a large bowl. Be sure to press the liquid out of the solid ingredients. This is where you are going to harvest a lot of flavors. You can use a wooden spoon to press the juices out through the strainer and into the bowl. Discard the solids after you have pressed out the liquids. 

Measure the stock. You will lose some water to evaporation. Add enough water to bring your stock up to about five cups. 
Make the Soup 
In your large pot, add olive oil and white parts of the leeks you set aside earlier. Cover the pot and cook for about 3 minutes on medium low heat. Stir once or twice.  

When the leeks are very slightly browned, add the fennel, celery, thyme leaves, mint leaves, stock and a couple pinches of salt. 

Bring to a slow boil at medium high heat. Then turn down the heat and allow the soup to simmer with the lid on for about 20 minutes.  

Use an immersion blender to puree all the contents of the pot. (Alternately you could transfer the contents into a regular blender. Be careful not to burn yourself.)  

Serve and garnish with parsley. 

Option: for an even creamier, silkier soup, add a dollop of coconut cream to each bowl. Stir in until coconut cream is blended into the soup.  

Many recipes call for a dollop of sour cream or a drizzle of heavy cream in each serving. This soup is smooth even without any additions.  

Coconut cream is a good substitution for cream, though. It makes the soup even silkier. But you don't absolutely need it. And you'll want to skip the coconut milk if you are going low salicylate.   

I've eaten it with and without the coconut cream and it is good both ways. 
Notes
You can make several batches and freeze to reheat during the week for a quick meal.
Serves 4 as a light appetizer or 2 as a hearty meal.
Nutrition
Nutrition Facts
Low Histamine Leek and Fennel Soup Recipe
Amount per Serving
% Daily Value*
* Percent Daily Values are based on a 2000 calorie diet.
What's your favorite soup to eat? Will you try Leek and Fennel Soup? Tell me in the comments below.
More Low Histamine Soup Recipes
Some links in this website are affiliate links, which means Mast Cell 360 may make a very small commission if you purchase through the link. It never costs you any more to purchase through the links, and we try to find the best deals we can. We only recommend products that we love and use personally or use in the Mast Cell 360 practice. Any commissions help support the newsletter, website, and ongoing research so Mast Cell 360 can continue to offer you free tips, recipes, and info. Thank you for your support!
References
Ankri, S., & Mirelman, D. (1999). Antimicrobial properties of allicin from garlic. Microbes and infection, 1(2), 125–129. https://doi.org/10.1016/s1286-4579(99)80003-3
Salehi, B., et al. (2019). The Therapeutic Potential of Apigenin. International journal of molecular sciences, 20(6), 1305. https://doi.org/10.3390/ijms20061305
USDA. (2019, April 1). FoodData Central. Retrieved May 19, 2022, from https://fdc.nal.usda.gov/fdc-app.html#/food-details/169246/nutrients
USDA. (2020, October 30). FoodData Central. Retrieved May 19, 2022, from https://fdc.nal.usda.gov/fdc-app.html#/food-details/1103347/nutrients