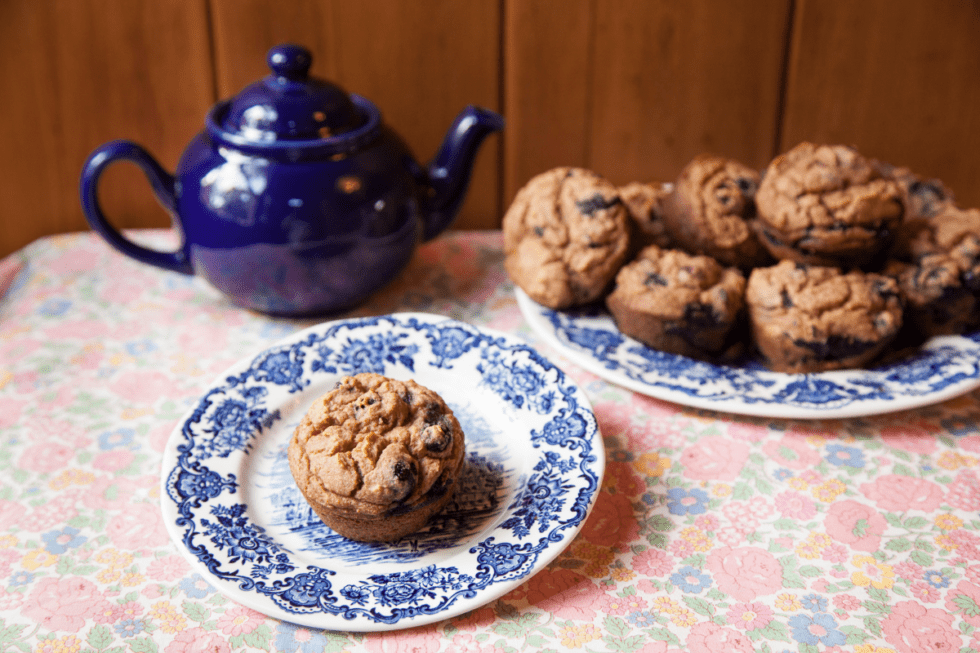 Low Histamine Muffin Recipe: Blueberry Cassava Flour Muffins (Medium Oxalate and Low Lectin with Low Salicylate Options)
This low histamine recipe for cassava flour muffins is always a hit!
Muffins go fast around my house. So, I actually make 2 batches at a time.
I designed this recipe to be made in the blender. That makes the prep easy and fast. No need to dirty separate bowls for dry ingredients and wet ingredients.
I use 2 blender jars and make 2 batches at a time so I get multiple servings out of it.
TIP: Just make sure you divide and put it separately in two bowl or blender jars as you measure out. A double batch won't fit in one blender bowl.
And these cassava flour muffins freeze really well.
These blueberry muffins work well for our community with Histamine Intolerance and MCAS because they are:
Nut free
Dairy free
Grain free
Vegan
And I've got a low salicylate option for you, too.
I love making recipes that my friends without MCAS and HIT can also enjoy. These low histamine muffins fit the bill.
They are perfect for a yummy Sunday brunch with family and friends.
I like to pair them with my low histamine yogurt or mango blueberry basil salad.
Why Cassava Flour Muffins?
Cassava flour is not only low histamine and low lectin, but it's also:
Paleo
Low carb
Gluten free
Grain free
If you're sensitive to oxalates, it's medium oxalate above ¼ cup so limit your servings or about 1 muffin.
I only use Otto's brand cassava flour in my cooking. I've tried other brands and reacted to all of them. I suspect this is because other brands ferment the flour.
Cassava is in the rubber plant family. It's part of the tapioca plant.
Bananas and latex come from the same family. So, if you have allergies to latex or bananas (besides histamines), then you may want to test a tiny amount first to make sure you don't react.
Although, I've had some with latex allergies do fine with cassava.
TIP: If cassava bothers you, some people have made this low histamine muffins recipe with white rice flour with decent results. Just remember that white rice flour isn't as low lectin as cassava.
I find cassava flour easier to work with than coconut flour for grain free baking. And it works for more of our community than almond flour which is high oxalate and high lectin.
More Cassava Flour Recipes with Otto's
Making Cassava Flour Muffins into Low Histamine Muffins
Just because you have Histamine Intolerance doesn't mean you have to give up some of your favorite foods.
I really like to think about replacing high histamine foods instead of just eliminating them.
Sometimes all it takes to make a recipe low histamine is a few ingredient swaps.
Making these cassava flour muffins low histamine was super easy.
Here are the substitutions I made.
Learn more about the low histamine diet here.
Blueberry Muffins
My favorite flavor is blueberry muffins. For the blueberries, I like using frozen blueberries.
It's convenient since I usually keep them on hand for my low histamine smoothies.
You can also use fresh blueberries. Either one works well with cassava flour.
Blueberries are low histamine. You don't need to worry about them. But here are some of the swaps you should know about.
TIP: If you sub rice flour, the large blueberries will drift to the bottom of the pan. But they still taste delicious!
Flavoring
I prefer raw vanilla bean powder over vanilla extract. The alcohol in vanilla extract is high histamine.
It's an investment up front. But it lasts a long time if you store it in the fridge. And a little goes a long way.
Make sure you're buying just raw, ground vanilla beans. The powder should be brown, not white. White means it has been highly processed.
Sweeteners for Low Histamine Muffins
Many muffin recipes call for applesauce. Applesauce can be a substitute for eggs. And it can add moisture and sweetness.
But I generally recommend staying away from packaged foods. Most foods build in histamine the longer they sit on a shelf.
And just because something says organic or gluten-free, doesn't necessarily make it healthy.
Premade applesauces are often high histamine (even when they are organic and the only ingredient is apples!)
They may have additives to extend the shelf life.
Or they may have high histamine ingredients like cinnamon or sugar.
And apples are almost always on the Dirty Dozen food list for high pesticide residue.
So, with Mast Cell Activation Syndrome or Histamine Intolerance, it's often better to just make your own. And it's so easy!
To make low histamine applesauce for muffins, I like to throw the apples straight into the blender.
I leave the skins on for added nutrition and fiber. Apple skins contain quercetin which is mast cell supporting. It doesn't affect the texture of the muffins at all.
I use green apples because they are lower in naturally occurring sugars.
But you can use any apples here. Other types of apples will give this a sweeter flavor.
Some cassava flour muffin recipes call for mashed bananas or chocolate chips to add sweetness. But they are both high histamine.
Other grain free muffin recipes will use coconut sugar or honey or maple syrup.
But these can spike your blood sugar.
This is important because spiking your blood sugar can increase histamine release.
But you don't need bananas, chocolate chips, sugar, honey, or syrup to make these muffins sweet.
I recommend monk fruit and stevia as sweeteners.
These will not spike your blood sugar as much. The keto diet has made them more popular so they are fairly easy to find nowadays.
Flax Eggs
Some people do well with chicken eggs.
But some people may be avoiding eggs if they are in Phase 1 of the low histamine diet.
I used to have trouble eating 2 or more eggs at a time if I was just eating eggs straight
But if it is a small amount in a recipe like this, I was fine. When you break it down, it comes to about 1/6 of an egg per muffin. I was able to tolerate that.
You'll have to experiment for yourself to see what is right for you.
I recommend using pasture-raised eggs if you do want to use chicken eggs.
But if you can't do any eggs at all don't worry! Flax eggs work just fine.
If you haven't made flax eggs before, it is super easy.
See the bottom of the recipe.
The flax makes a gel that thickens the batter like real eggs. It won't rise quite as much. But it will still taste great.
Low Histamine Muffins Baking Ingredients
Here are a few other easy swaps I made with this recipe.
Coconut milk is my go-to dairy free milk.
However, it can be really hard to find coconut milk without thickeners.
Thickeners like xanthum gum can cause mast cell issues and histamine problems.
Fortunately, Native Forest Simple makes a 100% coconut milk. That works great for this muffin recipe.
When I sweet recipe calls for oil, I like the flavor of coconut oil best. In this low histamine muffin recipe, it adds a hint of sweetness.
I find that avocado oil and olive oil can add odd flavor notes or aftertastes in baked goods.
And you'll notice there isn't any baking powder in this recipe.
I only use baking soda. Most baking powders contain corn.
Corn isn't high histamine, but it is in the lectin category. This will be a concern if you have Lectin Intolerance.
And it's been my experience that generally, a lot of people in the Mast Cell 360 clinic don't do well with corn or corn-based products.
Related Article: What to Know About Corn if You Have Mast Cell Activation Syndrome or Histamine Intolerance
Thankfully, Otto's now has a cassava based baking powder. You can check out the cassava baking powder here!
Even with these changes, you won't miss a thing!
So whip up a batch (…or 2…or 3) of these cassava flour muffins.
These muffins are gluten free, but even your friends who eat wheat flour will enjoy them! My guests want seconds of these blueberry muffins anytime I make them!
TIP: If you use muffin liners, be sure to get them unbleached so you don't have toxic chemicals leaching into your delicious muffins!
Learn more about how to make a low histamine meal plan here.
Low Salicylate Muffin Recipe Swaps
If you need low salicylate substitutions, here's what to use:
Peeled yellow or red delicious apples
Cream (dairy-based) or homemade pecan milk instead of coconut milk
Chicken Eggs instead of flax eggs
Ghee instead of coconut oil
Mango instead of blueberries
Omit vanilla and stevia
Be sure to adjust the ingredients below if you need low salicylate.
How to Make a Double Batch of Cassava Flour Muffins
With a lot of recipes, you just double the amount of ingredients and follow the same instructions.
But there's a secret tip you'll want to know when doubling this recipe.

All your ingredients aren't going to fit in one blender if you double it. (Unless you have a huge blender.)
So, I use two blender jars (that's the part that looks like a pitcher.)
I get all the ingredients I need for a double batch prepped. But I make sure to keep everything separate as though I were making two single batches.
Have you heard of mise en place? It's a cooking term for when you prep and organize ingredients before you start cooking.
It often involves separating measured ingredients into small bowls.
It's really helpful. Especially if you have brain fog.
So, when you are organizing your ingredients for a double batch, you can go ahead and get all your eggs out, for example. Just be sure to keep half of them for one blender jar and half for the other.
I do this by cracking 3 eggs in blender jar and 3 eggs in a separate blender jar.
Do this with all the ingredients.
I hope this tip helps! I don't want you to get halfway through only to find out all your ingredients aren't going to fit for a double batch!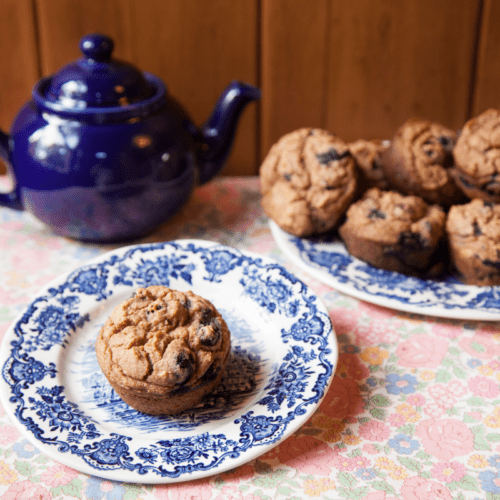 Low Histamine Muffin Recipe: Blueberry Cassava Flour Muffins (Medium Oxalate & Low Lectin with Low Salicylate Options)
Enjoy these delicious cassava flour muffins that are low lectin, medium oxalate, and low histamine muffins with a low salicylate option!
Instructions
Grease muffin tin well with ghee or coconut oil. Or use unbleached paper baking cup liners.

Chop apples into large chunks. 

Add to blender the following wet ingredients: apple chunks, coconut milk, eggs, softened ghee or coconut oil, and stevia.

Blend on high until smooth.  

Add the following dry ingredients to the blender: cassava flour, baking soda, monk fruit powder, vanilla powder, salt. Blend on low just until smooth. Depending on your blender, you may need to hand mix if it's not high powdered.  

If using fresh blueberries, wash and dry.  

Spoon batter into a bowl and gently fold in blueberries.  

Bake 25-35 minutes until a toothpick comes out clean. Time depends on your oven and how full the muffin tins are.  

Cool for 5 minutes. Use a sharp knife to gently release the edges of the muffins from the pan. Then transfer to a backing rack to cool for about 15 minutes before eating. (Or if using baking cup liners, transfer muffins in baking cups to cooling rack. Allow to cool completely before removing baking cups.)

Freeze leftovers before they reach room temperature.
How to Make Flax Eggs
1 Tablespoon of flax mixture equals 1 egg. Use in place of eggs for baking. You won't get as much rise as eggs. But the flax eggs do help hold everything together.  
What's your favorite way to make low histamine muffins?
More Low Histamine Dessert Recipes
Some links in this website are affiliate links, which means Mast Cell 360 may make a very small commission if you purchase through the link. It never costs you any more to purchase through the links, and we try to find the best deals we can. We only recommend products that we love and use personally or use in the Mast Cell 360 practice. Any commissions help support the newsletter, website, and ongoing research so Mast Cell 360 can continue to offer you free tips, recipes, and info. Thank you for your support!
References
Li, Y., Yao, J., Han, C., Yang, J., Chaudhry, M. T., Wang, S., Liu, H., & Yin, Y. (2016). Quercetin, Inflammation and Immunity. Nutrients, 8(3), 167. https://doi.org/10.3390/nu8030167