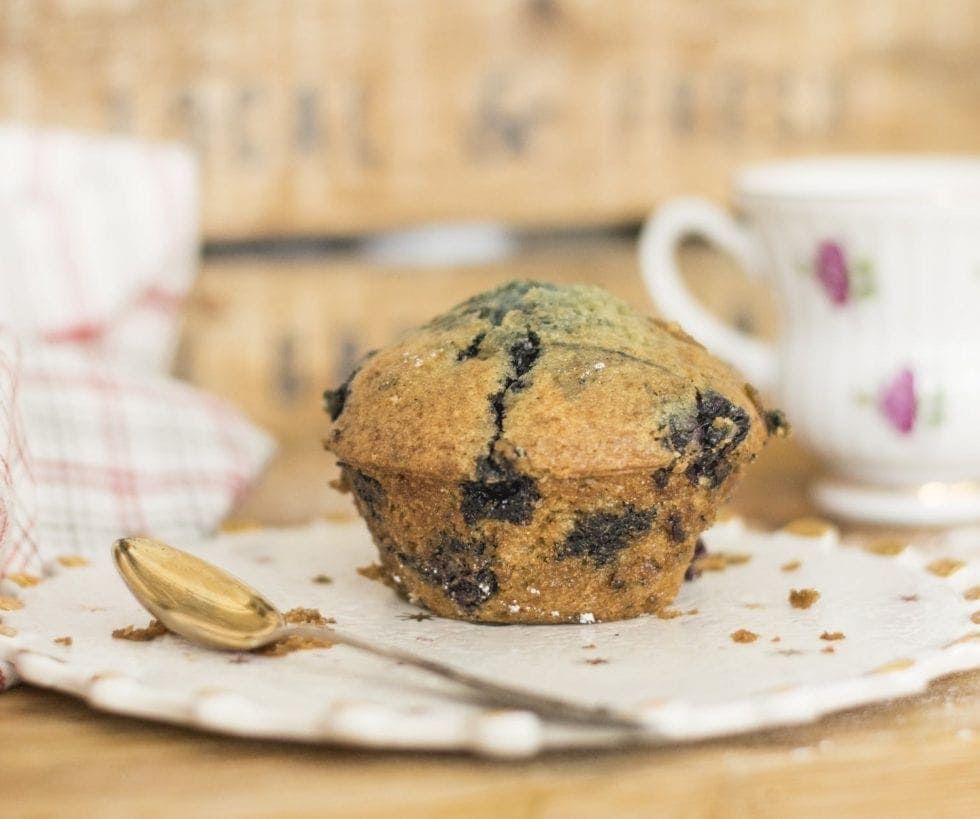 Easy Low Histamine Blender Blueberry Muffins
This is the recipe I made last Sunday for brunch. These muffins are always a hit! I hope you like them too. I designed this recipe to be made in the blender to make it easier and faster. Muffins go fast around my house. So I actually use 2 blender jars and make 2 batches at a time. And they freeze really well.
I only use Otto's brand cassava flour* in my cooking. I've tried other brands and reacted to all of them. Cassava is in the rubber plant family. Bananas and latex come from the same family. So if you have allergies to latex or bananas (besides histamines), then you may not want to use cassava. Or at least test a tiny amount first to make sure you don't react. If Cassava bothers you, some people have made this recipe with white rice flour with decent results. Just remember that white rice flour isn't as low lectin as cassava.
For the blueberries, I like using the frozen wild blueberries from Whole Foods. You can also use fresh blueberries. Either one works well with cassava flour. If you sub rice flour, the large blueberries will drift to the bottom of the pan.
Many recipes like this call for applesauce. I like to just throw the apples straight into the blender. That way it is much lower histamine than jarred applesauce. I leave the skins on for added nutrition and fiber. It doesn't affect the texture of the muffins at all. I use green apples because they are lower in naturally occurring sugars. But you can use any apples here. Other types of apples will give this a sweeter flavor.
I have trouble with eating 2 or more eggs at a time. But I seem to be ok if it is a small amount in a recipe like this. Others do great with eggs. But if you can't do any eggs at all don't worry! Flax eggs work just fine. If you haven't made flax eggs before, it is super easy. See the bottom of the recipe. The flax makes a gel that thickens the batter like real eggs. It won't rise quite as much. But it will still taste great.
Raw vanilla bean powder tends to be much lower histamine than vanilla extract. This is a little pricey. But if you store it in the fridge it lasts a long time. Make sure it is just raw ground vanilla beans. The powder shouldn't be white – that means it has been highly processed.
It can be really hard to find coconut milk without thickeners. These thickeners like xanthum gum can cause mast cell issues and histamine problems. Fortunately, Native Forest Simple makes a 100% coconut milk. That works great for this muffin recipe.
So whip up a batch…or 2…or 3 of these muffins. Even your gluten loving friends might really enjoy these!
Easy Low Histamine Blender Blueberry Muffins
Makes 12 large muffins or 16 small muffins
Ingredients:
Directions:
Preheat oven to 325º F.
Grease muffin tin well with ghee or coconut oil. Or use unbleached paper baking cups*.
Chop apples into large chunks. Add to Blender. Pour in coconut milk. Add eggs, softened ghee, vanilla powder, monk fruit extract, stevia and salt to the blender.
Blend on high until smooth.
Add cassava and baking soda to blender. Blend on low just until smooth.
If using fresh blueberries, wash and dry. Fresh blueberries will give a prettier presentation. Frozen blueberries are fine too but will color the batter blue.
Spoon batter into a bowl and gently fold in blueberries.
Fill muffin cups evenly.
Bake 25-35 minutes until a toothpick comes out clean. Time depends on your oven and how full the muffin tins are.
Cool 5 minutes. Use a sharp knife to gently release the edges of the muffins from the pan. Then transfer to a backing rack to cool completely. Or if using baking cups, transfer muffins in baking cups to cooling rack. Allow to cool completely before removing baking cups.
Freeze leftovers.
***How to make Flax Eggs:
Mix 3 T ground organic flaxseed meal with scant ½ cup water.
Let sit for 5 minutes.**1 T of flax mixture equals 1 egg.
Use in place of eggs for baking. You won't get as much rise as eggs. But the flax eggs do help hold everything together.
More Low Histamine Dessert Recipes
*Some links in this website are affiliate links, which means Mast Cell 360 may make a very small commission if you purchase through the link. It never costs you any more to purchase through the links, and we try to find the best deals we can. We only recommend products that we love and use personally or use in the Mast Cell 360 practice. Any commissions help support the newsletter, website, and ongoing research so Mast Cell 360 can continue to offer you free tips, recipes, and info. Thank you for your support!