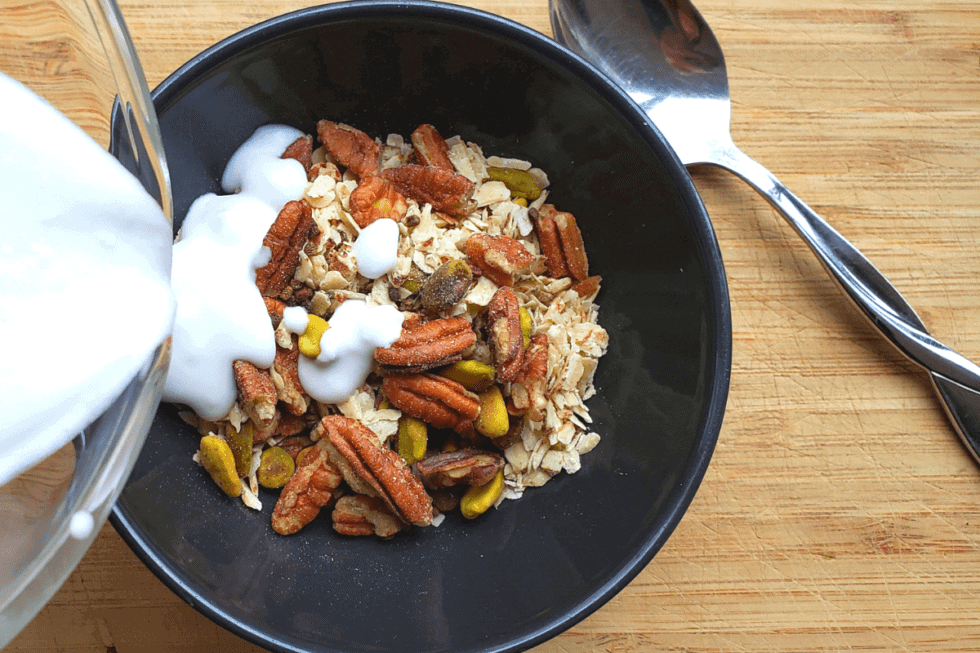 Low Histamine Cereal Recipe with Tiger Nuts (also Low Lectin, Low FODMAP, Medium Oxalate)
I want to help you start your day off right with low histamine recipes for breakfast.
You don't want to start your day by overflowing your histamine bucket with high histamine foods like pancakes, sausage, whole grain wheat toast, or yogurt!
Even foods like eggs or oatmeal can be a challenge.
Both are lower histamine. But eggs, even just egg whites, sometimes aren't tolerated in phase 1 of the low histamine diet. And oats contain lectins, which can be mast cell triggers.
Cereal is another breakfast food that has become standard for so many of us over the years.
Did you eat corn flakes or granola as a kid?
Boxed cereals are convenient. But they also present challenges when you have Mast Cell Activation Syndrome or Histamine Intolerance.
For example, the sugar content raises histamine levels in your body. And the preservatives can trigger mast cells.
So, I get lots of questions about what to eat for breakfast!
How does this sound? A cereal with the crunch and heartiness of granola, and warm spice flavors like cardamom and vanilla.
That's what you'll get in this low histamine tiger nut cereal.
This recipe is:
Egg free
Sugar free
Gluten free
Dairy free
Vegan
Another great thing about this low histamine cereal?
It's easy to make. So, it's great for busy weekdays or lazy Saturday mornings.
Before we get to the low histamine cereal recipe with tiger nuts, here's more on why some breakfast favorites don't make the low histamine breakfast menu.
Before you change your diet on your own, please make sure you're working with a healthcare practitioner who can help you with this. Never limit foods unnecessarily, and always have a licensed medical provider who is supervising your case.
What to Avoid for a Low Histamine Breakfast
You want to start your day feeling good.
That means being mindful about histamine content and mast cell triggers in your foods.
You don't want your breakfast causing hives, gut issues, or headaches throughout the day!
Taking DAO (diamine oxidase enzyme) or an antihistamine can help. But sometimes it's not enough. Especially if you are still stabilizing.
Here are some common breakfast foods that can cause problems when you have Mast Cell Activation Syndrome or Histamine Intolerance:
Packaged cereal – may contain mast cell triggering additives, like preservatives, and common allergens like wheat, corn, and soy
Oatmeal – often gluten free, but high lectins (lectins can be a mast cell trigger)
Granola – may contain high histamine ingredients like dried fruit, cinnamon, or sugar, and often contains oats (high lectin)
Eggs – can be a sensitivity for some people
Bacon – smoked and cured meats have higher histamine levels
Sausage – processed meats are high histamine
Breakfast bars – may have mast cell triggering preservatives, higher histamine ingredients, and medium to high oxalate ingredients like dark chocolate, cacao, or carob
Waffles / Pancakes – wheat and sugar are mast cell triggers
Sugary foods – spiking your blood sugar causes histamine release
Milk – lactose and casein can be mast cell triggers
Hash browns with ketchup – potatoes and tomatoes are lectins, tomatoes are high histamine
Related Article: High Histamine Foods List for Histamine Intolerance and Mast Cell Activation Syndrome
If you have Oxalate Intolerance, there are a few other breakfast ingredients that may not work for you, either.
These can be popular ingredients in paleo (AIP) or grain-free circles. But you may need to avoid them with Oxalate Intolerance:
Chia seeds – high oxalate
Quinoa – high oxalate
Almond flour – very high oxalate
Sweet potato – very high oxalate
I'm excited to share this breakfast cereal recipe that fits the low histamine diet and is medium oxalate. It's both filling and yummy.
Tiger Nut Recipe for Breakfast
With Histamine Intolerance, you want to keep a limit to the amount of histamine you're getting from your foods.
I've seen some of my clients try to just eat fresh vegetables for breakfast. But then they're hungry an hour later.
I had one client who ate yogurt for breakfast every morning because she thought fermented foods would help her gut. She didn't realize fermented foods are high in histamine.
But there are tasty, low histamine foods that will nourish you and fill you up. Here's my low histamine yogurt recipe.
I know you'll enjoy this low histamine tiger nut cereal recipe. Have you heard of tiger nuts yet?
Tiger nuts have nothing to do with tigers. And really, nothing to do with nuts either!
Tiger nuts are actually edible root vegetables called tubers. So, they are more akin to a rutabaga or carrot. But they are small like pecans.
So, why are they called tiger nuts? They are named for the tiger because they have stripes!
Have you ever tried a tiger nut?
This superfood is kind of round and wrinkly. When you eat them, they are a bit chewy.
Here is what they look like: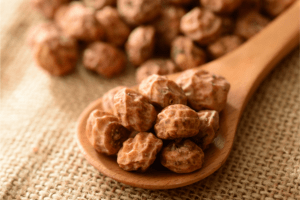 Tiger nuts are packed full of nutrients. They are also high in fiber.
Because of this, they've been shown in research to be cancer fighters. And great for heart health, too. Tiger Nuts may even help to lower blood sugar levels, according to studies.
Tiger nuts can be eaten as snacks, mixed into salads, or in a breakfast cereal like our recipe. They can even be made into tiger nut butter or tiger nut milk!
They're easy to add into your low histamine meal plan.
If you want, you can roast the tiger nuts in the oven. This helps to make them easier to digest if you have gut issues.
For this recipe we suggest getting them pre-sliced. This makes them easier to chew. And pre-sliced works much better in a cereal.
Here are the sliced tiger nuts you can use for this recipe:
More Tiger Nut Recipes
These other low histamine recipes use either tiger nut flour, sliced, or whole tiger nuts.
But there's more than tiger nuts that make this low histamine breakfast really satisfying!
Making Low Histamine Cereal
This low histamine cereal is super tasty with a crispy texture that mimics a traditional cereal.
And it has low histamine and mast cell supporting nutrients!
This recipe is very versatile.
You can leave out any ingredient. Or you can add ingredients like fresh blueberries! I've also seen people try macadamias or flax seeds.
Let me know if you try that! Shake it up and see what you like.
Next, take a quick look at why the ingredients in this recipe support the low histamine diet. It's good to know some background so you can make your own low histamine recipes.
Low Histamine Breakfast Protein
This recipe uses a combination of pistachios, pecans, and tiger nuts.
If you have FODMAP Intolerance, skip the pistachios though.
Nuts (even tiger "nuts") are a good source of plant-based protein.
If you are skipping high histamine breakfast meats and eggs, this is one way to get some protein from your breakfast.
Protein makes this cereal filling. Not only are you getting protein with this cereal, you can also think of the tiger nuts as getting one of your veggies for the day!
Remember, they're technically a root vegetable, and high in fiber like a lot of veggies!
Flavors
You can get the same hearty, comforting flavor without potentially high histamine ingredients. Let's start with a familiar flavor, like cardamom.
It's a wonderful spice I've used often in place of high histamine cinnamon or nutmeg.
Since I don't have the cardamom pods available fresh year-round, I like to buy these dried, organic cardamom pods and grind them.
For even more flavor, I add raw vanilla powder.
If you like vanilla, I highly recommend buying a bag of lower histamine, raw vanilla powder. Traditional vanilla extract is high histamine because it's in alcohol.
Instead, use this minimally processed vanilla powder to get the same great flavor. A little goes a long way!
You can use it in baked goods, too.
And remember to add salt to your breakfast.
Many people with Mast Cell Activation Syndrome (MCAS) struggle to keep their electrolytes balanced.
So, a little sprinkle of Redmond Real Salt is an easy way to get that in.
Salt also brings out the flavors of other ingredients.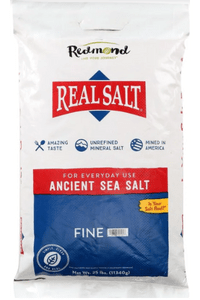 Dairy Free Milk
My favorite dairy free milk to use is coconut milk. While some dairy is lower histamine, it can still be good to avoid it in phase 1 of the low histamine diet.
That's because lactose and casein are a problem for some people who have sensitivities.
Coconut milk is a good alternative to cow's milk.
Beware of the additives in many brands of coconut milk, though. They can irritate your gut and trigger your mast cells.
I like Native Forest coconut milk that only has coconut and water.
Sweeteners
It's so important to enjoy your food.
Adding a little sweetness to your breakfast can give you a flavor boost. These little wins are so important when you have food intolerances.
But sweeteners like cane sugar, maple syrup, and even honey can impact your blood sugar, and trigger mast cells.
That's why I like sweeteners like stevia and monk fruit.
Depending on your taste buds, you can use a few drops of Better Organic Stevia.
If you're extra sensitive, you may want to use this alcohol free Stevia with glycerite.
Alternatively, you can use a pinch of monk fruit sweetener in your cereal.
I like this brand best. It doesn't taste bitter like some of the others I've tried.
Thank you Jen C. for submitting this recipe!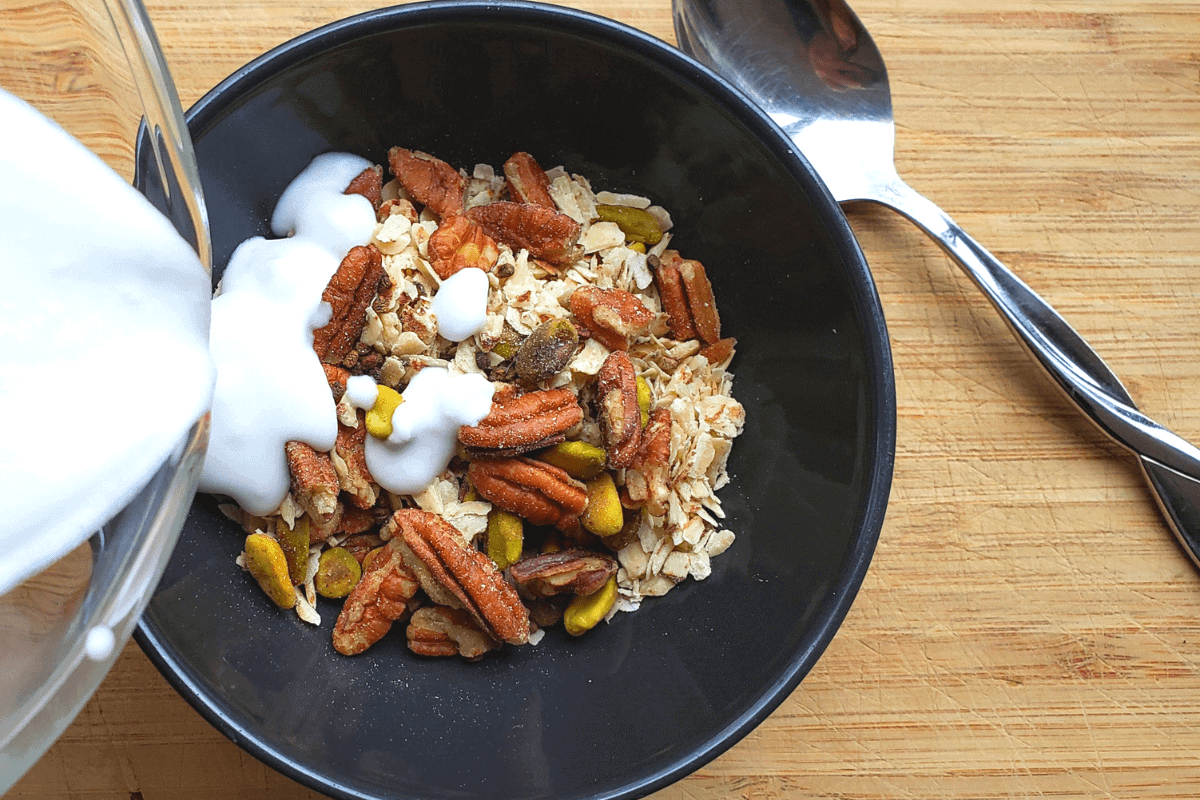 Low Histamine Cereal | Tiger Nut Recipe
Enjoy this low histamine, low lectin, low FODMAP, medium oxalate cereal that's also gluten free, dairy free, and egg free!
Instructions
Night Before
If desired, chill your coconut milk in the fridge overnight. Solids will separate from the liquids, so just mix it together again before pouring over your cereal. 
Low Histamine Cereal Instructions
Roast the tiger nuts, if desired (optional). Or use straight from the package.

Chop the pecans, if needed.

Combine tiger nuts, pistachios, pecans, cardamom, stevia or monk fruit, salt, and vanilla in a small serving bowl.

Pour coconut milk over the top and enjoy!
Notes
Leave out pistachios to make this a low FODMAP recipe. 
Nutrition
Nutrition Facts
Low Histamine Cereal | Tiger Nut Recipe
Amount per Serving
% Daily Value*
* Percent Daily Values are based on a 2000 calorie diet.
What do you eat for breakfast that's low histamine and mast cell-friendly? Have you tried this recipe? Let us know in the comments below!
More Low Histamine Breakfast Ideas
Some links in this website are affiliate links, which means Mast Cell 360 may make a very small commission if you purchase through the link. It never costs you any more to purchase through the links, and we try to find the best deals we can. We only recommend products that we love and use personally or use in the Mast Cell 360 practice. Any commissions help support the newsletter, website, and ongoing research so Mast Cell 360 can continue to offer you free tips, recipes, and info. Thank you for your support!
References
Jing, S., Ouyang, W., Ren, Z., Xiang, H., & Ma, Z. (2013). The in vitro and in vivo antioxidant properties of Cyperus esculentus oil from Xinjiang, China. Journal of the science of food and agriculture, 93(6), 1505–1509. https://doi.org/10.1002/jsfa.5927
Onuoha, N. O., Ogbusua, N. O., Okorie, A. N., & Ejike, C. (2017). Tigernut (Cyperus esculentus L.) "milk" as a potent "nutri-drink" for the prevention of acetaminophen-induced hepatotoxicity in a murine model. Journal of intercultural ethnopharmacology, 6(3), 290–295. https://doi.org/10.5455/jice.20170603094811
Cook, N. R., Albert, C. M., Gaziano, J. M., Zaharris, E., MacFadyen, J., Danielson, E., Buring, J. E., & Manson, J. E. (2007). A randomized factorial trial of vitamins C and E and beta carotene in the secondary prevention of cardiovascular events in women: results from the Women's Antioxidant Cardiovascular Study. Archives of internal medicine, 167(15), 1610–1618. https://doi.org/10.1001/archinte.167.15.1610
Goodman, M., Bostick, R. M., Kucuk, O., & Jones, D. P. (2011). Clinical trials of antioxidants as cancer prevention agents: past, present, and future. Free radical biology & medicine, 51(5), 1068–1084. https://doi.org/10.1016/j.freeradbiomed.2011.05.018
Lee, I. M., Cook, N. R., Gaziano, J. M., Gordon, D., Ridker, P. M., Manson, J. E., Hennekens, C. H., & Buring, J. E. (2005). Vitamin E in the primary prevention of cardiovascular disease and cancer: the Women's Health Study: a randomized controlled trial. JAMA, 294(1), 56–65. https://doi.org/10.1001/jama.294.1.56
Sabiu, S., Ajani, E. O., Sunmonu, T. O., & Ashafa, A. (2017). KINETICS OF MODULATORY ROLE OF Cyperus esculentus L. ON THE SPECIFIC ACTIVITY OF KEY CARBOHYDRATE METABOLIZING ENZYMES. African journal of traditional, complementary, and alternative medicines : AJTCAM, 14(4), 46–53. https://doi.org/10.21010/ajtcam.v14i4.6
Carvalho, D. S., Diniz, M. M., Haidar, A. A., Cavanal, M. F., da Silva Alves, E., Carpinelli, A. R., Gil, F. Z., & Hirata, A. E. (2016). L-Arginine supplementation improves insulin sensitivity and beta cell function in the offspring of diabetic rats through AKT and PDX-1 activation. European journal of pharmacology, 791, 780–787. https://doi.org/10.1016/j.ejphar.2016.10.001