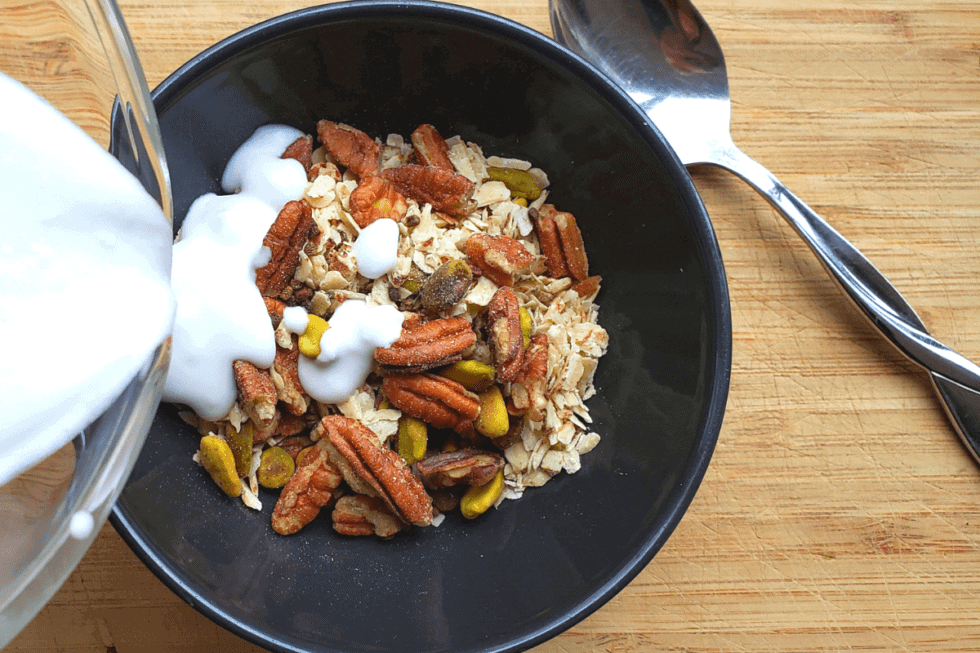 Low Histamine Tiger Nut Cereal Breakfast Option for people with Mast Cell Activation Syndrome and Histamine Intolerance (also Low Lectin, Low FODMAP, Medium Oxalate)
By Jennifer Colletti, Mast Cell 360 Histamine Coach
Breakfast can be challenging when you have Mast Cell Activation and Histamine Intolerance. It can be hard to brainstorm something low histamine but still satisfying to eat.
We have so many cultural favorites for breakfast; eggs, cereal and pancakes. But these recipes are often filled with ingredients that are not mast cell or histamine friendly.
We get a lot of questions about what to eat for breakfast!
These common breakfast food ingredients can cause a lot of problems when you have Mast Cell Activation and Histamine Intolerance:
Packaged cereal
Oatmeal (lectins)
Waffles
Pancakes
Breakfast bars
Cinnamon Roll
Hash browns (lectins)
Sausage
Bacon
Eggs (for some people)
Sugary foods
Milk
99 % of Coffee (see this great one here)
So, Beth and I have been brainstorming new Low Histamine breakfast recipes that are both filling and yummy.
Our latest recipe is a Low Histamine Tiger Nut Cereal.
Tiger nuts have nothing to do with tigers. And really, nothing to do with nuts either!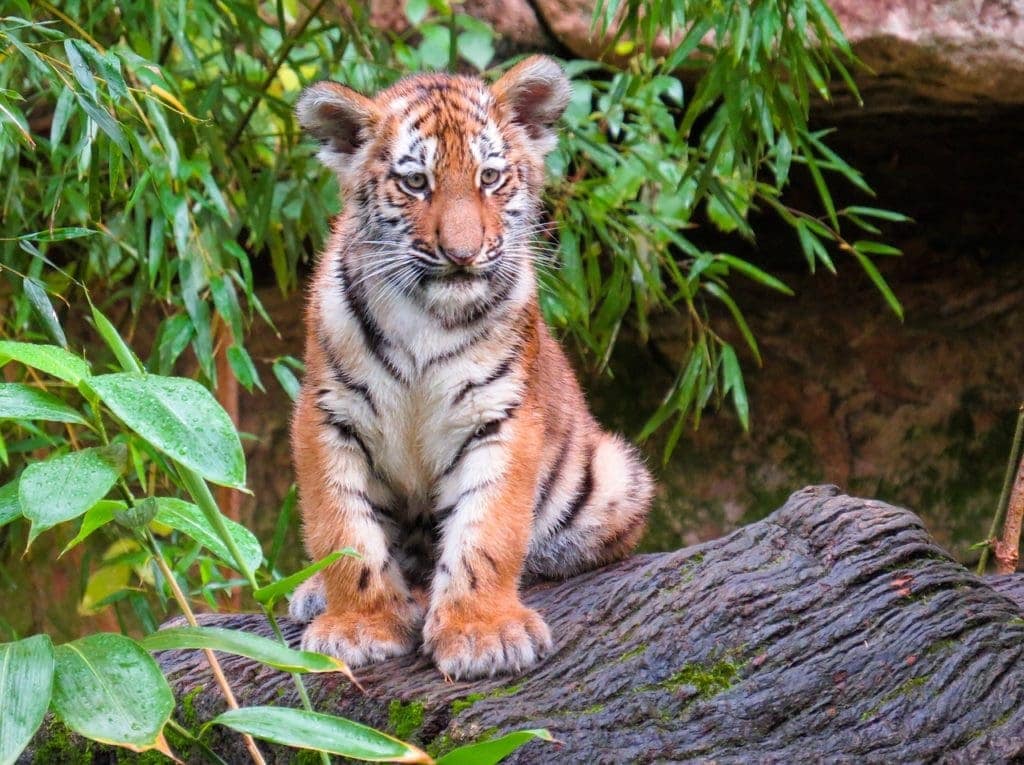 Tiger nuts are actually edible root vegetables, more like a rutabaga or a carrot.
So, why are they called tiger nuts? They are named for the tiger, because they have stripes!
Have you ever tried a Tiger Nut?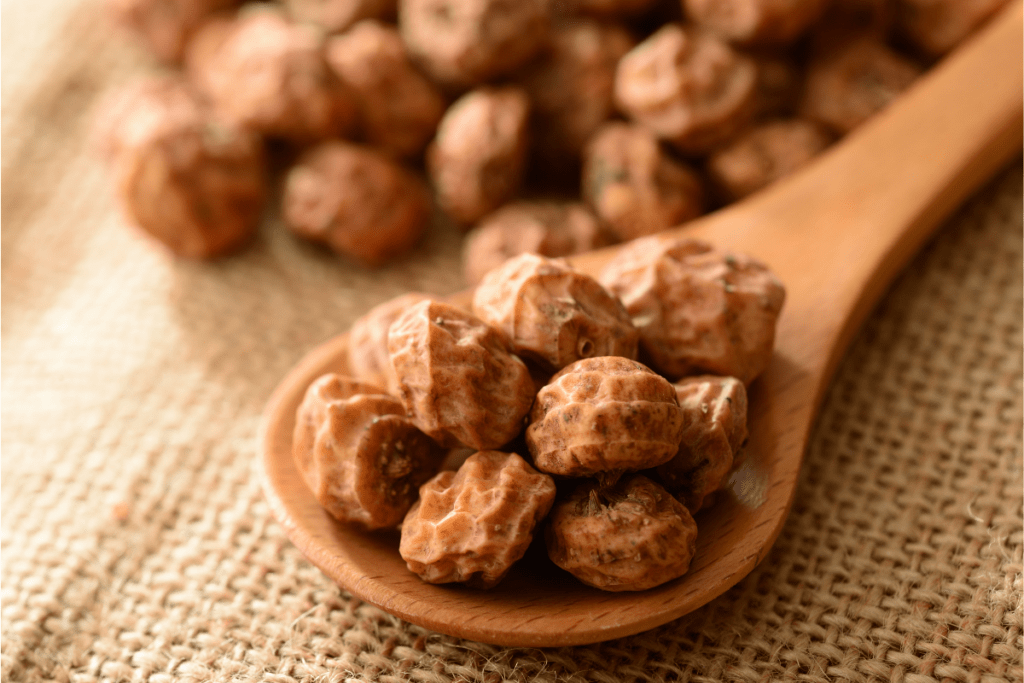 Tiger nuts are kind of round and wrinkly. When you eat them, they are a bit chewy and sweet.
For this recipe we suggest getting them pre-sliced. This makes them easier to chew. And works much better as a cereal.
Here's the one we use for this recipe:
See even more Sliced Tiger Nut options here.
More about Tiger Nuts for people with Mast Cell Activation Syndrome and Histamine Intolerance
Tiger Nuts are packed full of nutrients. They are also high in fiber.
Because of this, they've been shown in research to be cancer fighters. And great for heart health too. Tiger Nuts may even help to lower blood sugar levels, according to studies.
Tiger nuts can be eaten as snacks, mixed into salads, or in a breakfast cereal like our new recipe.
If you want, you can roast the Tiger nuts in the oven. This helps to make them easier to digest, if you're GI tract is touchy.
This recipe includes sliced Tiger Nuts, Pecans, Pistachios, and Coconut Milk.
It's pretty tasty and mimics a traditional cereal. But it has Low Histamine and Mast Cell supporting nutrients!
It's also Low Lectin!
Another tip: If you need to watch oxalates, keep the pecans & pistachios to ¼ cup total or sub coconut.
This recipe is very versatile. You can leave out any ingredient or even add in fresh blueberries! Shake it up and see what you like.
Let us know if you give this a try, and how you like it in the comments below!
Low Histamine Tiger Nut Cereal – breakfast idea for people with Mast Cell Activation Syndrome and Histamine Intolerance
Ingredients
¼ cup Tiger Nut Slices, lightly roasted (optional), or straight from the package
1/8 C Unsalted Pistachios, optional (leave out for low FODMAP)
1/8 C Chopped Pecans
1/8 tsp Ground Cardamom
½ C Native Forest Simple Coconut Milk, chilled
3-4 Drops of Stevia
A pinch of Redmond Sea Salt
A pinch of raw, organic Vanilla Powder (optional)
Directions
Roast the tiger nuts, if desired. (optional) Or use straight from the package. 
Combine tiger nuts, pistachios, pecans cardamom, stevia, salt, and vanilla in a small bowl.
Mix gently with a spoon
Pour coconut milk over the top and serve!
Makes 1 Serving
What do you eat for breakfast that's Low Histamine and Mast Cell Friendly?

*Some links in this website are affiliate links, which means Mast Cell 360 may make a very small commission if you purchase through the link. It never costs you any more to purchase through the links, and we try to find the best deals we can. We only recommend products that we love and use personally or use in the Mast Cell 360 practice. Any commissions help support the newsletter, website, and ongoing research so Mast Cell 360 can continue to offer you free tips, recipes, and info. Thank you for your support!
References on Tiger Nuts for people with Mast Cell Activation Syndrome and Histamine Intolerance
Jing, S., Ouyang, W., Ren, Z., Xiang, H., & Ma, Z. (2013). The in vitro and in vivo antioxidant properties of Cyperus esculentus oil from Xinjiang, China. Journal of the science of food and agriculture, 93(6), 1505–1509. https://doi.org/10.1002/jsfa.5927
Onuoha, N. O., Ogbusua, N. O., Okorie, A. N., & Ejike, C. (2017). Tigernut (Cyperus esculentus L.) "milk" as a potent "nutri-drink" for the prevention of acetaminophen-induced hepatotoxicity in a murine model. Journal of intercultural ethnopharmacology, 6(3), 290–295. https://doi.org/10.5455/jice.20170603094811
Cook, N. R., Albert, C. M., Gaziano, J. M., Zaharris, E., MacFadyen, J., Danielson, E., Buring, J. E., & Manson, J. E. (2007). A randomized factorial trial of vitamins C and E and beta carotene in the secondary prevention of cardiovascular events in women: results from the Women's Antioxidant Cardiovascular Study. Archives of internal medicine, 167(15), 1610–1618. https://doi.org/10.1001/archinte.167.15.1610
Goodman, M., Bostick, R. M., Kucuk, O., & Jones, D. P. (2011). Clinical trials of antioxidants as cancer prevention agents: past, present, and future. Free radical biology & medicine, 51(5), 1068–1084. https://doi.org/10.1016/j.freeradbiomed.2011.05.018
Lee, I. M., Cook, N. R., Gaziano, J. M., Gordon, D., Ridker, P. M., Manson, J. E., Hennekens, C. H., & Buring, J. E. (2005). Vitamin E in the primary prevention of cardiovascular disease and cancer: the Women's Health Study: a randomized controlled trial. JAMA, 294(1), 56–65. https://doi.org/10.1001/jama.294.1.56
Sabiu, S., Ajani, E. O., Sunmonu, T. O., & Ashafa, A. (2017). KINETICS OF MODULATORY ROLE OF Cyperus esculentus L. ON THE SPECIFIC ACTIVITY OF KEY CARBOHYDRATE METABOLIZING ENZYMES. African journal of traditional, complementary, and alternative medicines : AJTCAM, 14(4), 46–53. https://doi.org/10.21010/ajtcam.v14i4.6
Carvalho, D. S., Diniz, M. M., Haidar, A. A., Cavanal, M. F., da Silva Alves, E., Carpinelli, A. R., Gil, F. Z., & Hirata, A. E. (2016). L-Arginine supplementation improves insulin sensitivity and beta cell function in the offspring of diabetic rats through AKT and PDX-1 activation. European journal of pharmacology, 791, 780–787. https://doi.org/10.1016/j.ejphar.2016.10.001