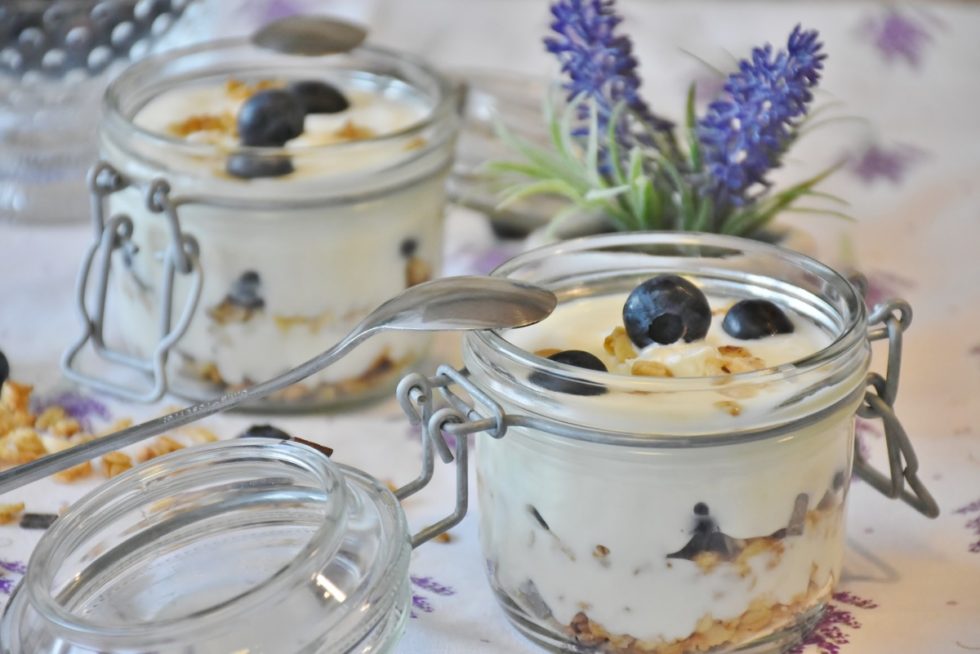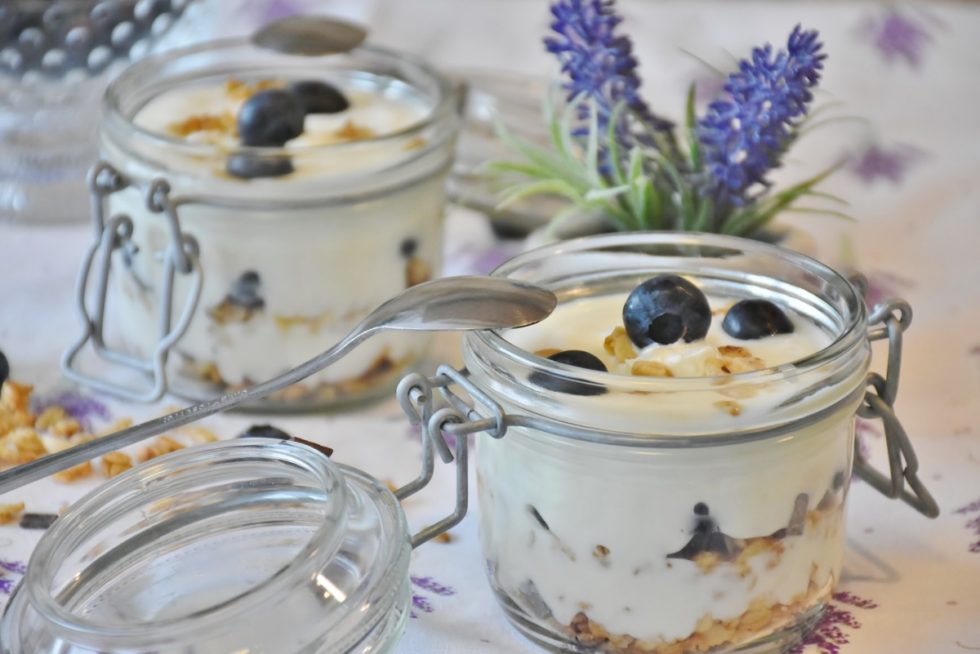 Low Histamine Breakfast "Yogurt" Parfait Recipe (also Low Oxalate, Low Lectin, Low Carb)
One of my go-to snacks used to be Yogurt. It's easy to grab. And I always liked the creamy texture.
One of my favorites was to layer the yogurt with fruit and granola.
But when you have Histamine Intolerance and often with Mast Cell Activation Syndrome, yogurt is out. This is because yogurt is fermented with histamine raising cultures.
Histamine Raising Probiotic Strains Problematic in Mast Cell Activation Syndrome and Histamine Intolerance
Research has shown that the probiotic strains Lactobacillus casei and Lactobacillus bulgaricus raise histamine levels [1]. These histamine strains are in almost all yogurt.
Further, dairy is a problem for many of us. There is a big gut connection with Mast Cell Activation Syndrome and Histamine Intolerance. Next to wheat and gluten, dairy can also be a big gut disrupter. So most of us will have trouble with dairy.
But even the non-dairy yogurts like coconut and almond yogurt have Lactobacillus casei and/or Lactobacillus bulgaricus. I have yet to find a non-dairy yogurt option that doesn't include one of those strains.
So what do you do if you really want something cold and creamy you can throw some berries into?
That's what I've been tracking down for you for this recipe. A cold, creamy Yogurt substitute that's actually good for you if you have Mast Cell Activation Syndrome and Histamine Intolerance. Doesn't that sound good?
When my clients start shifting toward Low Histamine foods, one of the main questions I get is: What do I eat for breakfast?
Yogurt used to be one of my main breakfast options until I started eating Low Histamine. I don't tolerate more than one egg at a time.
So eggs were out for me too. Are you in this boat as well? This recipe should give you a Low Histamine idea for breakfast.
Ingredient Notes for Low Histamine Breakfast "Yogurt" Parfait Recipe – Mast Cell Activation Syndrome and Histamine Intolerance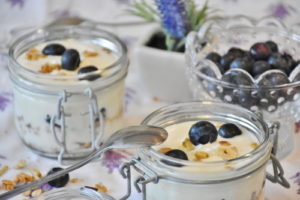 For this "Yogurt" Parfait recipe, I use coconut cream and coconut milk. It gives that creamy texture like yogurt.
You have to jazz it up a little with some vanilla (if tolerated) and natural calorie-free sweetener.
Be careful about coconut cream and coconut milk you buy at the grocery. They almost always have xanthan gum, or some other thickener.
These thickeners are bad news for histamine problems. You want to make sure the ingredients only say coconut. And maybe water. That's all.
Also, watch out for coconut milk and cream in cans. These can leak aluminum, BPA, or other chemicals into the coconut milk. Fortunately, I found two good brands of coconut milk and coconut cream on Amazon. These cans are BPA non-intent.
The company states that they direct their packing facilities to select cans with no detectable levels of BPA. They also perform independent tests by a licensed, domestic third party laboratory.
The same company makes both of these products, they just sell under different brand names. I use Let's Do…Organic coconut cream and Native Forest coconut milk. 
Coconut is anti-inflammatory, which helps a lot in Mast Cell Activation Syndrome and Histamine Intolerance! It is also full of healthy fats that support brain health, hormone balance, and the good cholesterol.
Now, granola is usually made with wheat, oats, and a lot of sugar.
I don't eat wheat because of the inflammatory gluten. Oats contain a type of lectin, which trigger mast cell degranulation.
This is why all my recipes are low lectin in addition to low histamine.
As for sugar, I really keep my sugar consumption low. Sugar is very inflammatory and also triggers mast cell inflammation.
So what do we do about granola? Usually, I use chopped up nuts. They are crunchy and high in healthy fats. You can sweeten the nuts with a little stevia or monk fruit.
Many of us with Mast Cell Activation Syndrome and Histamine Intolerance also have oxalate issues.
This is why all my recipes are low to moderate oxalate. The low oxalate nuts are (from lowest to moderate oxalate):
Macadamias
Pecans
Pistachios
If you are concerned about mold toxicity, then stick to the Macadamias. They are very unlikely to have mold.
Pecans and pistachios can be contaminated with mold. If you use those, make sure they are very fresh.
To be on the safe side, you can soak pistachios and pecans to remove the mold toxins (called mycotoxins).
Soak pecans and pistachios in very salty water for 6-12 hours. Then, drain and rinse them. Last, dry them in the food dehydrator until they are crispy. Store in the freezer.
Lastly, let's talk about fruit for this Breakfast Yogurt Parfait.
I like berries. Berries are very high in antioxidants. And they are very low in sugar that affects your blood sugar.
Strawberries are very high histamine, though, so I don't recommend those. Your lower histamine fruit options are:
Blackberries (higher oxalate)
Blueberries
Raspberries
Tart cherries (not really a berry)
Mango
Blackberries are higher oxalate. So depending on how significant your oxalate issues are, you might have to limit them or skip them.
I can usually do only about 5 or 6 blackberries at a time.
Blueberries are the lowest histamine, lowest oxalate fruit. Yes, I know many lists online say blueberries are high oxalate. But that's wrong. I use lab tested levels to make my oxalate foods list.
Raspberries are a little higher in histamine. But I've found they have enough histamine lowering Vitamin C and Quercetin to balance out the histamine.
I can usually have a handful of raspberries with no reaction. You'll have to test them out for yourself, though.
Tart cherries are a great anti-inflammatory option. Tart cherries are also lower in sugar. Mango is also anti-inflammatory. But mango is much higher in sugar than the other options.
For sweetening dishes, I only use a really good quality, organic stevia like Better Organic Stevia. Or I use Pure Monk Fruit Extract, which doesn't have sugar alcohols like the other monk fruit products.
So now you have all the details about the ingredients. Let's get to the recipe!
Low Histamine Breakfast "Yogurt" Parfait Recipe for Mast Cell Activation Syndrome and Histamine Intolerance

Breakfast "Yogurt" Parfait Recipe
Makes 4 servings
Granola Ingredients
Granola Directions
Put nuts, sweetener, and optional vanilla powder in a high speed blender like a Blendtec Blender,*Vitamix blender,* or Ninja Professional. Or use a food processor.
Pulse until chopped and the nuts look like granola. Don't let them get powdered.
"Yogurt" Ingredients
Blackberries (higher oxalate)
Blueberries
Raspberries
Tart cherries
Mango
"Yogurt" and Parfait Directions
Put coconut cream, vanilla powder, flax meal, sweetener, and salt in high speed blender like a Blendtec Blender,*Vitamix blender,* or Ninja Professional or in a food processor.
Blend for about 4 to 5 minutes on high until smooth and creamy.
Let it sit for about 3-4 minutes to allow the flax meal to thicken the coconut cream.
Layer the parfait into 4 glass bowls or parfait dishes. First layer the granola in the bottom. Then top with the coconut cream. Then add a layer of berries. Keep repeating the layers until you have used all the coconut cream.
Enjoy!
Are you interested in working with a practitioner 1:1?  
If so, you can apply to see if the Mast Cell 360 Practice is a good fit for you. Click the button below: 
It's important you know that this blog post is for informational and educational purposes. It's not meant to treat any health condition or to be prescriptive for anyone. Always be sure to work with your healthcare practitioner. 
Before you change your diet on your own, please make sure you're working with a healthcare practitioner who can help you with this.  
*Some links in this website are affiliate links, which means Mast Cell 360 may make a very small commission if you purchase through the link. It never costs you any more to purchase through the links, and we try to find the best deals we can. We only recommend products that we love and use personally or use in the Mast Cell 360 practice. Any commissions help support the newsletter, website, and ongoing research so Mast Cell 360 can continue to offer you free tips, recipes, and info. Thank you for your support!