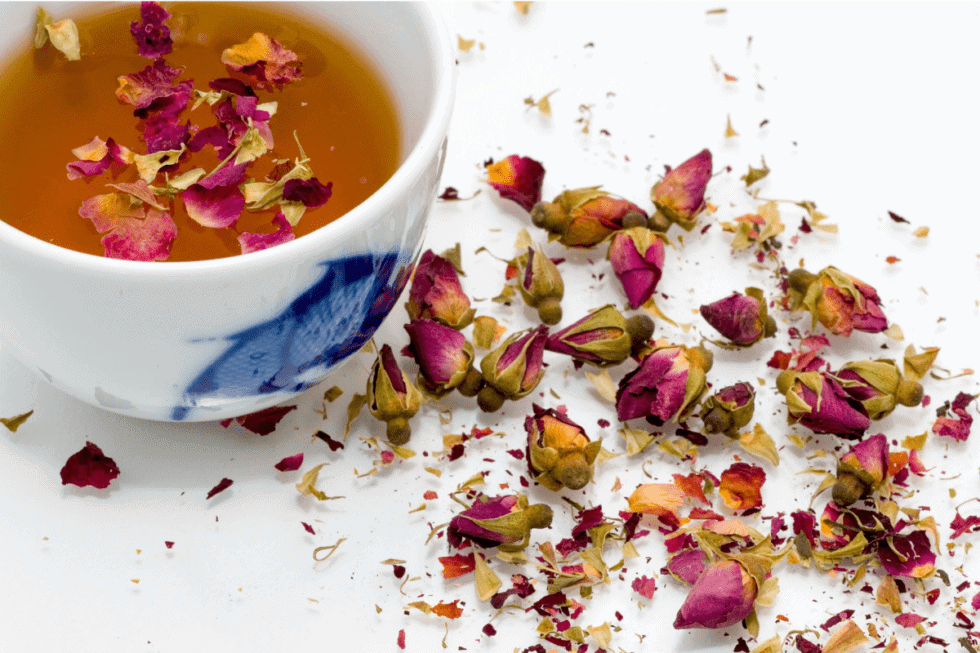 Tulsi Rose Magic Calming Tea for those with Mast Cell Activation Syndrome and Histamine Intolerance [Low Histamine, Low Oxalate, Low Lectin, Low FODMAP]
If you have Mast Cell Activation Syndrome or Histamine Intolerance you probably have a wired nervous system. Especially if you have dealt with any of these symptoms:
Mold toxicity
Surgery
Chronic stress
Lack of support
Trauma (emotional, physical, or medical)
This is why those of us with Mast Cell Activation Syndrome and Histamine Intolerance need lots of calming supports. And why I put together this soothing tea recipe in today's blog.
Calming the nervous system is an essential step in supporting mast cells. Nervous system dysregulation is one of the key issues that cause an increase in mast cell issues and histamine levels.
When you have experienced mold, chronic stress, lack of support, major surgery and/or trauma, you can get stuck in a nervous system dysregulation loop.
Your body and mind get so used to being in a chronic stress loop, they don't know how to step out of it. It's like you are continually running on a hamster wheel!
Calming the stress response in your bodies is key though. This helps lower your histamine bucket and tame reactions.
Histamine lowering foods and supplements are only part of the essential support we need. We must also step ourselves off the crazy hamster wheel and balance our nervous systems as well.
It's important to give your body nourishing nervous system support everyday.
This can come in a myriad of different ways:
connecting with a friend
taking a walk
getting extra sleep
doing a breathing exercise
practicing a nervous system support program like Gupta or Brain Tap
drinking a supportive tea like the one I am sharing with you today
I came up with this recipe, because it is so easy, supportive, and enjoyable to make! Even the meditative practice of making this tea can be part of your nervous system support routine.
This tea has tulsi, cardamom, ginger and rose. All of these herbs are supportive to the rest and digest side of the nervous system (parasympathetic).
Tulsi, also called holy basil, is an adaptogen. Adaptogens help to stabilize your nervous systems. And also assist in swinging you back into balance.
When our nervous system is in the hyperalert state (the sympathetic), it also takes a hit on your immune systems. Tulsi, cardamom, ginger and rose support the immune system, though.
When you can support the immune system from all angles, you will better handle stress in your body.
Let's look at how these ingredients can support your body.
Cardamom has manganese known for it's virus fighting properties. I like to purchase the pods, they are the freshest, and have the best flavor. I store them in the freezer for a longer life.
Ginger is great for digestion, has anti-inflammatory properties, is rich in antioxidants, and may help to optimize brain function too!
I used to grow Tulsi in my garden, but because I have been so busy with Mast Cell 360, I haven't had much time to garden lately. So instead, I purchased some dried Tulsi, but it didn't taste very good. And I didn't feel they had the same histamine lowering response.
Then I realized the teas in most stores are 6 months to a year old!
Recently I was introduced to Kauai Farmacy, they have amazing herbs including tulsi! Their herbs are vibrant with freshness and color. And their flavor is so much better and brighter!
Cardamom Pods 
I like to use the full cardamom pods, as they not only have the freshest flavor, but are the lowest in histamine this way. You just need to take the outer green husk off.

Organic Rose Powder
This rose powder adds something extra special and nourishing to this tea drink.
Native Forest Coconut Milk
100% coconut milk is hard to find. It usually has thickeners or additives that can trigger mast cells. Xanthan gum and carrageenan are the most common. Make sure to get the 100% pure coconut milk, like the one listed below.
Stevia
I have trialed a lot of brands and this stevia has the best flavor. They also make an alcohol-free one if you prefer that version. 

Tea Strainer
You'll need a tea strainer for this recipe. This is my favorite tea strainer!

Tulsi Rose Magic Calming Tea for those with Mast Cell Activation Syndrome and Histamine Intolerance
Ingredients
1 tsp Kauai Farmacy Tulsi
1/4" fresh ginger
1 tsp Organic Rose Petal Powder
12 oz filtered water
Native Forest Coconut milk to taste (optional)
Organic Liquid Stevia to taste (optional)
Supplies: Tea Kettle, Tea strainer, mug
Directions
Bring filtered water to almost boiling – about 200-212 F.
Break open the cardamom pod and separate the seeds from the husk.
Cut the ginger into 4-5 pieces.
Put the Tulsi, cardamom seeds and ginger in the tea strainer.
Pour the hot water over the Tulsi blend and steep for 5 minutes.
Remove tea strainer and stir in the Organic Rose Petal Powder.
Stir in 1-2 oz of coconut milk and 2-6 drops of stevia, as desired.
Take some deep breaths and enjoy the aroma of this magical calming tea.
Sit quietly, and drink this slowly as a meditative practice.
These ingredients will make hundreds of cups of tea!
The water temp should be just before boiling- when it barely starts to form tiny bubbles – about 200 to 212 F or 93-100 C.
This is the optimal temp for brewing Tusli to bring out the components for health while leaving the bitter compounds that aren't useful.
A common mistake while brewing tea, is water that is too hot, this is what makes it bitter!
Let me know if you try it, and what you think!

More Low Histamine Drinks
*Some links in this website are affiliate links, which means Mast Cell 360 may make a very small commission if you purchase through the link. It never costs you any more to purchase through the links, and we try to find the best deals we can. We only recommend products that we love and use personally or use in the Mast Cell 360 practice. Any commissions help support the newsletter, website, and ongoing research so Mast Cell 360 can continue to offer you free tips, recipes, and info. Thank you for your support!