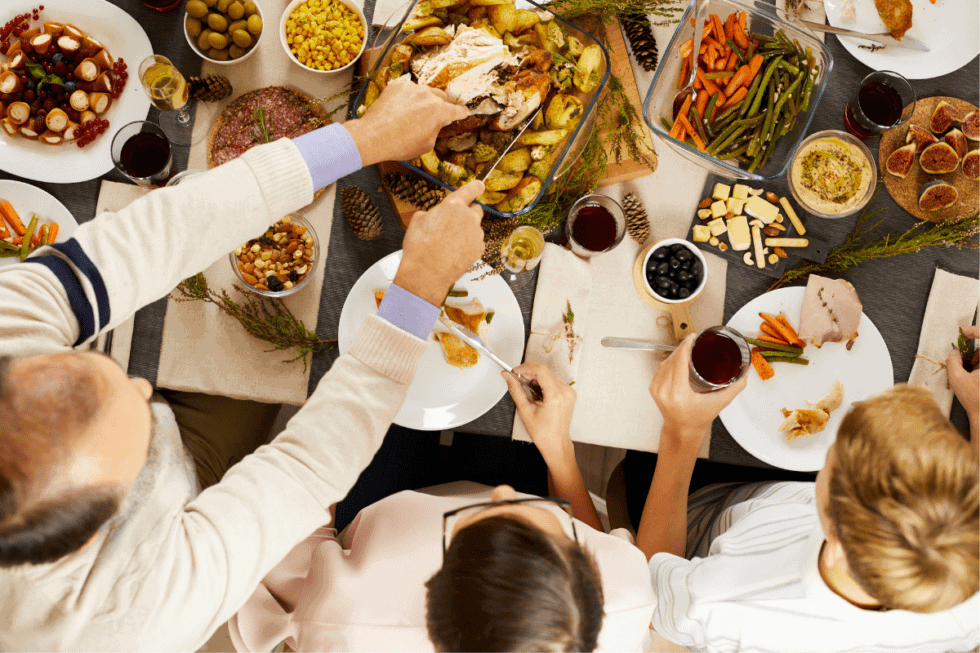 Low Histamine Holiday Meal Ideas for those with Mast Cell Activation Syndrome or Histamine Intolerance (Also low lectin, and medium to low oxalate)
A light dusting of snow covered the ground. Twinkle lights sparkled in the night. Festive music played on the radio. I was in the holiday spirit!   
I was geared up to go out and enjoy a dinner party with friends and family.   
The party started out great. Before dinner, I got to catch up with people I hadn't seen in a while.   
I sipped on some sparkling water with a splash of organic cranberry juice and laughed at the stories people told. We cooed over baby pictures. There were hugs for everyone. It was a good time.  
But as I mingled, I was getting hungry. That was when my spirits started to sink.  
I passed by the appetizers and saw cheese and crackers, smoked meats, shrimp cocktail, and so many other delicious looking foods I couldn't eat.  
Then, once dinner got underway, my heart really sank. I realized I hadn't thought to plan for this.  
Ham, green bean casserole, mashed potatoes, macaroni and cheese, pecan pie. A feast!   
And it was all high histamine and had gluten. I couldn't eat any of it without feeling sick afterwards.  
I was angry with myself for not thinking ahead. I was also sad I couldn't dive into these comfort foods just like everyone else. And I was still hungry.   
I made do with some salad, picking out the tomatoes and spinach from the mixed greens. 
But I went home feeling deprived and down in the dumps.  
This happened a while back, but the years of not knowing what I could safely eat were hard. Sometimes I still have anxiety dreams about being at a party and not being able find anything I can eat.  
If you have Mast Cell Activation Syndrome (MCAS) or Histamine Intolerance, you may have had a similar experience at a party or holiday dinner. It can bring your spirits down. Not to mention, leave your tummy growling!  
But I learned from that experience. Now, if I'm going to a dinner party, I bring some of my own food. I'll pack a serving of protein which I'll heat up when I get there. And I'll make a couple of shareable side dishes. I bring things that I can eat that are also so tasty that everyone else enjoys them, too. 
And if I'm hosting, I plan a full meal that both my guests and I will find satisfying and delicious. 
I've put together some of my favorite recipes for you. I've laid out a full menu (with options) for if you host. Or you can take any of these to a potluck dinner if you are going out. 
No energy to cook? You could consider asking a family member or friend to help you as an early holiday or birthday gift.   
You might also be able to find a young neighbor who could use a little cash to come help. I did this last year and it didn't cost much, but it made a huge difference! 
Wishing you happy holidays and good eats all year round!   
Hummus is a great dip. It's flavorful, easy to make, and a great shareable. Perfect to add to the table at your own gathering or at a party.   
And check out the Herb Crackers and Everything Bagel Bread recipes, too. Great for dipping, but so versatile. I make the herb crackers in big batches and freeze them. They freeze well, so you can prepare them ahead. No one will miss ordinary crackers with these gourmet crackers around! 
I've heard a lot of people say that side dishes are the real stars of holiday meals. It's no surprise. This is where a lot of comfort foods come in. And you can still enjoy lots of flavorful sides, even if you have Mast Cell Activation Syndrome or Histamine Intolerance. 
You can make a Root Vegetable Mash to satisfy the soft texture you'd get from mashed potatoes. And it's got a whole host of vitamins to help keep you healthy. 
Missing the comfort and seasonings of stuffing? Not to worry. Check out the Low-Histamine Sorghum Stuffing. With parsley, sage, rosemary, and thyme, you get to enjoy all the flavors of traditional stuffing.  
You can also opt for Southern-Style Greens to add some nutritious color to your plate. I grew up in the country and that means you can't have greens without a little bacon. I'd pick this Low Histamine Bacon and Southern Greens recipe over a runny green bean casserole any day.   
And if you are looking for something to warm you up, Cauliflower Veggie Soup can be a great choice. If you are hosting and serving in courses, this soup is a great first or second course. If you have people coming who don't need to follow a low histamine plan, you could give them some shredded cheese on the side to top their soup with. 
Low Histamine Root Vegetable Mash 
Low Histamine Sorghum Stuffing 
Low Histamine Bacon and Southern Greens 
Low Histamine Creamy Cauliflower Soup
In the US, slow-roasted turkey and ham are popular main courses for the holidays. But the long cooking times make them higher histamine. Depending on your level of histamine intolerance, it might be best to avoid them. That doesn't mean you have to miss out on a flavorful, hearty entrée, though. 
You can make the following recipes as your main dish if you are hosting. And if you are hitting a lot of dinner parties elsewhere, you can make these ahead of time and freeze. You can pack a serving for yourself to heat up at the party. I just let my host know ahead of time that I have severe food sensitivities, and I'll be bringing my own protein to heat up.  
Just a few words letting your hosts know ahead of time can remove any awkwardness. Most people have at least heard of food sensitivities or allergies these days. And I'm always sure to let them know what a great time I had and how much I appreciate their hospitality. I mean, that's just good manners, but it helps reassure the hosts. Especially the grandmas who are always wondering if you had enough to eat. 😊 
You can make a pork roast using an instant pot. The instant pot is my favorite method of cooking. It cuts down cooking time making the roast lower histamine than slow cooking in the oven.   
The Low Histamine Pork Roast recipe can also be used for chicken or turkey breast! Either way, just be sure to start with a good quality meat. Look for free-range birds and pastured pigs that are frozen immediately after slaughter. That will be your lowest histamine option. 
And you can adjust seasonings, too. The recipe calls for rosemary and parsley, but for a classic fall flavor you could use sage, rosemary, and thyme.  
Another option would be Rosemary and Roasted Garlic Pork Chops. No one will leave hungry! 
Rosemary Roasted Garlic Pork Chops 
Save room for dessert because you won't want to miss out on this Apple Crumble. Who needs pie? 
Or you might opt for the Cranberry Crumble Bar to take to a party. Easy to transport and eat with your hands. 
Hanging out around the fireplace after dinner watching your favorite holiday movies? 
You can enjoy this Popped Sorghum snack (if you are still hungry!) It's great on its own or as a crunchy topping for sides or salads. 
Our menu wouldn't be complete without a beverage to warm you up when you get in from the cold. If you live in a warmer climate but still want something special, just add ice. Delicious either way. 
Lower Histamine Elderflower Sparkling Wine Cocktail (plus Mocktail option) Recipe & also low FODMAP, low lectin, low oxalate
Learn more about Lower Histamine Wines – Can It Be True? What to Know When you Have Mast Cell Activation Syndrome or Histamine Intolerance  here.
I hope you enjoy these recipes as much as I do. These recipes are great for me, both for my body and my spirit. They support my health needs. I don't have to worry about having reactions or feeling sick for weeks afterward.   
They also give me the feast experience of comfort, flavor, and satisfaction. I no longer feel deprived at special gatherings. 
I've made these dishes for friends and family, too. Even those without any health issues have gone back for seconds and asked for recipes. I'm always happy to share!